Texas Longhorns Legend Colt McCoy Defends Embattled HC Steve Sarkisian: 'I Think for Us, as Fans, We're a Little Spoiled'
Article Highlights:
Texas Longhorns legend Colt McCoy defended head coach Steve Sarkisian during a recent interview
After a 4-1 start, the Longhorns lost six straight games last season and finished a disappointing 5-7
Although McCoy's heart is in the right place, Sarkisian's terrible first season speaks for itself
Once upon a time, as Colt McCoy will happily attest to, the Texas Longhorns were legitimately relevant in college football. There was no need to suggest "Texas is back" because the blue-blood program still constantly ranked atop the nation's best.
Things haven't been the same since McCoy left for the NFL after the 2009 season. The Longhorns have endured inconsistency and irrelevancy since the start of the 2010 campaign, and not even head coach Steve Sarkisian could immediately fix the frustrating times in Austin last year. However, McCoy made it clear he's not giving up on the Longhorns' head coach after an ugly first season.
Colt McCoy cautioned Texas Longhorns fans not to quit on Steve Sarkisian yet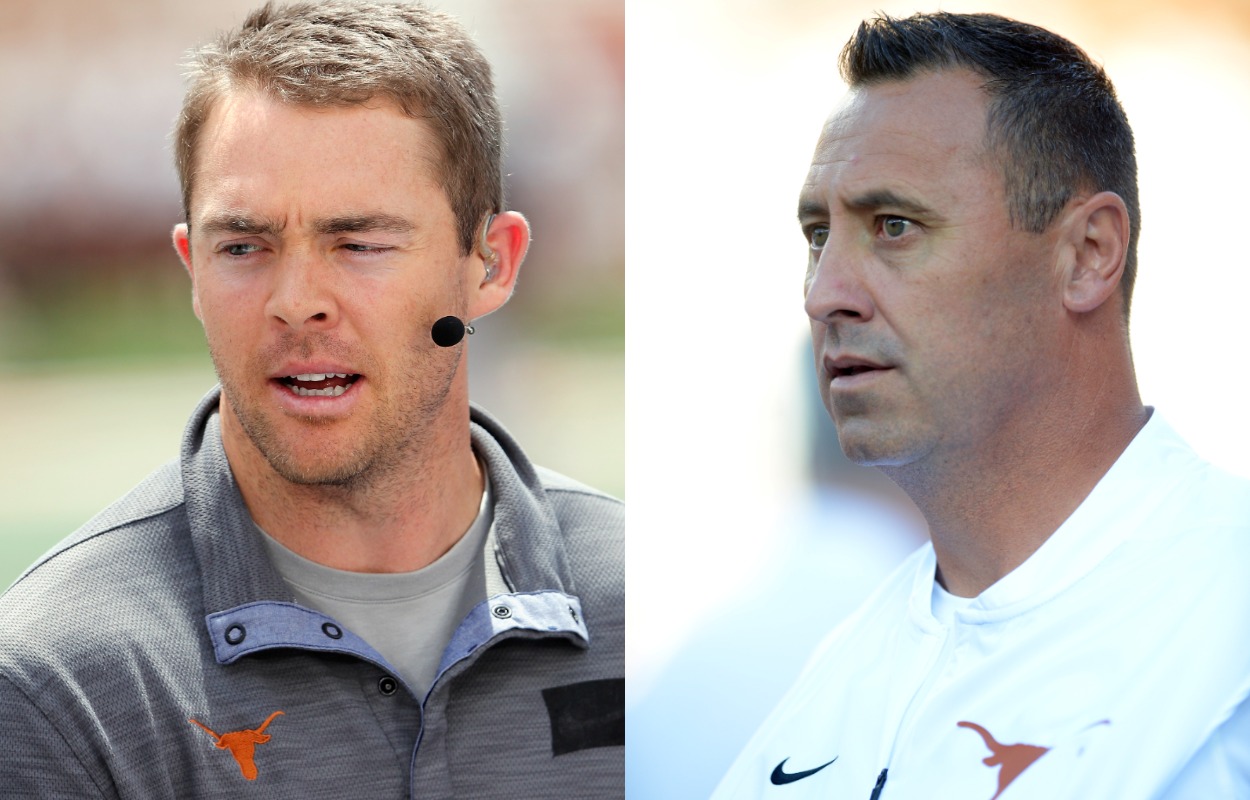 After a 10-4 showing in 2018, it appeared that Texas, finally, was back. Then, the Longhorns went 8-5 in 2019 and 7-3 amid the pandemic shortened 2020 campaign, finishes which resulted in head coach Tom Herman's firing. In came Sarkisian, who reinvented his career as Alabama's offensive coordinator after mixed tenures at Washington and Southern California.
The early returns on Sarkisian's Texas tenure were worse than mixed.
After a 4-1 start, Texas lost its next six games and needed a late comeback against Kansas State in the season finale to even finish 5-7. Longhorns fans flooded social media demanding the program fire Sarkisian and start over once again.
In a recent interview with On3, McCoy cautioned Longhorns fans not to give up on Sarkisian just yet. The 35-year-old quarterback said he believes the veteran head coach is "doing great," and they've spoken many times.
"When I left, it was like 'We should win 10 or 12 games every year. I don't understand.' I think you go through coaching changes, different recruiting cycles, and it takes time. I think for us, as fans, we're a little spoiled."

Colt McCoy
After winning at least 10 games every year from 2001-09, the Longhorns have only reached that mark once since McCoy's departure. Texas has also had five losing seasons since the start of the 2010 season, which is unacceptable for a program that still tries selling itself as a blue-blood powerhouse.
"The expectations are high, and they should be," McCoy said. "I think coach Sark definitely knows that."
Although McCoy's heart is in the right place, Sarkisian's terrible first season speaks for itself
McCoy has every right to defend Sarkisian, and he also would have had every right to rip the 47-year-old head coach. Such are the benefits of living in America and having played at the university in question.
With respect to McCoy, the numbers speak for themselves here. If Longhorns fans had complained about an 8-4 finish and a loss in the bowl game, that would be another story. The same applies to going 6-6 before winning a mid-tier bowl game. At least in those cases, the Longhorns would have finished with a winning record.
But 5-7? With a home loss to Kansas, of all teams? That can't fly.
Before the 2021 season, Texas only had four losing streaks of five or more games. For all of Herman's flaws, he never lost more than six games in a season. Sarkisian lost six games in Big 12 play alone last season.
Yet, Herman wasn't the answer, but Texas is confident Sarkisian is the right choice to lead? How does that work?
There are no excuses to make for Sarkisian's first year, and there shouldn't be any if things don't improve in 2022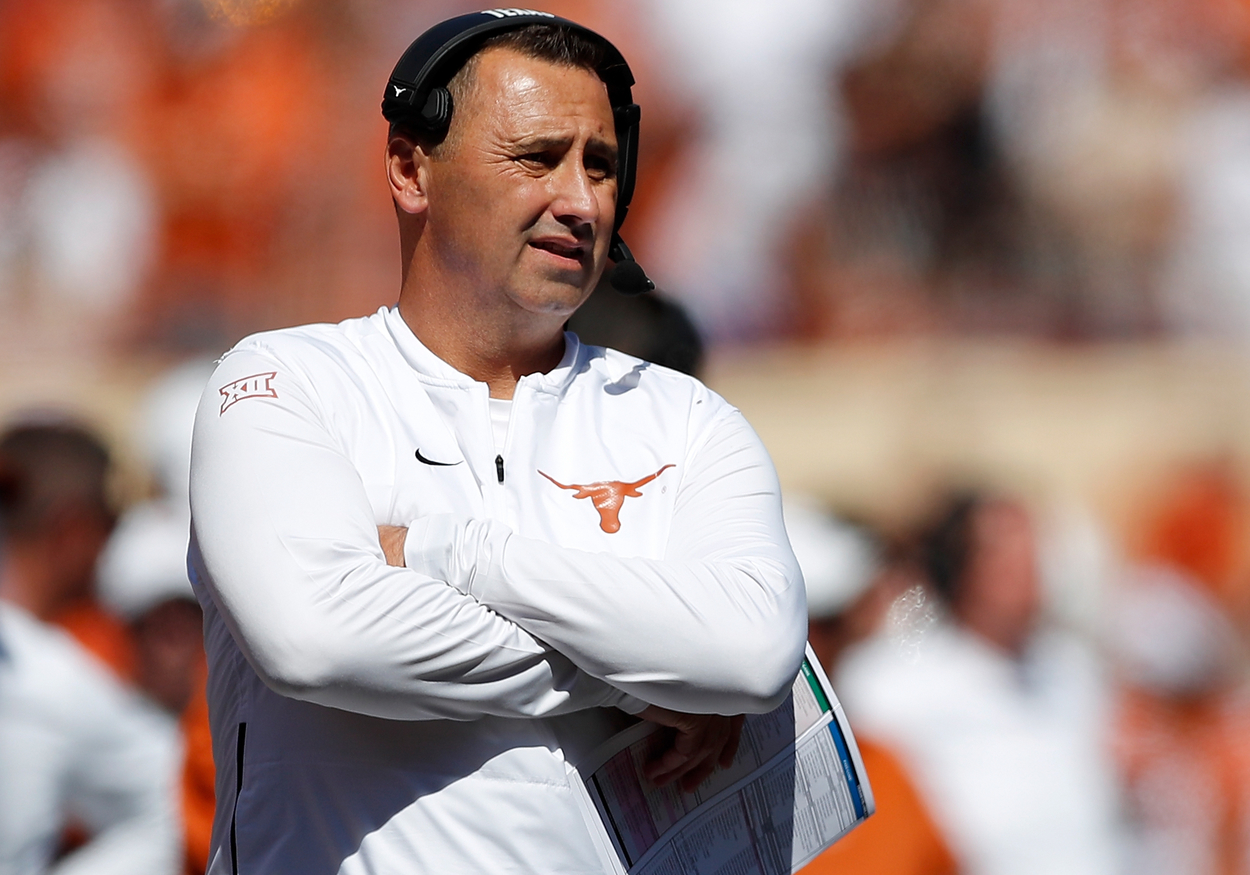 Fair or not, college football is a business. Really, all sports are a business, but the heavy presence of boosters and donors is far different than professional sports teams earning money through revenue sharing and television deals.
Sarkisian is already likely treading on thin ice after going 5-7 in Year 1. On its own, the loss to Kansas is inexcusable. Although 247 Sports believes Texas earned the nation's fifth-best recruiting class during the most recent cycle, how many times have Longhorns fans been fooled on stars and supposed raw talent before?
An optimist could look at Texas' 2021 campaign and point out that the Longhorns lost five games by eight or fewer points. Theoretically speaking, two or three wins there would change the entire narrative surrounding the entire season.
However, a contrarian would argue that a team as talented shouldn't have been in so many one-score games, let alone against Kansas. If it feels like we're picking on the Jayhawks, remember that they entered as -30.5-point underdogs and hadn't won a Big 12 road game since Oct. 4, 2008, before an improbable 57-56 victory last November.
Sorry, Colt, but that's how bad things have gotten at your alma mater. 
Like Sportscasting on Facebook. Follow us on Twitter @sportscasting19.
RELATED: Ed Orgeron Tried to Transfer Adrian Peterson's Incarcerated Father to Los Angeles in a Desperate Attempt to Woo the Star RB to USC