Texas Quarterback Vince Young Singlehandedly Toppled the Trojan Empire in One Night in the 2006 Rose Bowl
"There's heroes and there's legends. Heroes get remembered, but legends never die." That's what Babe Ruth told Benny "The Jet" Rodriguez in the movie The Sandlot. On one night in 2006, Texas quarterback Vince Young became a legend after he singlehandedly beat USC and toppled the Trojans' Empire in the Rose Bowl.
The game catapulted Young to the third overall pick in the 2006 NFL Draft. He was named the NFL's Rookie of the Year that season. It was all downhill for the former Longhorn after that, but no matter what else happened in his career, Young would be forever remembered as the player who destroyed the USC dynasty.
The Trojans had built an empire and Vince Young destroyed it
USC was widely considered one of the greatest college football teams of all time heading into the 2006 Rose Bowl. They had won 34 straight games. They had that year's Heisman Trophy winner in Reggie Bush, who earned the highest percentage of first-place votes in Heisman history, according to Heisman.com. USC had another Heisman finalist in quarterback Matt Leinart. Future Seattle Seahawks' Head Coach Pete Carroll's team was No. 1 in the 2005 preseason rankings and never moved. The team hadn't lost since Sept. 27, 2003.
The Trojans' offense averaged nearly 600 yards per game in 2005. They averaged 218.9 yards per game more than their opposition, and for the season, outscored their opponents 638 to 297. Bush amassed 2,218 yards from scrimmage and scored 18 touchdowns. Leinart threw for 3,815 yards and 28 touchdowns and completed 65.7% of his passes. Lendale White, who backed up Bush and was drafted in the second round in 2006, ran for 1,302 yards and 24 touchdowns. Receiver Dwayne Jarrett caught 91 passes for more than 1,200 yards and 16 touchdowns. Leinart's No. 2 option, Steve Smith, totaled almost 1,000 yards receiving himself.
Young toppled the USC dynasty in Pasadena, Calif. on Jan. 4, 2006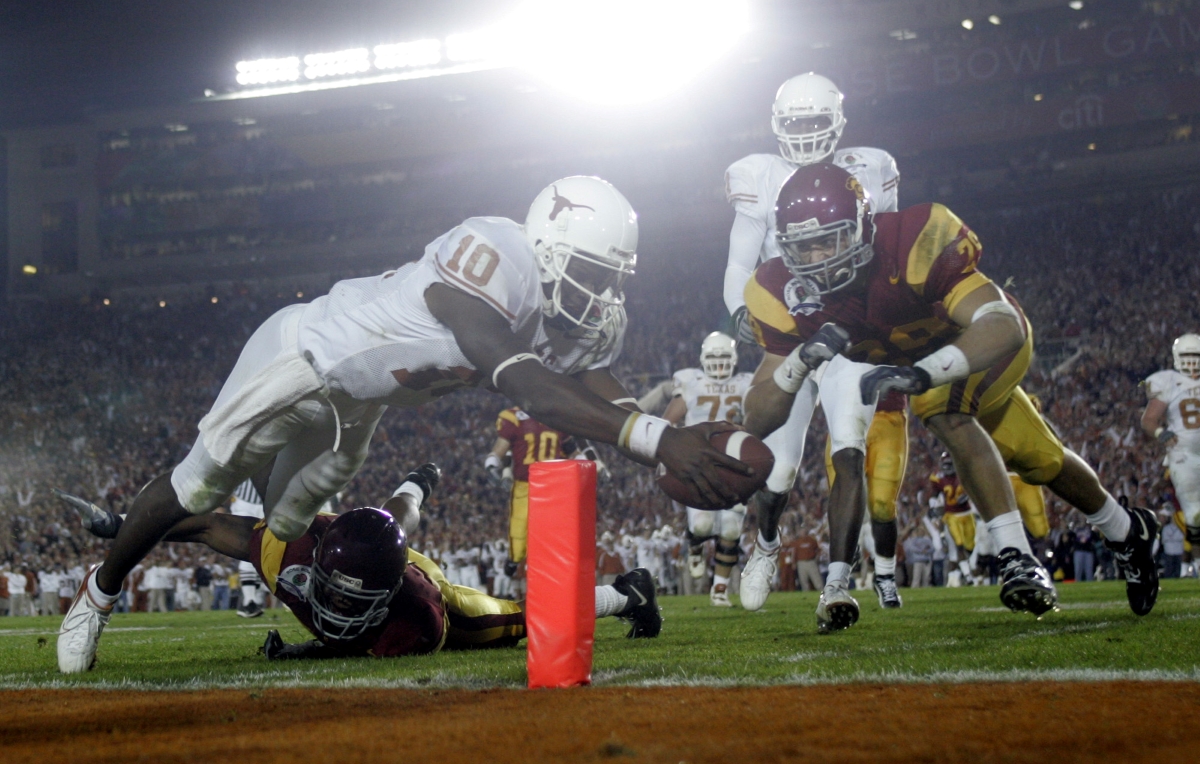 Young's run of college football dominance actually began in the 2005 Rose Bowl against Michigan. During the 2004 season, Young threw for only 1,849 yards and 12 touchdowns as the Longhorn offense featured running back Cedric Benson, who won the Doak Walker Award that year as the nation's top running back.
Against Michigan, though, Young took over as Texas' star player. He ran for 192 yards and 4 touchdowns and threw for another. Young accounted for 24 of the team's 38 points. He scored four of the team's five touchdowns, including two in the fourth quarter. He then led the Longhorns on a 10-play drive that set up the game-winning field goal. The dual-threat star beat the Wolverines by himself — a sign of things to come.
That win propelled Texas to the No. 2 ranking behind USC the following season. Both teams stayed there from the preseason rankings through the national championship, and both teams came into the game undefeated. But Young showed he was the best player on the field.
He was 30 of 40 through the air for 267 yards and carried the ball 19 times for another 200 yards and 3 touchdowns. He had more yards from scrimmage than Bush, White, and Jarrett. Texas trailed by 12, 38-26, with 6:42 left in the fourth quarter. Young scored on a 17-yard touchdown run on the Longhorns' next possession. Texas got the ball back with 2:09 to play — Young had a 7-yard run sandwiched between two completed passes that eventually led the Texas offense to a fourth-and-5 from the 9-yard line.
Everyone watching knew Young was going to run, and after a brief look at his covered receivers, the 6-foot-5 quarterback used his long stride to run through the USC defense anyway and reached across the front right pylon for a touchdown. For good measure, he ran in the two-point conversion on the ensuing play.
Vince Young's 2006 Rose Bowl made him a college football legend
It doesn't matter that he eventually flamed out in the NFL. Young was one of the greatest college quarterbacks of all time and went on a 12-month run that rivaled anything any player had accomplished in decades. Not only did he dominate individually, but he led his team to 20 straight wins and a national title.
Young became a legend. And legends never die.
All statistics courtesy of Sports-Reference.