The Texas Rangers' 2017 Projected Starting Lineup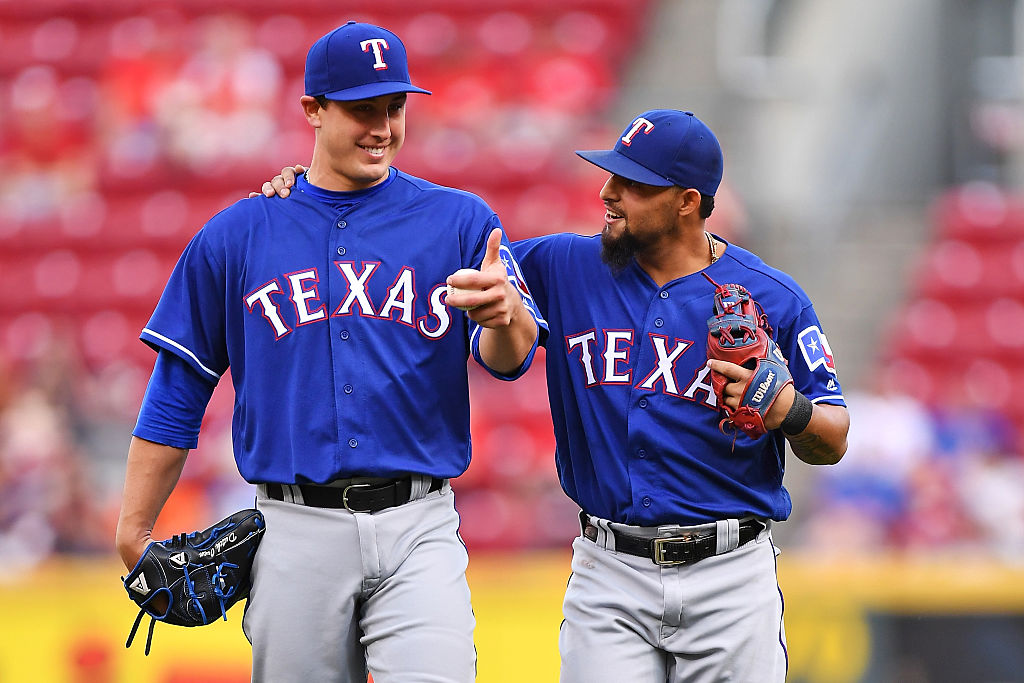 For those who closely and objectively follow the Texas Rangers, it came as no surprise that the team won 95 games but failed to get beyond the first round of the playoffs. Despite how it looks to the casual fan, the team — now with a new stadium in the future — had many holes but thrived in a weak division through the sheer will of its manager, Jeff Banister, and a few key players.
Life in a division without much competition can turn on a dime. The Los Angeles Angels of Anaheim, Seattle Mariners, and Oakland A's are more than a few years from contention but those pesky Houston Astros are poised for a run at the division if not the World Series. With that in mind, the 2017 Rangers must be carefully constructed to meet the demands of an improved cross-state rival as well as other AL teams ready to either rebuild or fine tune. Consider this lineup for 2017.
Leadoff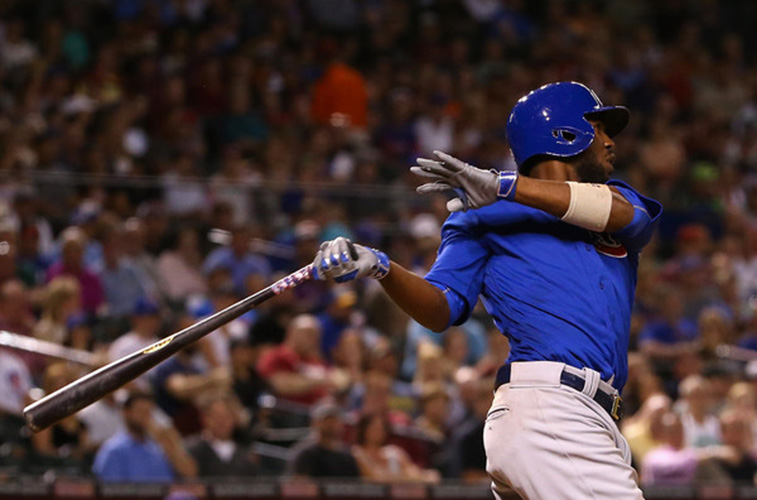 The ideal leadoff man is a table-setter with the ability to get on base and get the wheels in motion. The "modern" leadoff hitter has power combined with great plate discipline. On the current roster, Elvis Andrus comes closest to fitting that bill. But the shortstop seems much more comfortable batting lower in the order. Catcher Jonathan Lucroy also has a good OBP with power but not much in the way of speed. When healthy, Shin-Soo Choo can be a strong leadoff batter with a high OBP with power, but his stolen bases have trailed off the past few years due to injuries.
My vote is for free agent Dexter Fowler, who not only solves the center field problem (Carlos Gomez and Ian Desmond are free agents) but would make a great leadoff hitter. For the Cubs, Fowler — who will be 31 when the 2017 season starts — had an OBP of .393 with 13 home runs and an average of more than 90 runs per season in his nine years in the league. Not that we have ever been in the Cubs clubhouse, but reports say he's a great teammate.
Batting second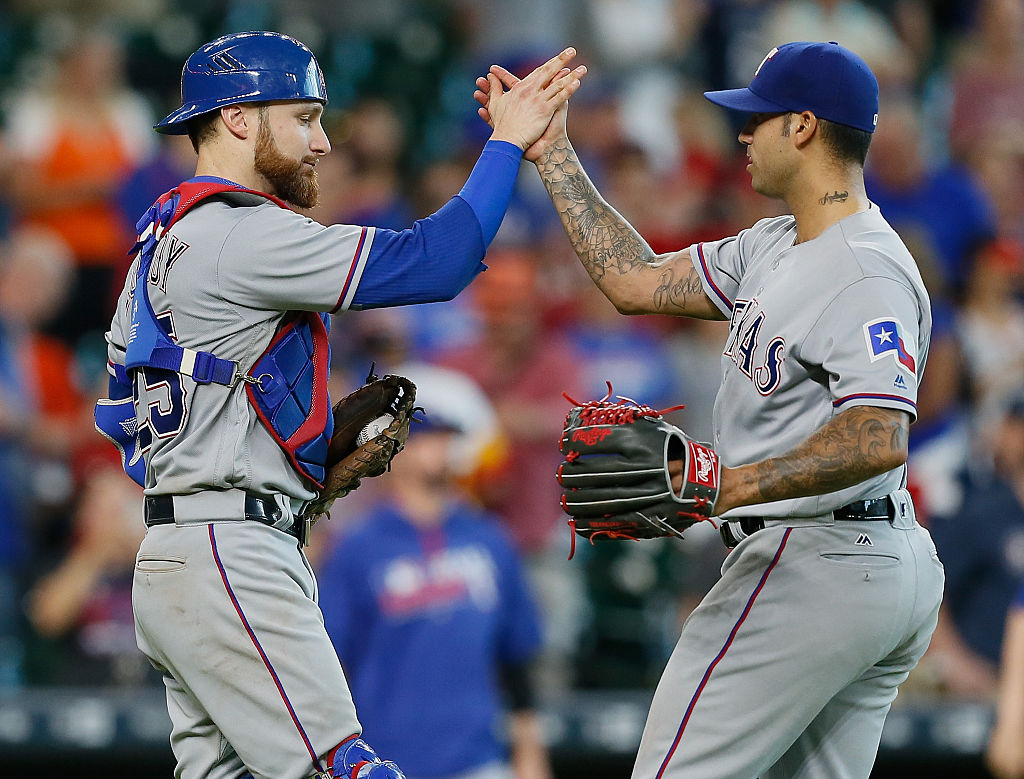 Your second-place hitter is a contact hitter who handles the bat well but can drive the ball, too. The Rangers have far too many batters with huge strikeout totals — not something favorable to the No. 2 batter — so the vote here is Lucroy. The 30-year-old catcher is a bit light in the strikeout-to-walk ratio (2-1), but he's a smart hitter and likely to see pitches to hit with some boppers behind him.
Batting third
The makeup of a prototype third-place hitter has changed since the days of Frank Robinson, Mickey Mantle, and Willie Mays. In the "old days," this was a man who could hit with power, hit for average, and have some speed. Few teams today buy that theory; they go more for the guy who they want to garner more at-bats than the fourth-place power hitter. That's why the Cubs had Kris Bryant second and Anthony Rizzo third.
The Rangers like to bat Adrian Beltre third, but at age 38, despite no visible signs of slowing down, the future Hall of Famer seems better suited to the cleanup spot. With 104 RBIs, we're talking a major clutch hitter, and with the right order in front of him, Beltre could easily eclipse that total.
If we're going classic third-place hitter, it's time to throw future superstar Nomar Mazara into the mix. The young right fielder hit 20 home runs in his rookie year. From his first at-bats in the minors, he had that swagger you find in players who have the mark of greatness. Mazara's speed is somewhat questionable (he had no steals in 2016), but for the combo of power and speed, he needs to bat third.
That puts Adrian Beltre at cleanup.
Batting fifth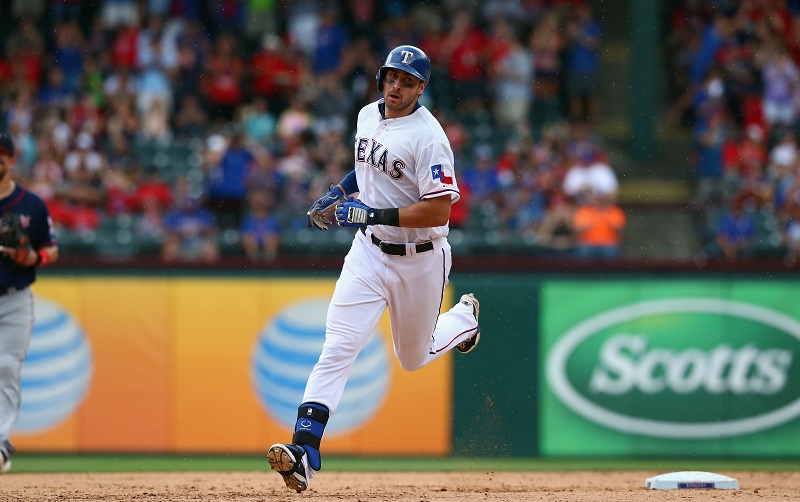 Now things get a little dicey.
If the Rangers keep Joey Gallo and put him at first, he will bat here. That is until he proves otherwise and threatens the modern day strikeout record. If they trade Gallo, Odor could bat here. Odor is a tough case because he's a totally undisciplined batter with a thirst for the long ball but an OBP below .300 and 135 whiffs against 19 walks. We doubt there's a batting coach alive who can tame Odor to think 20-ish homers with fewer Ks and more doubles/triples.
Yet another option would be 2017 rookie Ronald Guzman, who is the first baseman. At 6-foot-5, 205 pounds, Guzman has similarities with Gallo. However, while the young Dominican shows less power in the minors, he also appears to be less of a high-percentage strikeout victim. And then there's free agent/former Ranger Mike Napoli. Let's not go there quite yet.
Batting sixth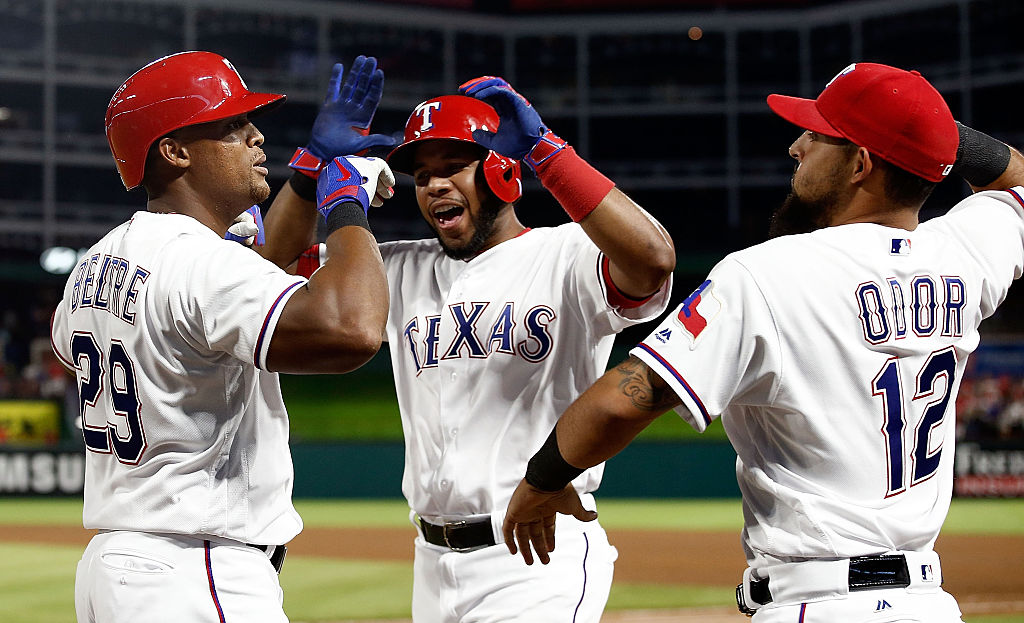 Lots of choices here. Odor makes the most sense, but depending on who the Rangers add from the free agent market, this slot could be a floater. For left field, the team has Ryan Rua, who would land here. Frankly, Rua profiles more as a utility outfielder, and the Rangers could look at Mark Trumbo for left (he'd bat fifth). Solid players, such as Michael Saunders or Brandon Moss, are nice fits and could be good sixth-place hitters. For the time being, Odor is batting sixth.
Batting seventh
This one is easy; Elvis Andrus batted seventh in 2016 and experienced his best year in the majors.
Batting eighth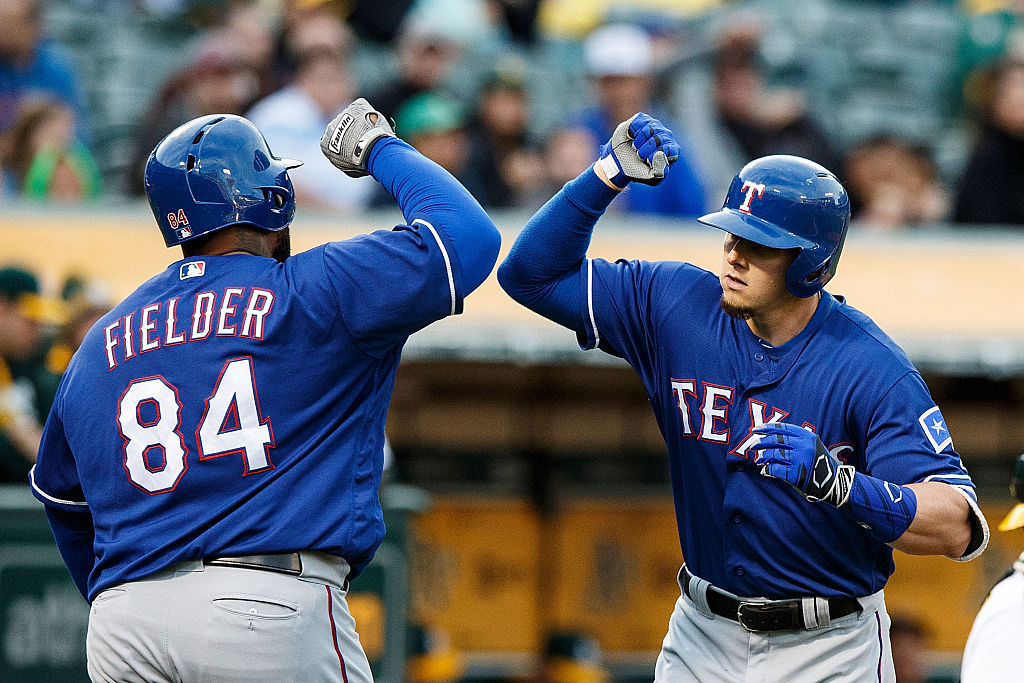 This spot has a domino effect. If the Rangers try Rua at left, he will bat here. If the team picks up Saunders, Moss, or even Josh Riddick, then things get a bit funky with the righty/lefty/righty lineup. Just for fun, let's say the team resigns Carlos Beltran. The switch-hitter can bat fifth; a lefty (Odor, Gallo, Guzman, Moss, Saunders) will be sixth; and Andrus will be seventh. Until free agents are signed and trades are made, Rua bats here and plays left.
Batting ninth
Yet another series of interlocking parts. The theory that your ninth-place hitter is a second leadoff hitter has always been a winning one. Again, this is dependent on the Rangers signing a power-hitting DH. If a Trumbo-like hitter (left fielder or SH) or (heavens) Jose Bautista (DH) is signed, we shuffle this way; DH fifth, Gallo/Guzman sixth, and then put Odor ninth. Odor may or may not think of this as an insult. Given Banister's control of the clubhouse with veteran leadership like Adrian Beltre, the hot-tempered Odor might see this as an opportunity, not a punishment.
So, that leaves out Jurickson Profar (who we'd rather see at second over Odor), Josh Hamilton (yes, him), and Delino DeShields (spare outfielder). With recent trades, AA Frisco and AAA Round Rock are not overflowing with position-player talent. But we are still three months from Cactus League kickoff, so anything can happen.
Statistics courtesy of ESPN and Baseball-Reference.