That 1 Time MLB Legend Joe Carter Pulled a Hilarious Prank on Derek Bell
MLB clubhouses and dugouts are often serious places. There's a lot on the line — baseball teams compete over the 162-game slog of a season in the hopes of winning a World Series. That said, sometimes players find the need to inject levity into the game. That's why pranks are a common occurrence around MLB ballclubs.
As long as baseball players have taken the diamond, it seems as though pranks have been a common part of the baseball experience. One of the best and most elaborate pranks of all time was pulled off by former Toronto Blue Jays slugger Joe Carter. Before we take a closer look at that prank, let's examine some other famous pranks throughout MLB history.

Famous pranks in baseball history
A list of some of the best baseball pranks of all time from the official MLB website included some doozies, but for our money, Joe Carter takes the cake. Below are just a few examples of some of the crazy hijinks players got up to before, during, and after baseball games:
The hot foot. A common prank in baseball clubhouses is the "hot foot" prank, where a player's shoe or shoelace is set on fire by a teammate when they're not paying attention. One of the most famous victims was former reliever Goose Gossage. Justin Verlander reintroduced this prank a few seasons ago as well.
A "rare" steak for Sweet Lou. Then-Seattle Mariners manager Lou Piniella once bet Ken Griffey, Jr. that he couldn't homer to the different parts of the outfield on consecutive swings. On the line for the bet? Junior had to buy Piniella a steak. Griffey lost the bet and delivered — by leaving a live cow in Piniella's office the next day.
Tim Hudson scared the daylights out of Eddie Perez. While Tim Hudson was pitching for the Atlanta Braves and Eddie Perez was catching for them, Hudson took an opportunity to frighten Perez when he least expected it. Hiding in Perez's hotel closet, Hudson popped out wearing a mask from the horror movie Scream. Perez was definitely scared by it, and everyone had a good laugh afterward.
While these pranks are legendary and hilarious, none can compete with the one pulled off by Carter. But before looking at that, let's take a look back at his career for context.

A look at Joe Carter's stellar career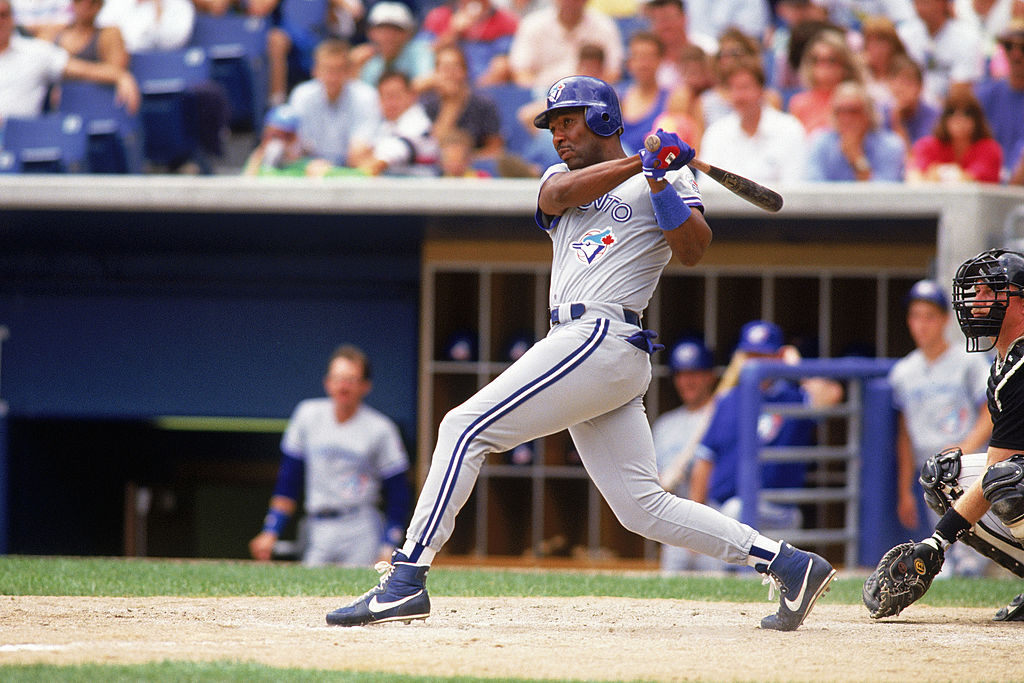 Joe Carter may be one of the most famous players in Toronto Blue Jays history. Carter played 16 seasons in MLB for teams such as the Chicago Cubs, Cleveland Indians, and San Diego Padres. His most memorable moment, however, came with Toronto. Below are his career numbers:
396 home runs
2,184 hits
1,445 RBI
.306 on-base percentage
.464 slugging percentage
Wins Above Replacement (WAR) of 19.6
Carter hit the World Series-clinching home run in game six of the 1993 World Series against the Philadelphia Phillies. The image of Carter jumping for joy as he rounded the basepaths is no doubt seared in the minds of all Blue Jays fans.

The one time Joe Carter pulled a hilarious prank on Derek Bell
On October 4, 1992, the Blue Jays held a "Fan Appreciation" Day. It was the last game of the regular season, and Jays' prospect Derek Bell got the start because the team had already clinched the AL East title. Joe Carter decided to have some fun with him. He staged a fake raffle giveaway of Bell's vehicle. The team announced that a lucky fan had won Bell's car.

Carter arranged for a Blue Jays' team employee to wash the car and drive it on the field. Bell looked on from the dugout in shock, unable to process what was happening. The look on Bell's face, and the moment itself, have truly gone down as one of the great pranks in baseball history. At the very least, Carter's stunt certainly took more planning than your typical hot foot baseball prank.