The 1 NBA Player Giannis Antetokounmpo Says He Has to Listen to About Shooting
Giannis Antetokounmpo has come further than anyone expected, but he still has a long way to go. When the Milwaukee Bucks drafted him 15th overall in 2013, the young forward was considered more of an exotic curio than a future MVP.
All limbs and no muscle, the only videos of young Antetokounmpo playing basketball were grainy broadcasts from a Greek gym similar to where local rec leagues host games. His unique frame portrayed some potential of the then-18-year-old finding his place in the NBA. But it took some time to tell if he could make good on his talent.
To say Antetokounmpo has surpassed every expectation would be an understatement.
Giannis Antetokounmpo rampages the NBA
Fast forward a few years, and the "The Greek Freak" solidified himself as a top-five player in the league. There's no other way to properly describe what he does on a nightly basis.
He's combined his natural size and athleticism with an unreal level of strength only achieved by someone intensely dedicated to self-improvement. There's no stopping him; you can only hope to get in his way.
In the 2018-19 season, Antetokounmpo transitioned from being an exciting young player to a superstar. The new offensive system implemented by first-year head coach Mike Budenholzer gave him more room to operate from his preferred spots on the floor.
Antetokounmpo averaged 28 points, 12 rebounds and six assists per game on his way to becoming league MVP for the first — and probably not the last — time in his career. James Harden offered a worthy competitor for MVP, but Antetokounmpo's superb defense and less impressive supporting cast pushed him over the edge.
Antetokounmpo's biggest flaw exposed in defeat
It was perfect season for Antetokounmpo and the Bucks — until it very much wasn't. After dispensing with the Detroit Pistons and Boston Celtics in the first two rounds of the Eastern Conference playoffs, Milwaukee faced the Kawhi Leonard-led Raptors in the Eastern Conference finals.
The Bucks won the first two games relatively comfortably, before losing four straight to the future champions. Milwaukee falling short of the NBA Finals is no failure. But the way the Bucks and Antetokounmpo struggled near the end of the series was particularly eye-opening.
The Raptors decided to double-team and even triple-team Antetokounmpo every time he even hinted at driving to the rim. As a result, the entire Bucks offense suffered.
It was no secret that Antetokounmpo was a poor outside shooter. But that series showed how his greatest flaw could be used to keep him from attaining the team success that players of his caliber are supposed to achieve. Fortunately, the Bucks brought in a player who can help him improve his shot.
Can a new teammate help Antetokounmpo improve as a shooter?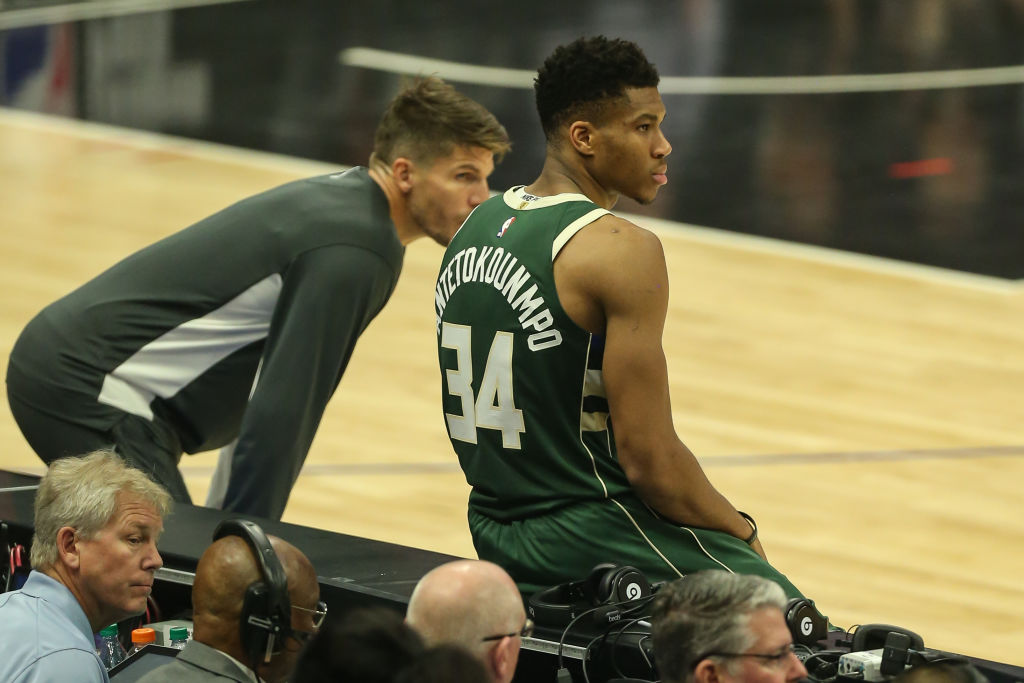 Kyle Korver signed a one-year deal with Milwaukee over the summer. As one of the best shooters of his generation, he hits over 43% of his shots from beyond the arc. During training camp, Antetokounmpo discussed how the signing could help him and other players improve their jump shots:
"It's really important [that] I always try to talk to him a little bit. And he's a great guy. He's not trying to get in your head or overstep and talk too much to you. Whenever he gives me tips, I always try to listen … He's definitely going to help this team, but he's definitely going to help a lot of players develop their shooting ability."
Only Antetokounmpo knows how much Korver's advice has helped him. But the stats show clear improvement and confidence in his jumper. He's shooting 33% from three-point range (an 8% increase from last year) on nearly twice as many attempts per game.
These are not the statistics of a knockdown shooter. However, it's good enough that Antetokounmpo must be guarded further out than he used to be. This gives him more room to attack closeouts and drive to the rim.
These small advances have made an unstoppable player even more difficult to defend. Antetokounmpo's points per game have risen to over 30 points a game. He's also averaging about one free throw more per game.
The scariest thing for the rest of the NBA: These percentages have been rising over the course of the season. The reigning MVP is still improving, with a little help from Korver.  
Follow more updates from Sportscasting on our Facebook page.