The 1 Stat That Proves Giannis Antetokounmpo Is Dominating the NBA
When the Bucks drafted Giannis Antetokounmpo in 2013, Milwaukee hoped the skinny forward from Greece would transform into an elite player after a few years of development. The physical tools were there, but he had little experience as a basketball player.
Antetokounmpo was considered a project who may or may not work out. While his first few years were slightly lowkey, it's clear that the NBA underrated his talent. Future MVPs are not supposed to be available at the 15th pick.
Giannis Antetokounmpo becomes a unique superstar
After years of incremental improvement, Antetokounmpo became a superstar in the 2018-19 season. Thanks to the spacious offense executed by new head coach Mike Budenholzer, Antetokounmpo harnessed all of his gifts and bulldozed over the league.
The forward averaged 28 points, 12 rebounds, and six assists a game while leading the Bucks to a 60-win season. He deservedly became the third-youngest MVP winner in the past 40 years.
Statistics like those are out of the reach of most NBA players, but not for Antetokounmpo, who was not even his peak. Sadly, the season ended in disappointment for Milwaukee. They lost to the Toronto Raptors in the Eastern Conference Finals in six games.
The manner of the defeat was glaring. Toronto's defense, led by Kawhi Leonard, kept Antetokounmpo out of the paint and forced him into taking jump shots he didn't feel comfortable taking. Failure is painful, but it's often the best teacher.
Antetokounmpo has noticeably improved this season. He's currently putting up 30 points, 13 rebounds, and six assists on a nightly basis. Already, he's made more three-pointers this year than he had any other season prior. It looks increasingly likely that he'll be a repeat recipient of the MVP award. 
The pure numbers make it clear that Antetokounmpo is a remarkable player. But if you look deeper, you realize quite how unique his style of play is compared to other NBA players.
How does Antetokounmpo keep getting better?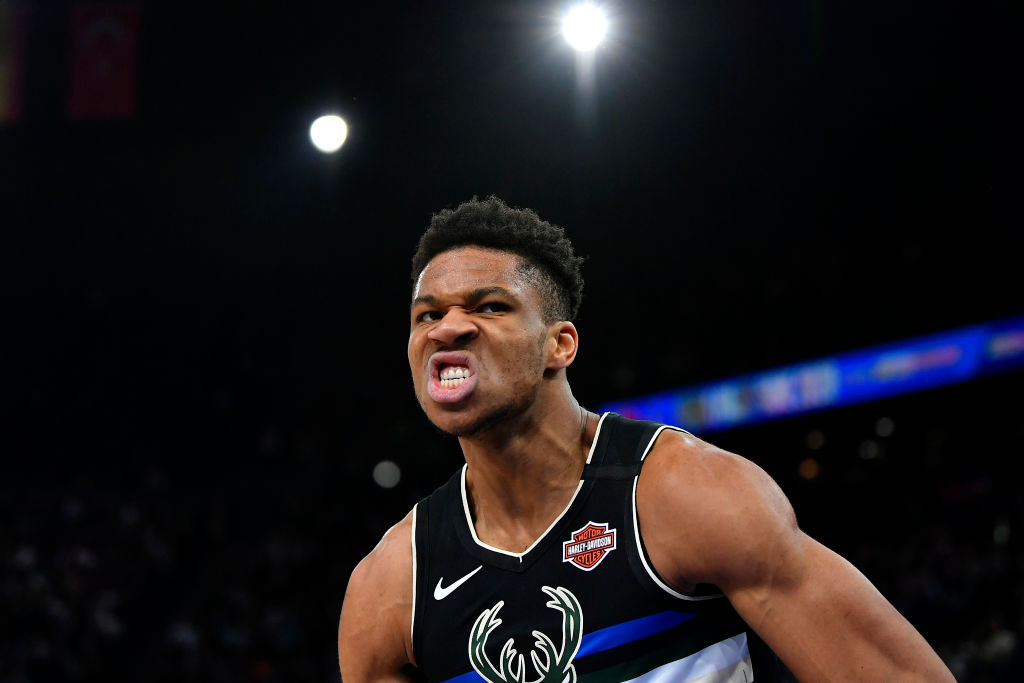 The 25-year-old is simultaneously the best paint scorer in the NBA and an increasingly brilliant playmaker. FiveThirtyEight has created a metric called Creation Rate. This measures the percentage of his team's points that a player creates while he's on the court, either through his own scoring or assisting others. 
Antetokounmpo's current creation rate is 57.8%, the 16th-highest rate among all NBA players since 2013. Only 22 players have had a creation rate of over 55%. What makes Antetokounmpo's presence on this list so impressive is that he has the ball in his hands for less time than anyone else. His possession rate is 14.9% — last among that group of 22 players.  
The rate would even be higher if his teammates made more open shots. The rest of the Bucks have an effective field-goal percentage of 0.45 percentage points worse than expected off of Antetokounmpo's passes, which ranks 90th out of the 131 players who've created at least 250 teammate shots this year.
The expected effective field-goal percentage off his passes is 27th among that group, which means he's doing his part to put the team in a position to succeed. They just haven't hit been hitting as many shots as they should. 
Antetokounmpo is having a historically brilliant season, and he doesn't even control the ball as much as he could.
Antetokounmpo still has flaws
Even now, there are still obvious ways for Antetokounmpo to better himself. He's shooting better from deep than ever, but 33% still isn't good enough to truly worry teams. Come playoff time, opposing teams will still dare him to beat them from long distance.
His free-throw shooting is also a concern. For some unknown reason, his free-throw percentage has dropped 10% from last year. He's even air-balled a few shots from the line this season. The only explanation is that he's developed a mental block around going to the line. 
Antetokounmpo will need to get over this at some point or defenders will just hack him to keep him from orchestrating the Bucks' offense. The rest of the NBA should be thankful he hasn't worked out these kinks yet. He'd be basically unstoppable without them.