The 1 Thing Mike Trout Would Change About Baseball
While baseball values tradition, it has also evolved over the years. There's little doubt that a baseball game played 50 years ago would look different than one played today. As baseball adapts, the MLB would be smart to listen to its best players' opinions on how to update the sport.
One MLB player who has ideas about changing the sport is Angels outfielder Mike Trout. Let's take a closer look at one way Trout would change baseball.
Why Mike Trout is a fan favorite
Trout is one of the most popular players in the game for a simple reason: He's most likely the best player in baseball. Take a look at Trout's career achievements so far:
.305 batting average
285 home runs
903 runs scored
752 RBI
200 stolen bases
.419 on-base percentage
.581 slugging percentage
1.000 OPS
Three-time American League MVP
Eight-time All-Star
Trout is signed through 2030 with a record-breaking 12-year, $430 million contract. The 28-year-old isn't close to scratching the surface of his potential. It's likely he'll break some offensive records before he retires. Trout has a lot to say about his sport, which has faced criticism in the past. 
Trout's criticism of baseball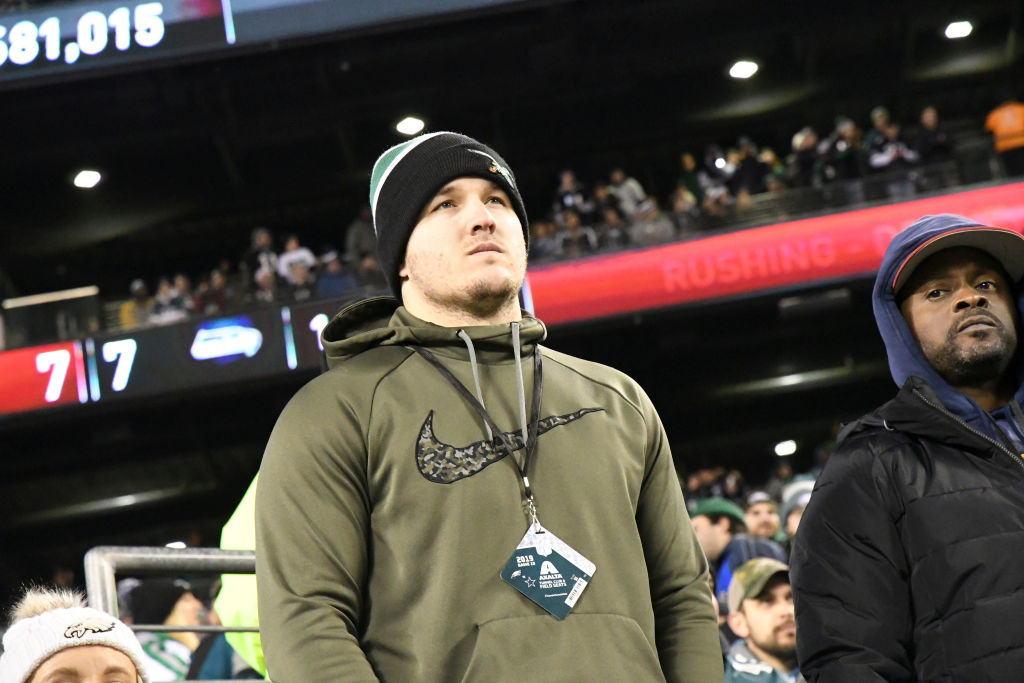 One common criticism about baseball is that it's too boring. The game can move at a slow, deliberate pace. These days, with sports fans having a shorter attention span than ever, this isn't ideal. More fans can just watch highlights on their phones. So the desire to watch something else grows. 
One way baseball can keep its fans' attention? Creating more rules meant to speed up the game and, in turn, lead to more offense. Putting pressure on pitchers and hitters to return to the mound and batter's box will lead to more activity.
This likely means that either more runs will be scored or the game will go by quicker. It's a win-win for everyone. 
The one thing Trout would change about baseball
One thing Trout would change about baseball is the defensive shift. Right now, teams often employ a defensive shift to play the pull. They'll put all the infielders on one side of the infield, leaving one side of the infield empty. Most of the time, the player ends up hitting it to one of the infielders. 
Here's what Trout had to say about this in an interview with Alex Rodriguez of Fox Sports: "With the shift, the fans want to see offense. Obviously, pitchers are dominating. The shift is cutting into our offense." 
Trout's right. Increased offense is one of the most exciting aspects of baseball. No play gets fans off their feet like a home run, but even a base hit causes excitement in an MLB stadium.
The shift plays right into the pitcher and defense's hands. It cuts down on the chances a hitter will have to advance any runners or get on base. It makes their job much harder.
The alternative for hitters would be to bunt into the side of the unoccupied infield, but this isn't a great solution. It would take the bat effectively out of a player's hands. A power hitter forced to awkwardly bunt to a point on the field would have a hard time doing it and wouldn't get to swing away. 
The best course of action would be for MLB to ban the shift. 
Follow more updates from Sportscasting on our Facebook page.