The 1 Thing Missing From Dwyane Wade's NBA Career Is an MVP Award
Few NBA players can boast of the career of retired shooting guard Dwyane Wade. Entering the NBA with the 2003 draft class that also featured LeBron James and Carmelo Anthony, Wade forged a surefire Hall of Fame career from the get-go. A scoring champion, eight-time All-NBA recipient, three-time NBA Champion, and one-time Finals MVP, Wade did a little bit of everything. One thing he didn't do, however, is win the MVP award. 
Dwyane Wade's beginnings
Coming out of Marquette, Wade had a decent amount of momentum thanks to his dominant college career. However, when his rookie season started, all of the attention was on LeBron James and Dwyane Wade. While he wasn't quite as good as his two contemporaries, details Basketball Reference, Wade still put up 16 points, four rebounds, and four assists. However, he slid into the background thanks to the other dominant members of his class.
In 2005, however, everything changed for Wade. The Heat swung for the fences and traded for Shaquille O'Neal after his ugly break-up from the Los Angeles Lakers. O'Neal turned the Heat from a mediocre basketball team to a contender despite being on the latter end of his prime. Wade's production increased exponentially. 
Practically overnight, Wade went from a promising rookie to a bonafide superstar, as his scoring went up to 24 points a game, and his assists and rebounds went up with it. If James got by on brute strength and Anthony got by on scoring ability, Wade got by on his relentlessness. In 2006, he and the Heat made it all the way to the NBA Finals, where the Heat came back from a 2-1 deficit thanks in large part to Wade's dominant performance. 
A superstar was born, but Wade was just getting started. 
Dwyane Wade enters his prime on top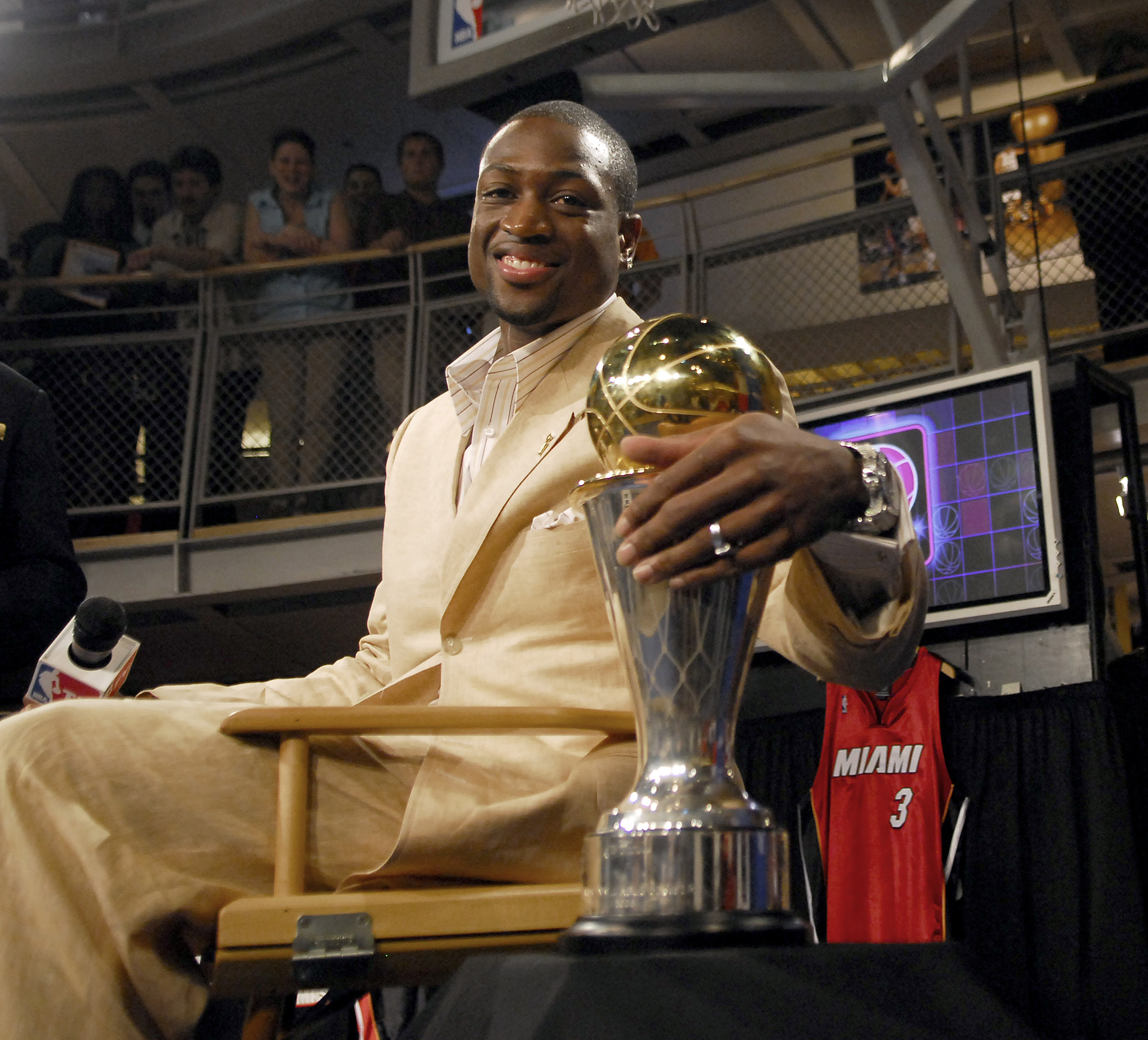 The O'Neal Heat whimpered as the aging center began to show his age, and the supporting cast either dispersed or retired. The team was Wade's, and Wade took that to heart. In 2009, he led the NBA in scoring with 30 points a game. Two years later, however, he became a supporting player on his team despite being a top-five talent. 
LeBron James changed the NBA forever when he went to Miami. And Wade seamlessly shifted into the new role. While Wade showed himself to be a capable leader, he might've been better next to James despite a drop in stats. The Heat was a new type of Super Team formed entirely by players in Free Agency. They rattled off two Championships and four Finals appearances during their time together before James returned to Cleveland.
Around this time, Wade began to regress. He was entering his mid-thirties and the same relentless style that he was known for regressed dramatically as he entered his final years. After a brief sojourn in Chicago and back with James in Cleveland, Wade returned to Miami in 2018 and remained there until his retirement the following year. Wade retired as a 22 point, five-assist, and five rebound player, but his impact in his prime goes far greater. How, then, did Wade not win the MVP?
Why doesn't Dwyane Wade have an MVP?
As good a player as Wade was, things held him back from getting MVP. During O'Neal's first years with the team, Wade was considered second-fiddle despite winning it all in 2006. In years like 2009, when Wade led the league in scoring, James led a weak supporting cast to contention. 
When Wade welcomed James to his team in 2010, there was no way for him to win MVP as the second-best player. He might've had an argument in 2007 or 2008. But he didn't have the same type of year that Dirk Nowitzki or Kobe Bryant had. At the end of the day, Wade was never the most valuable player in the NBA. He might have been a top-tier talent and a surefire candidate. But it's hard to find a year where he definitively deserved it. 
Wade has nothing to be ashamed of, and his accolades speak for themselves. However, in a league where Kobe Bryant only had one MVP himself, it's easy to forget just how hard individual awards like that can be to attain. Wade has nothing to be ashamed of with this empty spot in his trophy case.