The 1 Thing That Matters More to Luka Doncic Than an NBA MVP Award
Luka Doncic is an NBA phenom of the sort that comes along once in a blue moon. He's the new face of the Dallas Mavericks franchise in only his second year of the league.

Doncic has the stats to back it up. He is regularly compared to some of the most venerated names in NBA history. He got the Rookie of the Year nod for his splashy debut last season. Doncic is already an early contender for Most Valuable Player this season.

Yet Luka himself doesn't care much about all of that. There's one thing he wants more than prestige. But first, let's break down how this Slovenian marvel so quickly became one of the most talked-about players in an era brimming with superstars.

Luka Doncic's scorching hot rookie debut
Luka is a year shy of drinking age in the United States, yet his professional basketball career actually dates back to 2015. He dominated The Liga ACB with Real Madrid until he hit eligibility for the NBA.

The Atlanta Hawks scooped up Doncic third overall in the 2018 NBA draft. The Mavs quickly traded for him. They got much more than they bargained for.

Doncic played in 72 games, averaging 21.2 points, 7.8 rebounds, six assists, 2.3 threes, and 1.1 steals. More than enough to net him the Rookie of the Year award. Even Luka was shocked by just how well he managed to do in the NBA.

Why Luka is an early candidate for the MVP discussion
Luka Doncic isn't your average cat. He regularly gets comparisons to all-time greats like Larry Bird and LeBron James. And his performances so far back up the hype. He recorded his first triple-double of the year early, in an October 25 win against the New Orleans Pelicans. Then he did it again in a losing effort against LeBron and the Lakers. The very next game he did it yet again, against the Cleveland Cavaliers.

Triple-doubles against any teams in the NBA are a big deal. Against LeBron James and Anthony Davis, in the midst of their 12-2 run? That's something else. He currently has six total, and the season has barely gotten started.

Across his first ten appearances, Luka averaged 28.3 points, 10.3 rebounds, and 9.1 assists. In his second year in the league, he's fifth-highest average scorer. The only three players in the top six for both scoring and assists are Trae Young, James Harden, and Luka. That is what MVP candidates are made of.

But Luka doesn't care all that much about winning awards. He has his eyes on a different kind of prize.

One thing Doncic cares about more than awards and recognition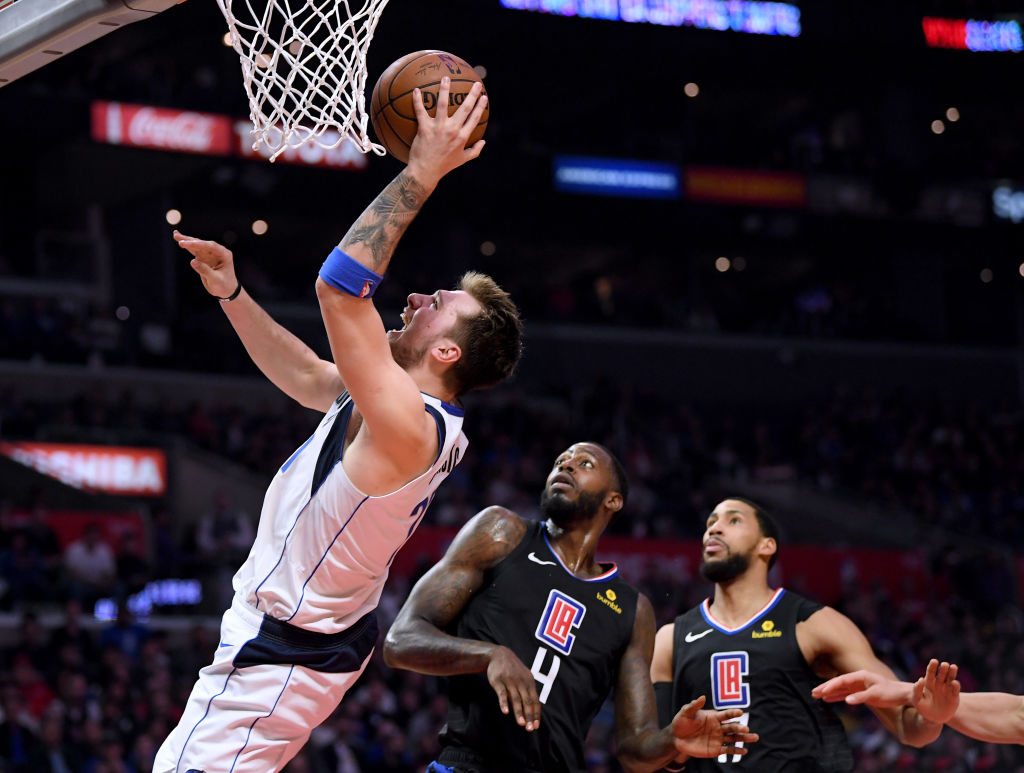 Going from Rookie of the Year to MVP the very next season is a dream scenario. Doncic pays that very little mind.

Before running into the New York Knicks, gathered reporters asked Luka about his feelings on the MVP chatter building up around him. He said, "Obviously there's a lot of great players, amazing players. I don't care about that."

So what does Luka Doncic care about? Winning. Winning big. "I want to get in the playoffs. I talked to J.J. [Barea] a couple of days ago. He said it's so much fun to play in the playoffs. Obviously, they had the 2011 run. It would be so much fun to play in the playoffs."

Considering his Mavericks fell to the unusually feisty Knicks in a 103-106 stunner, he has the right mindset. The Mavericks are in a transitional phase. Luka isn't worried about polishing off his MVP resume. He's more interested in figuring out how to apply his talent to team basketball and rack up wins.

Ironically, that sounds exactly like something a future NBA MVP would do.