The 1 Tom Brady Stat That Proves He's the GOAT
It's hard to dispute that Tom Brady may be the GOAT when it comes to outstanding NFL quarterbacks. Not only has the talented athlete been in the NFL for almost 20 years with the New England Patriots, but he shows no signs of slowing down.
In his early forties, Brady performs at a high level. He's won six Super Bowls, four Super Bowl MVP Awards, and three league MVP awards so far. The QB also holds over 50 NFL records including the most career wins by a starting quarterback, most wins by an NFL player, most regular-season wins by a starting quarterback.
One of the latest records he owns — the most touchdowns thrown to different receivers — is not only unique but also incredible.
Tom Brady has thrown the most TDs to different receivers
The record for most TDs thrown to different receivers was held by Vinny Testaverde until 2018 when Tom Brady threw to then-Patriots receiver Josh Gordon for a touchdown.
Then, on November 24, 2019, Brady threw a TD to the 75th receiver of his career when he completed a pass to receiver N'Keal Harry in a game against the Dallas Cowboys. While the 42-year-old quarterback was more focused on winning his 10th game of the year, the score only solidified his prowess.
One big difference for Brady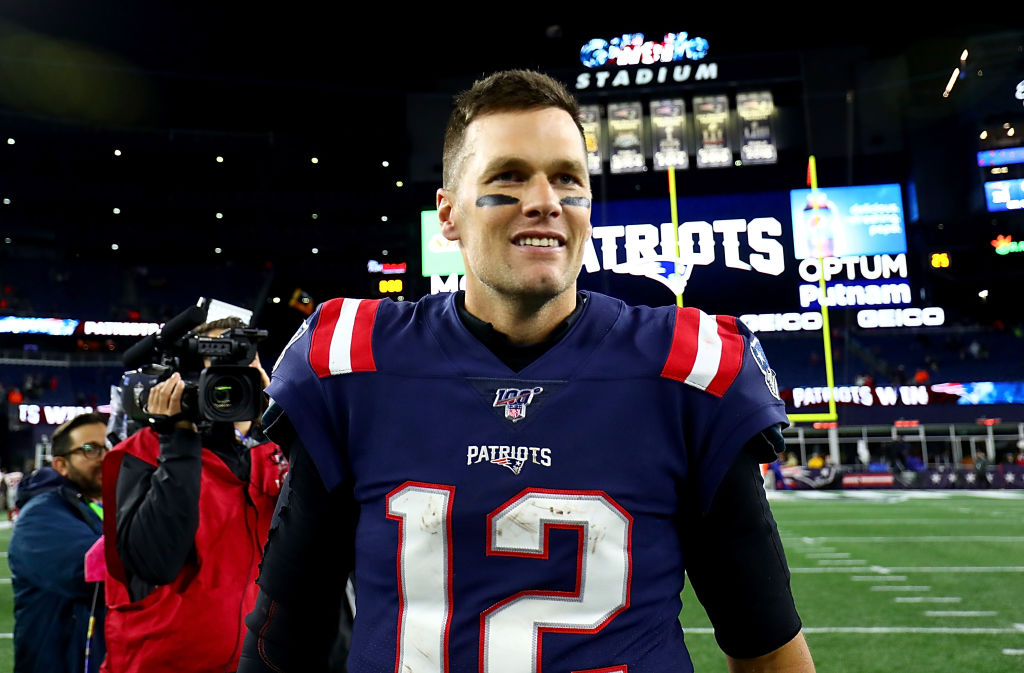 There's one striking difference between Brady and Testaverde though. Testaverde (1987-2007) played for seven different teams during his NFL career, including two rounds with the New York Jets and one tenure with the Patriots. Brady (2000-present) has only ever played for New England. 
There's even a common link between the two record-setting quarterbacks: wide receiver Troy Brown.
In the 2006 season, Testaverde was a backup QB for the Patriots. He threw a short TD pass to Brown to end the regular-season in Tennessee. The then-43-year-old set the NFL record for throwing at least one touchdown pass in 20 consecutive NFL games. At the time head coach Bill Belichick said he thought Testaverde deserved the accolade.
On the list of Brady-favored TD targets, Brown has caught 15 regular-season scoring passes thrown. At the time Brady broke Testaverde's record, Belichick said there was no quarterback he'd rather have than Brady.
Brady's 75 different receivers
With 75 players catching touchdown passes from Brady, Rob Gronkowski has caught the most. The tight end has 79 receiving TDs in his NFL career ahead of Hall of Fame wide receiver Randy Moss (with 39 scoring plays). Julian Edelman and form Patriots wideout Wes Welker are tied in third place with 34 scores each.
When asked if Brady could remember the players he's thrown TDs, he couldn't come up with all of them. The original record was broken in 2018 in his 18th year with the Patriots.
In 2018, Brady told WEEI that remembering everyone would be hard. He did, however, remember all the guys he's played with and thrown scoring passes to. The QB thought such honors would be great team awards as opposed to just focusing on the quarterback.
According to a 2018 ESPN guide, the first player to catch a TD from Brady was Terry Glenn on October 14, 2001.
Future Hall of Famer
Brady loves the game. The first player in NFL history to win six Super Bowl championships, he says that football is a great team sport. According to the QB, everyone with the Patriots plays an important role.
Brady explained that if the other team members aren't doing their job, he can't do his. As a team, they're able to celebrate achievements and victories with many. He hopes everyone who was a part of such accomplishments is as proud of them as he is. He thinks it's a "really cool thing" to be part of.
To have thrown so many scoring passes to so many players over nearly two decades is a real testament to Brady's longevity and skill. 
Currently in his 20th season, and not likely to be his last, Brady has impressive stats. He holds a number of NFL records with several more within his grasp before he's ready to retire. The quarterback many consider to be the GOAT expressed a wish to play until he's 45.