The 10 Best NFL Free Agent Signings of All Time
Free agency has the ability to make or break NFL franchises. A multimillion dollar investment in a player who ends up being a bust can set franchises back for several years. On the other side of things, signing a highly impactful free agent can help teams build dynasties. Free agency revolves around established players and is considered less risky than the NFL Draft. But the stakes are much higher for teams when they offer contracts that feature massive amounts of guaranteed money.
The teams that are able to win in free agency typically win on the field. With that, here is a look at the 10 best NFL free agent signings in history (in no particular order).
10. Shannon Sharpe — Baltimore Ravens, 2000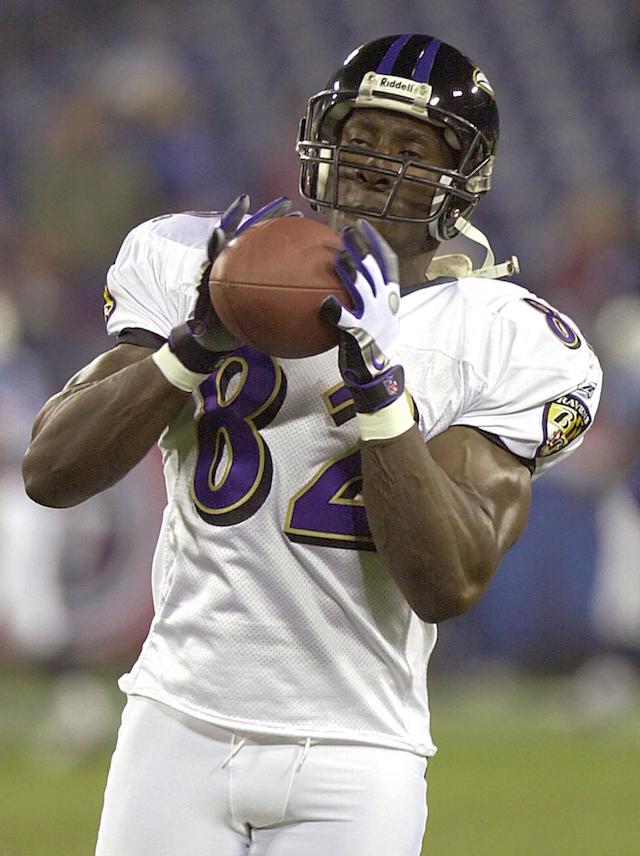 Shannon Sharpe spent the majority of his Hall of Fame career playing for the Denver Broncos. He spent the first 10 NFL seasons in Denver. However, after legendary quarterback John Elway retired, the Broncos decided to move on from one of the best tight ends in NFL history and begin rebuilding. That opened the door for Sharpe to sign as a free agent with the Baltimore Ravens before the 2000 season.
He may have only played two seasons in Baltimore, but he made them count. During his first season with the Ravens, Sharpe was a key contributor to their Super Bowl XXXV championship. He totaled 140 receptions for 1,621 yards and seven touchdowns during his two seasons in a Ravens uniform. We'll forever remember him for his 96-yard touchdown reception that helped lift Baltimore to a win in the 2001 AFC Championship Game against the Raiders.
9. Curtis Martin — New York Jets, 1998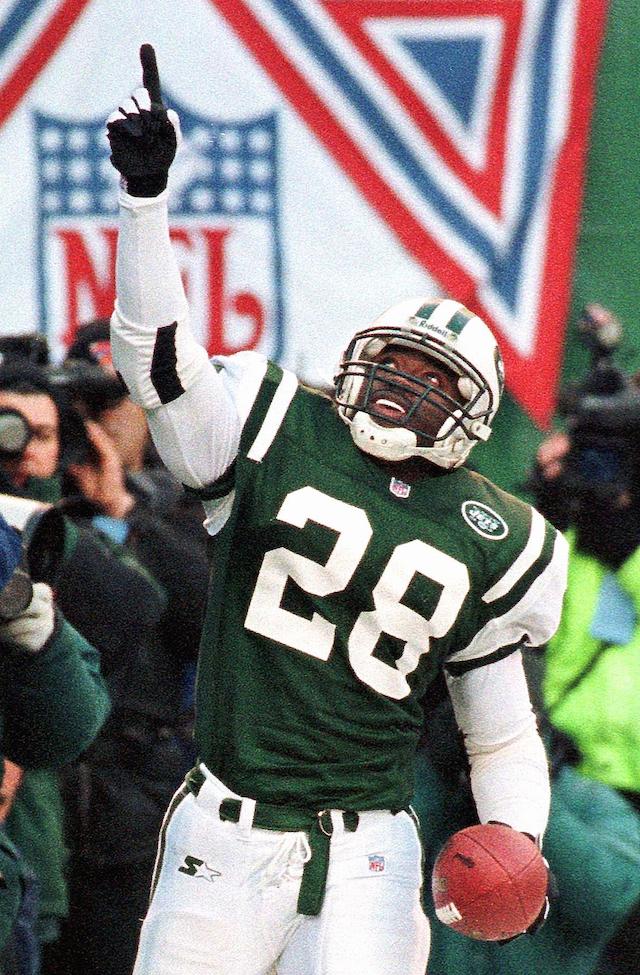 Bill Parcells drafted Curtis Martin in 1995, when Parcells was the head coach of the New England Patriots. Parcells and Martin worked so well together in New England that when the time came for the five-time Pro Bowl running back to test free agency in 1998, his agent called Parcells, who'd left the Patriots to become the head coach of the New York Jets after a feud with New England owner Robert Kraft. Martin ultimately signed with Parcells and the Jets, where he played for eight seasons and rushed for 10,302 yards and 58 touchdowns.
8. Priest Holmes — Kansas City Chiefs, 2001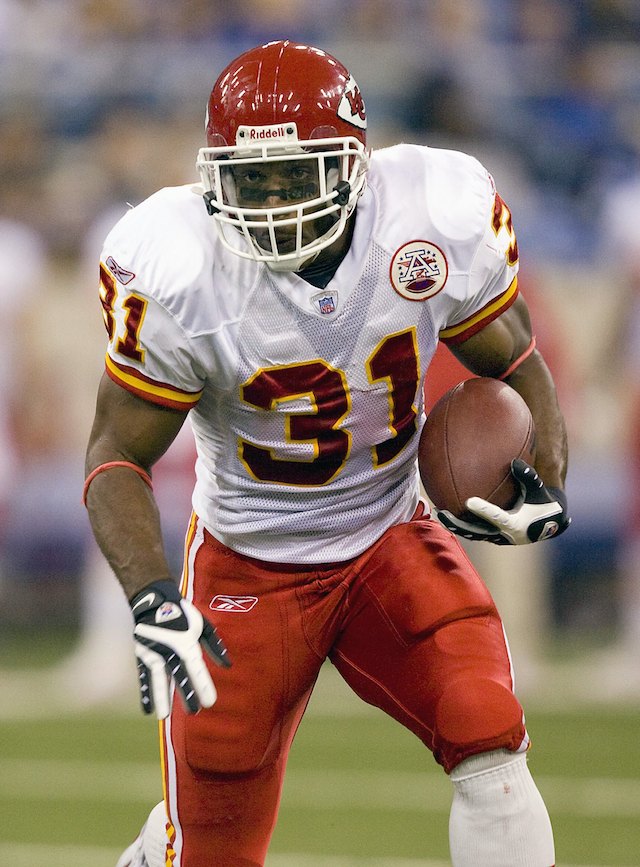 In the first four years of his NFL career, Priest Holmes played for the Baltimore Ravens, mostly as a back up to Jamal Lewis. Following Baltimore's Super Bowl XXXV title, Holmes signed as a relatively modest free agent contract with the Kansas City Chiefs. The Chiefs simply thought Holmes would add depth and compete for carries, but the former Texas Longhorn obliterated their expectations.
In his first three seasons in Kansas City, Holmes put together one of the best three-year stretches by a running back in NFL history. He rushed for 4,590 yards and 56 touchdowns, caught 206 passes for 1,976 yards and five touchdowns, and was named first-team All-Pro three times during that span.
7. Kurt Warner — Arizona Cardinals, 2005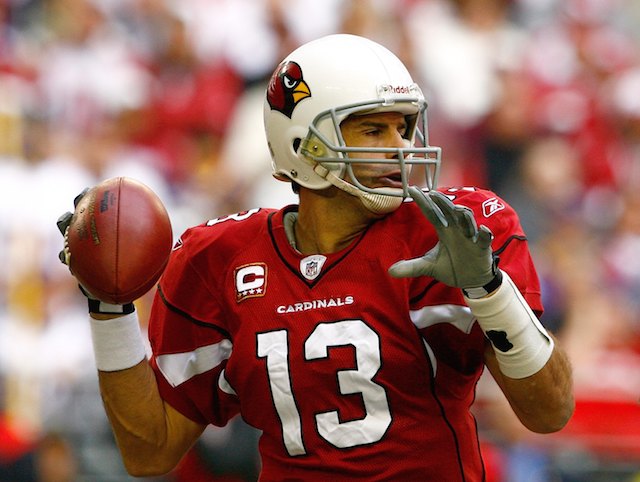 In all of NFL history, Kurt Warner experienced one of the most unique careers. After his record-breaking run in St. Louis abruptly ended, he signed with the New York Giants, where he spent one mostly dreadful season.
After voiding his contract with the Giants, Warner signed with the Arizona Cardinals, who desperately needed a starting quarterback. He battled injuries in his first three seasons in Arizona. But, in 2008, his fourth season in a Cardinals' uniform, Warner led the Cardinals to an appearance in Super Bowl XLIII. He followed that up with another trip to the playoffs in 2009 before retiring from professional football.
6. Rich Gannon — Oakland Raiders, 1999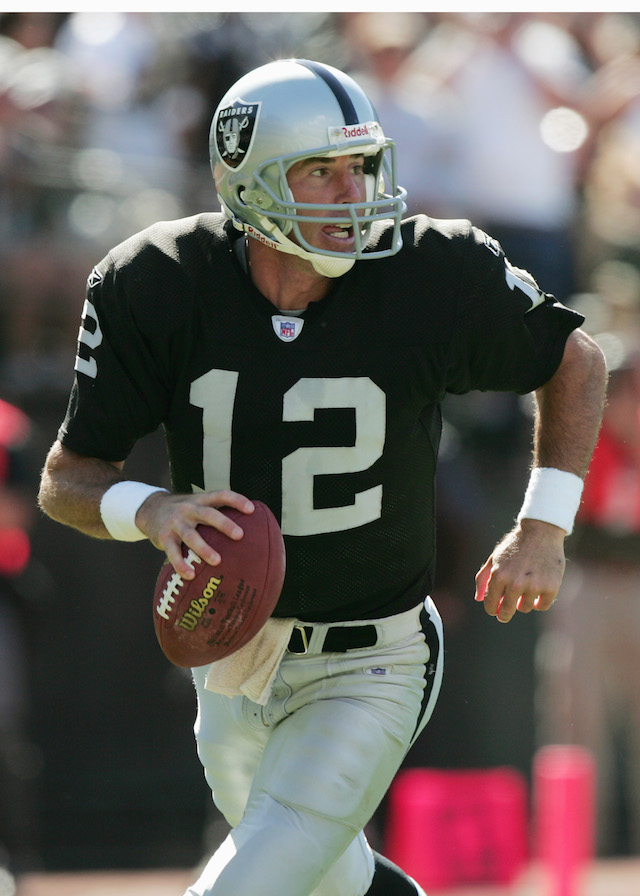 Nobody expected much out of Rich Gannon when the Oakland Raiders signed him in '99. Up to that point, he was a mediocre NFL quarterback who couldn't lock down a long-term starting job. That all changed in Oakland.
Gannon excelled in head coach Jon Gruden's offense, reviving his career as a 34-year-old veteran. He went on to make four straight Pro Bowls, two All-Pro teams, and win the NFL MVP award for the 2000 season. Gannon led the Raiders to an appearance in Super Bowl XXXVII. His first four years in Oakland will go down as one of the best four-year runs by a quarterback in NFL history.
5. Charles Woodson — Green Bay Packers, 2006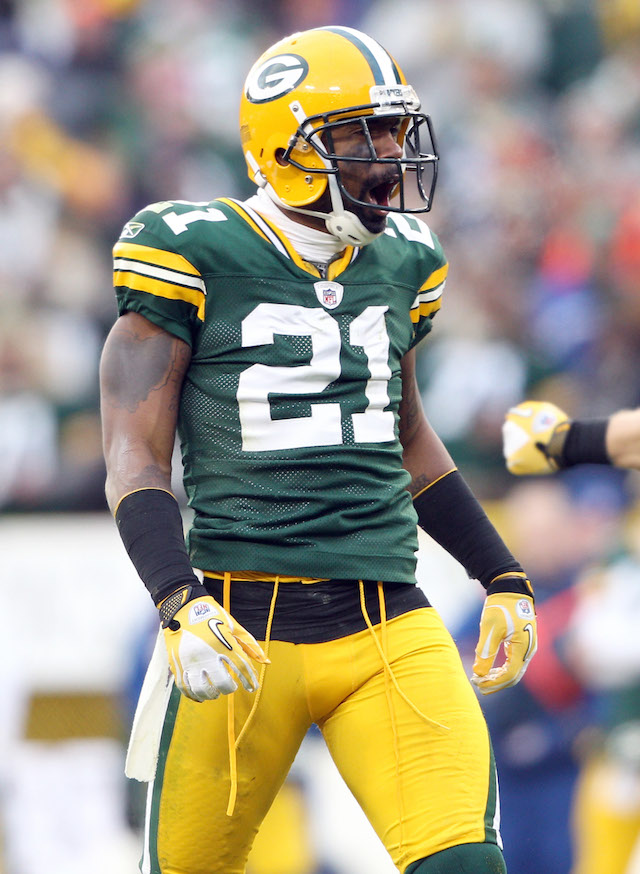 Charles Woodson will go down as one of the most beloved Oakland Raiders of all time. But the fact remains that his best NFL seasons came as a member of the Green Bay Packers. After becoming disgruntled with the coaching and direction of the Oakland franchise, the seven-time All-Pro signed with the Packers in 2006. During Woodson's time in Green Bay, he earned All-Pro honors four times, won the 2009 NFL Defensive Player of the Year award, and was a major reason why the Packers won Super Bowl XLV in 2010.
4. Peyton Manning — Denver Broncos, 2012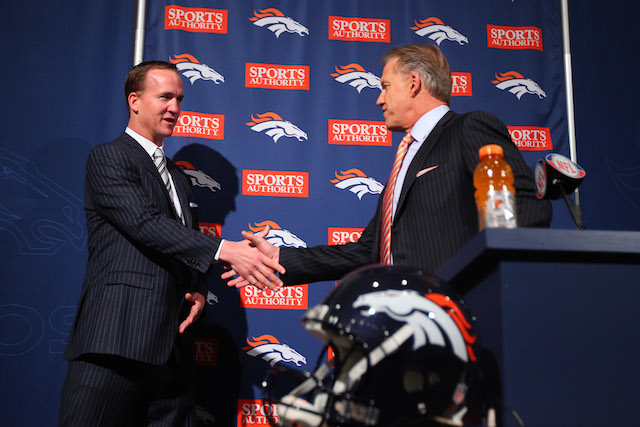 With Peyton Manning missing the entire 2011 season due to a severe neck injury, the Indianapolis Colts went from Super Bowl contenders to the worst team in the league. As fate would have it, the Colts clinched the top overall pick in the 2012 NFL Draft; with that came the right to select can't-miss quarterback prospect Andrew Luck. Indianapolis ultimately released Manning, who signed with the Broncos in 2012.
His first three years in Denver were record-breaking and included a trip to Super Bowl XLVIII. In his final season with the Broncos (and in the NFL), Manning didn't put up jaw-dropping stats, but he did quarterback Denver to a victory over the Carolina Panthers in Super Bowl 50. One factor that's overlooked when discussing Manning's impact on the Broncos is the fact that his mere presence made Denver a popular destination for some of the best free agents at the time (Aqib Talib, Wes Welker, DeMarcus Ware, T.J. Ward, and Emmanuel Sanders).
3. Deion Sanders — Dallas Cowboys, 1995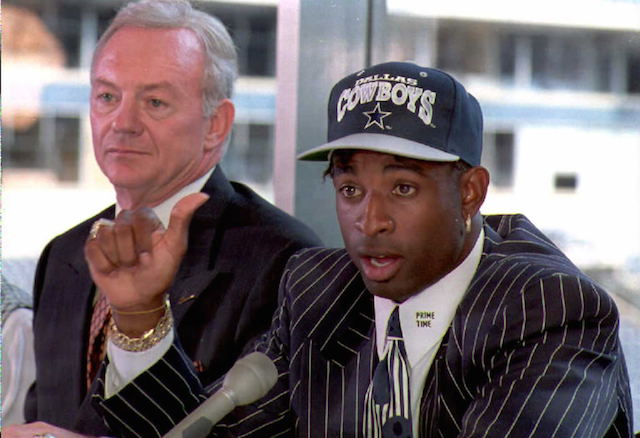 In 1995, "Prime Time" chose to sign with the Dallas Cowboys over both the San Francisco 49ers and Denver Broncos. Deion Sanders' impact on the Cowboys was immediate, as the team won Super Bowl titles in Sanders's first two years on the team. During his time with the Cowboys, Sanders was the best cover cornerback in the game and the best punt returner in the game; he made four All-Pro teams.
2. Reggie White — Green Bay Packers, 1993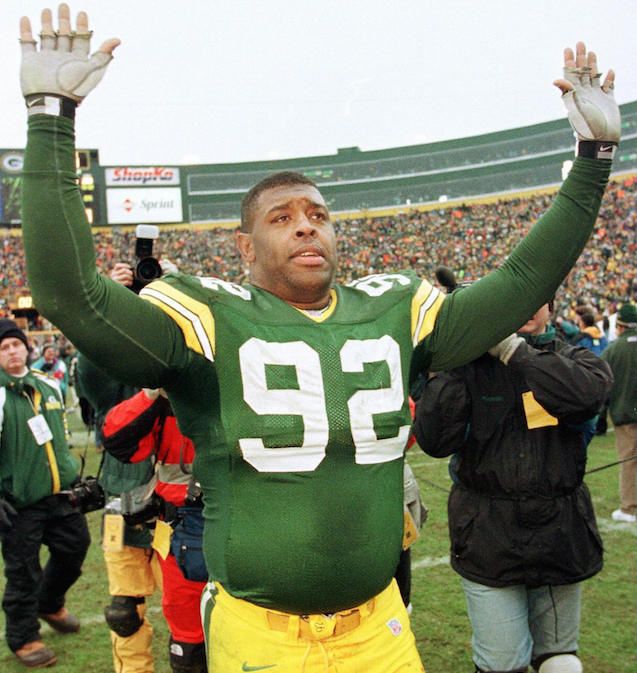 Reggie White is arguably the best player in NFL history to hit the free agent market. He racked up a whopping 124 sacks in his first eight NFL seasons with the Philadelphia Eagles, and was still in the prime of his career. His decision to sign with the Green Bay Packers in 1993 was a stunner, and also changed the Packers' success for many years to come. Signing White gave the Packers credibility and sparked Green Bay's turnaround from being an NFL doormat to regaining their place as one of the most revered franchises in all of pro sports.
In his six seasons with the Packers, White posted 68.5 sacks, made the NFL All-Pro team every season, won the 1998 NFL Defensive Player of the Year award, and was a big reason why the Packers won Super Bowl XXXI.
1. Drew Brees — New Orleans Saints, 2006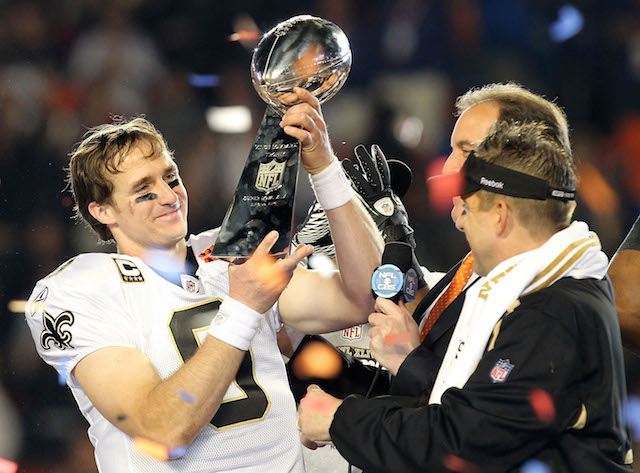 When the Chargers and Drew Brees parted ways following the 2005 NFL season, nobody knew what to expect from the former Purdue quarterback going forward. He had just gone through surgery to repair a torn labrum in his throwing shoulder; it was anybody's guess as to how well he would bounce back from such a devastating injury. Two teams emerged in the race for Brees: the New Orleans Saints and Miami Dolphins. Brees's injury scared off the Dolphins, and they eventually opted to trade for Daunte Culpepper, which led to the Saints making what many people consider to be the best free agent signing in NFL history.
When Brees retires, he will be remembered as the best player in Saints' history. Had he not signed with New Orleans and helped to revive the franchise, there is a good chance the Saints would have relocated following Hurricane Katrina. In his time as a Saint, Brees has gone on to win 101 regular season games; throw for 53,763 yards and 385 touchdowns; post a quarterback rating of 99.3; win two NFL Offensive Player of the Year awards; and make nine Pro Bowl and four All-Pro teams. Most importantly, he led them to a win in Super Bowl XLIV.
Statistics courtesy of Pro-Football-Reference.