NBA: The 10 Best Power Forwards to Ever Play the Game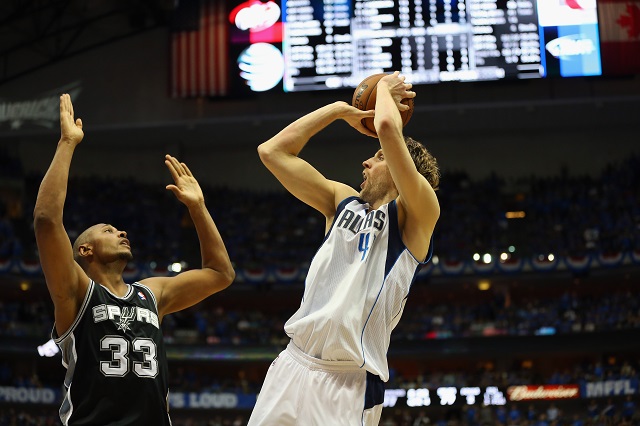 The NBA power forward lays down the law for his teammates with elbows, tough screens, and fierce rebounding. Because of the physical demands of the position, a power forward will engage in rough play to mark his territory and intimidate the opposition. Knowledgeable NBA fans may think back to Kevin McHale clotheslining Kurt Rambis into the basket support; Dennis Rodman being Dennis Rodman; and Bill Laimbeer squaring up and going toe-to-toe with Charles Barkley at the Detroit Palace.
But beneath the thuggery, the NBA's best power forwards of all time are exceptionally skilled players. A great power forward can score at will as he reaches into his bag of tricks to whip out a collection of spin moves, drop steps, and turnaround jumpers. In space, a talented four will go triple threat, either knocking down open shots in the midrange game, or up-faking to put the ball on the floor for easy buckets.
On the defensive side of the ball, the best power forwards are tasked with shutting down opposing forwards and centers. In a battle for position, they simply outmuscle competing big men. After forcing his man away from the basket and into a contested shot, a good power forward will box out, clean the glass, and secure the rebound. Here's our list of the NBA's 10 best power forwards of all time.
10. Dennis Rodman
Dennis Rodman may be the greatest defensive forward of all time. In his prime, Rodman could guard and shut down all five positions on the floor. During his career, The Worm made seven appearances on the first-team all-defensive list. Rodman's impact on the game was immeasurable, despite the fact that Rodman only averaged more than 10 points per game for one season during his 14-year career. As a winner, The Worm helped bring home a total of five championships to Detroit and Chicago.
In Detroit, Rodman was the perfect fit for a Bad Boy Piston ball club that included fellow goons Bill Laimbeer, Rick Mahorn, James Edwards, and Isiah Thomas. Against the Bulls, the Pistons were to aggressively collapse into the paint and throw Michael Jordan into the basket support every time he attempted to drive the lane. Besides guarding MJ, Rodman was also unleashed to go tit for tat with the likes of Scottie Pippen, Larry Bird, Charles Barkley, and Karl Malone as the ultimate bully. In San Antonio and Chicago, Rodman's freak show antics transformed further into his full-body tattoos, wild hair, and random kicks to opposing groins.
Beneath the circus act, Rodman was the league's greatest rebounder. Standing at a relatively short 6-foot-9, Rodman relied upon his quick leaping ability and smart anticipation to play the angles on caroms off the glass. Largely through desire, Rodman owned the NBA's rebounding crown for seven consecutive seasons between 1992 and 1998. Dennis Rodman just wanted it more.
9. Dolph Schayes
The game's original star power forward and double-double machine, Dolph Schayes filled it up for his late-1940s to mid-1960s Syracuse Nationals with his flat-footed, two-handed set shot from 15 feet and in. When opponents crowded Schayes from the outside, he would take off and drive the ball into the lane with authority. As an offensive threat, Schayes completed his 15-year career atop the NBA scoring list with 18,438 points, which were also good for a 19 point per game average. Physically imposing for his era, the 6-foot-7 Schayes inflicted most of his damage inside to drop in layups and pick up cheap fouls. A deadly free throw shooter, Schayes led the NBA in accuracy on three separate occasions. As a rebounder, Schayes corralled 16 boards per game in 1951 before tearing through a rugged 11-season streak of double-digit rebounds.
8. Kevin McHale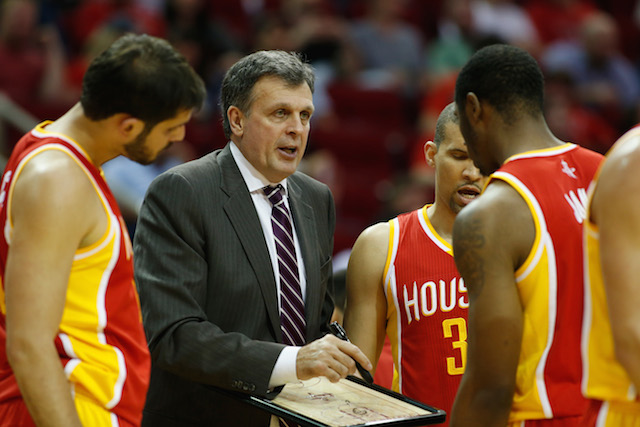 Kevin McHale had the best post moves and footwork of any big man not named Hakeem Olajuwon,. In his Torture Chamber, McHale would receive the entry pass on the low block before wheeling and dealing with an assortment of up-fakes, spins, and power drop steps. McHale was the master of the up-and-under move, in which he would pivot quickly and fake a short jumper before dipping low and laying the ball into the goal with his opposite hand. Before breaking the navicular bone of his right foot, Kevin McHale was at his best in 1986-1987, when he dropped 26 and 10 on the strength of 60 percent shooting from the floor and 84 percent accuracy from the free-throw line.
In Boston, McHale joined forces with Larry Bird and Robert Parish to form the imposing Big Three front line. With McHale dominating the painted area, this Celtics group went on to claim three titles in 1981, 1984, and 1986.
7. Dirk Nowitzki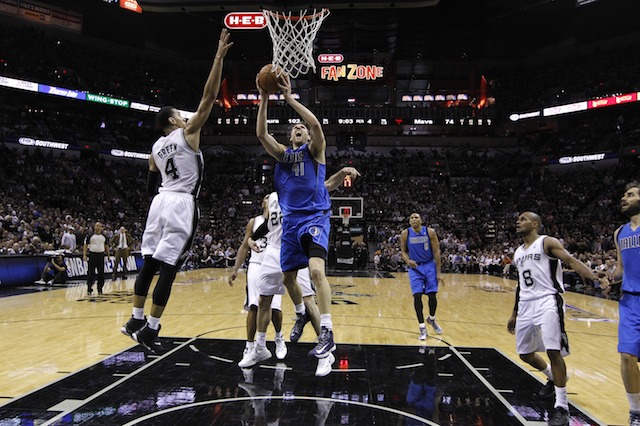 Standing at 7 feet tall and weighing in at 235 pounds, Dirk Nowitzki is one of the most atypical athletes to ever pick up a basketball. A match-up nightmare, Nowitzki is most comfortable in space, as he brings his finesse game to the power forward position. At power forward, Nowitzki is more likely to rain jumpers from the outside than he is to set up shop down low and bang bodies. The big German is especially dangerous in the high post, where he goes to work at the elbow area to either take the ball to the hoop or create a slither of space to knock down a midrange jump shot. As an offensive force, Nowitzki is still averaging a career 23 points per game over his 16-year NBA journey.
For years, the knock on Dirk was his alleged inability to carry the Dallas Mavericks on his back to the promised land of an NBA championship. To critics, Dirk was soft because he refused to get down and dirty in the post, and in the playoffs, Nowitzki had been knocked off his square by the likes of Stephen Jackson, Tracy McGrady, and Dwyane Wade as he struggled to take advantage of his size advantage versus quicker players. Nowitzki, of course, was to allay these concerns with his clutch MVP performance over the LeBron James, Wade, Chris Bosh, and the Miami Heat in the 2011 NBA Finals.
6. Kevin Garnett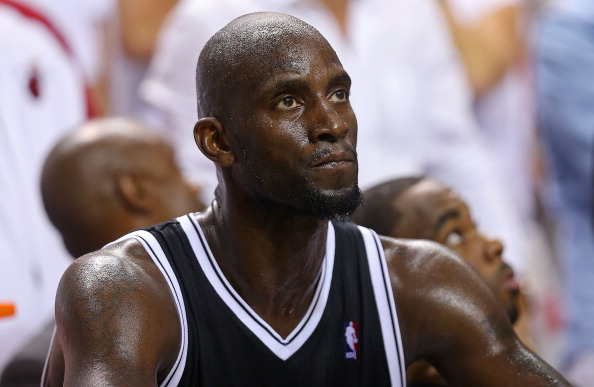 Kevin Garnett is intense. Usually drenched in sweat, K.G. barks orders to control the back line of his team's interior defense as if he were a middle linebacker. In help defense, Garnett has been gifted with the speed, length, and wiry strength to rotate off his man, protect the paint, contest a shot, and recover to box out on the glass. In his prime, Garnett was good for double-digit rebounds plus 2 steals and 2 blocks on the defensive end each night. Offensively, Garnett could always fill it up for 20-plus points in his prime — with the total package of jab steps, spin moves, turnaround jumpers, scoop shots, and thunderous dunks.
In Minnesota, The Big Ticket was the only game in town over the course of 12 years. For the Timberwolves, Garnett left everything out on the floor to score, make plays for others, and shut down the post, only to be dismissed from the playoffs by the Lakers and Spurs dynasties time and time again. For relief, Garnett was part of a series of 2007 transactions that brought his services alongside those of Ray Allen to Bean Town. As part of the new Big Three, Garnett subjugated his game to immediately bring back the Larry O'Brien Trophy to Boston and uttered the momentous phrase "Anything is possible" after the Celtics' blowout win over Los Angeles in 2008.
5. Bob Pettit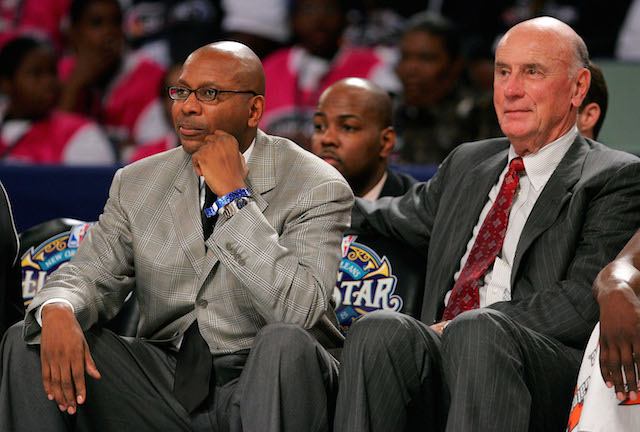 In the mid-1950s, Bob Pettit (above, right) took the torch from Dolph Schayes as the NBA's premier power forward. The 6-foot-9 Pettit starred for the Milwaukee-St. Louis Hawks between 1954 and 1965 as a devastating interior scorer and rebounder. At the time of his retirement, Pettit had amassed 20,880 career points, which were then a record. In his sophomore season, Pettit topped the league in both points scored and rebounds, with 1,849 and 1,164, respectively. In 1961, this power forward averaged a remarkable 28 points, 20 rebounds, and 3 assists per game. A star among stars, Petit was to bring home one NBA championship to St. Louis in 1958 and claim a record four NBA All-Star Game MVP trophies.
4. Charles Barkley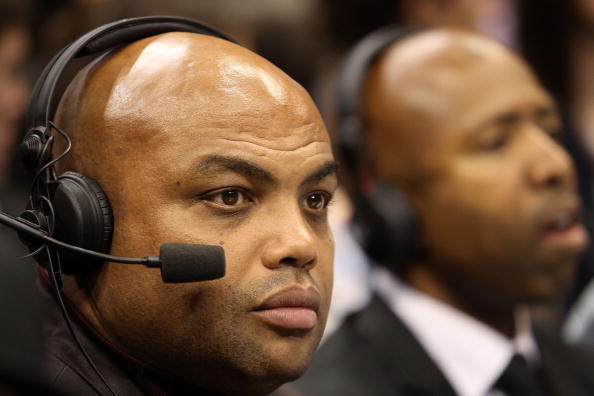 Charles Barkley was never a role model. Instead, he played the game of basketball with reckless, unapologetic abandon.
At 6-foot-4, the short and husky power forward would crash the defensive boards, control the basketball, and turn upcourt with a full head of steam. With opponents refusing to take the charge, the Round Mound of Rebound would take a direct path to the basket and lift off for his trademark gorilla dunk. As a playmaker on the open floor, Barkley also averaged 4 assists per game throughout his career. In half-court sets, Sir Charles put his wide frame and explosiveness to work to clear space and put the ball in the hole. Always in attack mode, Barkley was a stat sheet stuffer who compiled 23,757 points, 12,546 rebounds, 4,215 assists, 1,648 steals, 888 blocks, and one MVP award in his 16 NBA seasons.
Contrary to his rumblings against The Decision and the ring chasing of the Miami Heat superteam of LeBron James, Chris Bosh, and Dwyane Wade, Barkley also made moves to improve his chances for NBA title glory. After Philadelphia, Charles was traded to Phoenix in 1992 for a pupu platter of Jeff Hornacek, Andre Lang, and Tim Perry. As a Sun, however, Barkley's championship dreams were again held at bay by the great Michael Jordan. From there, Sir Charles moved on to Houston, where he would join forces with Hall of Famers Hakeem Olajuwon, Clyde Drexler, and, eventually, Scottie Pippen. Past their respective primes, the Houston Dream Team was unable to bring more rings back to Clutch City. In 2000, Charles Barkley walked away from basketball, but not before unleashing one last classic put-back.
3. Karl Malone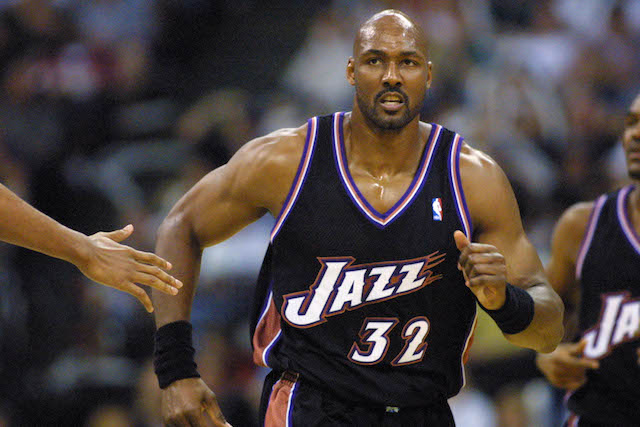 Karl Malone dominated the paint at power forward. At 6-foot-9 and 250 pounds of solid muscle, and as the franchise player for the Utah Jazz, The Mailman always delivered — in the regular season. In the post, Malone walled off hapless defenders on his backside before going up strong at the rim to finish for an easy 2. In transition, Malone could get out on the break, run the floor, and finish with his trademark prettyboy dunk to fire up the crowd in Salt Lake City. Over the course of his 19-year career, The Mailman rarely missed a game, claimed back-to-back MVP honors, and finished second to Kareem Abdul-Jabaar in points scored with 36,928.
For Utah, Stockton to Malone was the order of the day, as the duo would pick-and-roll the competition to death. Stockton to Malone on the roll for the jam. He feeds Malone on the pick-and-pop for the 15-foot jumpshot. Then, Stockton curls off the Malone screen and rises up for the 3-ball behind the arc.
Despite his regular season success, Malone often degenerated to mush beneath the bright-light glare of playoff basketball. Jazz fans will remain forever haunted by images of Michael Jordan stripping a wide-eyed Malone beneath the basket before turning around to nail a dagger jumper in Bryon Russell's face on the following possession. In 1998, it was the Chicago Bulls who walked off the Delta Center floor as champions.
2. Elvin Hayes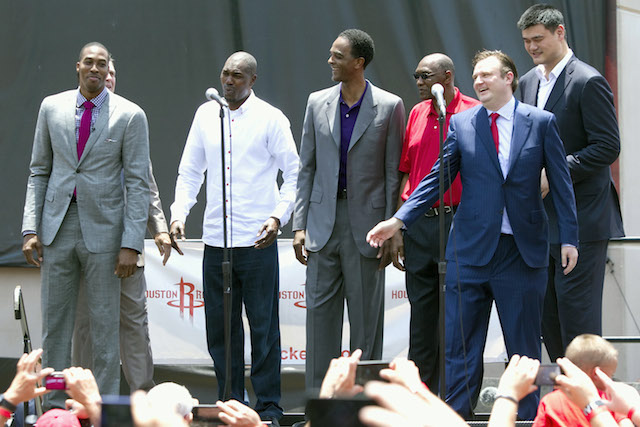 At power forward, Elvin Hayes (third from right, above) was a pure scorer, and as a rookie in 1968, Big E led the league in scoring as he dropped 28 points and 17 boards a game for the San Diego Rockets. A tough rebounder, Hayes also led the NBA in boards in 1970 and 1974. For his career, he tallied 27,313 points and 16,279 rebounds on 50,000 minutes played. A winner, Hayes teamed up with center Wes Unseld to make three NBA Finals appearances with the Washington Bullets. In 1978, Hayes helped to finally bring championship hardware to the Capitol.
Classic Elvin Hayes would pin his man on his backside on the baseline before receiving a lob entry pass. From there, the Big E faked a pivot move to create space for his patented turnaround jumper. On the turnaround, Hayes sprung off the floor with perfect form to knock down the shot from 15 feet. Hayes was automatic.
1. Tim Duncan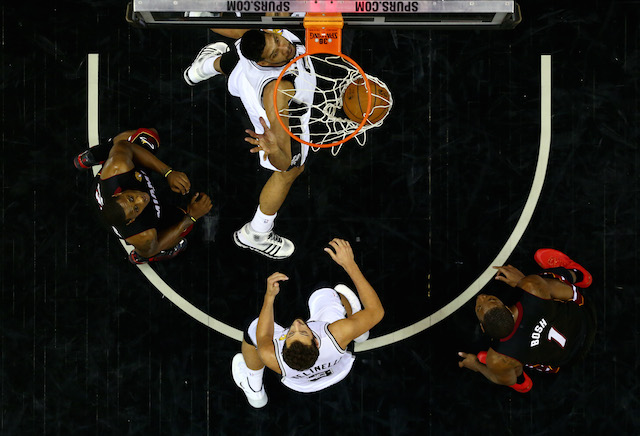 Tim Duncan was so good for so long that it is almost boring. The Big Fundamental played basketball as if he were an accountant preparing to file tax returns, making decisive, economical movements in the post or out on the floor, away from the basket, to move the rock and create buckets. Offensively, Duncan combined the technical proficiency of Kevin McHale with the lateral quickness of mentor David Robinson. As a face-up threat, Duncan was still dangerous on the wings through his entire career, where he can go glass and bank in jumpers from 18 feet and in. Defensively, he was a rangy athlete who could smother and harass players from all three positions into mistakes. In 2002, Duncan put it all together to slap together 25/13/4 alongside 2.5 blocks per game to take home MVP honors.
As the stoic leader of a dynasty in a military town, Duncan quietly went about his business to lay claim to five NBA championships as the face of the San Antonio Spurs, and he stands as the greatest NBA power forward of all time.