The 17 Greatest NFL Running Backs of All Time
In the NFL, as in everything, there are the good players, the bad players, and the greatest players to ever step foot on the gridiron. Tasked with rushing the football and receiving passes out of the backfield, the greatest NFL running backs move the chains, break big plays, and help the team win ball games. The position demands a total package of vision, toughness, durability, fiery leadership, and above all else, pure running ability.
The best runs often combine a smooth mix of shiftiness, acceleration, power, and top-line speed. The top 17 greatest NFL running backs of all time put everything together — with astounding consistency.
17. Curtis Martin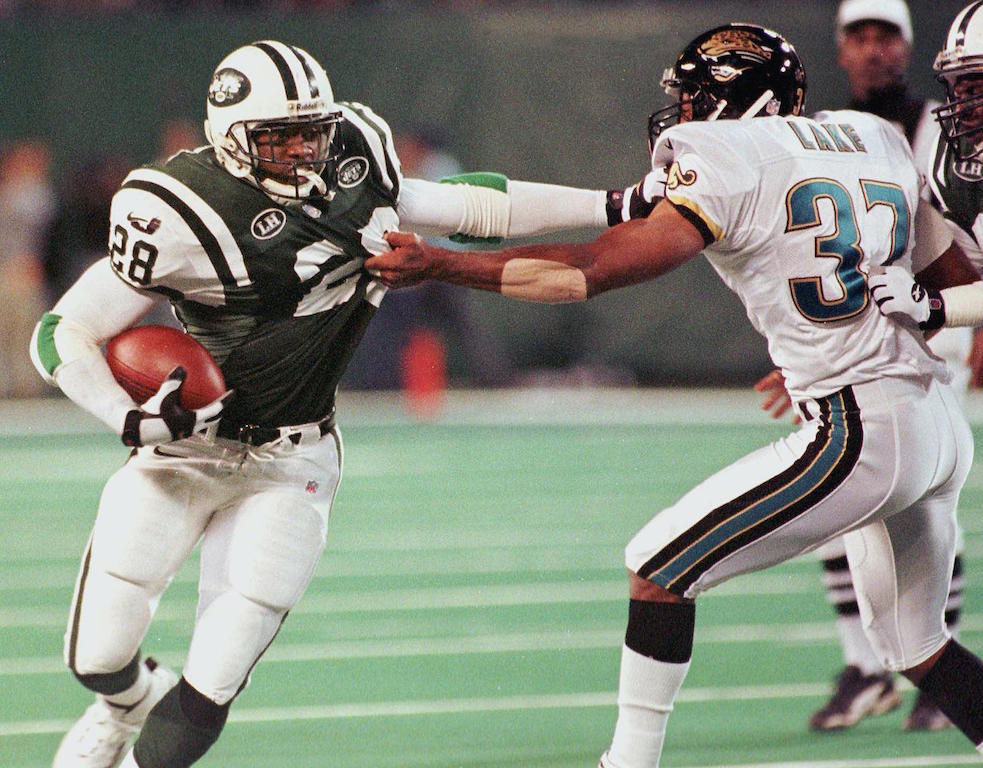 Taken in the third round (No. 74 overall) in the 1995 draft, Curtis Martin accomplished plenty during his time as a member of both the New England Patriots and New York Jets. In 11 NFL seasons, Martin rushed for 14,101 yards and 90 rushing scores, earned five trips to the Pro Bowl, and was named a First-Team All-Pro during the 2004 season. For his efforts, Martin was inducted into the Pro Football Hall of Fame in 2012.
Next: This Steelers star will never be forgotten.
16. Franco Harris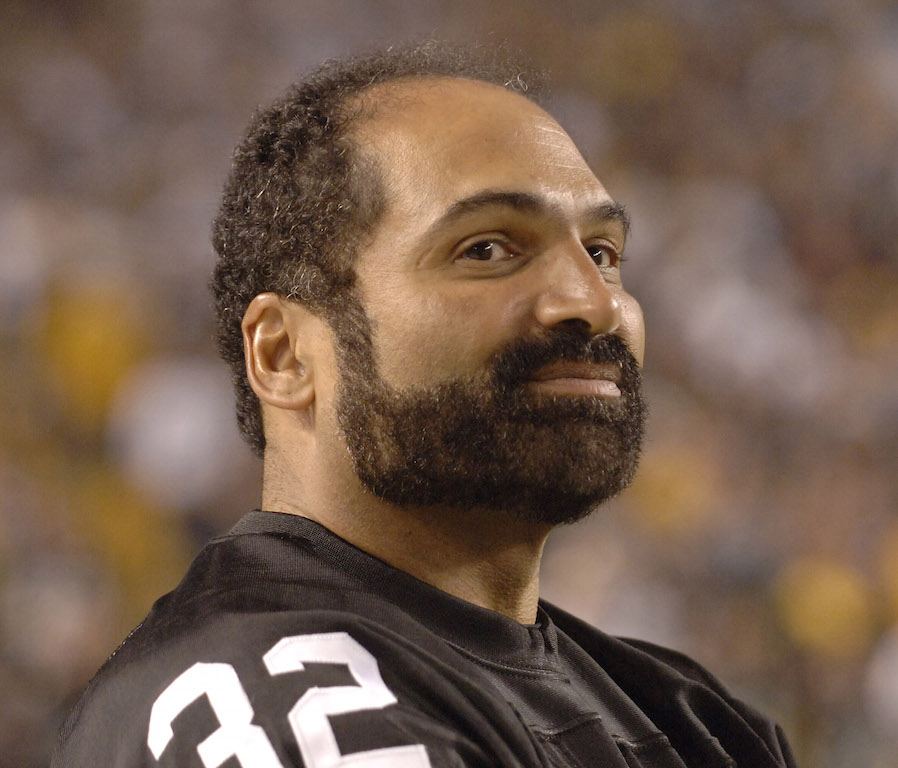 While Franco Harris spent 13 seasons in the National Football League, he's most remembered for the 12 years — four of which resulted in Super Bowl wins — he spent running the pigskin for the Pittsburgh Steelers. During Harris' Hall of Fame career, he averaged 70.1 rushing yards per game, amassed 12,120 yards and 91 touchdowns on the ground, was named First-Team All-Pro in 1977 and earned nine trips to the Pro Bowl. To this day, his "Immaculate Reception" against the Oakland Raiders remains one of the most iconic plays in NFL history.
Next: This Broncos running back was a Super Bowl MVP.
15. Terrell Davis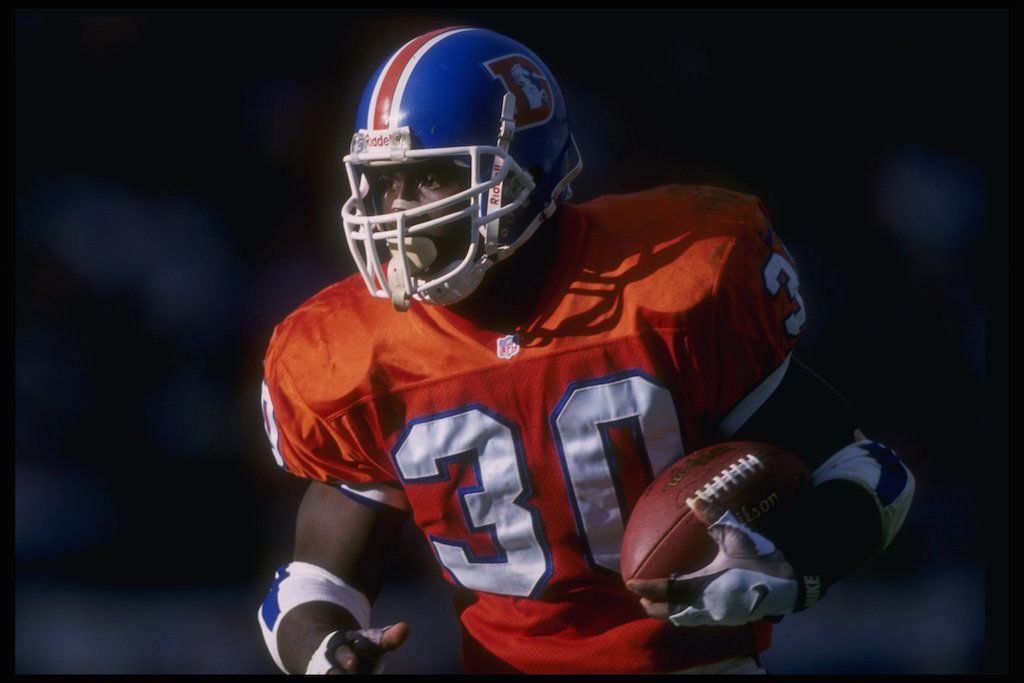 Despite only playing seven seasons, Terrell Davis more than earned his place on the list of greatest NFL running backs. The former Denver Broncos superstar amassed 7,607 rushing yards and 60 rushing touchdowns, earned three trips to the Pro Bowl, and was a three-time First-Team All-Pro. T.D. also won two Super Bowls, was the Super Bowl MVP in 1997, and was named the Most Valuable Player during the 2008 season. Not bad for a guy who wasn't selected until the sixth round (No. 196 overall) of the 1995 draft.
Next: He was part of the "Greatest Show on Turf."
14. Marshall Faulk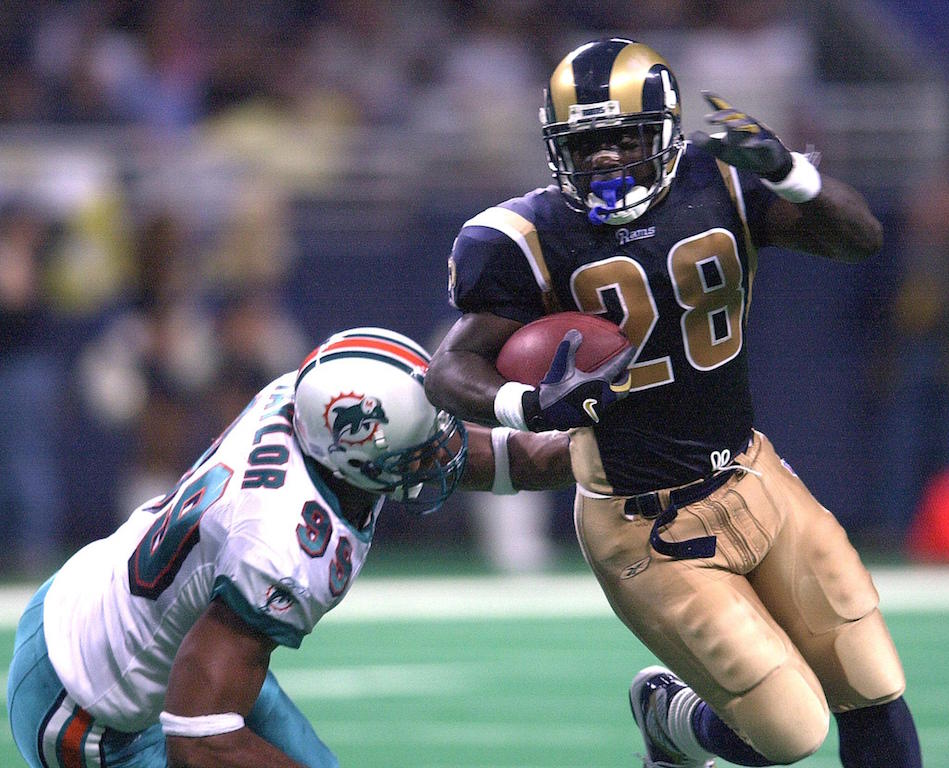 During his 12 NFL seasons (five with the Colts and seven with the Rams), Marshall Faulk became one of the most complete backs the game has ever seen. The Hall of Famer rushed for 12,279 yards and 100 rushing touchdowns while also amassing 6,875 receiving yards and 36 touchdown receptions. Faulk dazzled as a member of the "Greatest Show on Turf" and finished his career with one Super Bowl victory, one MVP award, seven trips to the Pro Bowl, and three First-Team All-Pro selections.
Next: This running back took home the 1985 MVP award. 
13. Marcus Allen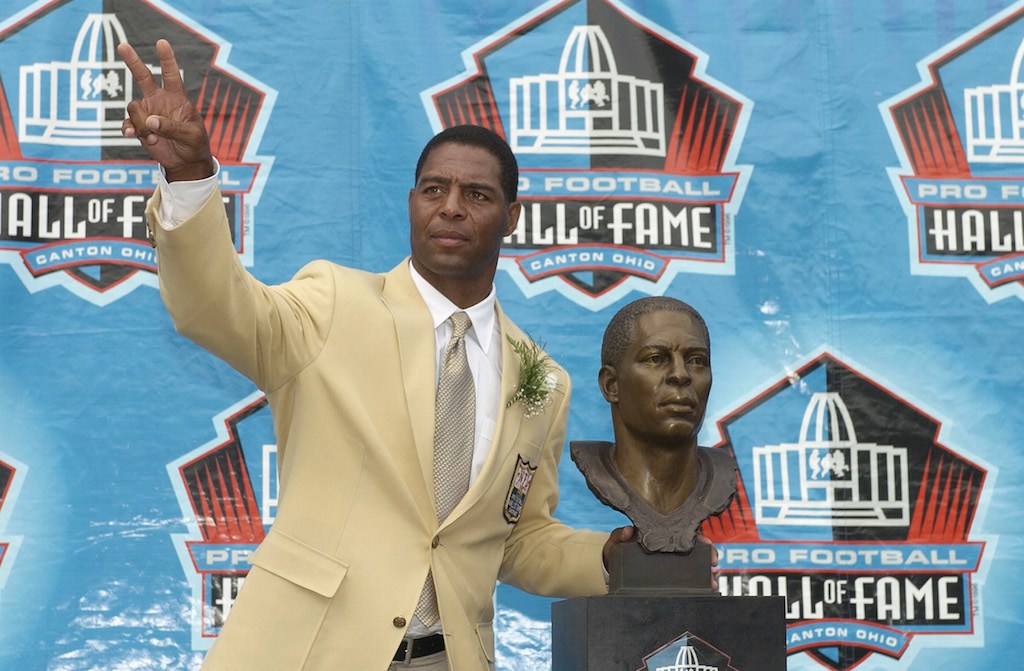 After being selected out of USC with the No. 10 overall pick in the 1982 draft, Marcus Allen provided football fans with 16 seasons of beautiful running back play. The Hall of Famer averaged 4.1 yards per carry, rushed for 123 touchdowns, and picked up 12,243 yards on the ground. or good measure, Allen also amassed 5,411 receiving yards and caught 21 touchdowns — just a few of the many reasons why he was selected to six Pro Bowl teams, named First-Team All-Pro twice, and took home the 1985 MVP award.
Next: This running back totally took over the scene in 1978.
12. Earl Campbell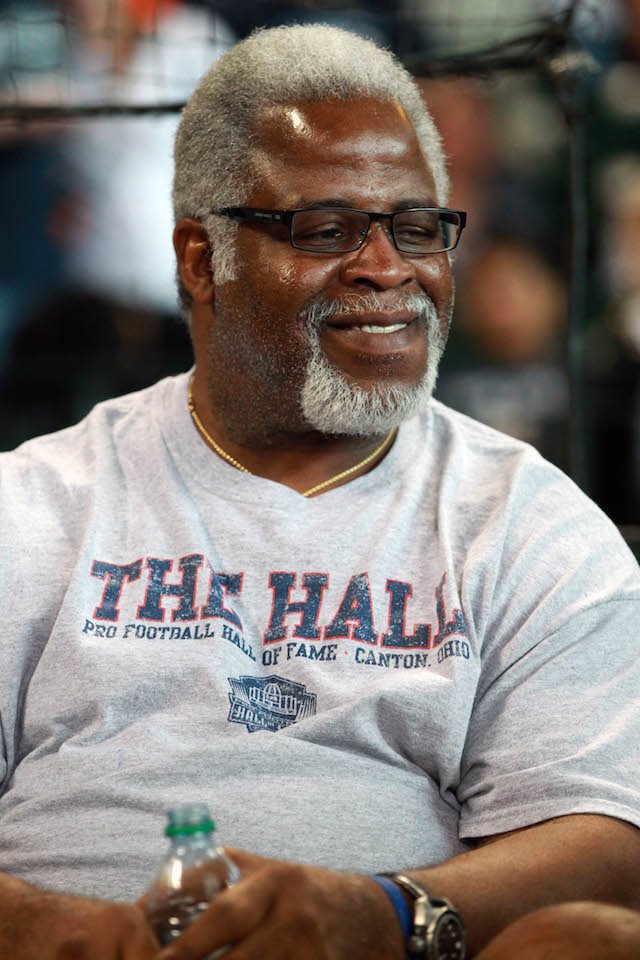 Earl Campbell burst onto the scene in 1978 and immediately overpowered the rest of the National Football League. In his first three seasons, Campbell led the league in rushing yards and yards per game, while finishing with the most rushing scores in two out of three of those years (1979 and 1980). By the time he called it a career, the Hall of Fame back was a league MVP, a five-time Pro Bowler, and a three-time First-Team All-Pro. It's safe to say they don't make them like Earl Campbell anymore.
Next: This running back set serious postseason records.
11. Thurman Thomas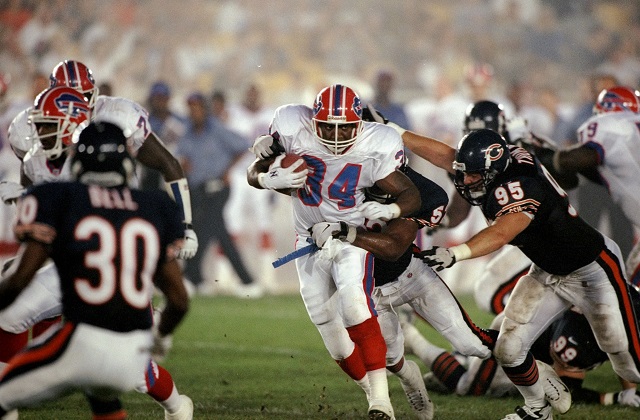 If you didn't know, Thurman Thomas kept Barry Sanders on the bench as a back up at Oklahoma State University. In the NFL, Thurman Thomas went on to star as one of the greatest all-purpose running backs of all time. His legacy, however, will be forever marred by the inability of his Buffalo Bills to actually win the Super Bowl – after four straight trips to the Big Game.
For example, Thomas was the clear cut MVP of "wide right" Super Bowl XXV versus the New York Giants – with 135 yards rushing on 15 carries to go along with 55 yards receiving. Before his retirement, Thurman Thomas had set NFL postseason records for career points (126), touchdowns (21), and receptions by a running back in one game (13).
Next: Some think this running back had the greatest individual effort in NFL history.
10. Gayle Sayers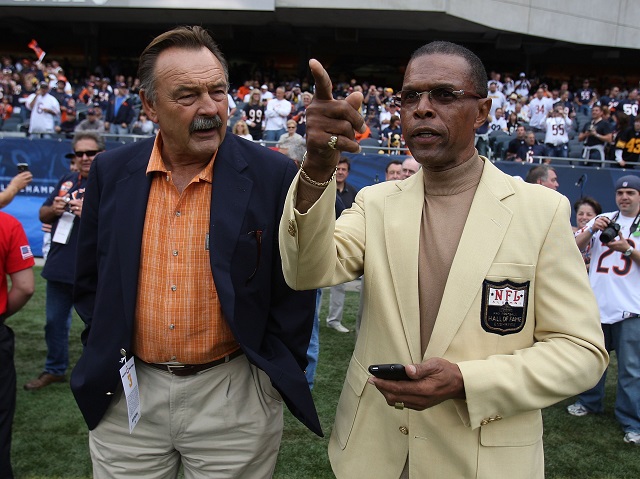 In 1965, the Chicago Bears drafted Gale Sayers as the fourth overall pick out of Kansas University. That year, Sayers immediately took the League by storm, as he scampered for a then-record 22 NFL touchdowns upon 2,272 all-purpose yards, which then also set a rookie record. Pundits have often highlighted Sayers' 6-touchdown effort to lead the Chicago Bears to a 61-20 victory over the San Francisco 49ers as the greatest individual effort in the history of the game.
The 6-foot, 200 pound back was to lead the NFL in rushing in both 1966 and 1969 – with 1,231 and 1032 yards over 14 game seasons. Sayers also averaged a staggering 5.2, 5.4, 4.7, and 6.2 yards per carry during his first four seasons.
Next: We're hoping this running back can keep up his success. 
9. Adrian Peterson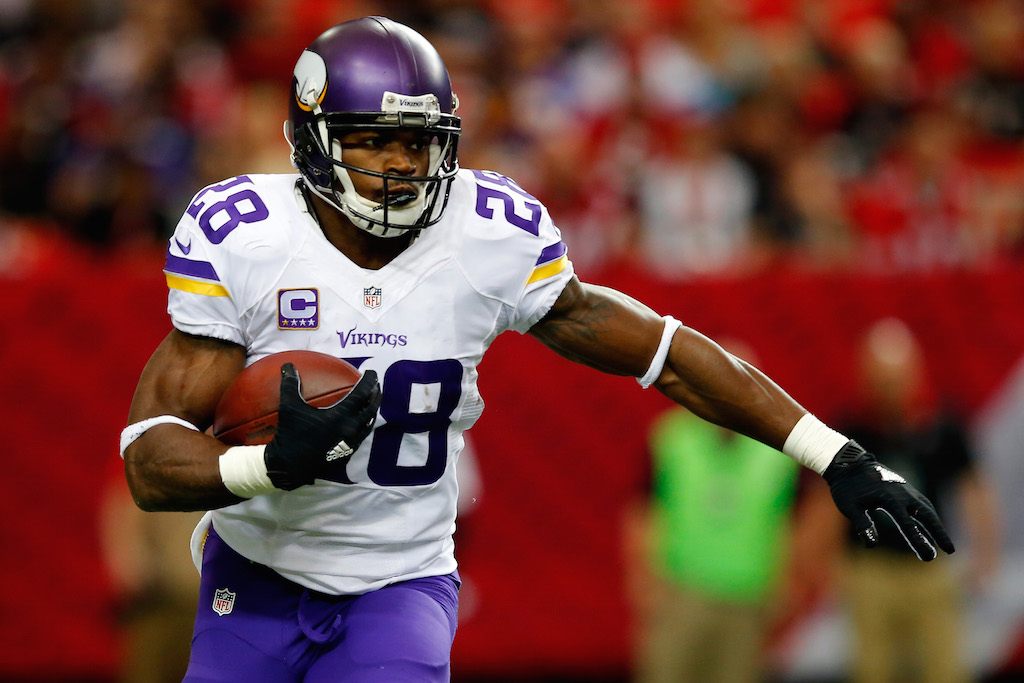 Adrian Peterson hasn't hung up his helmet, yet the four-time First-Team All-Pro free agent has already established himself as one of the greatest running backs in the history of the game. Since coming into the league in 2007, All Day has led the NFL in rushing three times, compiled 97 rushing touchdowns, won an MVP award, and been to seven Pro Bowls. When he finally decides to walk away from the game, you can expect Peterson will be much higher on the list.
Next: At one point, this running back held the NCAA Football rushing record.
8. Tony Dorsett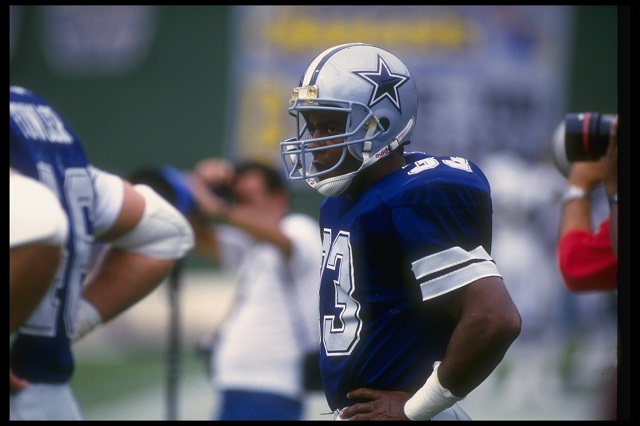 In 1977, Tony Dorsett entered the NFL as a Dallas Cowboy and the second overall draft pick, after starring for Pittsburgh University and shattering the NCAA Football rushing record (later broken by Ricky Williams and Ron Dayne). From there, he was named the starting running back for America's Team after his 10th game and spent the next decade as a stalwart for Dallas.
Topping the all-important 1,000-yard mark in eight of his first nine seasons, and rushing for 745 yards during the nine-game strike-shortened 1982 season, Dorsett upped the ante in the postseason with 1,383 yards rushing, which translated into his 4.6 yards per carry average over 17 NFL Playoff games. In Super Bowl XII, Dorsett rushed for 66 yards on 15 carries to help his Dallas Cowboys defeat the Denver Broncos 27-10.
Next: He's controversial now — but at one point, he was a great running back.
7. O.J. Simpson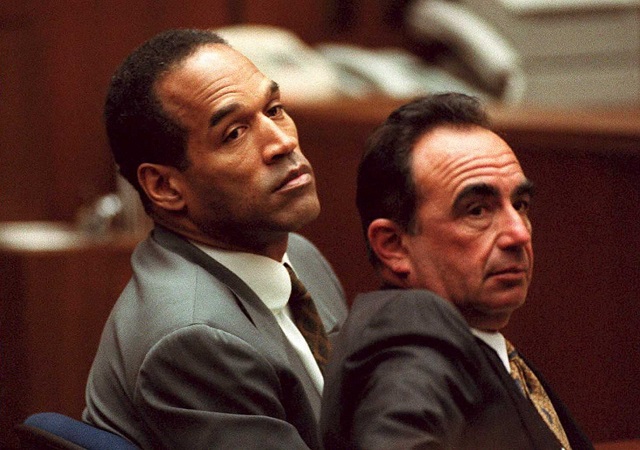 Orenthal James "O.J." Simpson was actually a top shelf running back prior to the Nicole Simpson/Ronald Goldman murders, 405 Freeway police chase, and multiple felony convictions.
In 1969, the Buffalo Bills drafted The Juice as the first overall pick after he dominated the college game at USC to claim the Heisman Trophy. But Simpson did not break the 1,000-yard mark until his fourth season. That year, O.J. claimed the NFL rushing title – with 1,251 yards rushing and 6 touchdowns in fourteen games of action. Then, in 1973, Simpson put together the greatest individual season of any running back. In 14 games, O.J. racked up 2,003 rushing yards upon 332 carries, which also calculated out to 6 yards per carry and 143 yards rushing per game.
Next: He never made it to the Super Bowl, but he's still great. 
6. LaDainian Tomlinson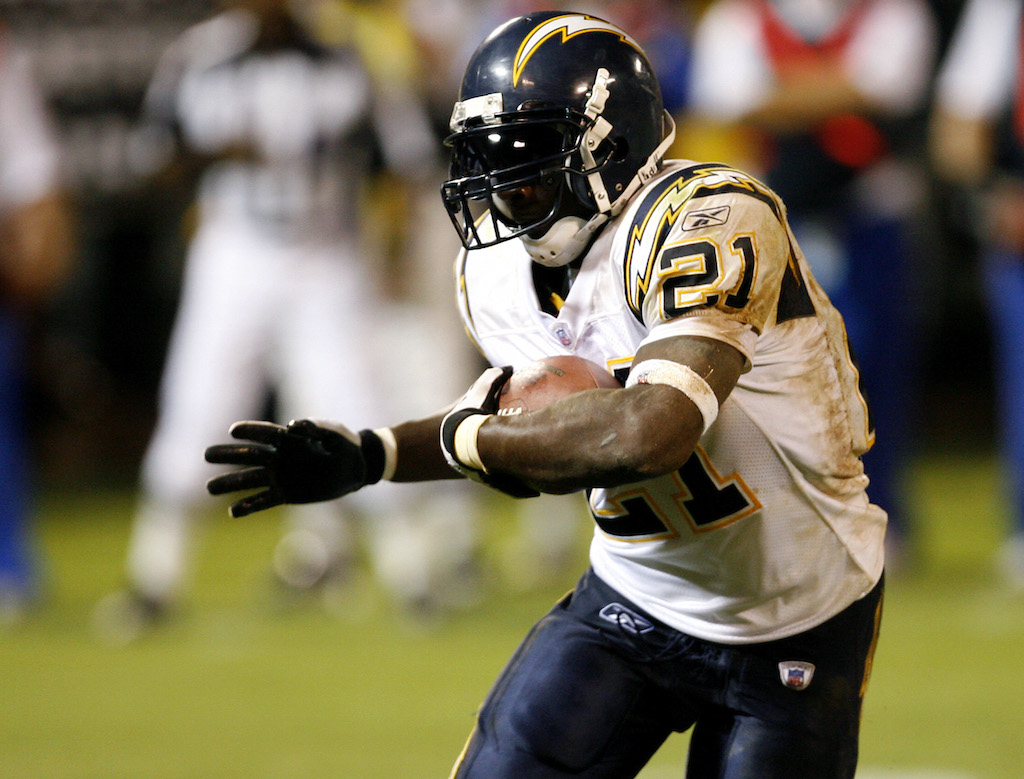 Standing at 5-foot-10 and weighing in at 221 pounds, LaDainian Tomlinson had all the tools to run. L.T. has also thrown for 7 touchdowns and a 154.4 passer rating over his eight-year career.
Tomlinson now ranks fifth in NFL career yards from scrimmage with 18,456. Tomlinson rushed for over 1,000 yards in each of his first eight seasons in the league, two rushing titles, as well as a 2003 campaign when he racked up 2,370 yards from scrimmage. For added measure, Tomlinson also took home the Walter Payton Man of the Year award in 2006. Unfortunately, L.T. never made it to the Super Bowl, despite being surrounded with Pro Bowl talent in San Diego through his prime years.
Next: His height helped him become one of the best.
5. Eric Dickerson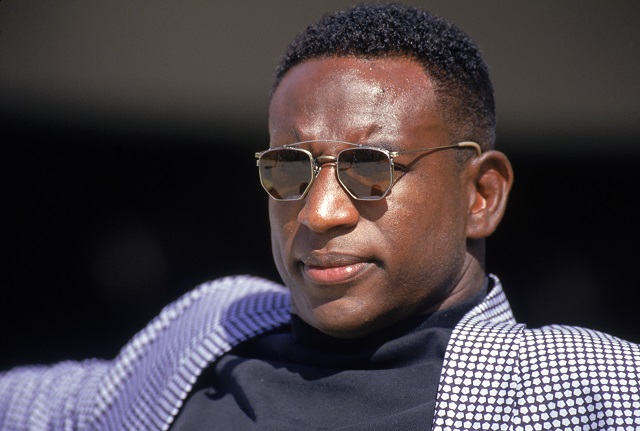 Eric Dickerson was arguably the best pure, straight-line runner in NFL history. Measuring out at 6-foot-3 and 220 pounds, Dickerson was noticeably taller than the conventional running back. He was always just a few gallops away from top speed.
In 1983, Dickerson put together the greatest rookie season up to that point, behind 1,808 yards rushing. Dickerson's 2,105-yard effort from 1984 still stands as the single-season rushing record. After seven straight seasons, Dickerson was to emerge as the fastest player ever to cross over the 10,000-yard benchmark, and he still lays claim to three of the top 20 single-season rushing yardage performances in NFL history. When he retired, Dickerson left the game of football as the second leading rusher of all time.
Next: This player was an absolute force on the field. 
4. Barry Sanders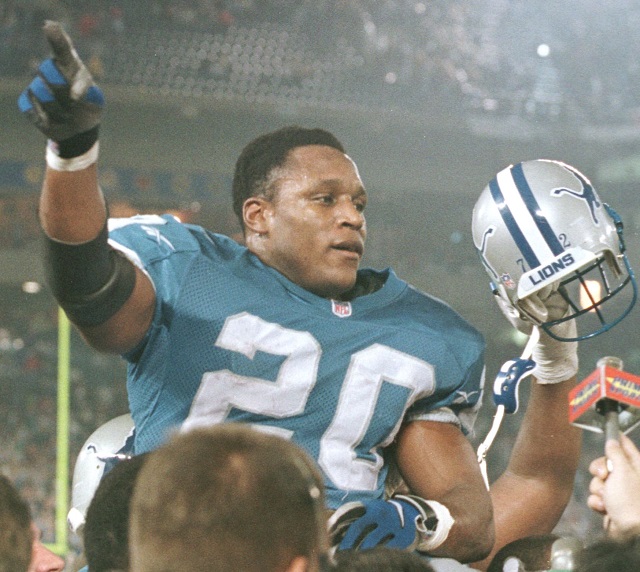 Barry Sanders contorted his body in unthinkable positions, shimmied past linebackers, and broke the ankles of countless defensive backs to the tune of 15,269 rushing yards over 10 seasons – finishing a then-second only to Walter Payton (Emmitt Smith went on to break the rushing record with 18,355 yards) in terms of all-time yardage. Sanders rushed for over 1,000 yards every year during this span with a breathtaking 5.0 yards per carry average.
The Detroit Lion earned Pro Bowl honors each season and won four rushing titles. In 1997, Sanders racked up 2053 rushing yards upon a gaudy 6.1 yards-per-carry average. After the 1998 season, he shocked the world and walked away from football in his prime.
Next: Scouts didn't believe in him at first, but he proved them all wrong.
3. Emmitt Smith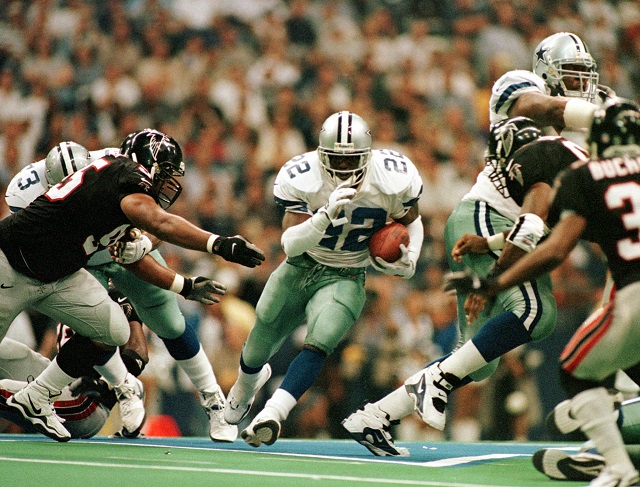 Emmitt Smith stood 5-foot-9 and weighed in at 221 pounds, and legions of scouts dismissed his status as an NFL prospect. But Smith brought the intangibles of durability and heart to the table in order to make up for his lack of classic NFL running back dimensions. As a north-south rusher, Smith racked up yardage behind his sixth-sense vision and mental toughness to finish off runs.
As a warrior, Smith started 219 out of the 226 games in which he appeared, rarely missed games due to injury, and never took any plays off. For Smith, this lunch pail mentality translated into 11 consecutive 1,000+ yard seasons and 175 career touchdowns, as well as the NFL career rushing yards title – with 18,355 yards.
Next: He wasn't the fastest running back, but he still played smart.
2. Walter Payton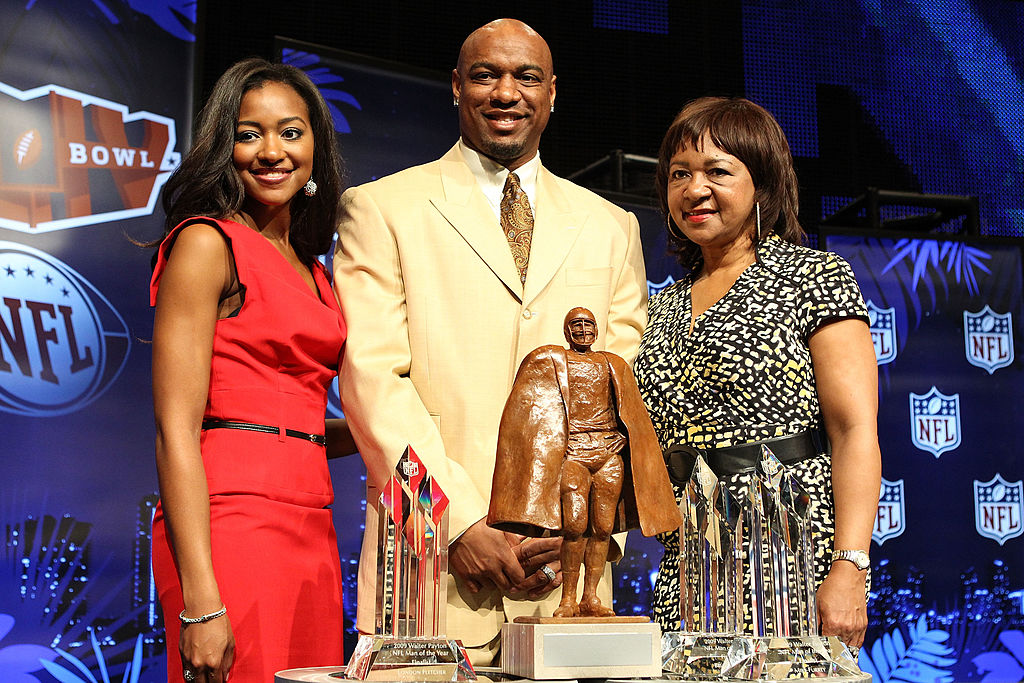 Walter Payton ran between the tackles, outside on pitches and sweeps, blocked effectively, and was even a threat to pass. Payton finished his playing career with 16,726 rushing yards, 110 touchdowns, one MVP Award, and one '85 Bears Super Bowl Shuffle ring. A testament to his toughness, Sweetness missed only one game over his thirteen-year career.
Walter Payton was never a speed demon. Instead, Sweetness racked up yardage through sheer tenacity and the mastery of an assortment of moves. Payton's workmanlike mentality punished tacklers with stiff arms, explosive spin moves, and a refusal to escape to the sidelines prior to dropping his pads, bringing the pain, and fighting for every last inch.
Next: Here's the greatest running back ever.
1. Jim Brown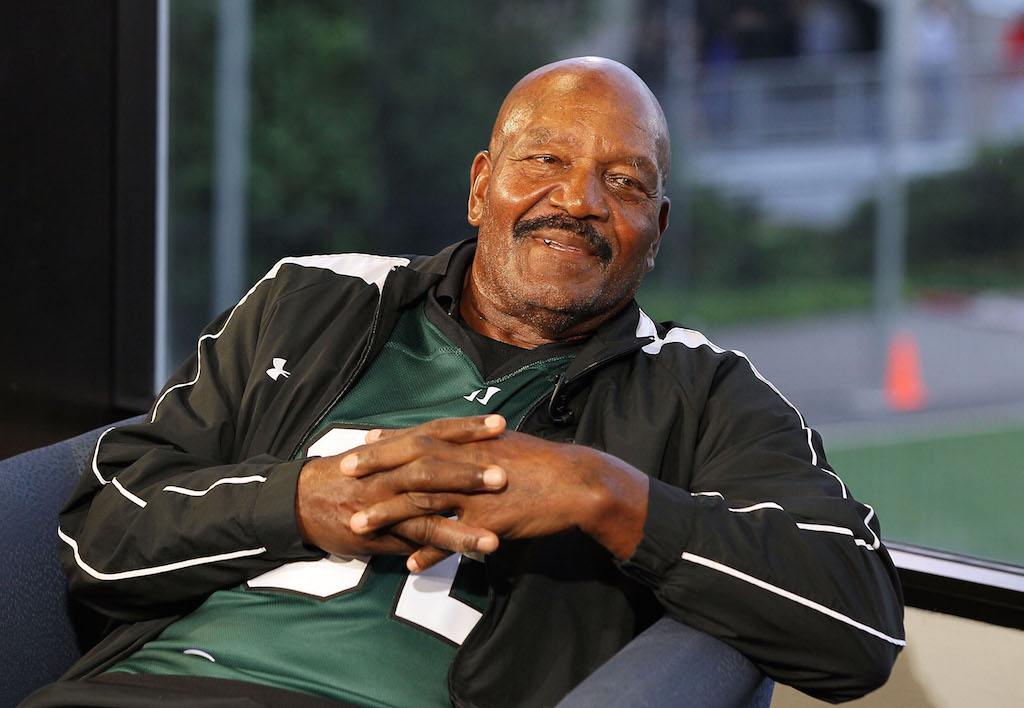 At 6-foot-2 and 232 pounds, Jim Brown was bigger, faster, stronger, and better than the competition. A man amongst boys, Brown was simply too strong to be taken down with arm tackles at the point-of-attack. Out on the edge, Brown's agility would freeze linebackers before he would deliver forearm shivers to overpower lightweight cornerbacks.
In all, Brown ran through, over, and around the opposition for a total of 12,312 yards and 106 touchdowns. Brown claimed eight rushing titles during his nine-year career that spanned between 1957 and 1965. At 29, and in his prime, the headstrong Brown walked away from the NFL on his own accord, having owned every significant record applicable to any ball carrier.
Statistics courtesy of Pro-Football-Reference.