The 15 Greatest NFL Wide Receivers of All Time
The best wide receivers are some of the most impressive athletes in the entire sports universe. Whether they're unbelievable physical specimens or simply phenomenal route runners, wideouts are visible, engaging, and capable of developing a unique chemistry with their quarterbacks, emerging as go-to-guys in the clutch.
Ranking the thousands of wide receivers who pass through the NFL is daunting. Comparing players across eras is nearly impossible. And this dynamic list will, likely, be up for debate. Nevertheless, here's our countdown of the 15 greatest wide receivers of all time, including one legend who basically introduced football to the forward pass (No. 2).
15. Lance Alworth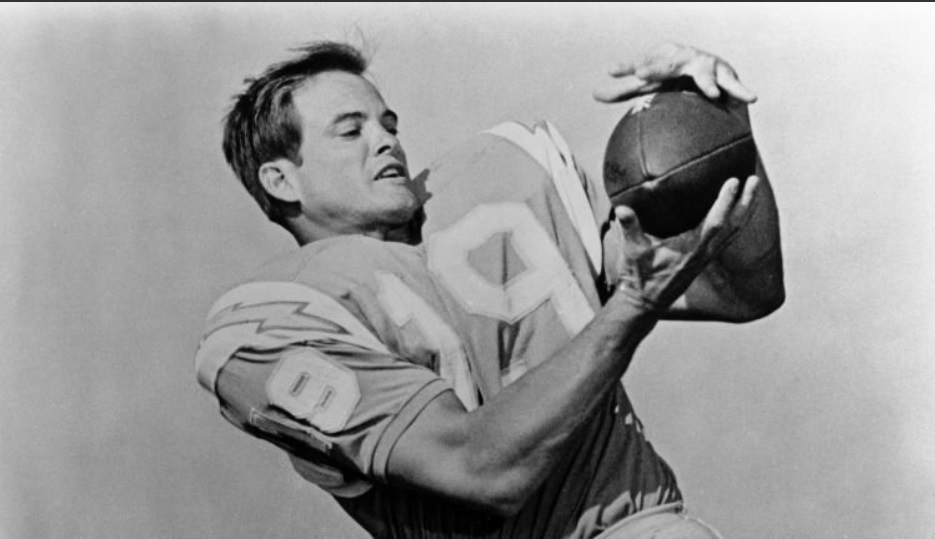 During his 11-year professional football career, Lance Alworth wowed football fans with his insane speed and a level of grace not often found on the gridiron. While the numbers he put up look modest by today's standards, (10,266 receiving yards and 85 receiving touchdowns), his ability to leap through the air and snag the pigskin turned him into a legendary figure during his years playing for the Chargers and later the Cowboys. Former San Diego Union-Tribune writer Jerry Magee once said Alworth "established that football didn't have to be brutish" because of his overall agility.
Next: What if his career had gone on longer?
14. Calvin Johnson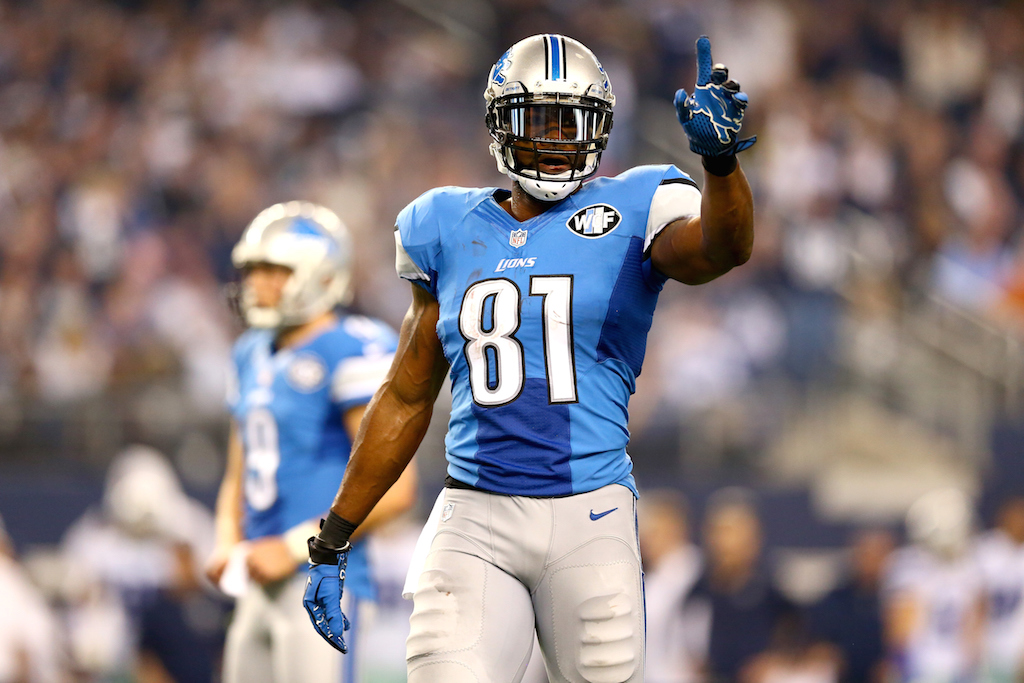 Nowadays, there's a lot of debate surrounding Calvin Johnson and his status as a future Hall of Famer. To the point, even, that it almost gets forgotten what a phenomenal job he did on the football field. "Megatron" was the highlight of an otherwise mediocre Detroit Lions team, exploding down the field and snatching the ball out of the air before defenses could catch up to him. He even lead the league in 2012 with 122 receptions for 1,964 yards. Yet, the drama that ensued when Johnson chose to walk away from football in 2015 — and the mystery over whether he'll ever return to the game — leave some football critics holding off on showering him with too much praise.
Next: But here's a player whose HoF status likely won't be disputed …
13. Larry Fitzgerald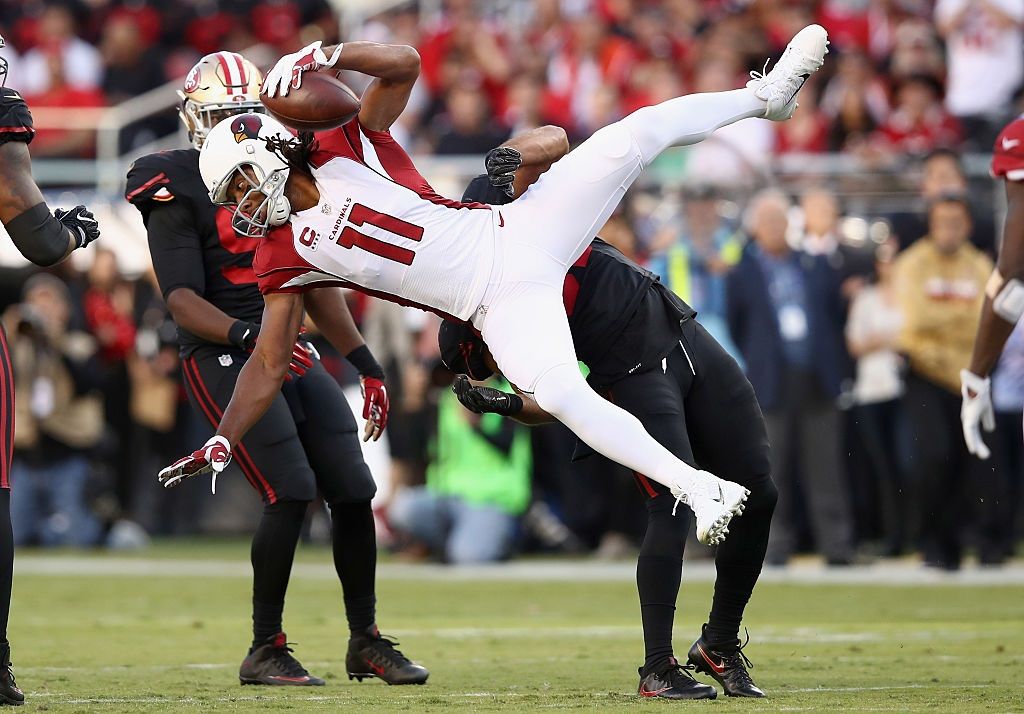 For most "greatest of all time" lists, adding an active player can seem pretty silly. Except that here we are talking about Larry Fitzgerald, who has already proven time and again that he's one of the best to ever play his position. Not only is the Arizona Cardinals wideout the youngest in NFL history to catch 1,000 passes in a career, but he quickly elevated himself on the all-time receptions list to the No. 3 spot with 1,234 catches (and counting). Really, the only thing missing from Larry Legend's successful career is a Super Bowl ring.
Next: Would it have been "The Greatest Show on Turf" without this next player?
12. Isaac Bruce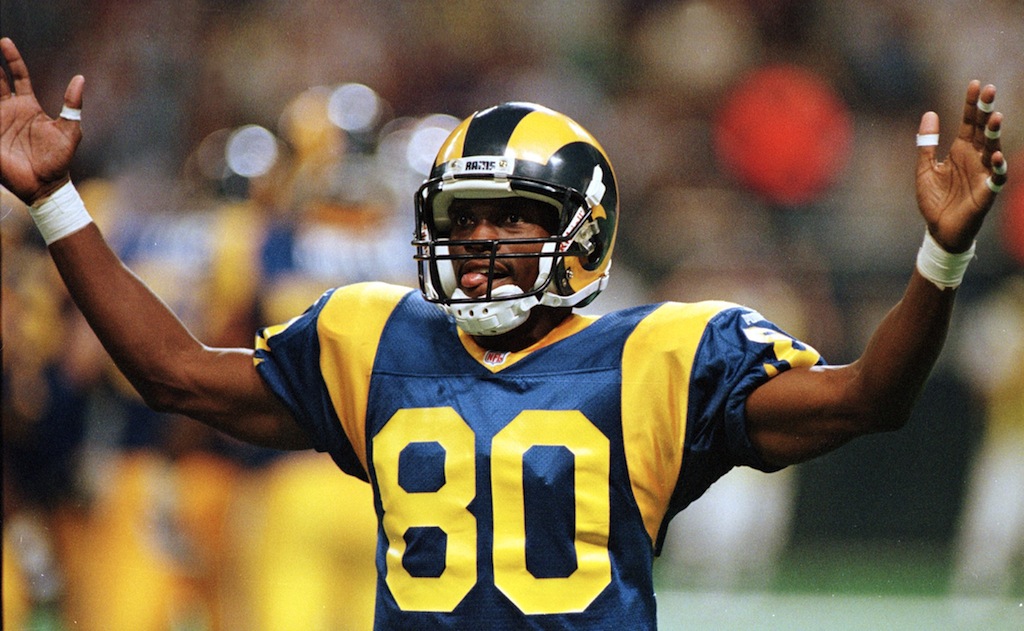 Sure, offensive coordinator Mike Martz gets a lot of the credit for being the hub of the Rams' offensive explosion in the late '90s. (As he should, given he ditched the league-wide pattern of constantly running the ball and made the offense airborne.) But the team's terrifying attack would not have been possible if Kurt Warner didn't connect pass after pass with Isaac Bruce. Bruce registered a staggering 15,208 receiving yards over his career, keeping him comfortably slated at fifth on the NFL all-time list.
Next: This Hall of Famer is still an active member of the NFL community …
11. Cris Carter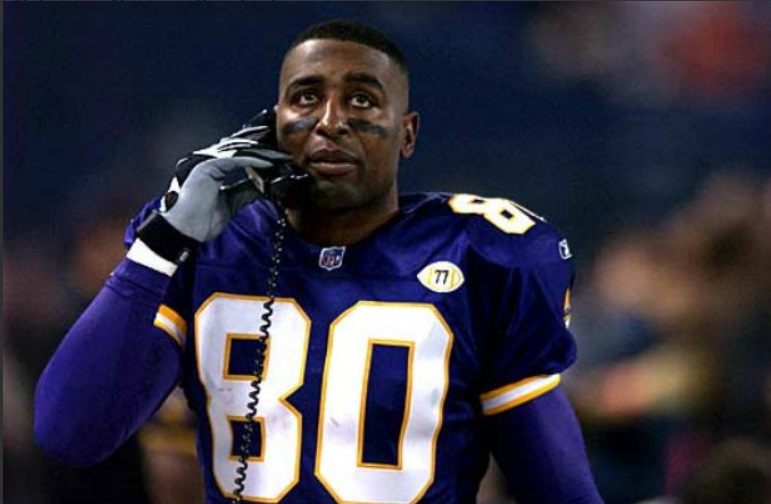 Before he became a staple on many NFL broadcasts, Cris Carter was running for passes more efficiently than just about anyone in the league. In fact, some outlets think he would've been the best receiver of the 1990s had it not been for Jerry Rice. (More on him a little later.) Carter did his best work during his 12-year tenure with the Minnesota Vikings, where he led the league with 122 receptions in 2004 and led in touchdowns three different times. Now a retired Hall of Famer, Carter remains sixth all-time in receptions (1,101) and 13th all-time in receiving yards (13,899).
Next: An absolute speed demon …
10.  James Lofton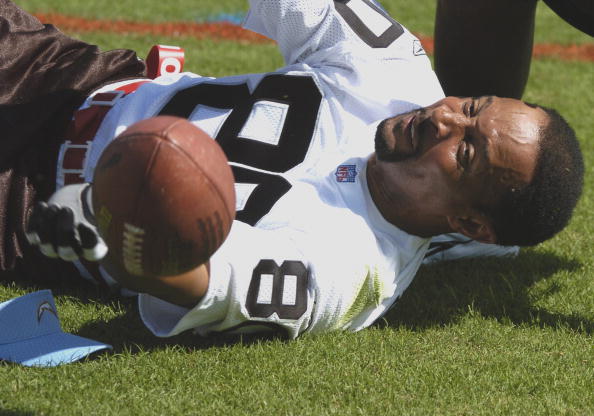 Lofton was the definition of pure speed during his heyday, rivaling Randy Moss as the most athletically gifted wide receiver of all time. (But more on Moss a little later.) During the 1983 and 1984 seasons, Lofton averaged 22 yards per catch for the Packers. In fact, Lofton averaged more than 15 yards per catch in 14 out of his 16 NFL seasons. He retired as the league's all-time leader in receiving yards with 14,004 (now No. 12 on the list).
Next: A great wideout, with off-the-field baggage …
9.  Marvin Harrison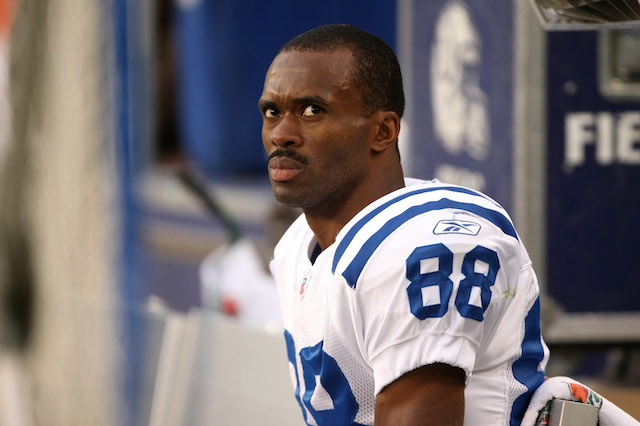 Like his former teammate Peyton Manning, Marvin Harrison's career was so good for so long that the numbers are almost boring. He logged 1,102 catches during his 13-year career with the Colts, a number that's good for fifth on the all-time list. During his signature campaign in 2002, Harrison snagged 143 catches and netted over 1,700 yards in the process. Teamed up with Manning, the two represent one of the more prolific pass-and-catch combinations of all time. Harrison retired in 2009 after spending his entire career as a Colt and was inducted into the Hall of Fame in 2016. (Although his alleged involvement in a 2008 North Philadelphia murder has caused some to criticize his induction.)
Next: One of the more underrated players on the list …
8. Steve Largent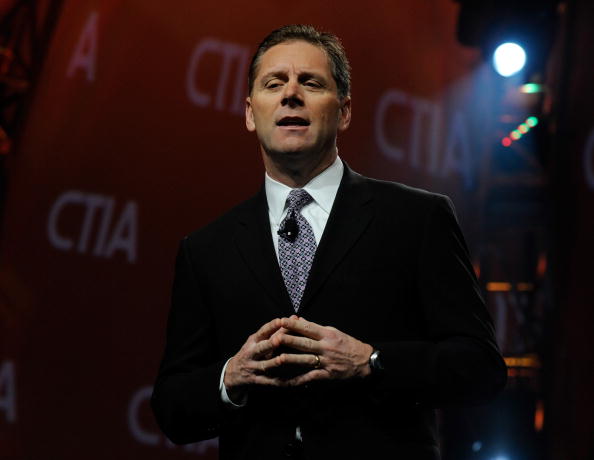 Largent was drafted as an afterthought (the 117th pick in 1976) but he went on to lead the NFL in career receptions, yards, and touchdown catches at the time of his retirement. What he lacked in straight-line speed, he made up for with his quickness and willingness to work the middle, and he used his tenacity to break tackles after the catch for extra yards. (It's no wonder he finished his career averaging 16 yards per catch.) Largent's best individual season, in 1979, saw him hook up with Seahawks quarterback Jim Zorn to the tune of 66 catches, 1,237 yards, nine touchdowns, and an 18.7 yards-per-carry average.
Next: Love him or hate him, the guy could play football …
7. Terrell Owens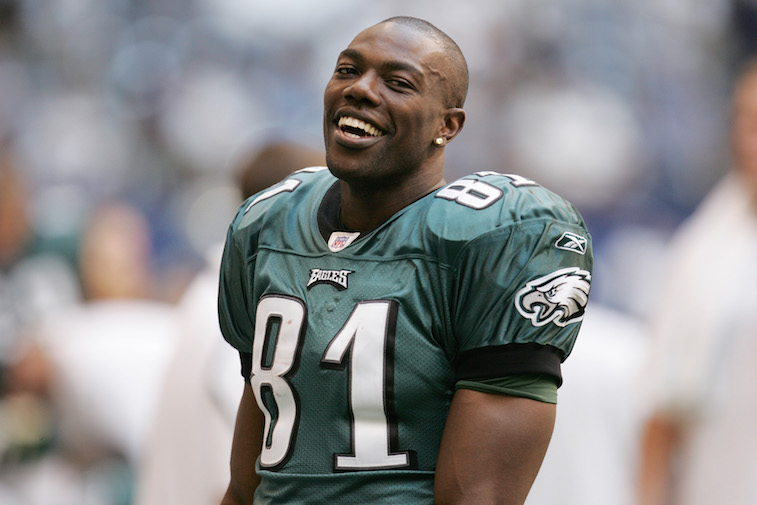 NFL fans may scoff at including T.O. in any discussion about "greatness" since he became a caricature — a diva more concerned with his celebrity status than with playing football. However, when you look past the traveling circus that followed him to every team during his career, Owens' game was more than adequate. A 6-foot-3, 226-pound specimen, Owens was too physical to be covered by corners and too fast to be matched up against safeties. Despite leading the league in drops while he was with Dallas, he currently ranks eighth all-time with 1,078 receptions and second all-time with 15,934 receiving yards.
Next: A throwback makes our list …
6. Lynn Swann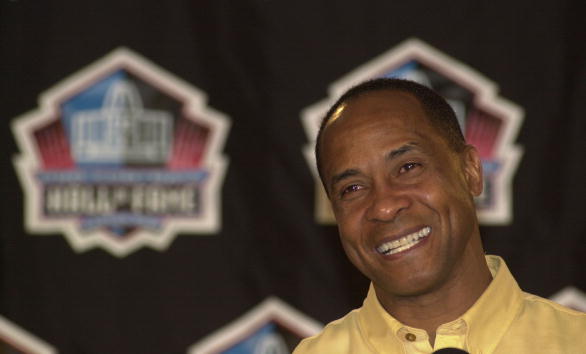 Wide receiver Lynn Swann finished his Hall of Fame career with 336 catches for 5,462 yards and 51 touchdowns. While those numbers look rather pedestrian compared to the high-octane offenses of the modern era, his efforts still helped bring home four Super Bowl rings for the Pittsburgh Steelers. In Super Bowl X, Swann caught four catches for 161 yards and made a diving shoestring catch that has become part of NFL lore. Not surprisingly he garnered MVP honors for the magnificent catch.
Next: A key component to a tough Cowboys team …
5. Michael Irvin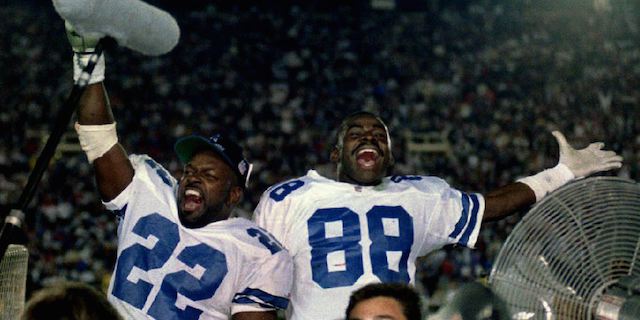 Off the field, Michael Irvin ran into his fair share of trouble with the law. On the field, however, he was recognized on account of his tireless work ethic and enthusiasm to get down and dirty at wide receiver, sacrificing his body to block, catch balls across the middle, and maul cornerbacks at the line of scrimmage. After a decorated college career at the University of Miami, Irvin went to Dallas where he was reunited with head coach Jimmy Johnson. They won three Super Bowls together, adding to the 11,904 receiving yards he totaled during his career-long tenure with the Cowboys. (Those '90s Cowboys teams also featured Emmitt Smith and Troy Aikman.) Irvin was inducted into the Hall of Fame in 2007.
Next: This next wideout could do it all …
4. Tim Brown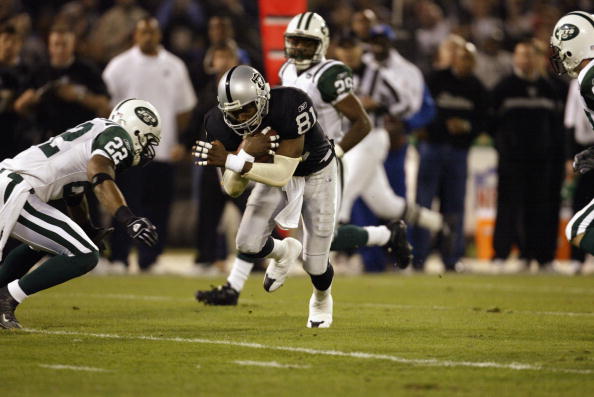 The original "Mr. Raider" was a jack of all trades at the wide receiver position. He returned kicks, took reverses, and caught passes as a threat to score from anywhere on the gridiron at any time. A Heisman winner while he was at Notre Dame, Brown racked up 1,094 catches to go for 14,934 yards and 100 touchdowns in his professional career — and also led the NFL in all-purpose yards in 1988 as a rookie. Brown's career may not resonate with the casual fan because of the dysfunction at Raider Nation, but he showcased as much natural talent as any man to ever play the position, save only Randy Moss.
Next: Speaking of …
3. Randy Moss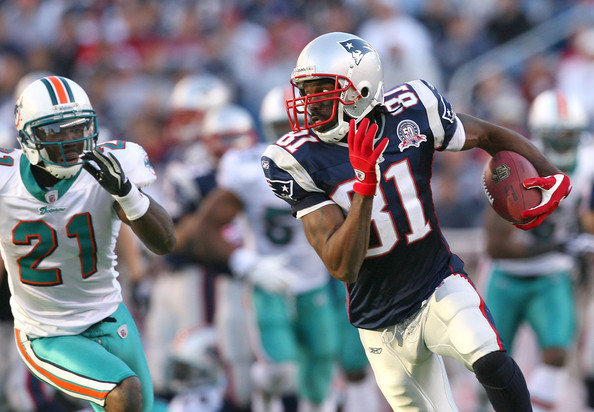 After being selected by the Minnesota Vikings 21st overall pick in the 1998 draft, Moss built his career by breaking records and proving the naysayers wrong. He teamed with Cris Carter and Jake Reed to take the league by storm the following year, tallying 1,313 yards on 69 catches for 17 touchdowns (breaking the rookie record) as the Vikings went 15-1. Fast-forward to 2007 when he helped the Patriots score 589 total points — breaking the old record Moss himself helped set with the Vikings in 1998. (He snagged a record 23 touchdown passes from Tom Brady and helped the Patriots go undefeated all the way to the Super Bowl that year.) Beyond his physical gifts, Moss also considered himself a student of the game. Pats play-caller Bill Belichick described Moss as the most intelligent receiver he ever coached. We can certainly see why.
Next: An original great …
2. Don Hutson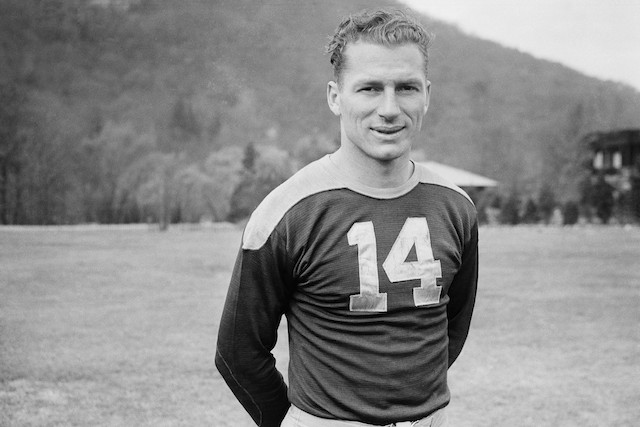 Hailed as the man who introduced football to the forward pass, Don Hutson dominated the wide receiver role like no other man had before him. His post corners, slants, and square-in routes laid the groundwork for wide receivers to impact the game of football. This Packers legend led the NFL in receptions and yardage for seven and eight of his 11 seasons, respectively.
Hutson retired as the all-time leader in every significant wide receiver metric and watched his records stand for decades. In 1942, in just 11 games, Hutson caught 74 balls for 1,211 yards and 17 touchdowns, roughly tripling the output of his closest competitors. (Pop Ivy made 27 catches for the Chicago Cardinals and Ray McLean accounted for 571 yards receiving for the Bears.)
Next: Last, but certainly not least …
1. Jerry Rice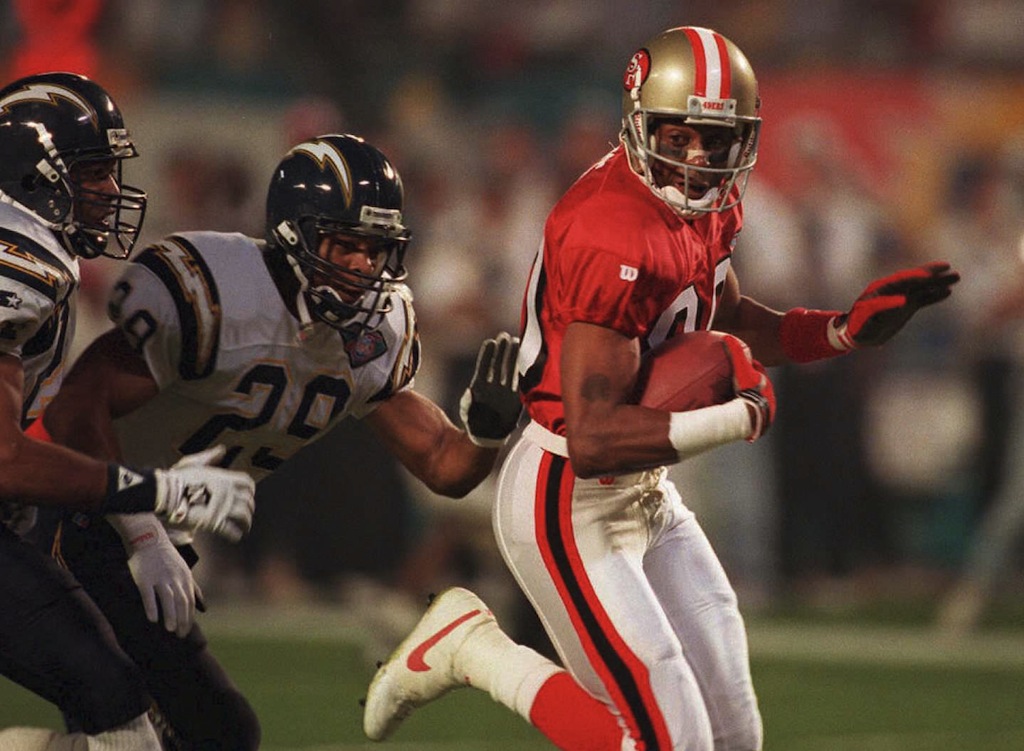 In the mid-1980s, 49ers coach Bill Walsh installed Jerry Rice — a D-II draft pick who most NFL scouts thought was too small for professional football — as the key component of San Francisco's offense. And even though the term is a cliche, Jerry Rice really could "do it all." His 1,549 career receptions (an NFL record) demonstrated his knack for getting open and catching the football, while his 208 career touchdowns (another record) highlighted his nose for the end zone. He once scored 22 touchdowns in a 12-game 1987 strike-shortened season. In a league touted for being "a young man's game" Rice hauled in 122 catches for 1,848 yards as a 33-year old.
His exercise regimen only added to his legend. No. 80 was known to sprint 2.5 miles worth of Bay Area hills per session, hit the bike immediately prior to game time, and leave other professional athletes in tatters after participating in his five-hour workouts. This dedication served as the foundation for Rice's 20-year NFL career, 22,895 receiving yards, and iconic status as one of the world's premier athletes.
Writer Kofi Bofah contributed to this piece.