The 10 Highest-Paid College Football Coaches in 2019
College football players may not get paid for putting their bodies on the line, but their coaches certainly do. And it can mean big bucks for them at the big-name FBS schools. Here's a look at the 10 highest paid head coaches in college football in 2019. Even the guys at the bottom of this list have annual salaries that would be life-changing amounts for most people.

9. Mike Gundy, Oklahoma State, $5 million (TIE)
Mike Gundy's biggest claim to fame may be his viral "I'm a man! I'm 40!" quote, but that doesn't mean he's not a good coach. In his 15 seasons at Oklahoma State, Gundy has put up a 121-59 record and 9-4 in bowl games, including a three-game winning streak.

9. Scott Frost, Nebraska, $5 million (TIE)
Scott Frost made a name for himself by going 13-0 in his second season at Central Florida in 2017, and he parlayed that into a job at Nebraska, where he started the following season with a big pay jump. Frost is one of the highest-paid college football coaches out there, but the Cornhuskers went 4-8 in his first season in 2018.

8. Tom Herman, Texas, $5.5 million
Tom Herman took over the Longhorns in 2017 when they were in a down period following three straight sub-.500 seasons. In two years at the school, Herman is 27-17 and has won both bowl games during his tenure.

7. Dan Mullen, Florida, $6.07 million
After nine seasons as the head coach at Mississippi State, Dan Mullen got hired by Florida before the 2018 season, and he had a good first year leading the Gators. The team went 10-3 and won the Peach Bowl in Mullen's first year.

6. Dabo Swinney, Clemson, $6.20 million
Dabo Swinney has been Clemson's head coach since 2008, and he has turned the Tigers into perennial national championship contenders during his time with the school. Clemson has won the championship in two of the last three seasons, including last season as the title capped a 15-0 campaign. Swinney is one of the best-compensated college football coaches in the land, but he might be in line for a raise considering his teams are some of the few that can take out Alabama.

5. Kirby Smart, Georgia, $6.60 million
Kirby Smart took over the Georgia job in 2016 when the Bulldogs went 8-5. In the last two seasons, though, they're a combined 24-5 and have ranked as high as No. 2 in the AP poll. Smart made the team competitive for a spot in the College Football Playoff, but he has not yet been able to get Georgia over the hump and win a national championship under his watch.

4. Gus Malzahn, Auburn, $6.7 million
Gus Malzahn has been Auburn's head coach since 2013, but the team hasn't been that good during his tenure. He has only led the Tigers to two seasons of double-digit wins, and he has a poor 2-4 record in bowl games. Of the 10 coaches on this list, Malzahn may be the least worthy of his salary.

3. Jimbo Fisher, Texas A&M, $7.5 million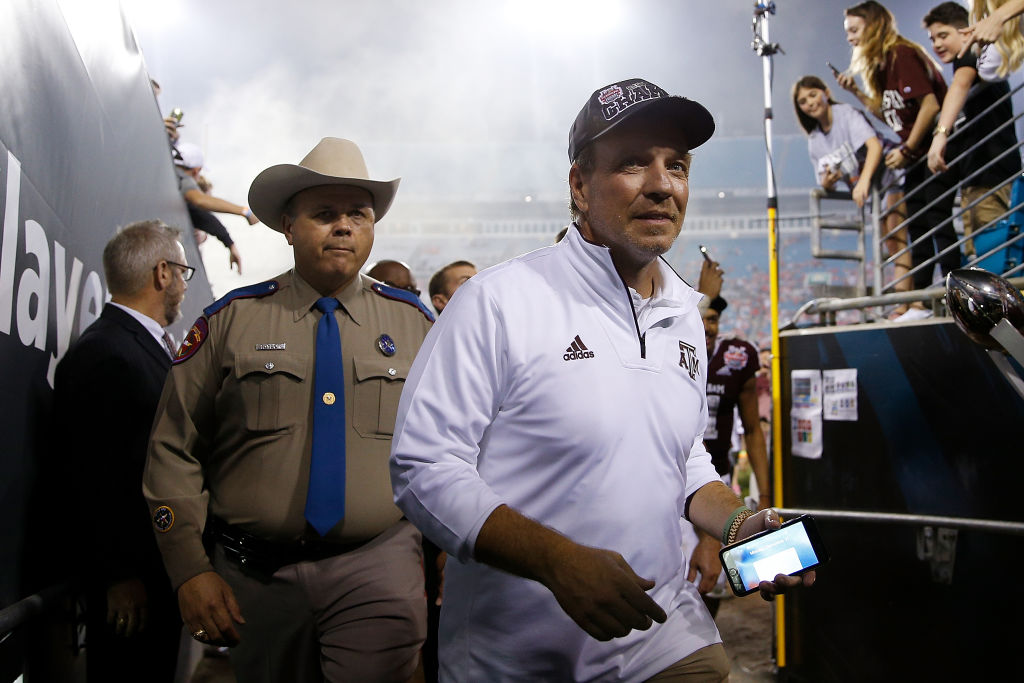 After a successful eight-year run at Florida State, Jimbo Fisher signed a big contract to coach Texas A&M starting in 2018. His first season there saw the Aggies go 9-4 and pick up a win the Gator Bowl.

2. Jim Harbaugh, Michigan, $7.50 million
Jim Harbaugh has led the Wolverines to at least 10 wins in three of his four seasons at the school, but he has yet to find similar success in the postseason, with a 1-3 record in bowl games which includes a three-game losing streak.

1. Nick Saban, Alabama, $8.30 million
Nick Saban is, without a doubt, the best coach of this generation, so he deserves to sit atop the list of highest-paid coaches, and he makes almost $1 million more than Harbaugh at No. 2. He's been at Alabama since 2007 and has won five national titles during that span.