The 10 Highest Scoring Quarterback-Receiver Duos of All Time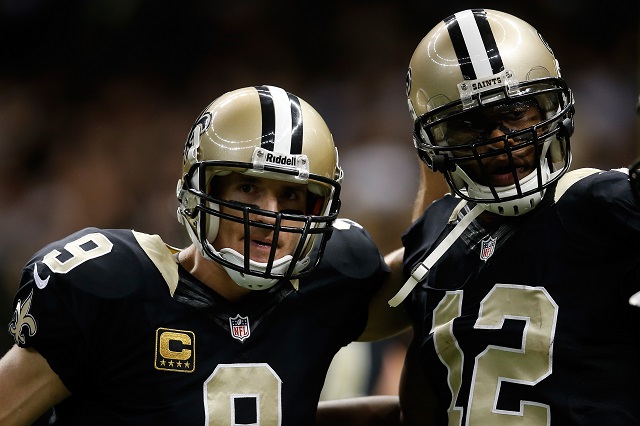 Wide receivers and quarterbacks are two of the most symbiotic positions in the entire game of football. The best wideouts make signal calling look downright easy, while a competent quarterback can deliver the pigskin exactly where it needs to go. The forgotten histories of the NFL are littered with the receivers who spent their primes without anyone half decent at signal caller, and even the most skilled quarterbacks are at a loss when they don't have competent receivers. You can ask Tom Brady circa 2013 about that.
That said, different receiver-quarterback combinations result in different things, and while some receivers are best used as all purpose targets, and some of them checkdown safety valves, what's being ranked today are the duos that put the most points on the board — the pairs that are responsible for the most successful touchdown connections in NFL history. Some are still going, and some are hall of famers, but all of them are on the short list, if only as a pair, as some of the greatest the league has ever seen.
All data is courtesy of Football Perspective, and they gather their numbers from Pro Football Reference. Both sites are awesome, and you should support them.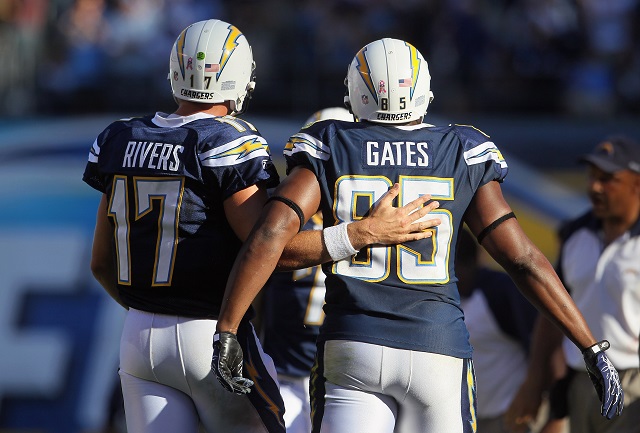 10. Philip Rivers & Antonio Gates — 63 Touchdowns
One of only two tandems that are still going strong in 2014, the San Diego Chargers' are going into their ninth season with Philip Rivers as their starting quarterback, and the rocket-armed quarterback hasn't found a more reliable target than tight end Antonio Gates, who joined the NFL  a year before Rivers, in 2003, and is still making catches like this one look routine.
Together, Gates and Rivers have watched as the Chargers have gone from legitimate Super Bowl contenders to also rans, but as they've combined for 378 points over the last almost-decade, they can't take very much of the blame for their failure to win the big one. With Gates already reeling in three Rivers touchdowns in the first two weeks of the 2014 season, this pair could be due for a very quick rise in these standings before the season is out.
9. Johnny Unitas and Raymond Berry — 64 Touchdowns
The oldest duo on this list, Raymond Berry and Johnny Unitas spent 1956 to 1967 pairing up for touchdown after touchdown as members of the Baltimore Colts (now based out of Indianapolis). Unitas actually lead the league in touchdown passes in four separate seasons over that time period, from '57-'60, and Berry grabbed 39 of them. They also won a pair of Super Bowls.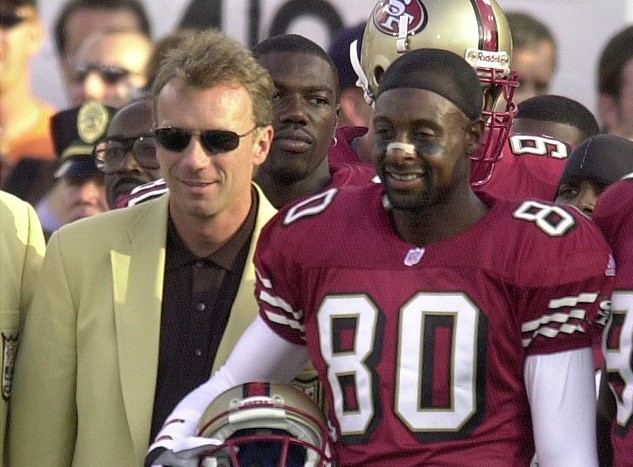 8. Joe Montana & Jerry Rice — 67 Touchdowns
When you're throwing to one of the best receivers in the history of the game, you're probably going to put a bunch of points on the board, and when you're a quarterback like Joe Montana, you might even go down as one of the most memorable offensive tandems of all time. Rice and Montana are one of the legendary pairings in 49ers history — so good that even fans who despise San Fran have to give Montana and Rice the nod.
Rice entered the league in 1985, and would wind up outlasting Montana on the professional level for a decade. While Montana retired in 1994, Rice was cementing his legacy well into the 21st century.
7. Brett Favre & Antonio Freeman — 67 Touchdowns
While Brett Favre is in danger of losing his career touchdown record to Peyton Manning, his connection with Antonio Freeman cannot be denied. While Freeman was only a Green Bay starter for six seasons, he never finished with fewer than six touchdowns during his time with the Packers. For four of those years ('96-'99), Freeman was the leading receiver for Green Bay, and in 1998, he hauled in 14 touchdowns on the season.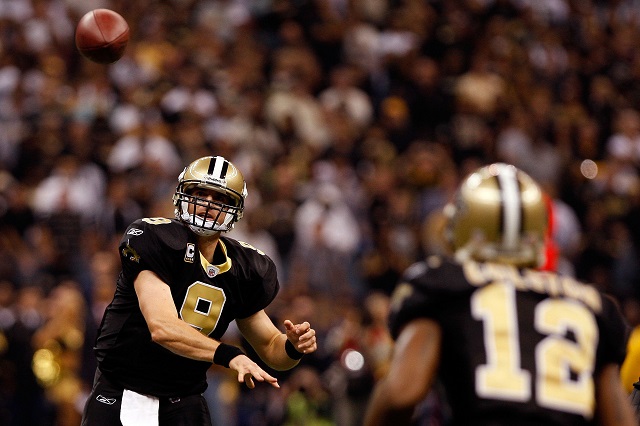 6. Drew Brees & Marques Colston — 67 Touchdowns
The second — and most successful as of this writing — active pairing that's on this list, Colston and Brees have been mutual beneficiaries of a high octane scoring attack that's totaled nearly 300 touchdowns since 2006, and nearly a quarter of them have been credited to the two players listed here. While they've yet to connect up for a score in 2014, Colston has already pulled in 110 yards over 5 catches so far.
5. Jim Kelly & Andre Reed — 71 Touchdowns
Last seen on the same roster in 1996, as Kelly retired after that season, the two mainstays of the great Bills teams from the early '90s managed to score 426 points for the Western New York franchise during their forays into the late postseason. While Buffalo would ultimately be unsuccessful in their efforts to win a Super Bowl (they famously lost four consecutive apperances), Kelly and Reed would wind up retiring as lifelong Bills. Yes, we know that Andre Reed wound up signing with Washington for 2000, but isn't the idea that he went out a Bill so much better?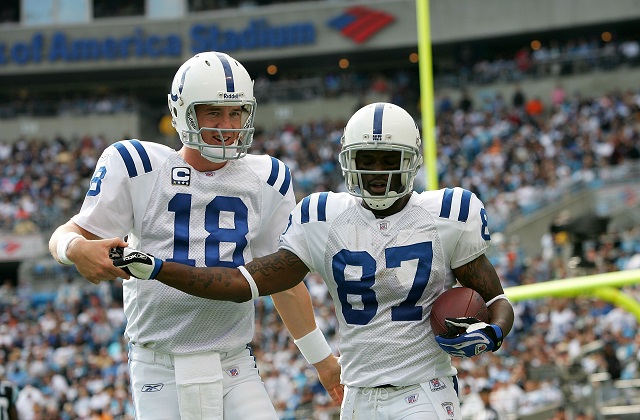 4. Peyton Manning & Reggie Wayne — 76 Touchdowns
There's a theory floated occasionally in the more suspicious corners of the NFL's Internet fandom that Peyton Manning does a lot to make his receivers look good — Eric Decker's five year deal for $36 million from the Jets was the most recent example of that since a) people like to mock the Jets and b) Peyton Manning managed to connect up with Decker for 24 touchdowns and 2,300 yards over two years. The implication, then, is that the Jets don't have a Peyton Manning, so they don't need an Eric Decker.
One of the guys who would disprove this Manning theory is Reggie Wayne, who joined forces with the elder sibling in 2001 and quickly notched all but nine of his career touchdowns with number 18 (more impressive when you consider that Wayne caught exactly zero touchdowns as a rookie). Wayne's abilities as a receiver were able to transcend Peyton's neck injury, and he was able to pull in four end zone receptions despite being dealt some underwhelming replacements — guys with names like Painter, Collins, and Orlovsky.
3. Dan Marino & Mark Clayton — 82 Touchdowns
From 1983 until 1992, Clayton and Marino — who were on track to have nearly identical careers in that they came into the league at the same time — retired at the same time, and both (nearly) played the entirety of their careers for the same team, the Miami Dolphins. They were a pairing that brought joy to South Florida, even if they never managed to win it all. Again, this is a situation where Clayton actually wound up playing for different teams for the last year of his career, spending 1993 in Green Bay, but he was a husk of himself.
2. Steve Young & Jerry Rice — 92 Touchdowns
The second appearance for Jerry Rice on this list and the real foundation for his legacy — although his almost 20 year career and his legendary numbers certainly don't hurt — the 14 years that Rice and Young were paired together (with eight featuring Young as the starting quarterback) were astonishing, as they averaged six and a half touchdown connections a season for a decade and a half.
1. Peyton Manning & Marvin Harrison — 118 Touchdowns
Marvin Harrison was fortunate enough to spend his entire career with Peyton Manning, and as Peyton Manning's favorite red zone target, notching eight consecutive seasons with at least 10 touchdowns from 1999 to 2006. For the completists, in chronological order, Harrison and Manning connected for 12, 14, 15, 11, 10, 15, 12, and 12 scores over that period of time, and still managed to pick up another 17 scores in the less successful seasons. Harrison retired in 2008, and Manning would soldier on with other targets before leaving Indianapolis on paper in 2011 and officially in 2012.