The 15 Best Bench-Clearing Brawls in MLB History
You don't typically see a lot of pushing and shoving in baseball. But when tensions run high and two players can't keep their emotions in check, fists may start to fly. And then — both sets of teams clear off the benches, pour out of their respective dugouts, and join in the shenanigans. Since baseball brawls are few and far between, they're even more of a blast to reminisce over. Here's a look at 15 of the best bench-clearing brawls in MLB history. (Surely you're all familiar with the fight slated at No.3.)
15. Madison Bumgarner vs Yasiel Puig, 2014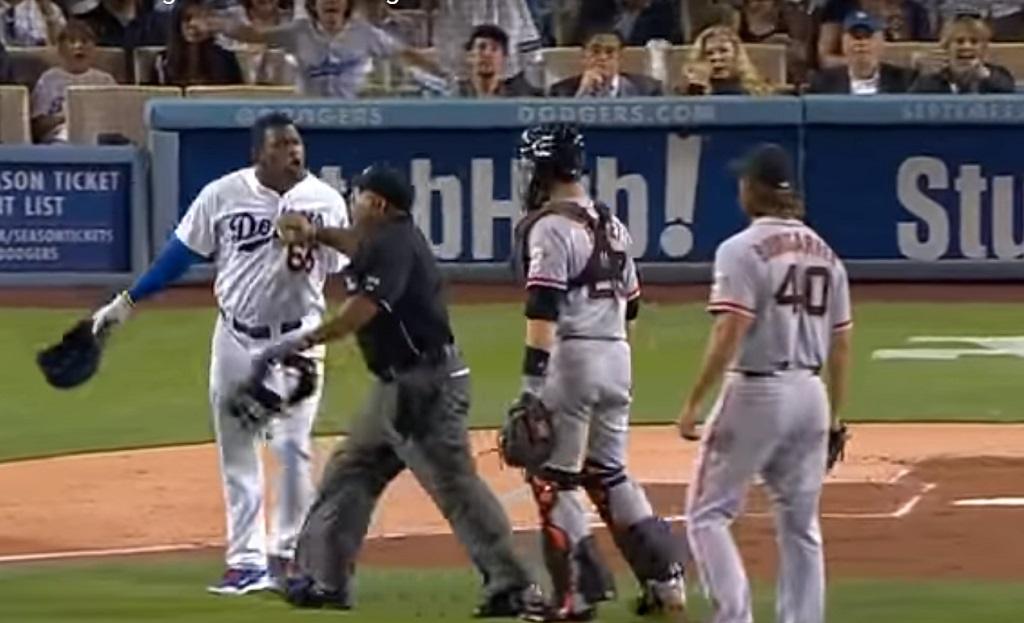 To say that Dodgers outfielder Yasiel Puig and Giants pitcher Madison Bumgarner don't like each other is an understatement. These two have been jawing at each other for years now. In just one particularly heated series down in Los Angeles, Puig thought a low pitch by Bumgarner was being intentionally thrown at him.  As the hot-headed batter began yelling and cursing, the six-foot-five southpaw walked casually off the mound and challenged Puig to come after him. It didn't take long for both benches to clear and for a mass of pushing and shoving to accumulate inside the baseball diamond.
Next: This next brawl drew blood …
14. Alex Rodriguez vs Jason Varitek, 2004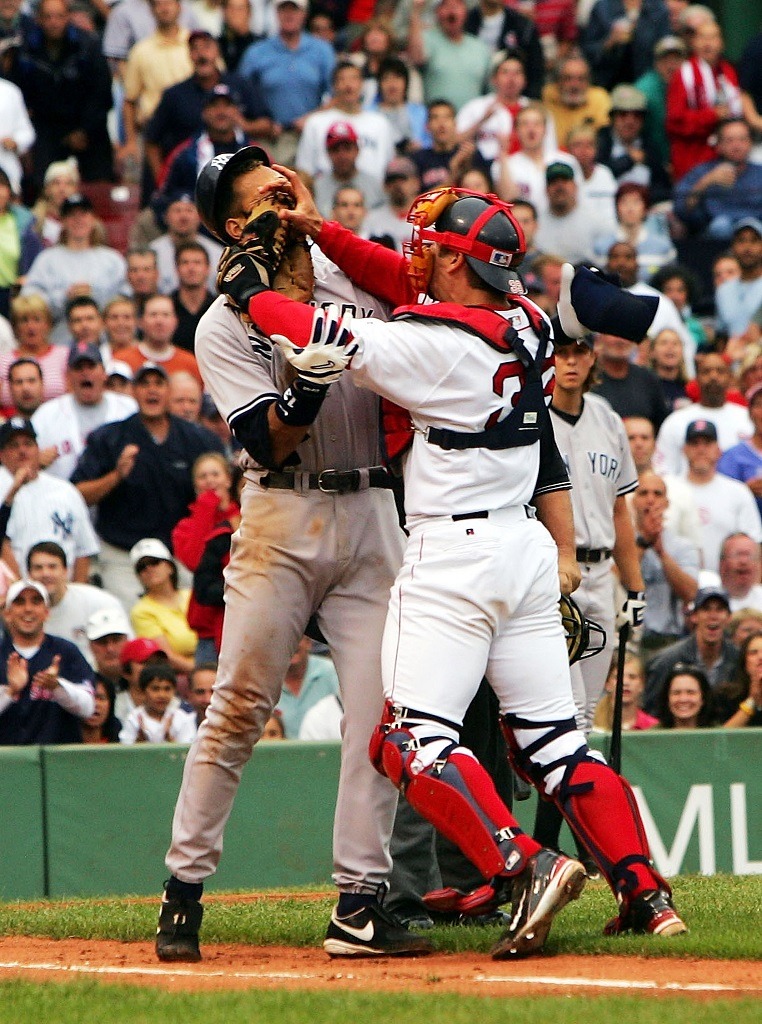 A day after A-Rod drove in the winning run against the Red Sox at Fenway Park, Boston pitcher Bronson Arroyo welcomed him to the plate with a beanball. Rodriguez began shouting expletives in Arroyo's direction, which didn't sit well with catcher Jason Varitek. The two began pushing and shoving, and both the Yankees and Red Sox benches cleared. The tussle was so intense, New York pitcher Tanyon Sturtze got cut and had blood dripping down the side his face.
Next: Two throws to the head lead to this shakeup …
13. George Bell vs Aaron Sele and Mo Vaughn, 1993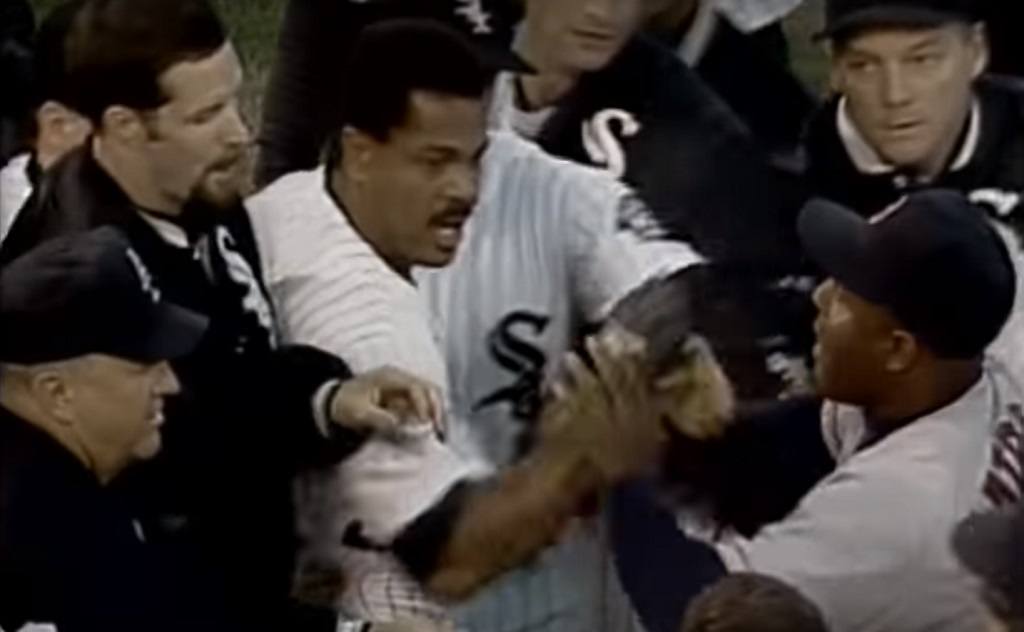 While the benches cleared during this beef, nobody got in as big of a hit as Red Sox first baseman Mo Vaughn. Chicago White Sox left fielder George Bell charged the mound after pitcher Aaron Sele threw two pitches right at his head. Before the benches had completely cleared though, Vaughn rushed over to Bell and side-swiped him, knocking him on the ground. The rest of the fight was just a dogpile of players.
Next: Beware of flying objects …
12. Lerrin LaGrow vs Bert Campaneris, 1972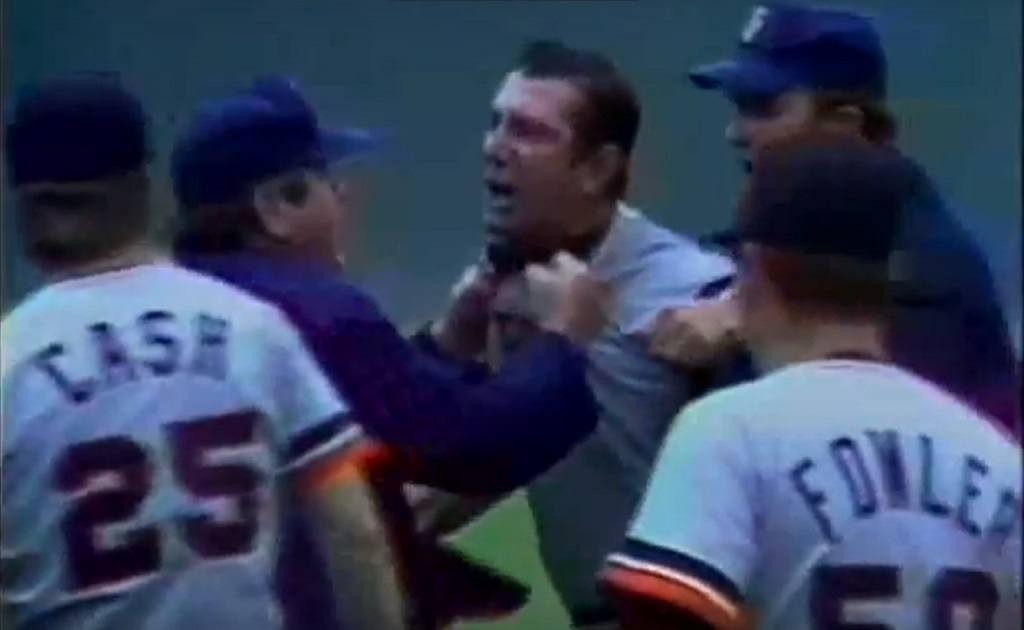 It isn't entirely clear whether Detroit Tigers' pitcher Lerrin LaGrow meant to hit Bert Campaneris with a low pitch. Nevertheless, the Oakland A's batter didn't take kindly to being plunked and proceeded to hurl his bat into the air right at LaGrow's head. The pitcher ducked to avoid getting clobbered, but Campaneris's action caused members of both teams to jump off the benches. Tigers' manager Billy Martin was particularly heated, and it took a while for the umpires to calm him down.
Next: Pitcher-on-pitcher crime …
11. Chan Ho Park vs Tim Belcher, 1999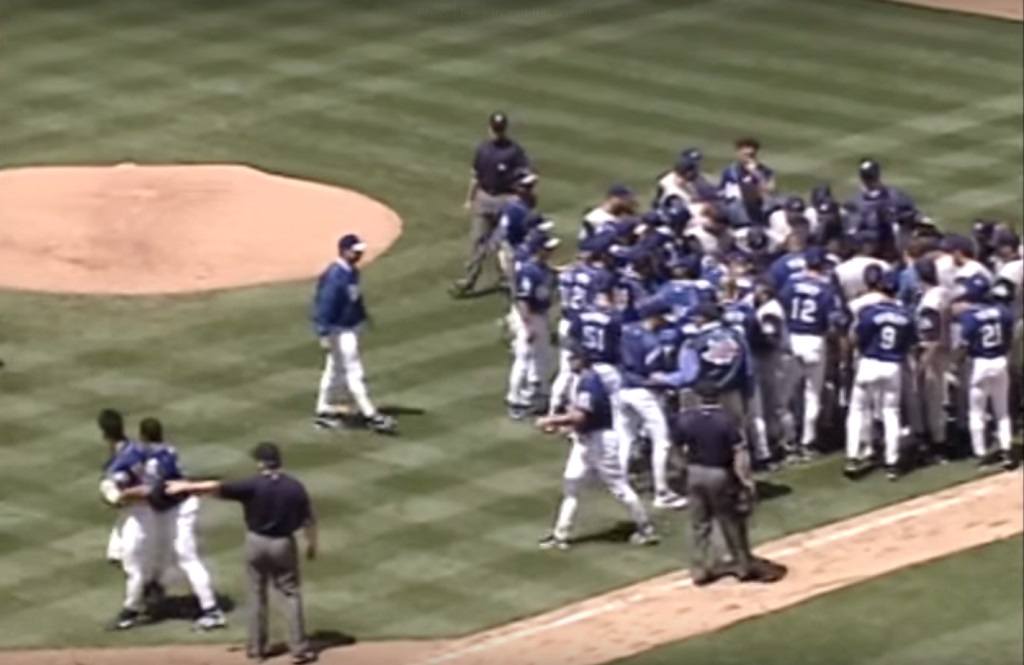 A good pitching rivalry can make for a great ball game. But in a Dodgers-Angels series in 1999 dueling pitchers Tim Belcher and Chan Ho Park took their bad blood to a whole new level. Park grounded out during one of his at-bats and didn't like how eager Belcher was to tag him out before he got to first base. But Park didn't just show his anger by throwing a punch at Belcher. He lifted off his feet and tried to kick him. Needless to say, both LA and Anaheim's benches cleared pretty quickly.
Next: Every once in a while, a coach gets in the mix …
10. Pedro Martinez vs Don Zimmer, 2003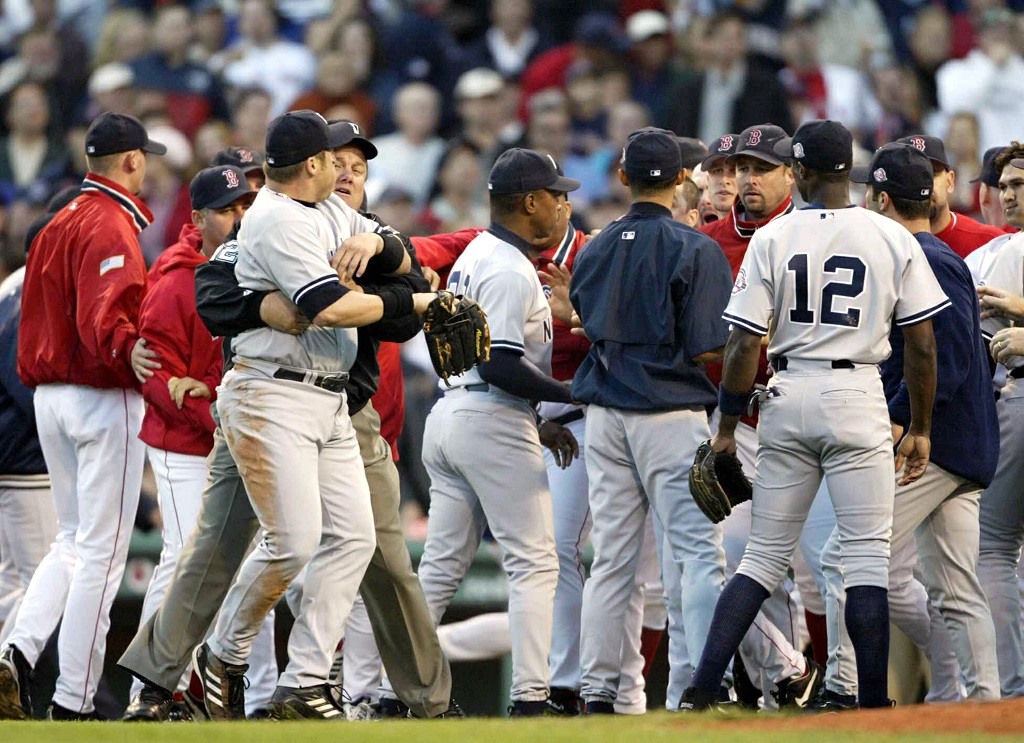 There's no love lost between the Yankees and the Red Sox, and tensions were extra high in Game 3 of the ALCS in 2003. The home plate umpire had already warned both benches to keep their cool when New York pitcher Roger Clemens threw a pitch up by Manny Ramirez's head. As both teams poured onto the field, Yankees coach Don Zimmer went straight for Boston pitcher Pedro Martinez. Martinez made quick use of the old coach by grabbing him by the face and chucking him to the ground. Nobody was suspended for the incident, although it did take a reported 10 minutes to clear up the melee.
Next: Was anyone surprised when these two players rumbled?
9. Yordano Ventura vs Manny Machado, 2016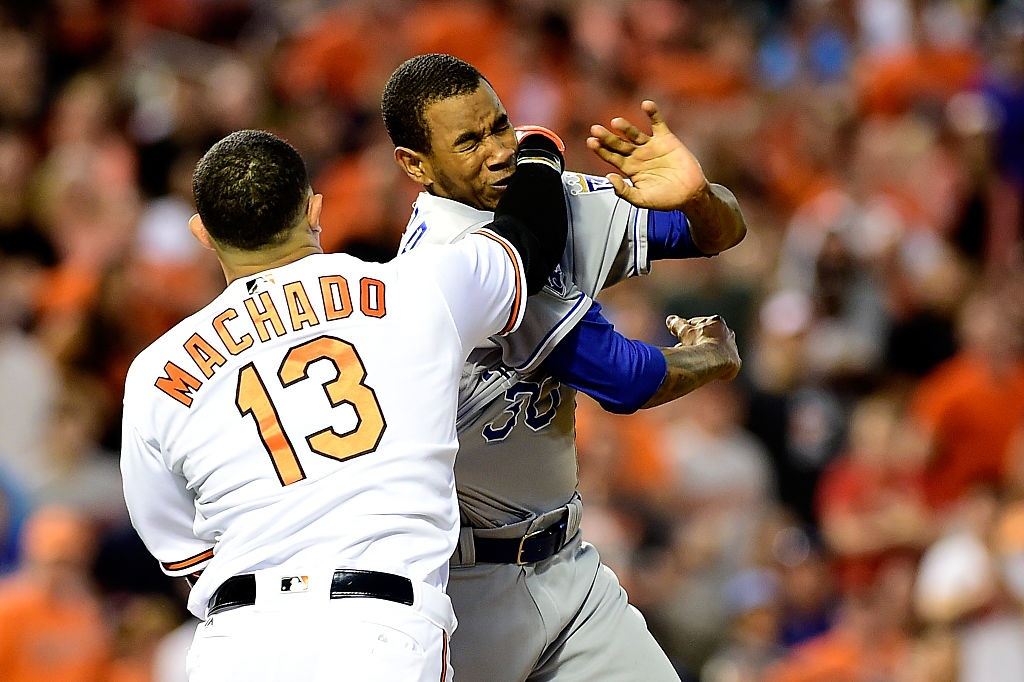 Yordano Ventura and Manny Machado were meant to clash — Ventura has a history of beaning batters, and Machado is, shall we say, not known for having a level head. So when the Royals' pitcher nailed the Orioles infielder with a 99-miles-per-hour fastball, Machado charged the mound. (Or more limped out to the mound because he'd just been hit square in the hip by the pitch.) The Orioles bench was right behind him as he threw haymakers at Ventura's face.
Next: Speaking of beanballs …
8. Nolan Ryan vs Dave Winfield, 1980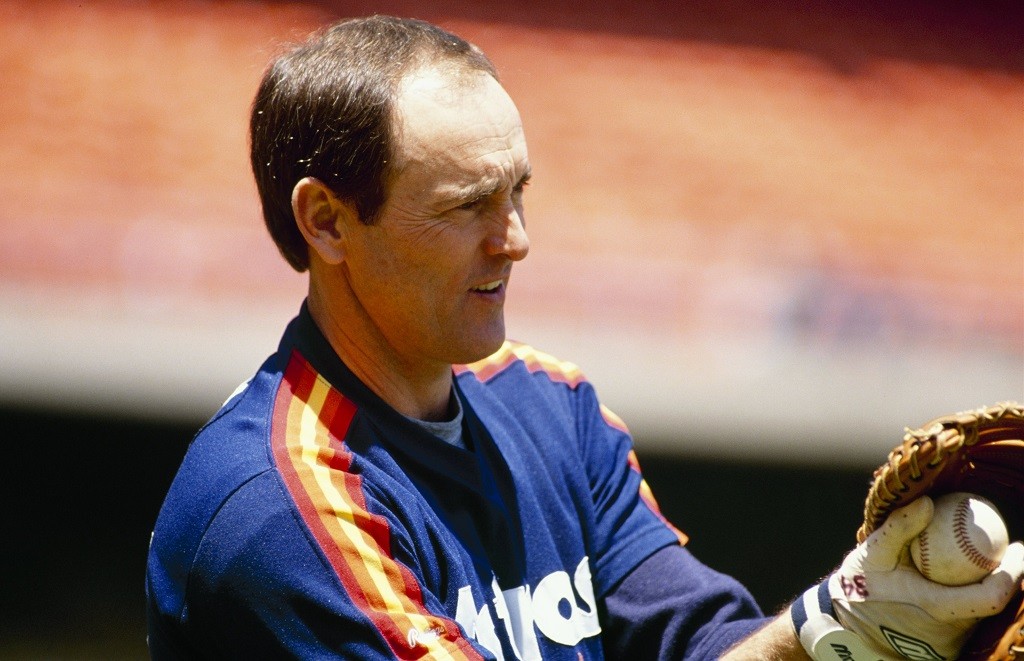 In legendary Rangers pitcher Nolan Ryan's first fight, he wasn't exactly prepared to brawl. Nevertheless, Padres' right fielder Dave Winfield charged the mound after Ryan plunked him with a pitch. The benches cleared after Winfield wrestled an unsuspecting Ryan to the ground, but the brawl was broken up pretty quickly after that.
Next: Ryan wouldn't be caught off guard like that again though …
7. Nolan Ryan vs Robin Ventura, 1993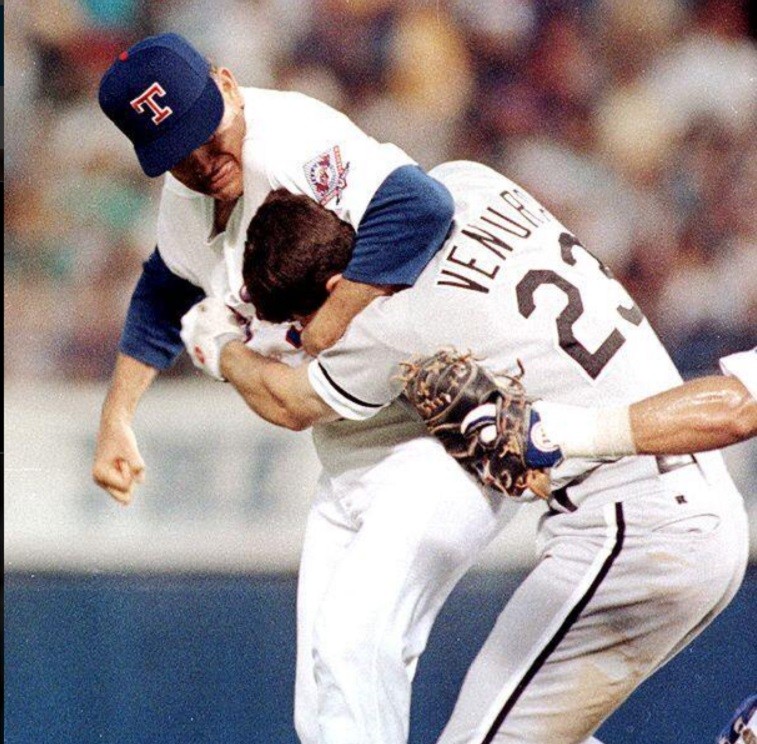 By the end of his career, Nolan Ryan wasn't just punching his ticket to the Hall of Fame. He had morphed into a veteran who had no problem beating up on anyone who challenged him. So when Chicago White Sox third baseman Robin Ventura decided to charge the mound after getting plunked, Ryan put him in a headlock and made him regret his decision. A bench-clearing brawl ensued and took several minutes to stop. Rangers skipper Mickey Hatcher ended up with a bloody cut over his eye.
Next: Here's why channeling frustration into your pitches can backfire …
6. Armando Benitez vs half the New York Yankees, 1998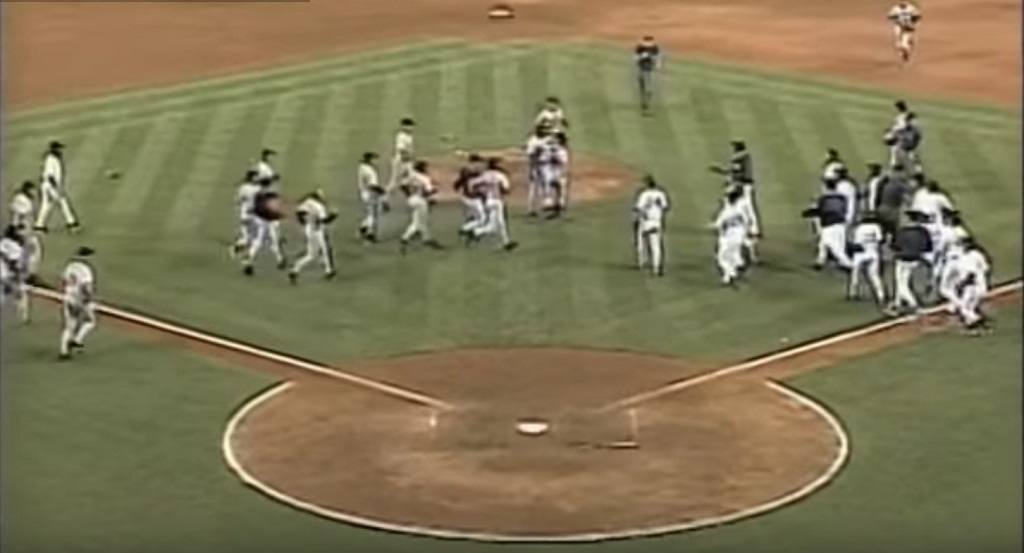 Anyone who ever watched Armando Benitez pitch knows he had a bad temper. And when the Orioles' reliever gave up a three-run homer to the Yankees, he chose to take his frustrations out with a beanball to Tino Martinez. Both the Yankees and Orioles cleared the benches to join in the melee, but most of Baltimore's contingent got pushed aside so the Yankees could take turns giving Benitez a piece of their minds.
Next: Blame it on the bat flip …
5. Rougned Odor vs Jose Bautista, 2016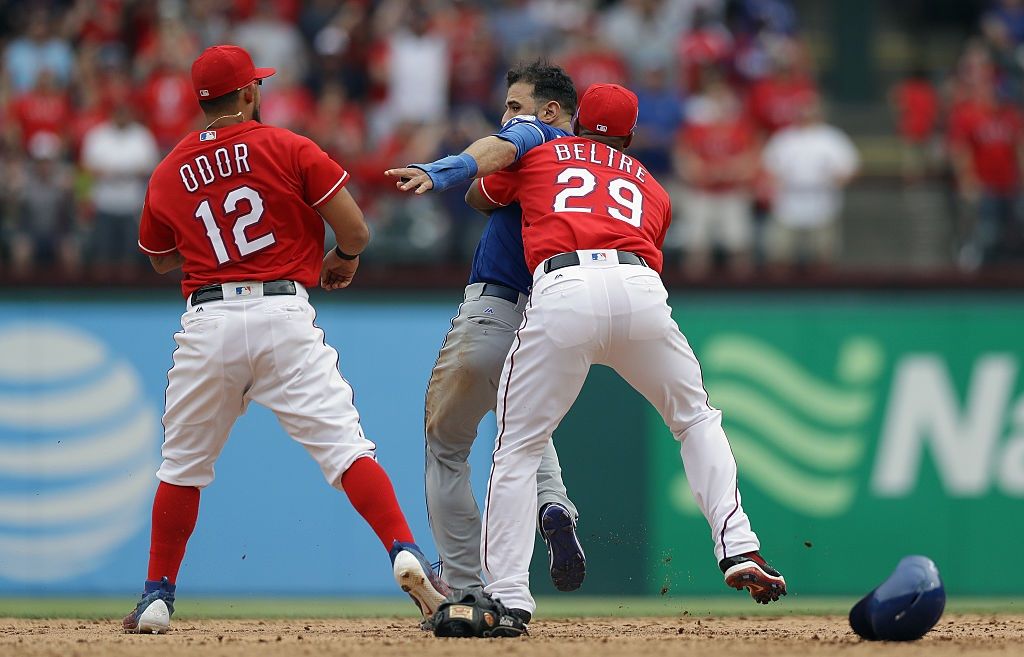 The Rangers and Blue Jays developed quite the rivalry thanks to Jose Bautista's infamous bat flip in the 2015 post season. When the teams played each other the following season, Bautista further angered Texas when he slid hard into second base and knocked into infielder Rougned Odor. Odor responded by throwing a punch square at Bautista's face, causing the benches to clear multiple fights to ensue. Fourteen players total got suspended for the incident including Odor, who was out for eight games.
Next: Off-field trash talk leads to on-the-field brawling …
4. Cardinals vs Reds, 2014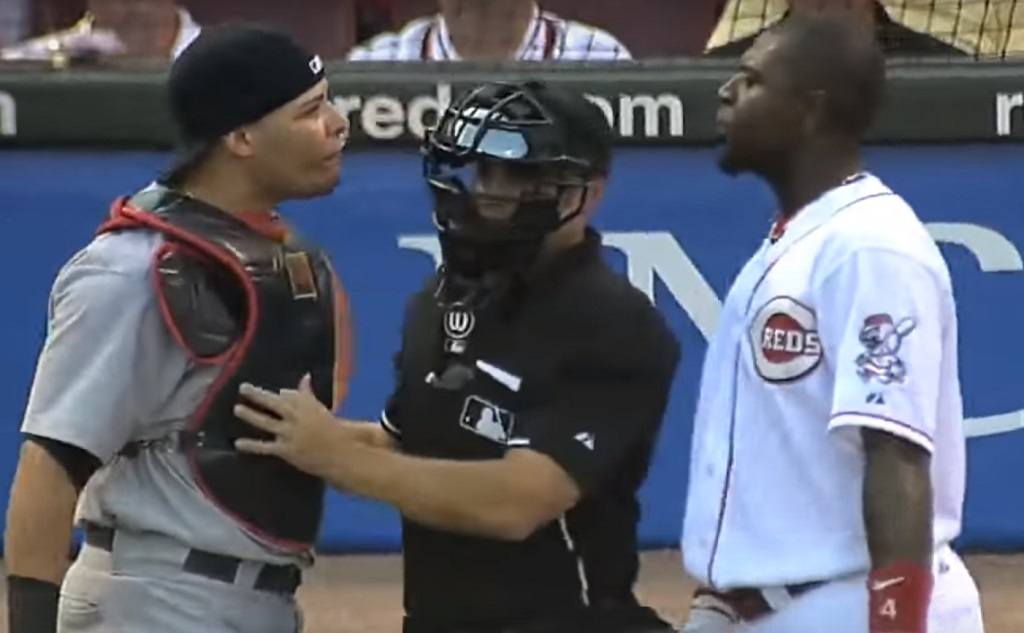 Needless to say, the St. Louis Cardinals were not very happy when Cincinnati Reds second baseman Brandon Phillips called them a bunch of "little bitches." So when Phillips went up to the plate in this game in 2014, Cardinals catcher Yadier Molina had some harsh words for him. No sooner had the two gotten into each other's grills that the benches cleared to pull them apart. The exchange was so tense that managers Tony LaRussa and Dusty Baker got involved and started yelling at each other. (Though the coaches didn't need an excuse to fight — they'd been at each other's throats many times.) The skippers had barely been separated when an even bigger fight started up against the backstop.
Next: This fight ended one player's career …
3. Bryce Harper vs Hunter Strickland, 2017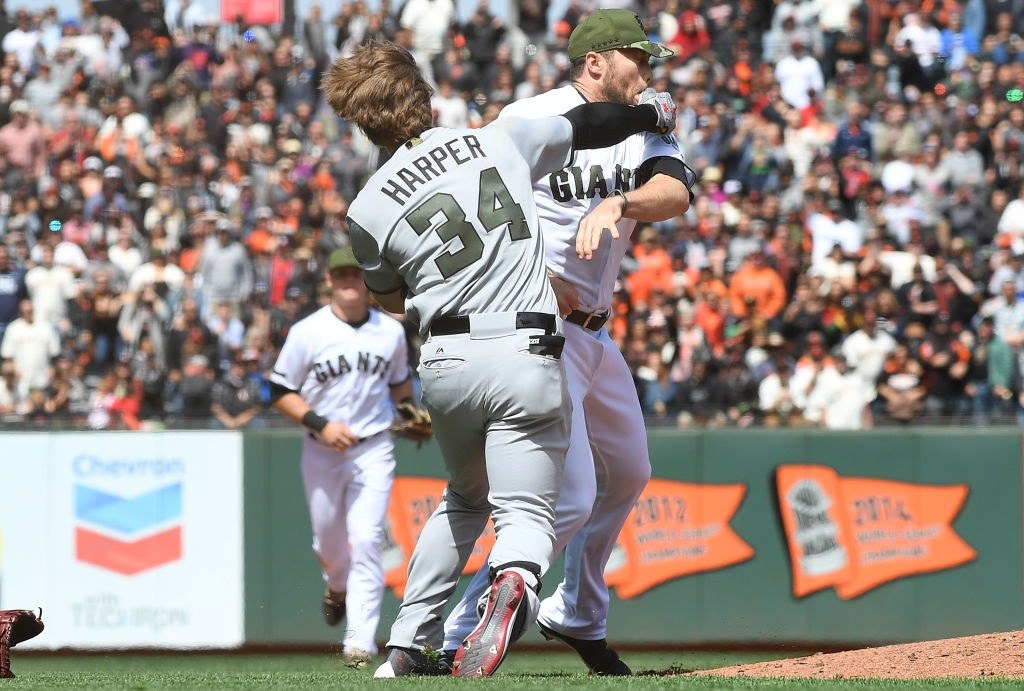 It didn't matter that the Giants won the World Series in 2014 and had defeated the Nationals on their way to that championship. Closing pitcher Hunter Strickland still wasn't over Bryce Harper hitting jacks off of him that post-season. When the two squared off during a regular season tilt in 2017, Strickland beaned Harper with a 98-miles-per-hour fastball. A hot-headed Harper charged the mound and the benches cleared, leading to an all-out brawl. In the middle of the madness, Giants pitcher Jeff Samardzija accidentally concussed teammate Michael Morse and ended the outfielder's career.
Next: Speaking of debilitating injuries …
2. Yankees vs Red Sox, 1976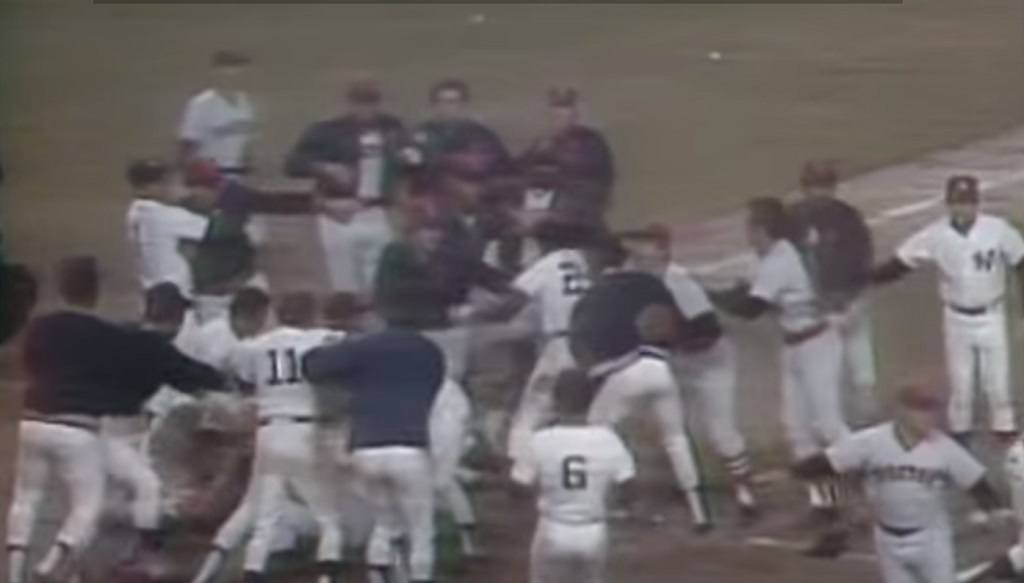 After a collision at home plate between Lou Piniella and Carlton Fisk, New York's and Boston's benches cleared and an all-out brawl ensued. Many Yankees went after pitcher Bill Lee, who had become very good at talking trash about the squad in New York. The chaos got extra out of control when Graig Nettles slammed Lee into the ground hard enough to injure his shoulder and put him on the disabled list.
Next: Last but not least …
1. Braves vs Padres, 1984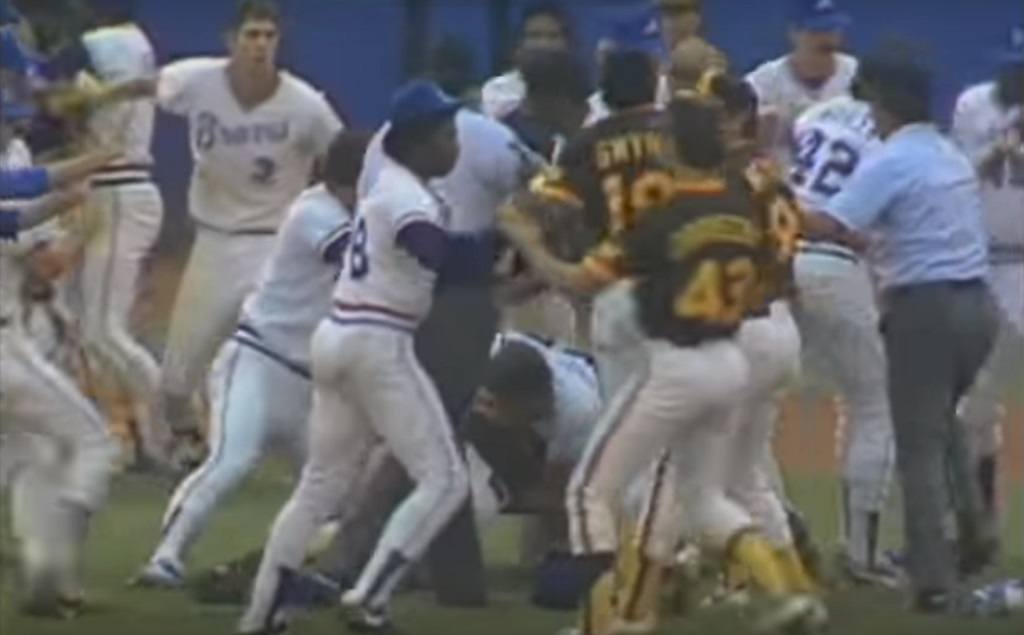 This epic fight-heavy game got fueled in the first inning when Braves' pitcher Pascual Perez beaned San Diego's leadoff hitter, Alan Wiggins. When Perez got plunked in his own at-bat, the benches cleared for the first of four times in that game. The fights were so heated that fans jumped onto the field and got involved. All the fisticuffs resulted in 13 suspensions and a busy day for the cops at the game.