The 15 Craziest Prop Bets for Super Bowl 50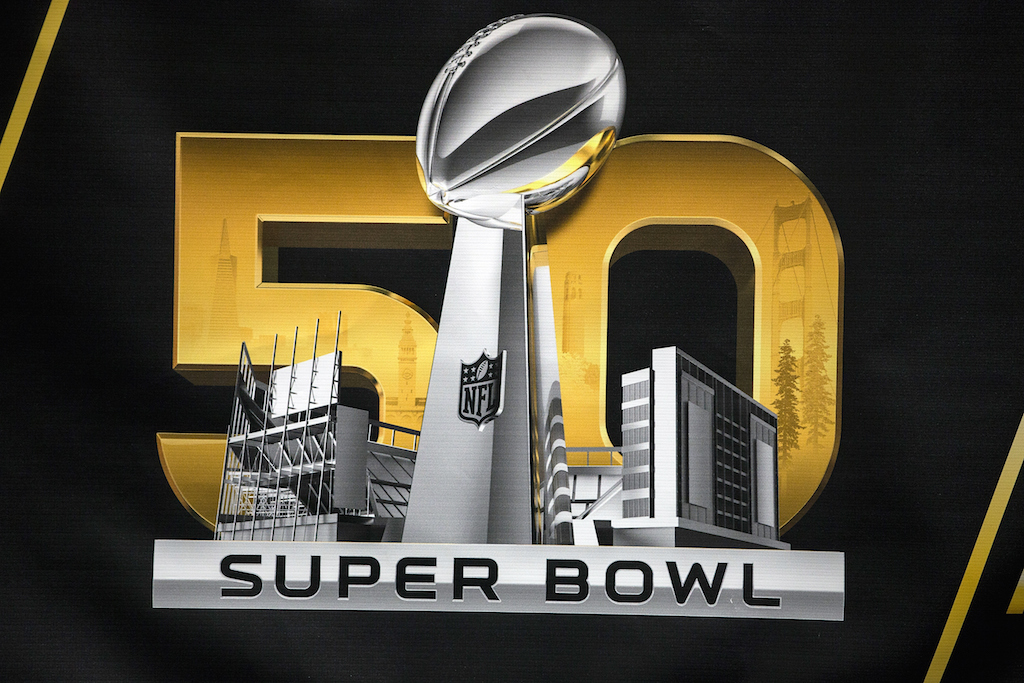 For the Denver Broncos and the Carolina Panthers, what happens at Levi' Stadium on February 7 will determine which team hoists the Lombardi Trophy at Super Bowl 50. For the rest of us — and that includes these seven celebrity supporters — what happens on the field will have a more substantial impact on our wallets. According to the American Gaming Association, roughly $4.2 billion will be wagered, most of it illegally, on Super Bowl 50.
One of the more lighthearted and fun ways to place a wager on the Super Bowl is to take action on one (or more) of the many prop bets that are available at sportsbooks all over the world. With Super Bowl Sunday now just days away, we decided to sort through the hundreds of available prop bets and see what wild things we could bet on before, during, and after the game. Here's our take on the 15 craziest prop bets that are available for Super Bowl 50.
1. How long will it take Lady Gaga to sing the U.S. National Anthem?
Over/Under:  136.5 seconds
If the history of National Anthem performances during past Super Bowls is any indication, our guess is that the six-time Grammy award winner's rendition goes well over 136.5 seconds.
2. How many viewers (in millions) will Super Bowl 50 have?
Over/Under: 117
Given that the Super Bowl has evolved into much more than just another sporting event, our guess is that there will be well over 117 million viewers on Sunday night.
3. What will the Nielsen TV Rating be for Super Bowl 50?
Over/Under:  47.5
If this game is still in question going into the fourth quarter, expect its Nielsen TV Rating to be well over 47.5.
4. Who will the Super Bowl MVP thank first?
Odds:
Coaches/owner: 12-1
Does not thank anyone or mention anyone on list: 2-1
Family: 8-1
Fans/city: 15-2
God: 13-10
Teammates: 2-1
This really depends on the player. There could be yet another unforeseen MVP in Super Bowl 50, or it could end up being Cam Newton or Peyton Manning just as the oddsmakers in Las Vegas, Nev. expect.
5. What color will the liquid be that is dumped on the head coach of the winning team?
Odds:
Blue: 9/4
Clear: 5/1
Green: 10/1
Orange: Even
Purple: 10/1
Red: 8/1
Yellow: 11/2
When doing your research for this bet, our suggestion would be to find out Newton and Manning's favorite flavors of Gatorade.
6. If Cam Newton scores a rushing touchdown what will he do first?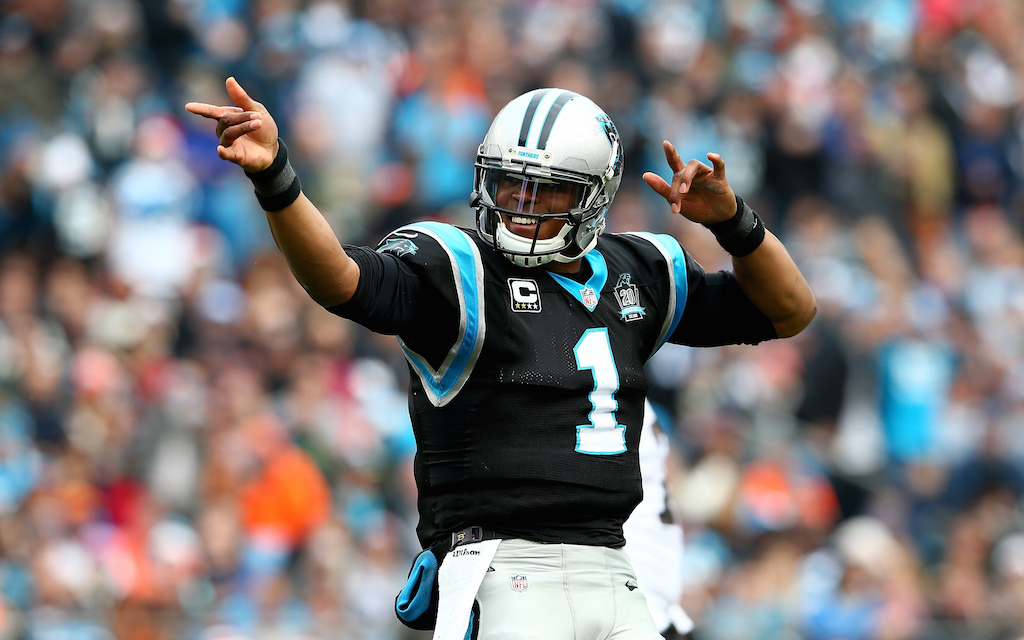 Odds:
Dances solo: 2-1
Dances with teammates: 12-1
Dunks off FG post: 50-1
Goes to crowd and gives ball away: 2-1
Hands ball to NFL game official: 40-1
Open shirt Superman motion: 6-5
Spikes ball: 25-1
This much we know: Newton will dance and celebrate if he finds his way into the end zone regardless of the game's score.
7. Will Mike Carey be wrong about a challenge?
Odds:  1.35-1
We would like to think that Carey can be correct on every challenge with the technology that is available to him, but who really knows?
8. How many times will "dab" or "dabbing" be said by the announcers during the broadcast?
Over/Under: 2
Considering the broadcasting team, a more appropriate bet might be "how many times will the announcers misuse the words 'dab' or 'dabbing?'"
9. How many wings will Buffalo Wild Wings sell on Super Bowl Sunday (in millions)?
Over/Under: 12
Judging by the over/under in this bet, we would recommend buying stock in Buffalo Wild Wings as soon as possible.
10. If Stephen Curry is shown on TV during the broadcast what will he be wearing?
Odds:
Personalized Carolina Steph Curry jersey: Even
Cam Newton jersey: 3-1
Any other Carolina jersey: 5-1
No jersey: 2-1
If Curry is at the game, you can rest assured that he will be shown on TV during the broadcast.
11. Will Peyton Manning be seen crying at any point during the entire broadcast?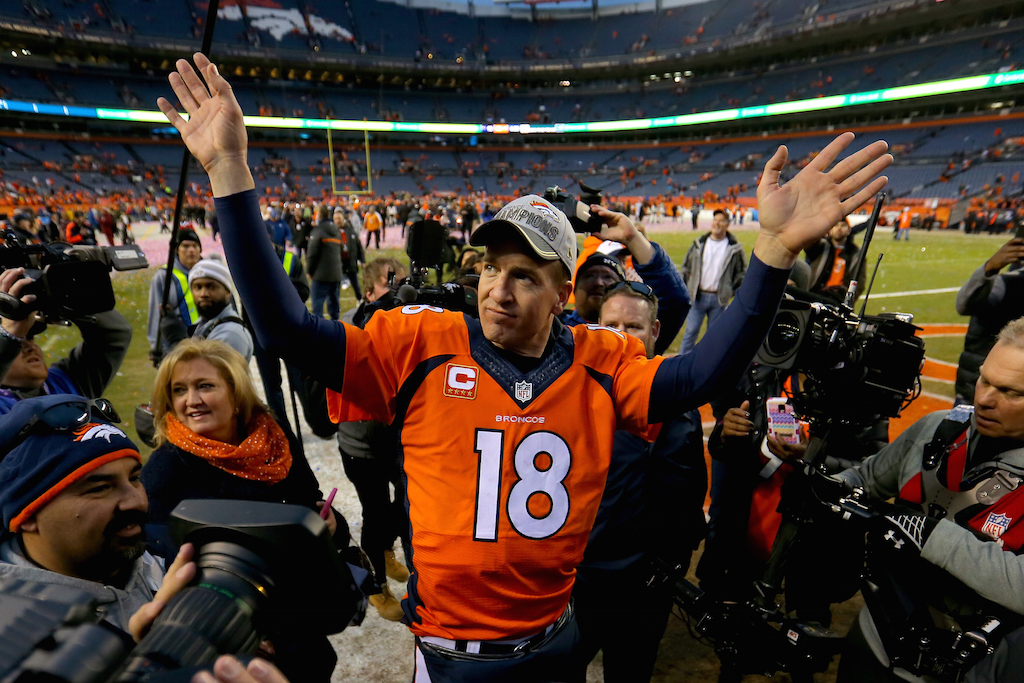 Odds:
It appears as though the oddsmakers are banking on Manning announcing his retirement at the conclusion of the game on Sunday night.
12. Which song will Coldplay play first during the halftime show?
Odds:
Adventure of a Lifetime: 2-1
Fix You: 3.5-1
A Sky Full of Stars: 4.5-1
Viva La Vida: 5-1
Clocks: 7.5-1
Head Full of Dreams: 10-1
Paradise: 10-1
As long as they put on a good show, who really cares?
13. Will there be an earthquake during the game?
Odds:  10-1
Let's hope that the answer is no.
14. How many times will John Elway be shown on TV during the broadcast?
Over/Under:  2.5
We're guessing the over is the smart play here, regardless of how this game plays out.
15. How many times will the Golden Gate Bridge be shown during the broadcast?
Over/Under:  0.5
You can't have a Super Bowl in the Bay Area without showing the Golden Gate Bridge at least once, right?
All prop bets and odds courtesy of Oddsshark.com and Sportsbook.ag