The 15 Worst Stadiums in Sports History
The ballpark. The barn. The gridiron. Whatever sport you fancy and whatever name you call its playspace, you probably expect to have a top-notch experience when you attend a game. Even if your go-to stadium or ballpark is old as heck — hello, Wrigley Field — a well-designed venue with some upgraded amenities can make game day very enjoyable. But unfortunately, not all sports arenas are created equal. And some — whether they are poorly designed, have terrible in-house rules, or are just impractical — are too terrible for words. Whether they are long gone or still in use, here's a look at 15 of the worst venues in North American sports. (How venue No.15 ever came to be is still beyond us.)
Tropicana Field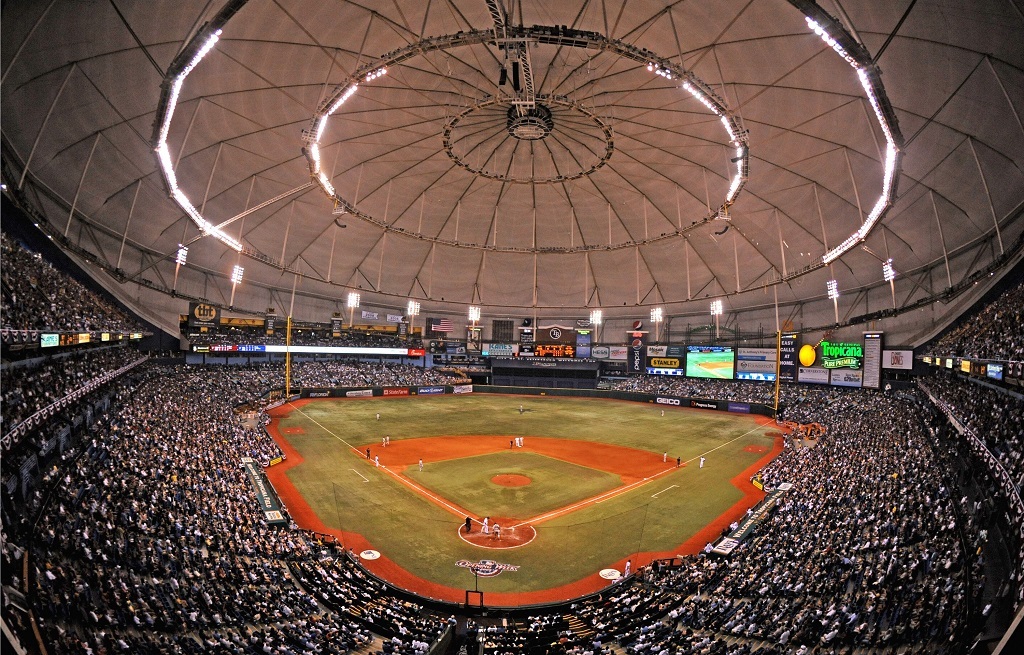 Location: St. Petersburg, Florida. Sport: MLB. Actively used: Yes
This closed dome monstrosity was void of a home team the first few years after it was built, hosting tennis matches until the Tampa Bay Rays made it their home in 1998. Since then spectators have been enduring poor sightlines and the threat of a pop out or home run ball hitting a catwalk and then hitting a fan — or even a player. The Rays announced in early 2018 their plans to move to a more modern ballpark in Tampa Bay, although it's unclear when the new park will be ready — and how much longer the team will have to rough it at "The Trop".
Next: This temporary home just doesn't fit a football team …
StubHub Center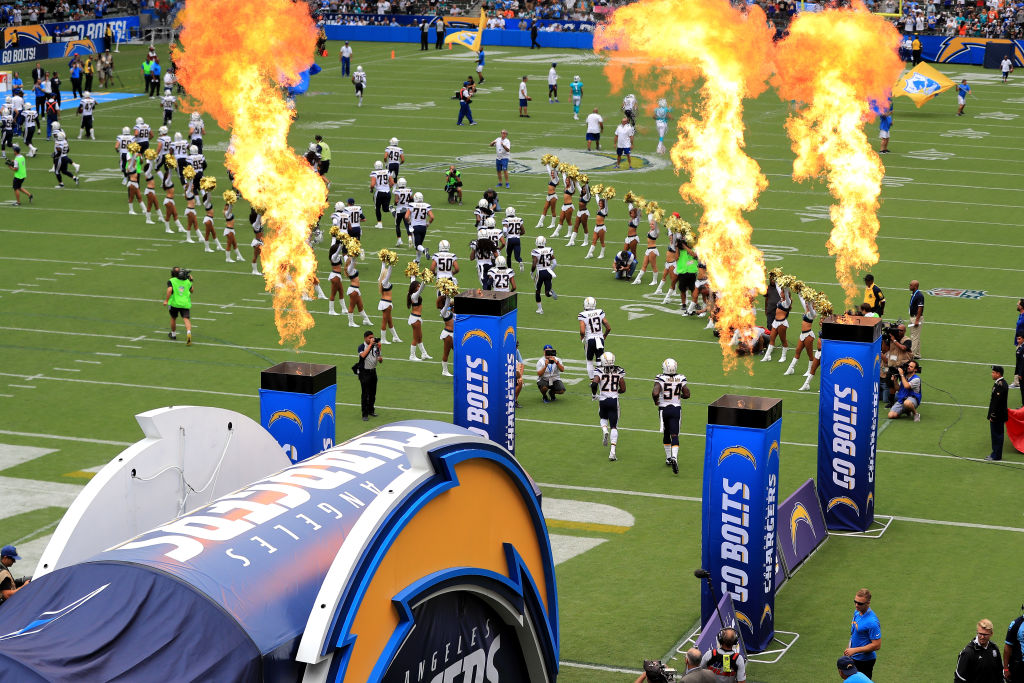 Location: Carson, California. Sport: NFL/MLS. Actively used: Yes
The Chargers left San Diego and the beat-up old stadium formerly known as Qualcomm behind. But their current digs, which they share with the LA Galaxy soccer club, aren't well matched for an NFL team. It's a smaller and more intimate stadium, seating just 27,000. (A far cry from the 70,561 available at their old home.) But the Chargers will have to get used to the quaint confines since the new stadium in Hollywood Park they'll share with the LA Rams won't be finished for another couple of years.
Next: The atmosphere at this arena was a real snooze …
Sleep Train Arena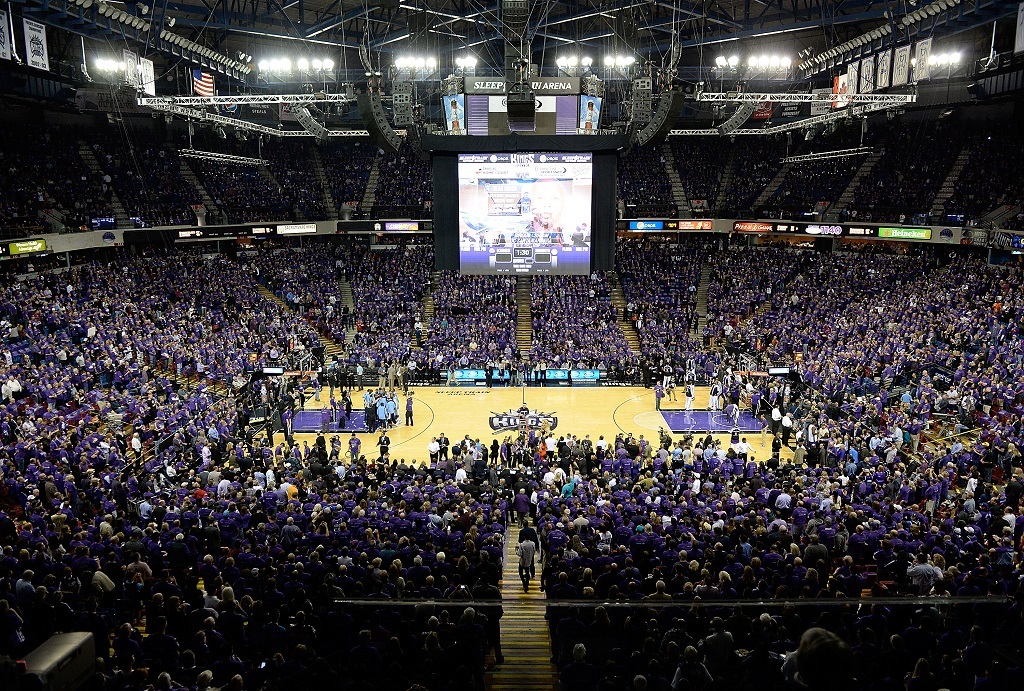 Location: Sacramento, California. Sport: NBA. Actively used: No.
Truthfully, part of the problem with the former home of the Sacramento Kings was that the Kings themselves have been pretty bad for a while. And, let's be honest, even die-hard fans have trouble getting excited when a team isn't very good. But even with the Kings moved to a different location, any chance of waking up this sleepy old arena seems like a long shot. Especially since the seats from the building were already auctioned off to Kings fans.
Next: This hockey mecca saw much better days …
Joe Louis Arena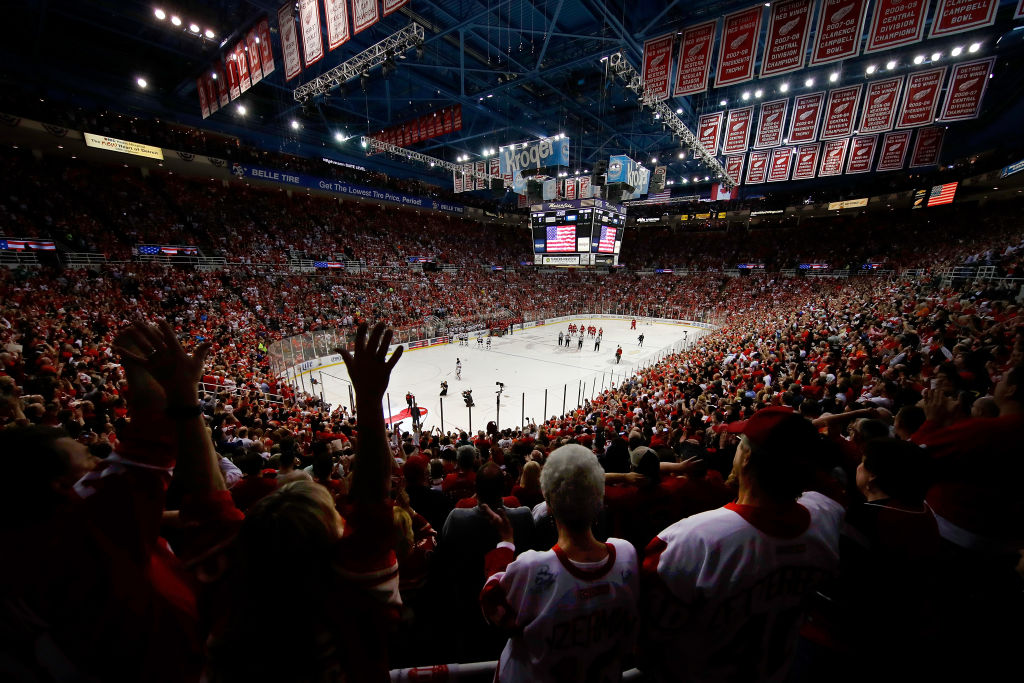 Location: Detroit, Michigan. Sport: NHL. Actively used: No
This isn't to say that Joe Louis Arena didn't have its charm or a rich history of hosting some of the best hockey players to ever play the game. (Not to mention had more octopi thrown on its ice than any venue ever.) But "The Joe" also began resembling that friend who refuses to upgrade from a flip phone. As hockey barns across the league got state-of-the-art upgrades, Joe Louis Arena had trouble keeping up and it was eventually time for the Red Wings to play somewhere swankier. They played their last game at the Joe in April 2017 before moving to the shiny new Little Caesars Arena.
Next: Not all the venues on this list are old …
Levi's Stadium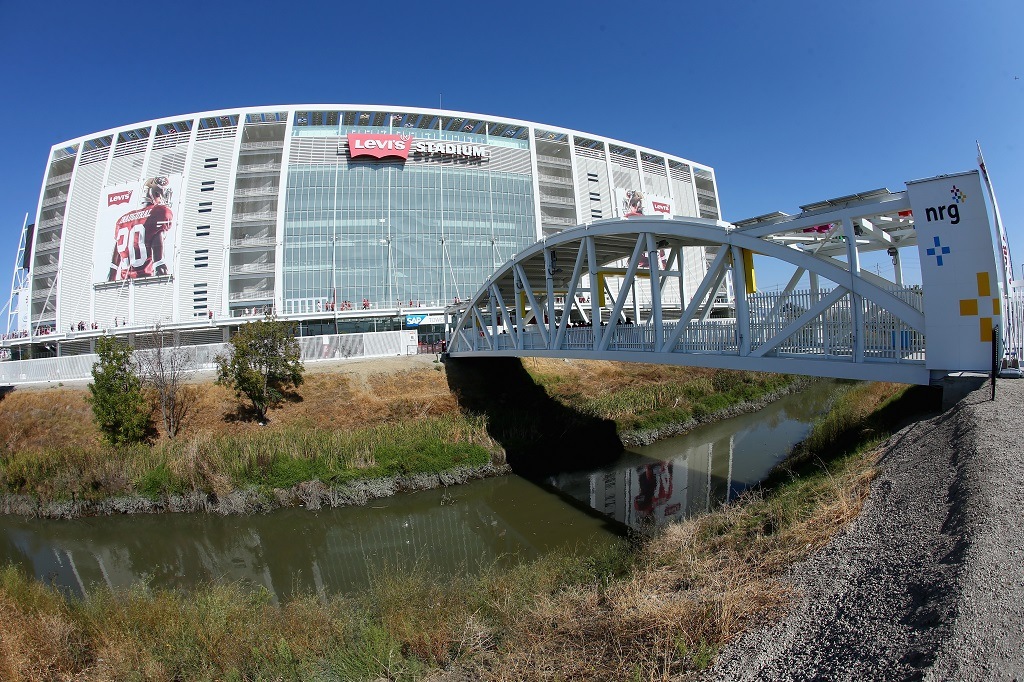 Location: Santa Clara, California. Sport: NFL/Soccer/Event center. Actively used: Yes.
There were high hopes when the San Francisco 49ers exited old Candlestick Park — more on that place later — for their new digs in 2014. But the gigantic library of a stadium, even with all its amenities, leaves much to be desired. In addition to the locker-room drama the Niners have endured since moving to the building, the field features easily-manipulated grass and is such a sun magnet that fans have had to call emergency services for fear of heat stroke. One fan collapsed and died from reported "cardiac emergency" during the first game there! And that's before you get to the long commute out to Santa Clara, which is at least a solid hour's drive outside of San Francisco proper.
Next: Enter the 'No Fun Zone' …
FedEx Field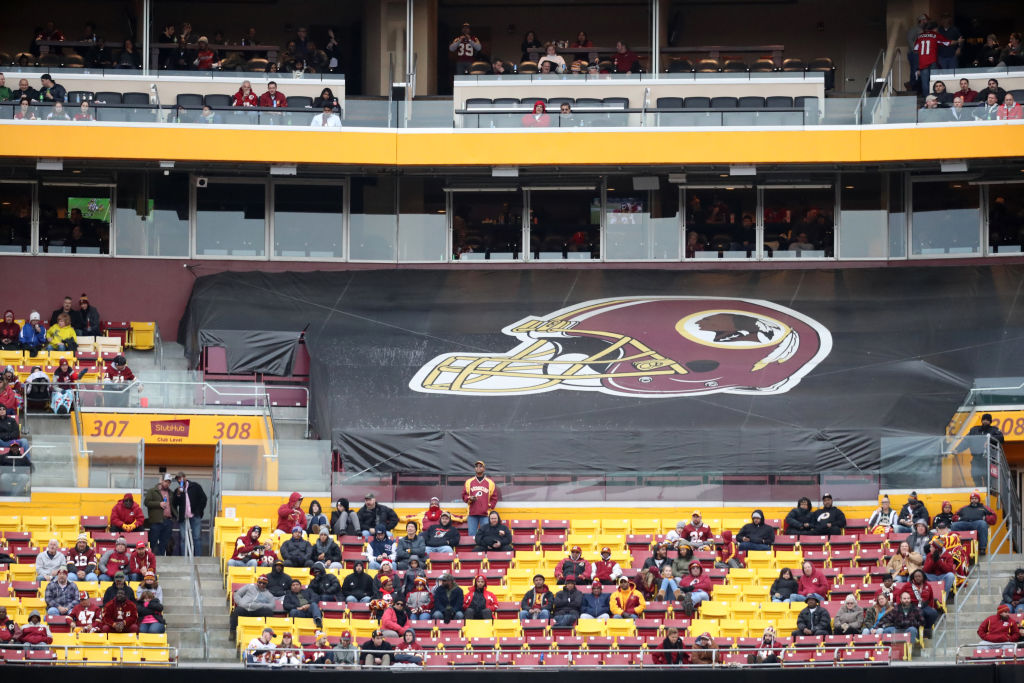 Location: Landover, Maryland. Sport: NFL. Actively used: Yes.
Nevermind that the home of the Redskins has terrible field grass and, despite expanding their food menu in recent years, lacks luxuries that other stadiums offer. This place also has its own set of house rules, and they really do suck the fun out of the game-attending experience. Infamous owner Dan Snyder banned all banners and signage from games. (That's right, no D-Fence signs up in the stands.) He also put strict rules on tailgating before games, which subject fans to fines if they aren't familiar with them — which is extra rough given that parking passes aren't cheap either.
Next: This hockey franchise really needs better rink options …
Barclays Center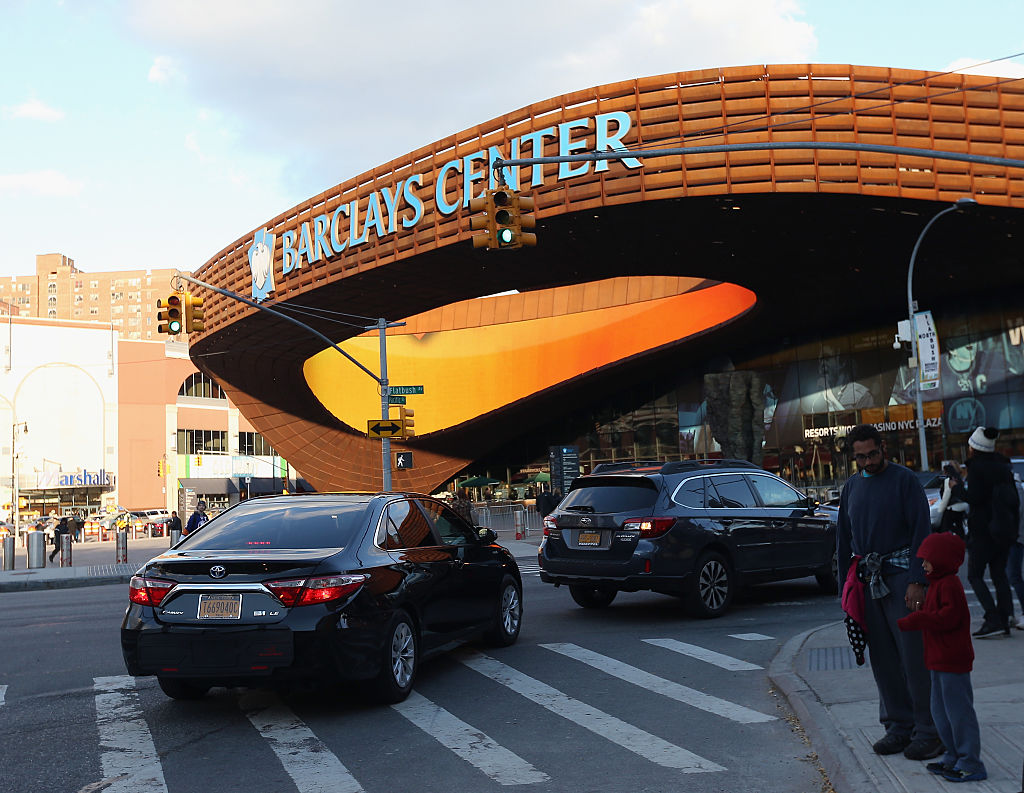 Location: Brooklyn, New York. Sport: NHL. Actively used: Yes.
Any barn that the New York Islanders moved into after their residency at the dilapidated Nassau Veterans Memorial Coliseum should have been an improvement. Their newer home at Barclays, however, is far from ideal. The traffic getting to games is rough and the sight lines inside the arena are iffy. Even the players on the Isles aren't fond of the rink, mostly because the ice is absolutely hellacious.
Next: It was only a matter of time before this building got demolished …
Georgia Dome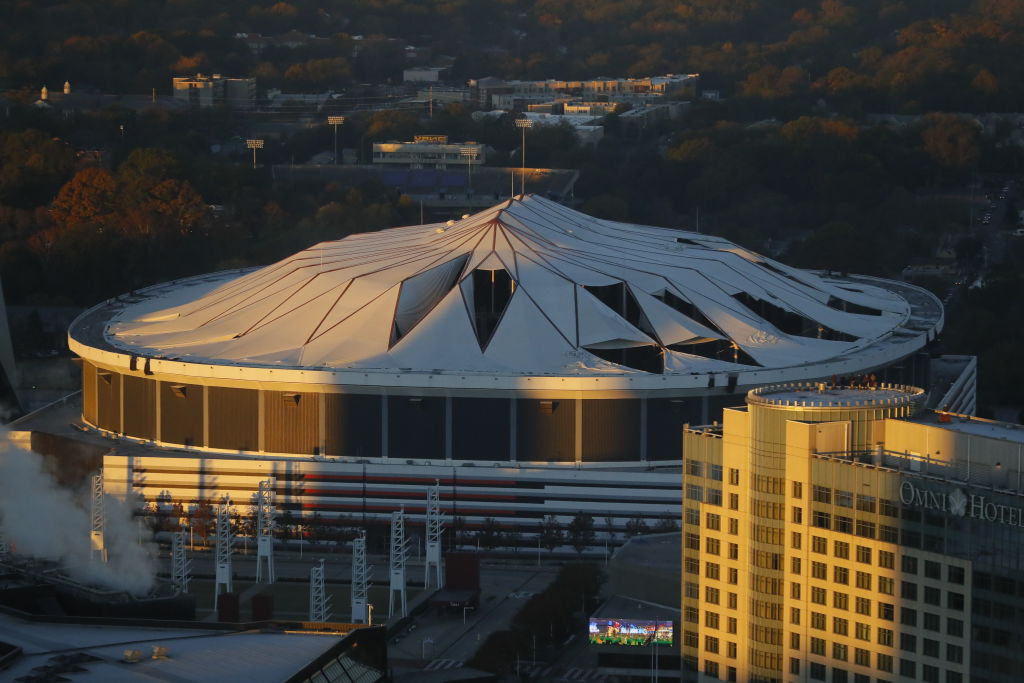 Location: Atlanta, Georgia. Sport: NFL. Actively used: No.
It's no secret that the Atlanta Falcons got on upgrade when they moved into the swanky Mercedes-Benz Stadium in 2017, even though Mercedez-Benz Stadium had its own kinks to work out. That was cake compared to the Falcons' old digs, which were in desperate need of repair. The cavernous Georgia Dome did little for a football atmosphere and was plagued by problems brought on by inclement weather. And it still isn't clear why the dome ceiling wasn't retractable.
Next: While we're on the subject of domes …
Edward Jones Dome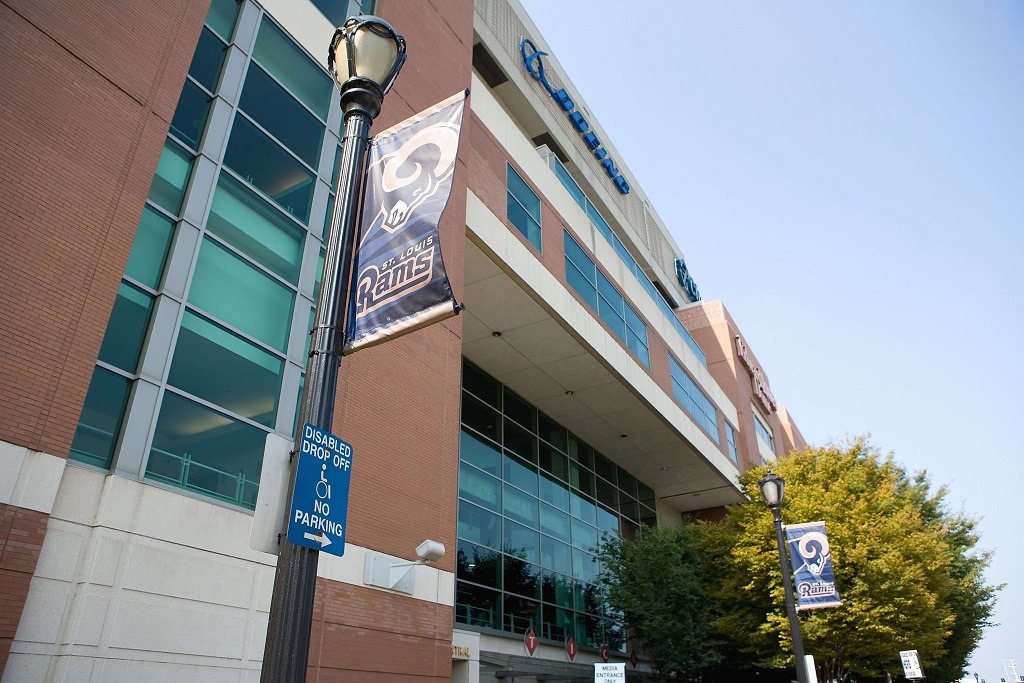 Location: St. Louis, Missouri. Sport: NFL. Actively used: Not currently.
It may seem harsh to kick the former home of the Rams since the team was moved to Los Angeles and left faithful St. Louis football fans feeling angry and abandoned. That being said, the Edward Jones Dome didn't make the fan experience an easy one. With no nearby restaurant scene and difficulty tailgating, fans were forced to indulge in the spendier stadium experience. The dome had been renovated a couple times to improve the fan experience, but the team moved anyways.
Next: Is it worth it after all that traffic?
Canadian Tire Centre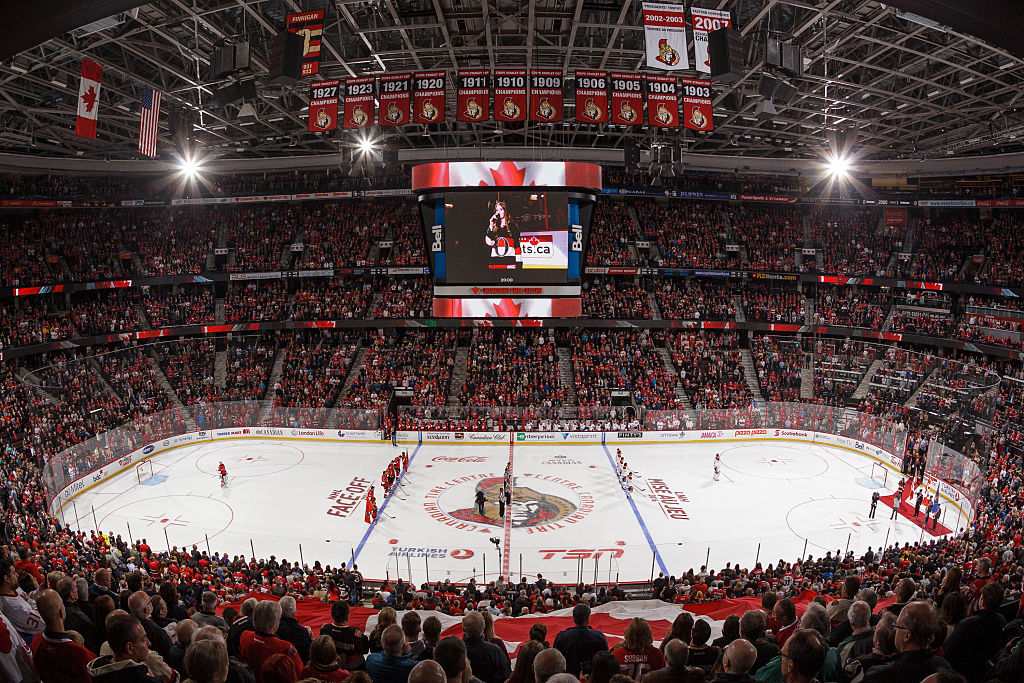 Location: Kanata, Ontario, Canada. Sport: NHL. Actively used: Yes.
The irony in the Ottawa Senators' home barn having the word "tire" in its name is that traffic is a large part of the game night experience. There is only one highway leading to this suburb outside of Ottawa and bumper-to-bumper traffic is a standard, making it difficult for visitors and local fans alike to get to a game in any speedy manner. Additionally, one fan wrote to TripAdvisor saying the way the parking lot at CTC is regulated makes it even more difficult for fans to get out of the lot after games.
Next: And you can't talk about traffic without talking about …
Dodger Stadium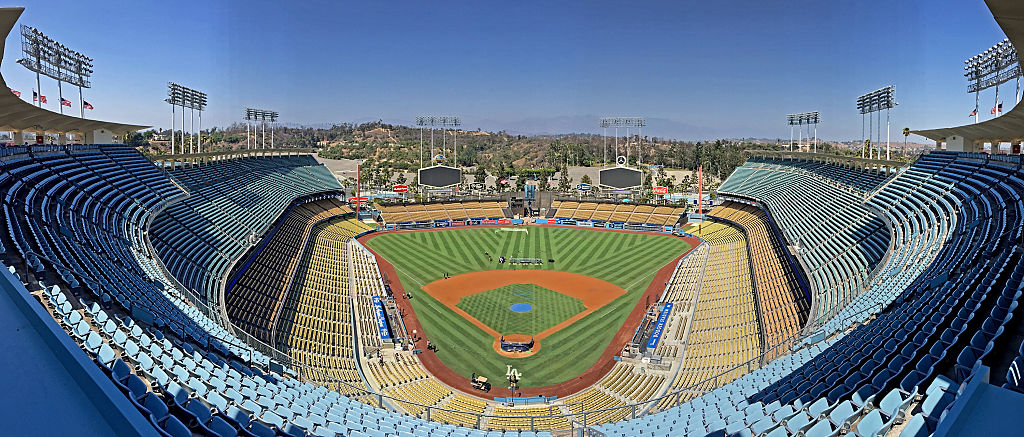 Location: Los Angeles, California. Sport: MLB. Actively used: Yes.
The stomping grounds of the Dodgers boasts plenty of history. Nevertheless, this Southern California ballpark is a Los Angeles institution mostly known for the insane amount of traffic a baseball fan has to endure to get to a dang game. Heck, when the Dodgers went to the World Series in 2017, there was stop-and-go traffic at 2 p.m. and first pitch wasn't until 5 p.m. (No wonder fans typically don't show up until well after the first inning.) In 2018, a company reportedly approached the Los Angeles County Metropolitan Transportation Authority about installing gondolas that could shuttle some 5,000 fans before and after games and help relieve traffic. Whether the idea comes to fruition still remains to be seen.
Next: Movin' up the California coast …
Candlestick Park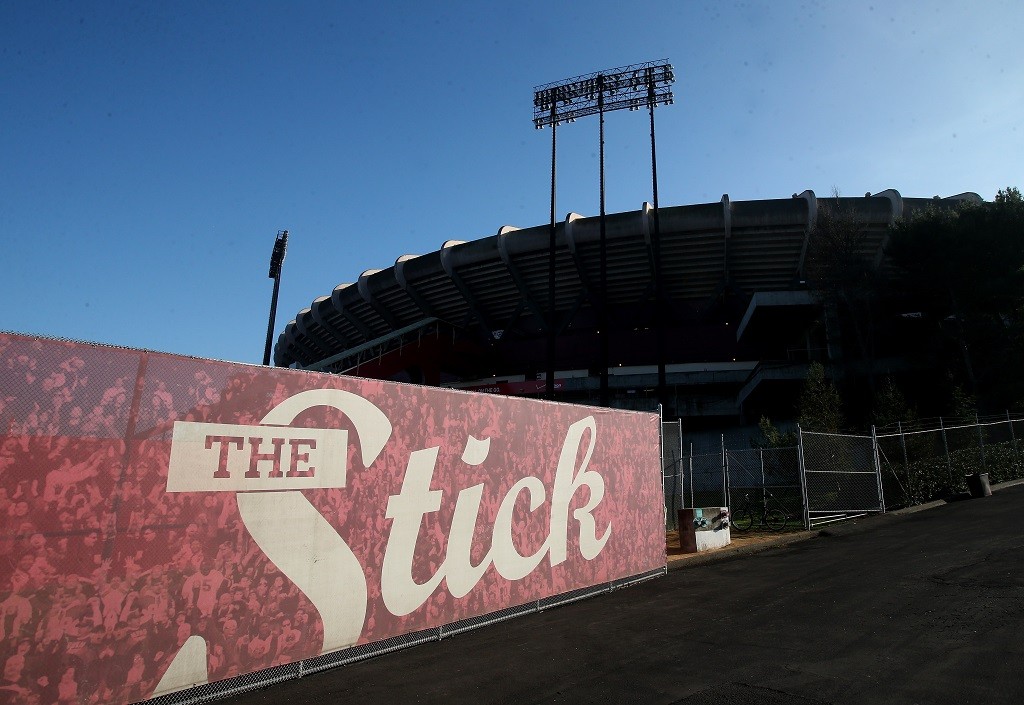 Location: San Francisco, California. Sport: NFL/MLB. Actively used: No.
For as hot as conditions are at the 49ers new home in Santa Clara, the conditions at their old home at Candlestick Point were quite the opposite. The old multi-sport stadium perfectly captured how quickly San Francisco weather can change, and fans who attended games without a jacket or protection from fog-rain-mist were S.O.L. The dilapidated stadium also played host to gale force winds, which could greatly affect the trajectory of a field goal kick or a high fly ball out to right field.
Next: And then on the other side of the bay …
O.Co Coliseum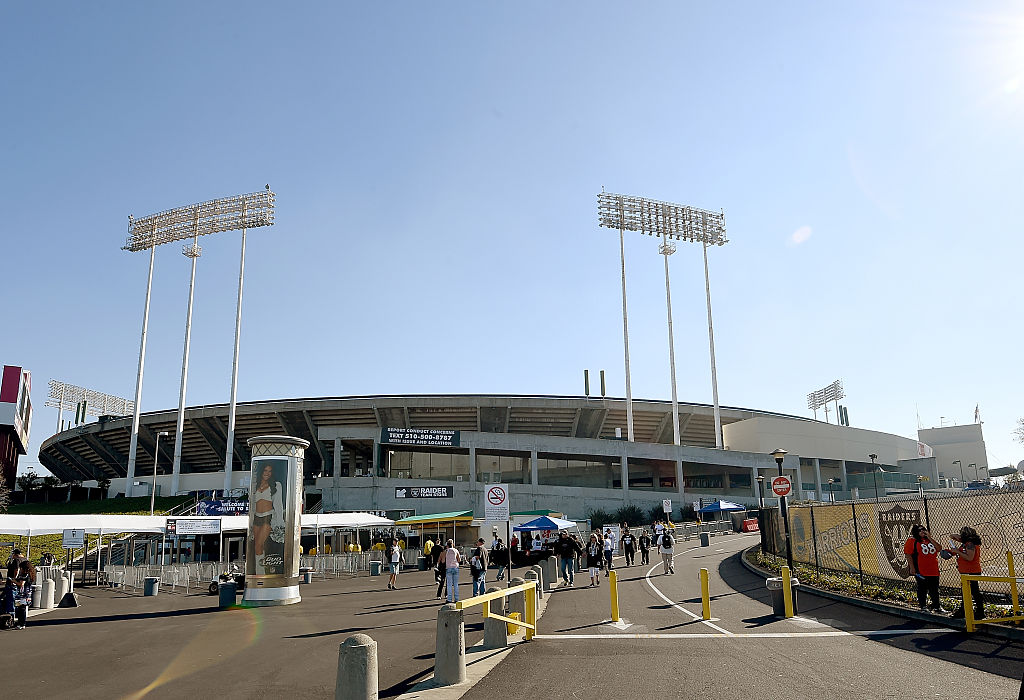 Location: Oakland, California. Sport: NFL/MLB. Actively used: Yes.
The stadium formally known as The Oakland Coliseum has been in bad shape for years now. It's cold stone walls are uninviting. The tarped-off Mount Davis seating area is an eyesore. And don't even get us started on the plumbing giving out in the visitors' dugout. To make matters worse, the home of the Oakland Athletics and Raiders has created a fair amount of controversy because of the serious debt it has created. This stadium is on its last legs ahead of the Raiders moving to Las Vegas and the A's getting a new play space — although there's no definitive date set for when the latter is moving out.
Next: So much for having a retractable roof …
Hubert H. Humphrey Metrodome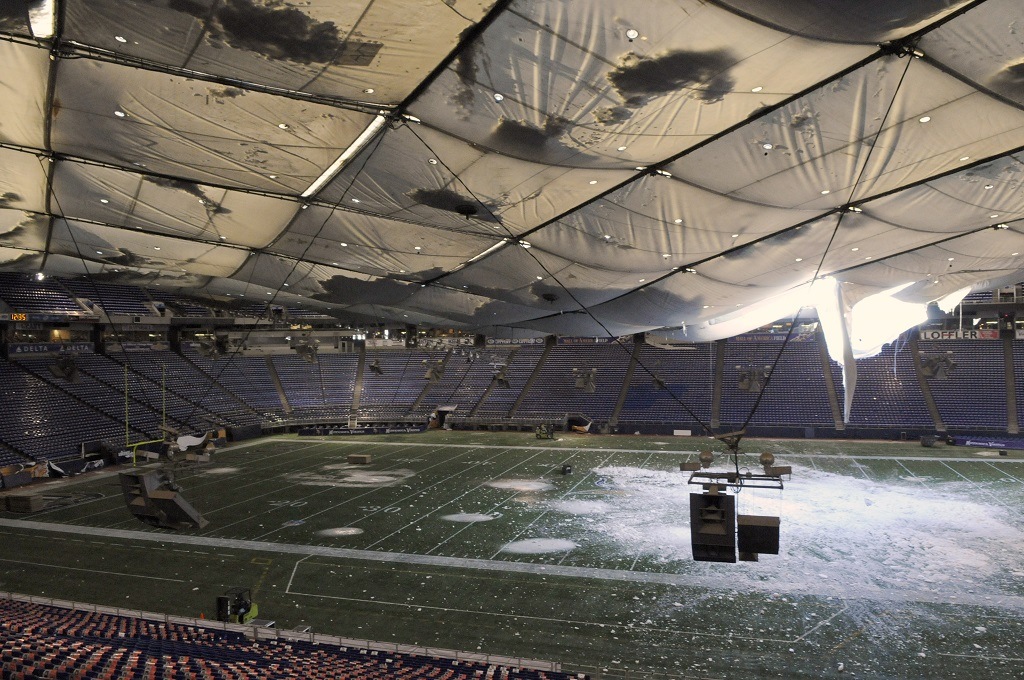 Location: Minneapolis, Minnesota. Sport: NFL/MLB/NBA. Actively used: No.
This establishment closed its doors and was obliterated in 2014, closing out 36 years of hosting Minnesota sports. During its tenure, the golf ball-looking venue was the home turf for multiple sports, even playing host to the Timberwolves during their first season in the NBA. Yet despite its year-round commitment to the local sports teams, there wasn't a good downtown scene surrounding it, and tailgating was a no-no. That big white dome famously collapsed due to a snowstorm during the 2010 NFL season, causing the league to move the Minnesota Vikings' home game for that day to Detroit.
Next: Last, but certainly not least …
Marlins Park
Location: Miami, Florida. Sport: MLB. Actively used: Yes.
How this eyesore of a ballpark came to fruition is still a mystery, and the nasty lawsuit that came out of it makes it even less appealing. Sure, the Marlins haven't had a good team in years, and that can keep fans from attending games. But the garish decor and oddly-placed nightclub in the outfield aren't drawing a crowd in either. Now, the team does have a new leadership group in play, which includes former Yankee great Derek Jeter. Even if this new crew of bigwigs can turn the team around, someone should probably think about taking the fish tanks out of the infield walls.