Tom Brady Isn't the Person Who Has the Most Super Bowl Rings, But He Comes Close
It's not easy to win a Super Bowl, let alone seven, like Tom Brady achieved. When the now-retired quarterback won Super Bowl LV against the Kansas City Chiefs, he surpassed the 11 NFL players, coaches, and executives who have six Super Bowl rings. You may think this is a record but it's not. One person has won the most Super Bowl rings, and it's not Brady.
Neil Dahlen ties Tom Brady with seven Super Bowl rings
Before highlighting the person with eight Super Bowl rings, we'll mention Neal Dahlen, who earned seven Super Bowl rings before Brady ever did. The former front-office NFL executive spent 17 seasons coaching football at Hillsdale High School in San Mateo, California, according to the LA Times.
In 1979, Dahlen began his NFL career with the 49ers as a part-time employee. Over time, he took on more responsibilities, before leaving the team in 1996. During his time in San Francisco, the team won five Super Bowls, which means Dahlen earned five rings as a staff member.
The former coach left the 49ers to become the Broncos' Director of Player Personnel. Denver promoted Dahlen to General Manager in 1999 and Director of Football Administration in 2002. The Broncos won two Super Bowls during Dahlen's tenure, giving him his sixth and seventh rings. He retired in 2003.
When asked about his favorite ring, Dahlen says it's the last he won with the 49ers because "it looks best" to him. "It's a beautiful ring with five Lombardi Trophies on it." While he has a favorite, Dahlen says, "They're all nice."
Bill Belichick has the most Super Bowl rings: eight total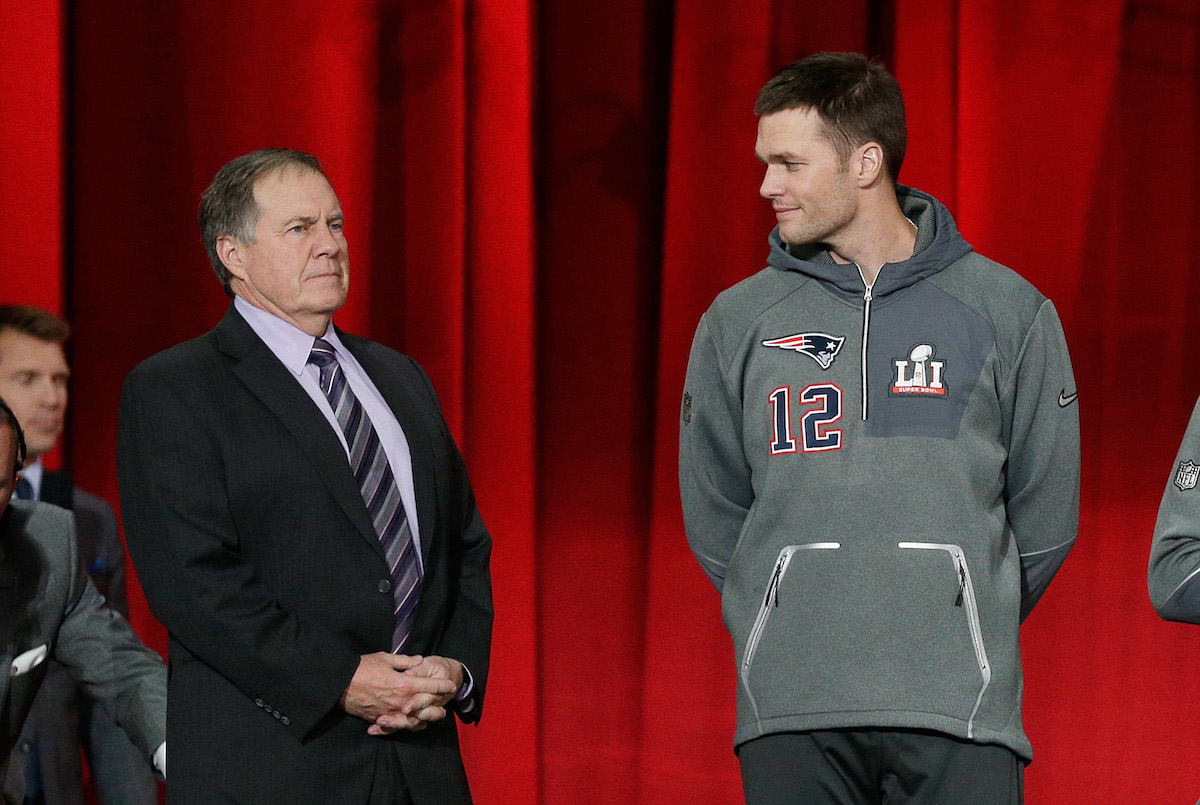 Bill Belichick coached the Patriots throughout Brady's time with the team, so he has six of the same rings as Brady. However, this only makes up 75% of the coach's Super Bowl ring collection. Belichick had a career in the NFL long before he ever met Brady, During that time, he earned his first two rings, giving him eight total.
Belichick served on the Giants' coaching staff from 1979-90, eventually ascending to defensive coordinator in 1985. He earned his first ring in the 1986 season when the Giants beat the Broncos in Super Bowl XXI.
The coach's second ring came in his final season with the Giants, with a 20-19 victory over the Buffalo Bills in Super Bowl XXV. It took Belichick more than a decade — until the 2001 season — to get his third ring, with five more following that season.
As football fans know, things have changed since Brady moved to Tampa Bay. Regardless, Belichick's legacy remains an incredible one. Since Brady announced his retirement in early 2022, the coach's record for the most Super Bowl rings will likely stand for a long time.
Five others with six Super Bowl rings
Other than Brady, 11 people have six Super Bowl rings. Here are some of the most well-known:
Robert Kraft has owned the New England Patriots since 1994, so he's been a part of all six Super Bowl teams during New England's 20-year dynasty.
Josh McDaniels has experienced two lengthy stints on the Patriots' coaching staff, from 2001-08 and again since 2012. This tenure coincides with the team's dynasty, giving McDaniel six rings.
"Mean" Joe Greene was a member of the Pittsburgh Steelers for his entire playing career, from 1969-81. The Steelers won four Super Bowls during this time, giving Greene four rings. He won an additional two while serving as a special assistant for the team.
From 1969-91, Chuck Noll was the Steelers' head coach. The franchise won four Super Bowls during this time. Noll earned two additional rings while serving as a team consultant for Pittsburgh following his coaching career.
Dan Rooney and Art Rooney II are longtime executives and owners of the Pittsburgh Steelers. They've been with the team for all six of its Super Bowl victories.
RELATED: Why Is the Super Bowl Trophy Named After Vince Lombardi?