The 2020 Alabama Crimson Tide Was the Most Dominant Team in History
After Alabama's decisive 52-24 win over Ohio State in college football's national championship game, Crimson Tide quarterback Mac Jones said what we were all thinking: "I think we're the best team to ever play." Looking at the numbers, it's hard to argue with him.
Is the 2020 Alabama team truly the greatest?
RELATED: Alabama QB Mac Jones Coached a Women's Football Team To a Championship
In Jones' own words, "There's no team that will ever play an SEC schedule like that again."
In response to the COVID-19 pandemic, the SEC adopted a conference-only football schedule. There would be no "cupcake" opponents such as Western Carolina or The Citadel this season. Alabama would have to run the gauntlet of the best conference in college football.
Nick Saban's team met and exceeded this challenge, defeating all 10 of their regular-season opponents by an average score of 50-17. Only one win — their nail-biting 52-46 SEC Championship win over Florida — came by less than eight points.
Considering the high level of competition in the SEC, a conference that sent seven other teams to bowl games this season, this accomplishment will be remembered as long as college football is played.
The Crimson Tide is unstoppable on offense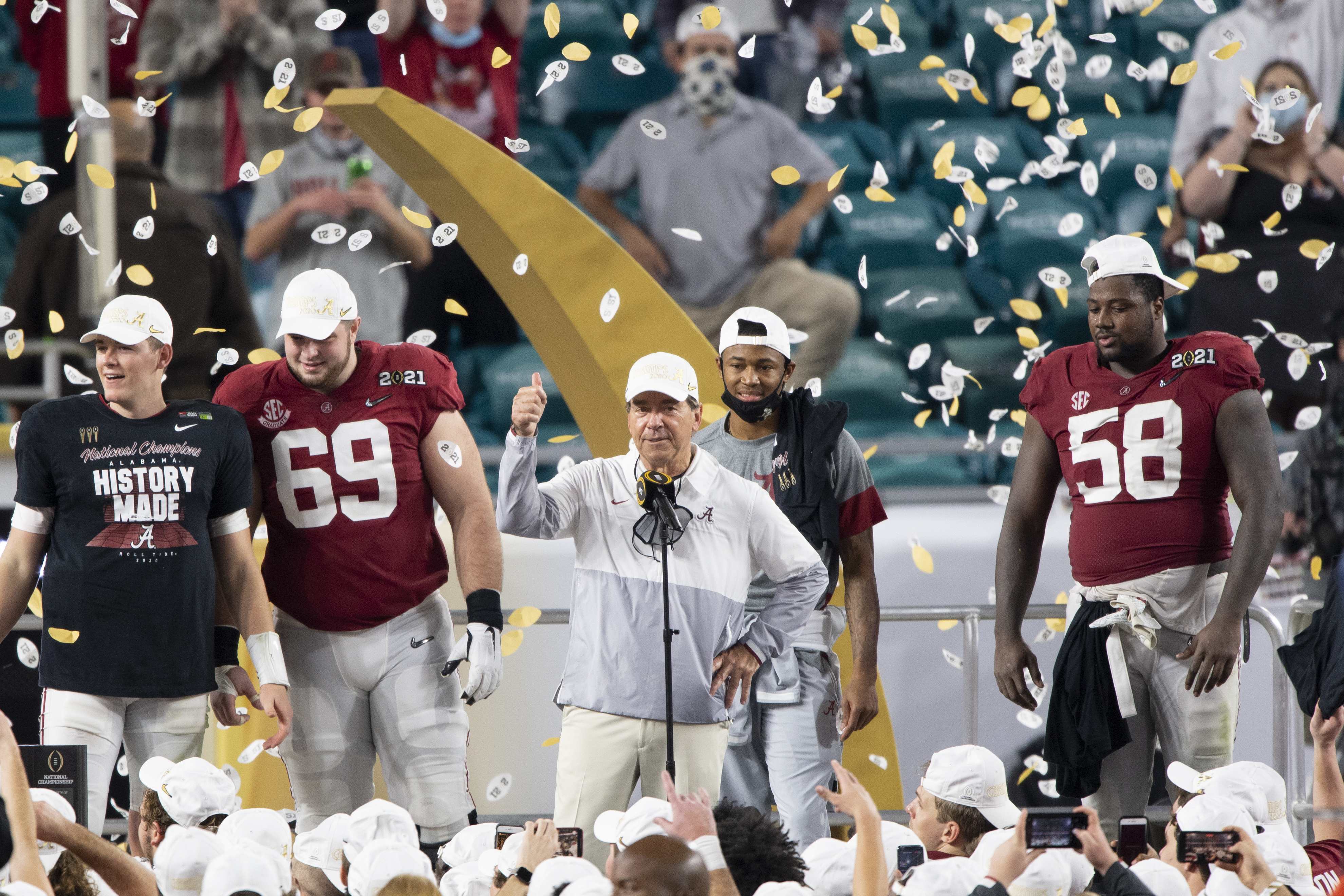 RELATED: Alabama Heisman Trophy Winner DeVonta Smith Delivers Great Advice for Aspiring Football Stars
Jones, a junior, had the unenviable task of succeeding Tua Tagovailoa as Alabama's starter. He succeeded with flying colors, leading all of college football with 4,500 passing yards. On Monday, he broke Joe Burrow's championship game record for passing with his 464-yard performance.
The true star of the Alabama offense has not been Jones, but his most frequent passing target. DeVonta Smith became the first wide receiver since 1991 to win the Heisman Trophy, on the strength of a season where he led the nation in every meaningful receiving statistic. Smith also took home offensive MVP honors in both of Alabama's playoff game wins.
The season was also a success for Najee Harris, who won the Doak Walker Award as the nation's top running back. Harris rushed for 1,466 yards — third in the nation — and finished fifth in Heisman Trophy voting. In the Rose Bowl, he made highlight reels everywhere when he hurdled a Notre Dame defender on a 53-yard run.
Unbreakable on defense
This is not the typical Nick Saban championship team. Past Alabama champions won on the strength of the defense and running. This was especially true of Saban's other undefeated champions in 2009, a team that featured running back Mark Ingram and linebackers Rolando McClain and Dont'a Hightower.
While this year's team was an aerial circus, the 2020 Crimson Tide were no slouches on defense, either. During the regular season, Alabama allowed the fewest points in the SEC with 168 and tied for the conference lead in sacks with 33.
In their final six regular-season games, Alabama held their opponents under 20 points. This included a 41-0 shutout over Mississippi State and a 42-13 blowout over No. 22 Auburn in the Iron Bowl.