The 3 Greatest Miami Dolphins Quarterbacks of All Time
You can divide the franchise history of the Miami Dolphin franchise into three acts pretty easily. In the '70s, the Dolphins built a winning program upon a stingy defense, ball-control offense, and efficient quarterback play. In 1983, the Fins drafted Dan Marino, and Don Shula re-wrote his entire playbook to build a high octane, aerial attack around his golden arm. After Marino's 1999 retirement, however, Miami struggled to find a franchise quarterback and a real identity for several years running before finally picking up Ryan Tannehill in the 2012 Draft. As a result, the three greatest Miami quarterbacks of all time do largely align themselves with the glory years of the franchise.
3. Ryan Tannehill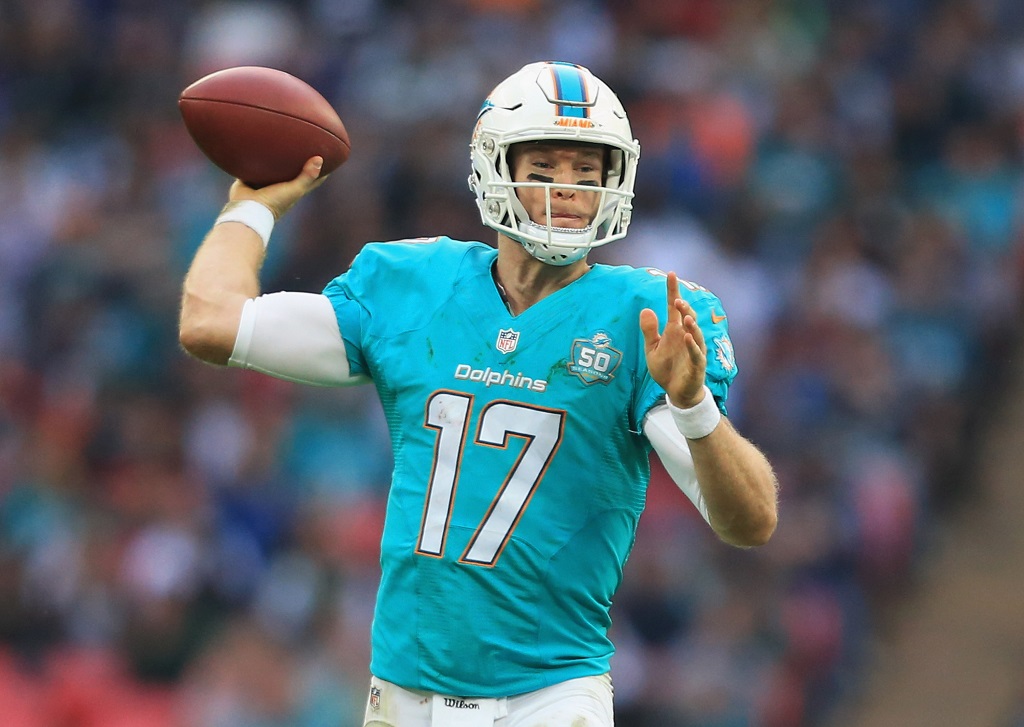 Selected with the eighth overall pick in the 2012, Ryan Tannehill was the result of a decade of quarterback futility: Before arriving at Tannehill, the Dolphins had pitched the likes of Jay Fiedler, Chad Henne, and even Chad Pennington, as the long-term solution at quarterback, after Dan Marino. Tannehill, in three short years, has already racked up 11,252 passing yards, and is the third most prolific passer in franchise history, after improving with every successive season.
Last year, Tannehill completed 66% of his passes, for 4,045 yards and 27 touchdowns, against only 12 interceptions. Tannehill is an exceptional athlete, after having actually starred as the leading receiver, through his freshman and sophomore years at Texas A&M. As a professional, Tannehill has learned to stand tall in the pocket and go through his progressions, before firing a strike downfield. As a last resort, Tannehill will simply take off and run, for large chunks of yardage.
Like all young quarterbacks, however, Tannehill must eventually make the leap, and start winning primetime football games. For now, Tom Brady and his four Super Bowl titles stand in the way, out of the AFC East. Last offseason, the Dolphins did sign prized free agent prize Ndamukong Suh to a six-year, $114 million deal, in an effort to help Ryan Tannehill take the next step. So far, that doesn't seem to be working out so well, as the Dolphins have fallen to 1-3 and fired their head coach.
2. Bob Griese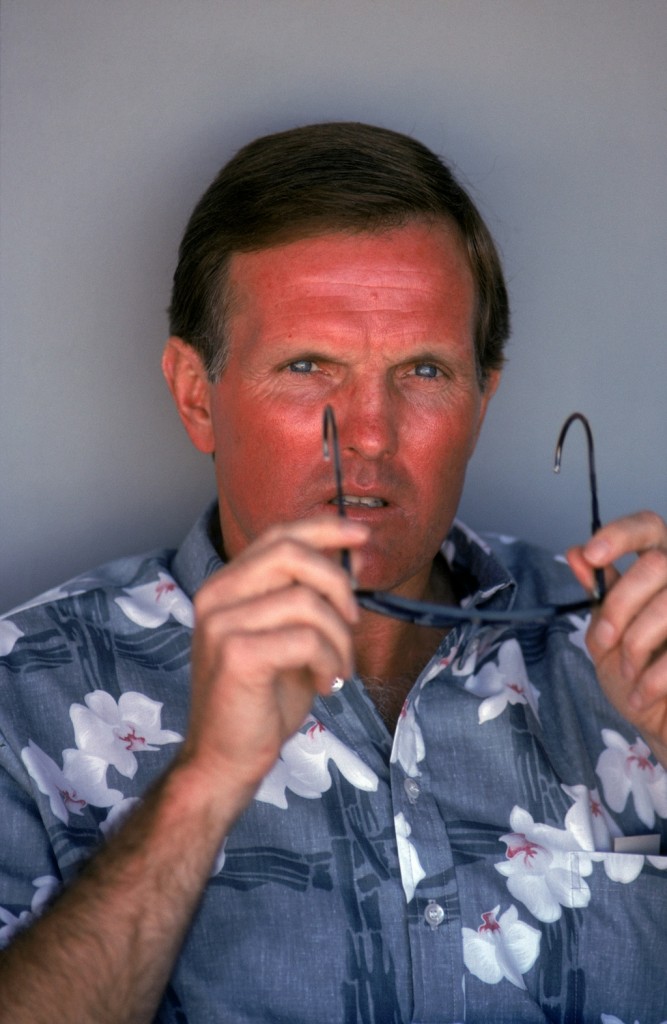 Often times, Bob Griese has been unfairly dismissed as a mere game manager, who simply rode the no-name defense and a rugged ground game to championship glory. For his part, Griese did compile a 92-56-3 regular season record, as the Miami starter. In doing so, Griese was named to eight Pro Bowls, while also racking up 25,092 yards and 192 touchdowns, over the course of 14 seasons.
Bob Griese did help lead the Miami Dolphins to three straight Super Bowls, between 1971 and 1973, with the teams winning back-to-back titles in 1972 and 1973. Griese, through the glory years, would hand off regularly to a stacked backfield featuring Larry Csonka, Mercury Morris, and Jim Kiick. After establishing the run, Griese would then go play action, and pass over the top to a streaking Paul Warfield. Warfield, in hooking up with Griese, averaged more than 20 yards per catch.
In 1972, Griese had the Dolphins sitting at 5-0, before taking a sack from Deacon Jones and breaking his leg. From there, Earl Morrall took over and led the Dolphins into the AFC Playoffs. Griese reported back onto the field, at halftime of the AFC Championship Game, and ultimately sparked the undefeated Dolphins to victory in Super Bowl VII. Years later, Griese's son Brian suited up for Miami in 2003, to complete the circle.
1. Dan Marino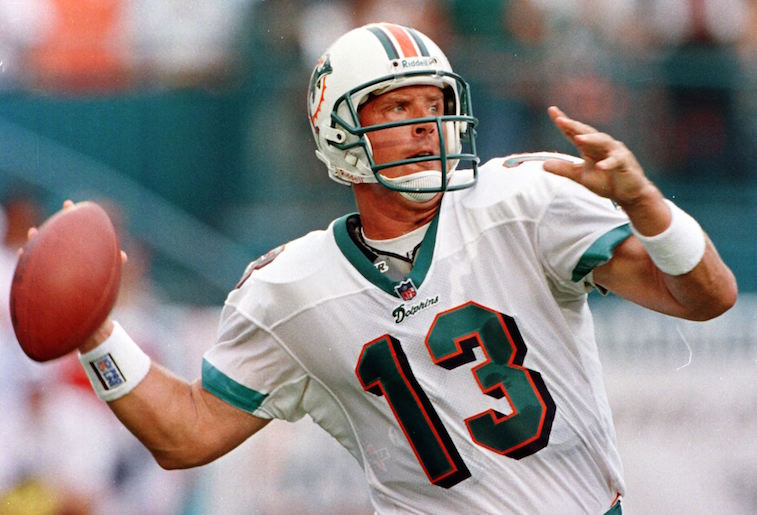 The Miami Dolphins took Dan Marino with the 27th overall pick in the famed 1983 Draft, after John Elway (1), Todd Blackledge (7), Jim Kelly (14), and Tony Eason (15), were already off the board. By Week 7, Marino was named the starter and came out with guns a blazing, completing 58% of his passes (for 2,210 yards and 20 touchdowns) as a rookie. From there, a confident Marino quickly began to build his case, as the greatest pure passer in the history of football.
In 1984, as a second-year player, Marino completed 64% of his passes, lighting up defenses for a then record 5,084 passing yards and 48 touchdowns. This offensive explosion took Miami to 14-2 and set the stage for a Super Bowl XIX showdown between Marino and Joe Montana. Montana and the 49ers, however, schooled the young quarterback, and won the Big Game 31-19. Joe Montana walked away with Super Bowl MVP honors, after going 24-for-35, for 331 yards and three touchdowns. Marino, however, never made it back to the Super Bowl.
Marino revolutionized the game of football, showcasing that no scheme exists to defend the perfect pass. With his quick release, Marino would often thread the needle into double and triple coverage, and made household names out of "Marks Brothers," Duper and Clayton. As an offensive machine, Marino led the league in passing through five separate seasons, en route to racking up 61,361 yards and 420 touchdowns for his career. In 1999, Marino retired at the age 38, after having owned every significant passing record in the history of the NFL.