The 3 Toughest Covers on Kobe Bryant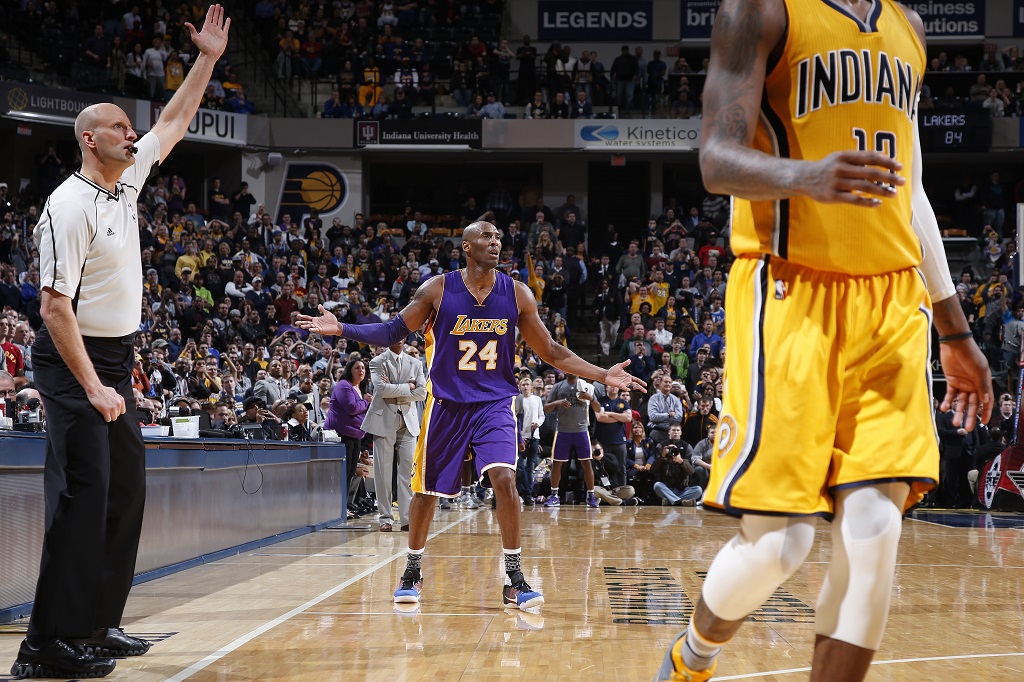 Kobe Bryant, living legend, is set to complete his farewell tour having racked up 33,000 points, 7,000 rebounds, 6,000 assists, 1,900 steals, and five rings over the course of his 20-year career. Kobe, at his best, was a slasher who would relentlessly attack the basket with his explosive first step and elevation. To mix things up, Bryant could also knock down jump shots from deep, after forcing the defense to commit and bite upon a series of crossover, drop step, spin, and up-fake moves.
In 2001, Ruben Patterson proclaimed himself the "Kobe Stopper," as a young Trail Blazer. Despite the nickname, the Black Mamba still lit up Portland for 30 a game, in head-to-head matchups against Patterson. Still, a precedent was set, with several wing players staking a claim to fame concerning their apparent abilities to contain Bryant. Three names stand above the rest of the alleged Kobe Stoppers and even laid the groundwork for today's "3-and-D" movement.
3. Raja Bell
Bryant and Raja Bell, like Michael Jordan and John Starks before them, came together as basketball rivals from opposite side of the tracks. Bell went undrafted out of Florida International University, put in time in the CBA, and played for three different NBA teams as a reserve before finally catching on with the Phoenix Suns at the age of 29. As a scrapper, Bell refused to back down from Bryant and would work to outmuscle the superstar on drives into the paint.
Kobe, rather than getting down and dirty on the low block, would often settle for jump shots far out on the perimeter. In 2006, a feisty Bell took a one-game suspension after clotheslining a driving Bryant in Game 5 of the opening round of the playoffs. The rough play and trash talk apparently sparked the Suns, who went on to win the series in seven games after trailing 3-1.
Bell versus Bryant was the ultimate game within the game — swinging the balance of power to Phoenix through this mid-2000s rivalry. The Suns did eliminate the Lakers from the opening round of the playoffs through two consecutive seasons. In 2006, a frustrated Bryant threw a tantrum, refused to shoot, and force-fed the ball to the likes of Kwame Brown and Smush Parker through an ugly Game 7 loss at Phoenix. Bell proved that Kobe couldn't go it alone.
2. Bruce Bowen
Bruce Bowen and the San Antonio Spurs pioneered the "3-and-D" concept, and ultimately opened this slot up for the likes of George Hill, a young Kawhi Leonard, and Danny Green. The prototypical "3-and-D" athlete locks down the opposition's best player before spotting up on the floor to hit open jump shots and spread the defense. Bowen, for his part, came out of Cal State Fullerton to carve out a 13-year career and earn three rings by playing defense and drifting out to hit corner threes.
Bowen, of course, emerged as one of the sharpest thorns in Bryant's side through the early years of the Spurs Dynasty. To stay with Kobe, he took few gambles and refused to bite upon head-fakes. The forward was especially good at throwing off the rhythm on Kobe's jump shot, with aggressive close-outs on the perimeter. When challenging shots, Bowen would often get one hand up, while also jutting his thighs out to further crowd Bryant's legs.
For this, Phil Jackson awarded him the nickname Edward Scissorhands. With Bowen, there will always be a thin line between physically tough and what appears to be outright dirty play. In 2008, he was suspended for one game, after kicking a prone Chris Paul. This incident came two years after Bowen kicked Ray Allen in the back during a scrum and was fined $10,000. In a recent interview, Bowen did admit that he and Bryant grudgingly developed mutual respect, after openly hating each other for several years.
In head-to-head match-ups, Bowen limited Kobe to 26 points per game off 43% field-goal shooting through 18 regular season games. In the postseason, the Spurs met the Lakers five out of the eight years that Bowen was in San Antonio, with each winner of the series eventually advancing to the NBA Finals. In some ways, he kept Bryant from winning two more rings. (Spurs went 2-3 versus Lakers in 2001-08 postseasons).
1. Tony Allen
Last February, Bryant did gift Tony Allen a pair of freshly signed Nikes before praising the swingman as the toughest defender he ever faced. Bryant then glowed when speaking upon Allen's intensity, commitment to his craft, and refusal to ask for defensive help. Moments later, Allen reciprocated this love-fest by lauding Kobe as the best player he ever played against.
At 6-foot-4, 213 pounds, Allen was built to be the latest, newest, and improved version of apparent Kobe Stoppers. As a raw athlete and rangy defender, Allen had the foot speed and lift to keep up with Kobe. As a physical specimen, a bulked up Allen mixed things up with Bryant on the low block and on drives to the paint. Over the years, the Bryant-Allen matchup evolved into the ultimate chess match, with Kobe faking and feinting toward his favorite spots on the floor, only to regularly run into a brick wall.
Most importantly, of course, is the fact that Bryant and Allen met twice in the NBA Finals (2008 and 2010). This matchup helped to resurrect the famed Lakers/Celtics rivalry, with each team winning one championship (Celtics in 2008, Lakers in 2010). With Allen in the fold, the Celtics could sic this defensive specialist onto Kobe, to preserve energy for marksman Ray Allen to go to work.
In 2008, a banged up Tony saw limited action, but still managed to pull off a +22 +/- rating for the series. In 2010, Tony, at full strength, was part of a platoon that harassed Bryant into 40% shooting for the series. Bryant, in the Game 7 clincher, went a woeful 6-for-24, and forever learned to respect his competitor.
Statistics courtesy of ESPN.com and Basketball-Reference.com.