The 30 Best MLB Players in the Game in 2017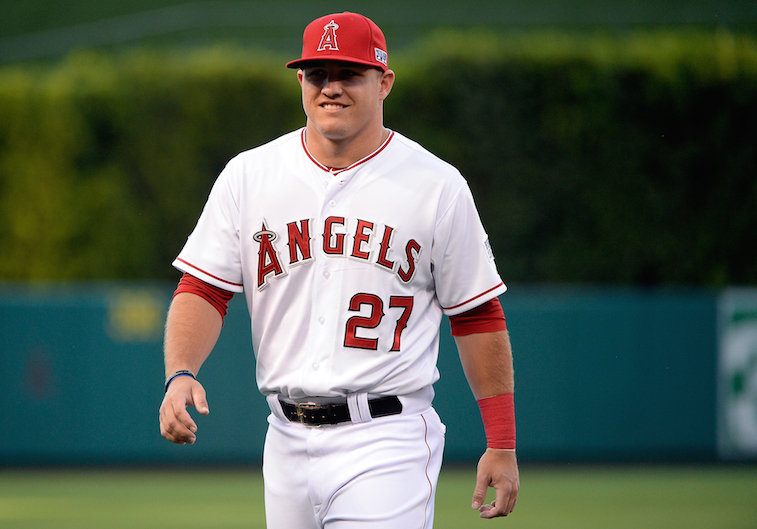 With the 2017 baseball season underway, there are plenty of interesting storylines. Teams that are better or worse than expected, players who've broken out and become stars, and other interesting talking points litter the first weeks of the regular season. Considering early performances along with what we already know, we looked at the 30 best MLB players during the 2017 season so far.
30. Ryan Zimmerman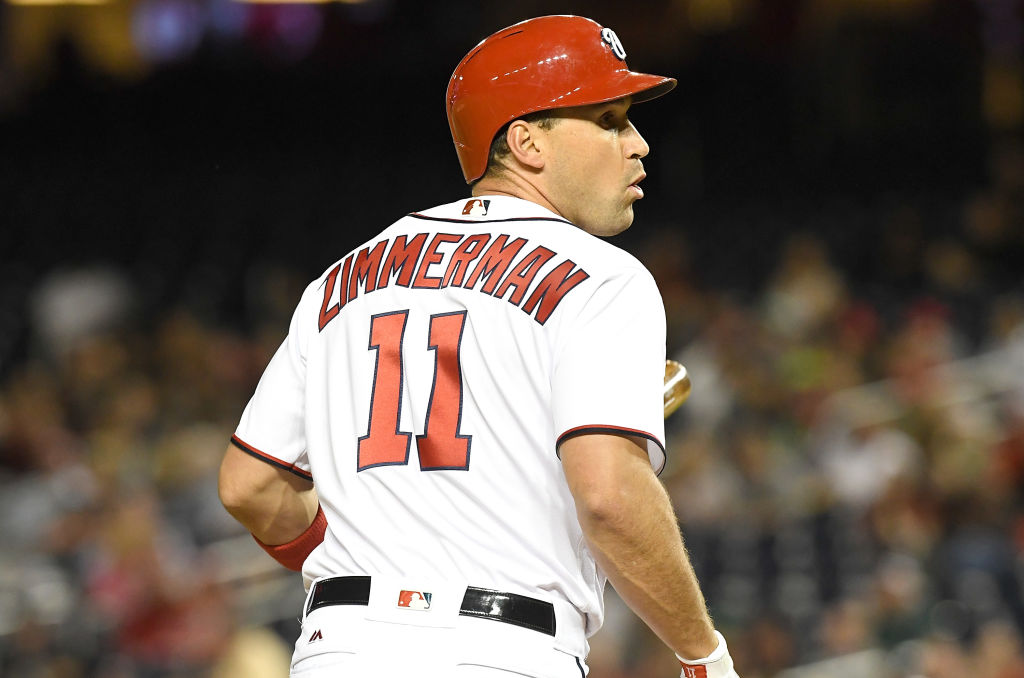 Washington Nationals first baseman Ryan Zimmerman makes an interesting case for this list. Prior to the 2017 season, he would've more likely appeared on a "30 Worst Players" list. You could argue that Zimmerman was one of the best MLB players in April. Given his track record over the last handful of seasons, as well as his age, we don't buy him being this great long-term. But he's already nearly equaled his home-run totals for each of the last two years and seems to be fully healthy, so we'll give Zimmerman the No. 30 spot.
29. Dustin Pedroia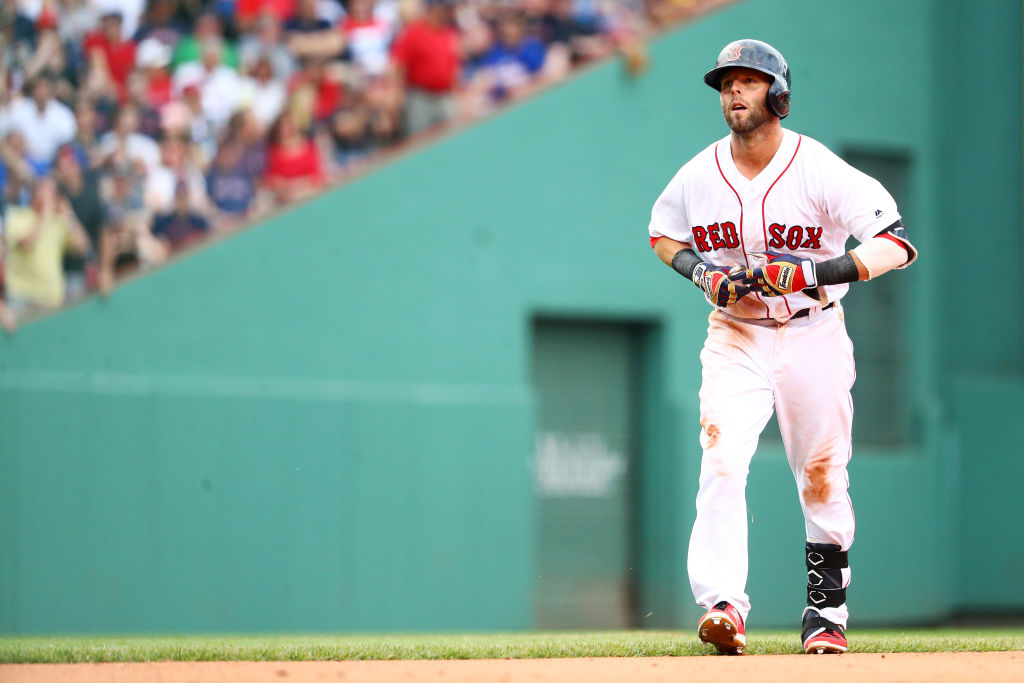 A 12-year veteran second baseman and former MVP of the Boston Red Sox, Dustin Pedroia continues to find his way onto the list of the best MLB players. Since 2008, Pedroia averages 5.3 WAR per season and had 5.6 WAR last year. He hit .318/.376/.449 with 15 home runs in 2016, and he doesn't seem to be slowing down at 33 years old. Others in the lineup may overshadow this two-time World Series champion. However, Pedroia is incredibly important to Boston's success.
28. Matt Carpenter
St. Louis Cardinals first baseman (and former third baseman/second baseman) Matt Carpenter has quietly become one of the best hitters in baseball over the last three seasons. He's 31 years old this year, but carries an OPS+ of 137 since the start of the 2015 season. Carpenter continues to be the best Cardinal on the team, and will for at least the next few years as well. St. Louis has their star locked up through 2020, when Carpenter will be 34 years old.
27. Dallas Keuchel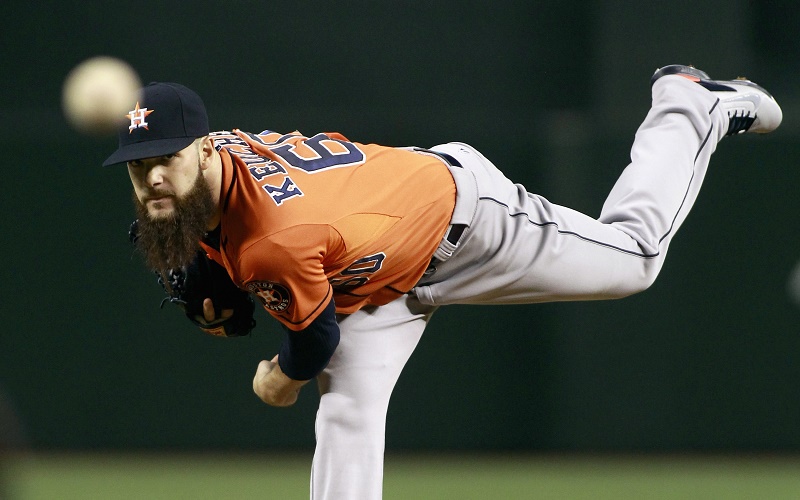 Houston Astros left-handed starter Dallas Keuchel had a down year in 2016, finishing with a 4.55 ERA in 26 starts and 168 innings pitched. But that came after being one of the better pitchers in all of baseball for the two seasons prior. He even won the American League Cy Young award in 2015. Now 29 years old, Keuchel is already bouncing back from his poor season in 2017. Since the start of the 2014 season, he has a 3.10 ERA and 3.32 FIP.
26. Eric Thames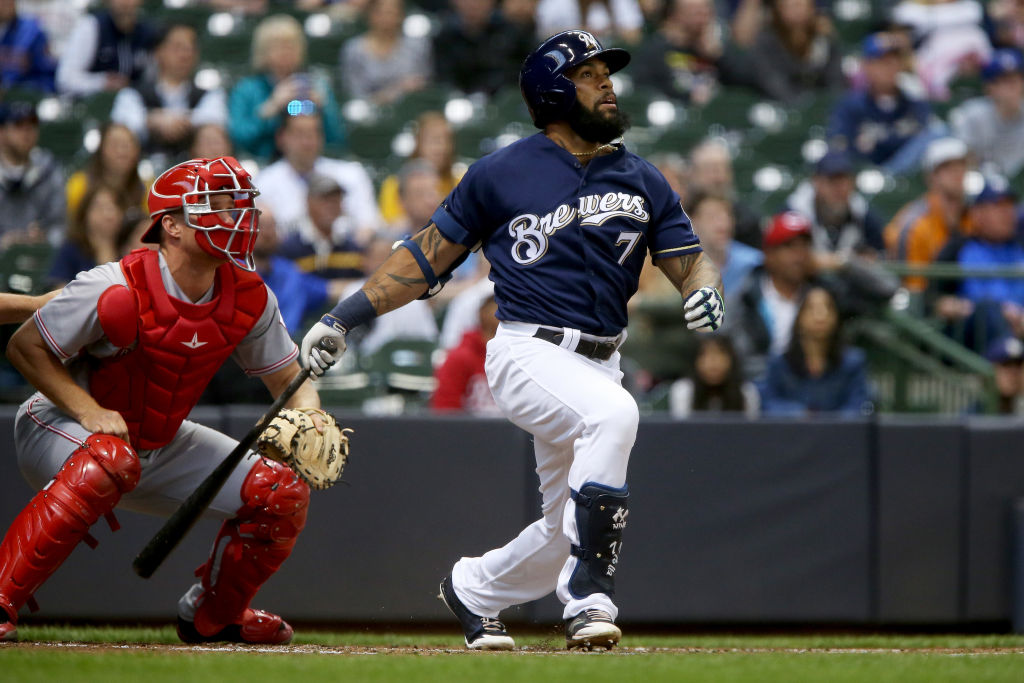 Who? That's right, Milwaukee Brewers first baseman Eric Thames. The last time he made an appearance in Major League Baseball was back in 2012 with the Seattle Mariners, when he totaled 290 plate appearances with a .672 OPS. After a few years overseas playing in South Korea, Thames is back in a big way. The big slugger had a huge start to the season, tying his MLB career-high in home runs with 12 through his first 30 games. The eye test says he's for real, so he gets in on our list of the best MLB players in 2017.
25. Miguel Sano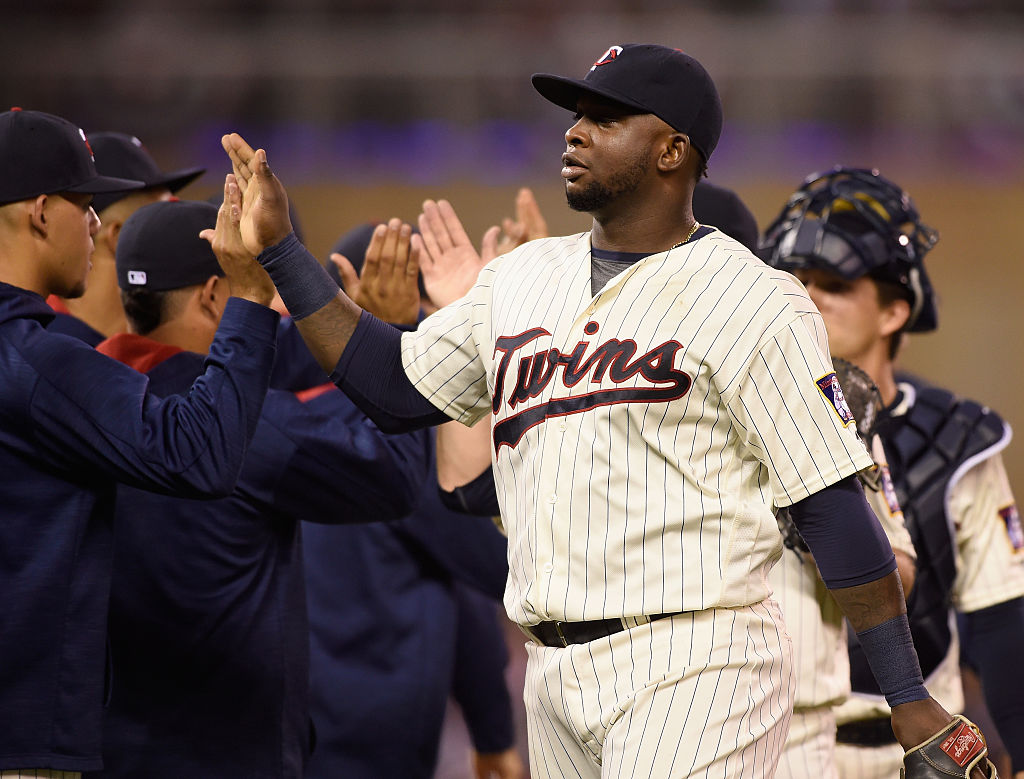 Minnesota Twins third baseman Miguel Sano is one of the biggest, up-and-coming sluggers in the game. Through 29 games in 2017, Sano had an OPS+ of 198 with eight home runs. For his career, which started back in 2015, Sano has a slugging percentage of .507. He's only 24 years old, and he might not be a third baseman for the long haul, but he's already developing into a major home-run threat. If Sano stays healthy, he could vault up the all-time home run leaderboards.
24. Carlos Correa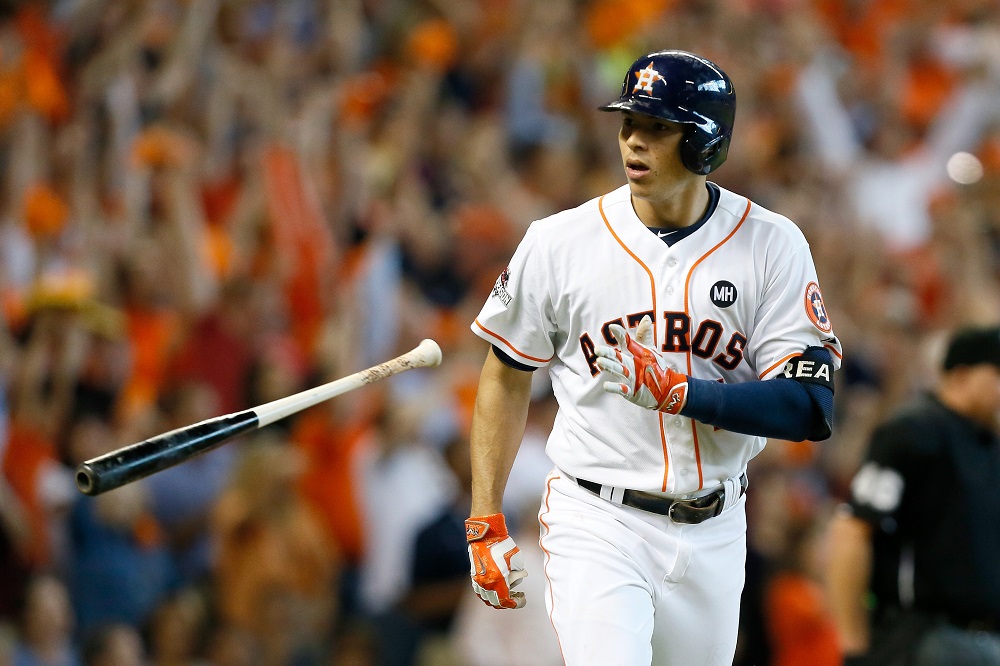 The Houston Astros brought up shortstop Carlos Correa back in 2015. He hit 22 home runs in just 99 games — leading the Astros to the playoffs. While he didn't quite continue growing with the offensive numbers in 2016, his excellent defense and overall game led Correa to be one of the most valuable players in the game. He compiled 6.1 WAR last year in his first full season, and he's off to a fine start to his 2017 season. Look for Correa to continue improving and rising up this list.
23. Daniel Murphy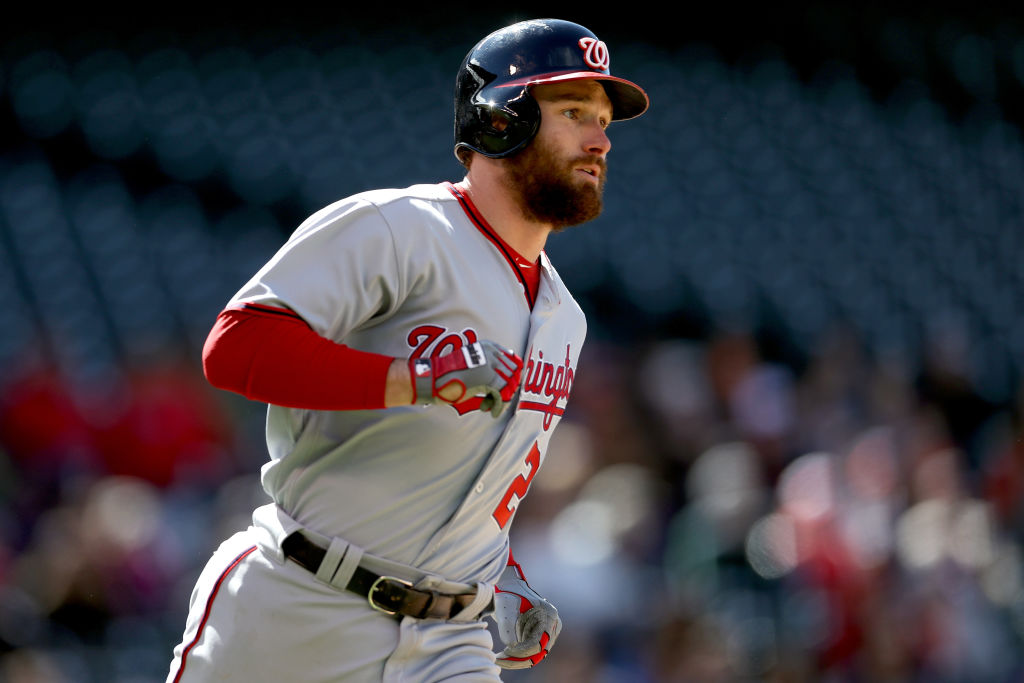 From 2008–15, second baseman Daniel Murphy had a .755 OPS and 109 OPS+ for his career. That made him essentially a slightly above-average MLB hitter. Given his relatively suspect defense, it meant that he was nowhere near the top 30 players in the game. But beginning in the postseason in 2015, Murphy developed some surprising power. All of the sudden, he's one of the better hitters in baseball. Murphy hit .347/.390/.595 with a career-high 25 home runs for the Washington Nationals in 2016, compiling 4.6 WAR and finishing second in the NL MVP voting.
22. Yu Darvish
Back in 2013, Yu Darvish was a 26-year-old starter for the Texas Rangers, leading the American League with 277 strikeouts in 209 2/3 innings. He started the 2014 season well, but went on the disabled list after 22 starts. Darvish underwent Tommy John surgery on his pitching arm; he missed the rest of the year, all of 2015, and then part of 2016. But since returning from the DL last season, Darvish has a 3.21 ERA. He's right back up there in the upper echelon of MLB pitchers.
21. Joey Votto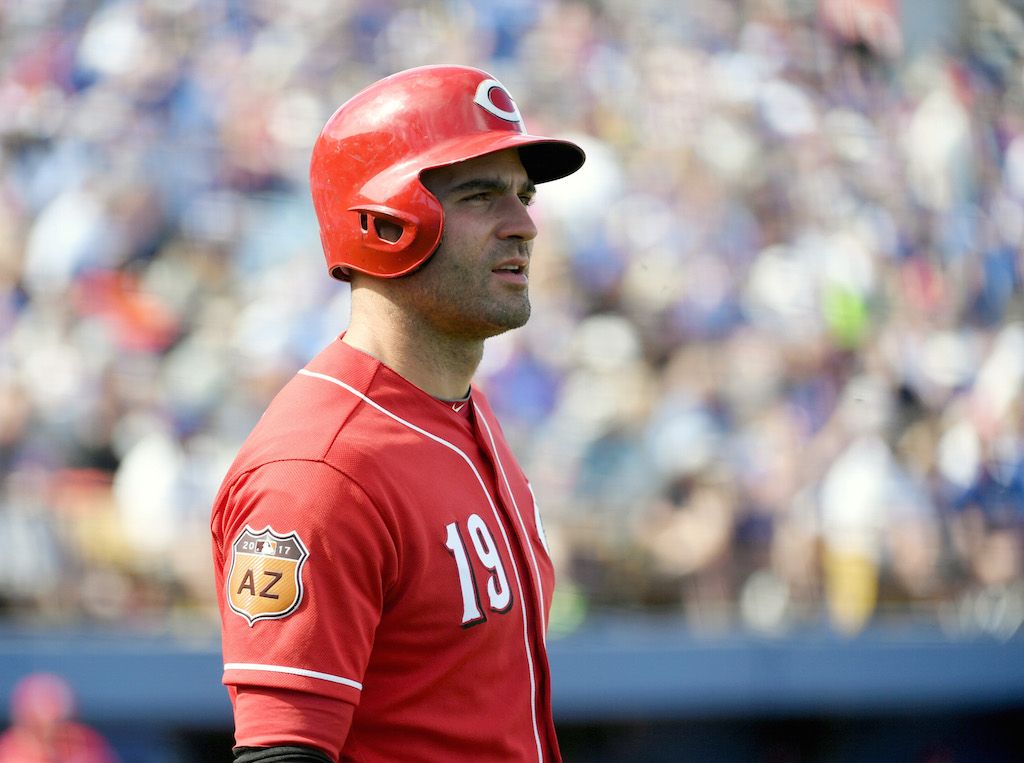 Generally, it's sad that the Cincinnati Reds haven't put more great teams on the field throughout first baseman Joey Votto's career. At this point, he's almost certainly headed to the Hall of Fame upon retirement, despite never being on a team that advanced to the NLCS. Even at the age of 33, he's still really good. Votto has a career .424 OBP — the best among all active players — and an OPS+ of 157.
20. Francisco Lindor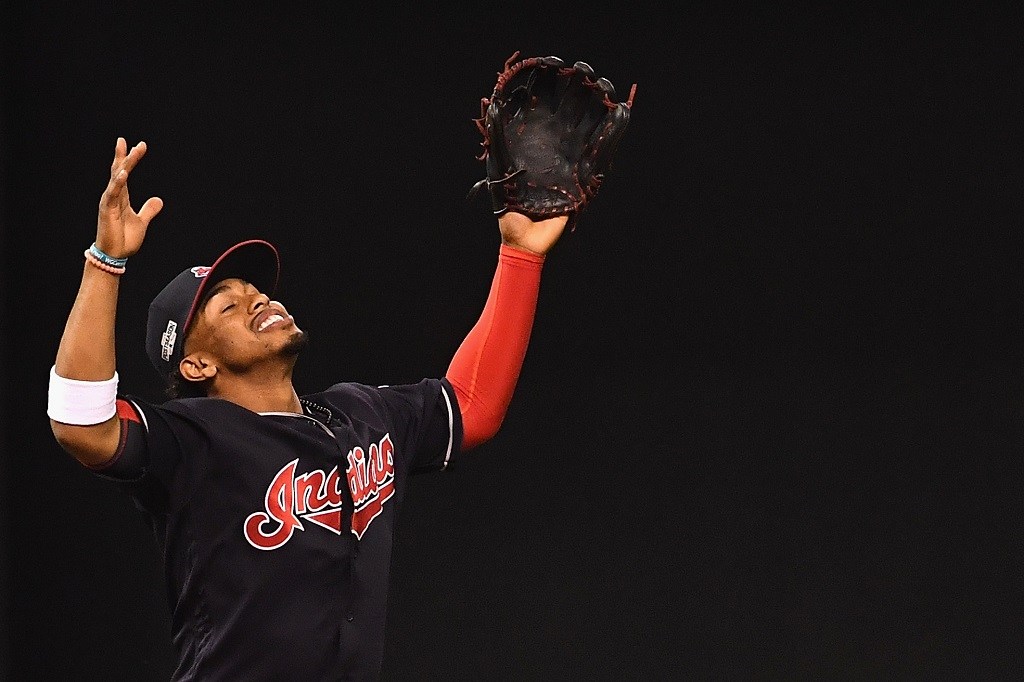 There's a lot to love about Cleveland Indians shortstop Francisco Lindor. He's a slick fielder, a great contact hitter, and he's even developed power sooner than most thought he would. Through 287 career games, Lindor has 11.4 career WAR. At just 23 years old and already having played in the World Series, Lindor has already become one of the elite MLB players at his position. His career is in its infancy, but he could be on a Hall of Fame trajectory.
19. Aaron Judge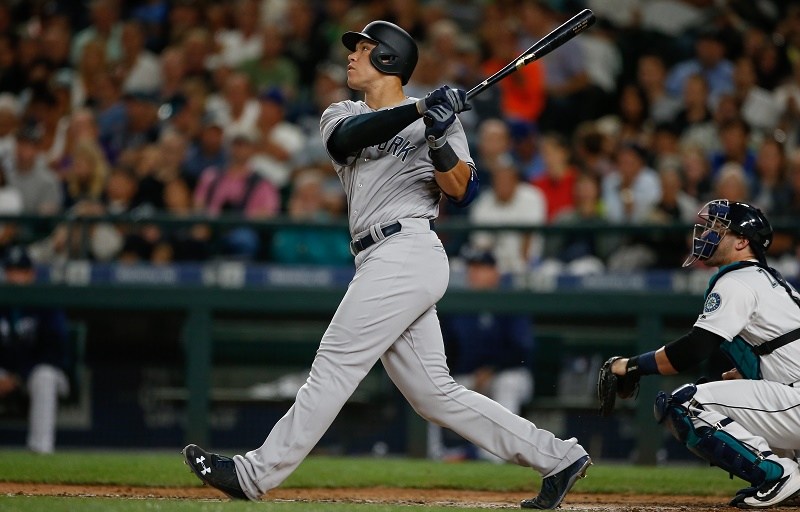 New York Yankees outfielder Aaron Judge has gone from prospect to superstar practically overnight. After coming up in 2016 and hitting .179/.263/.345 with four home runs in 27 games, he's hit 13 home runs through his first 28 games of the 2017 season. Judge is absolutely pounding the ball. When you look at the man it's clear why; the 25-year-old is a physical specimen. He'll lead the Yankees to their next generation of winning teams.
18. Stephen Strasburg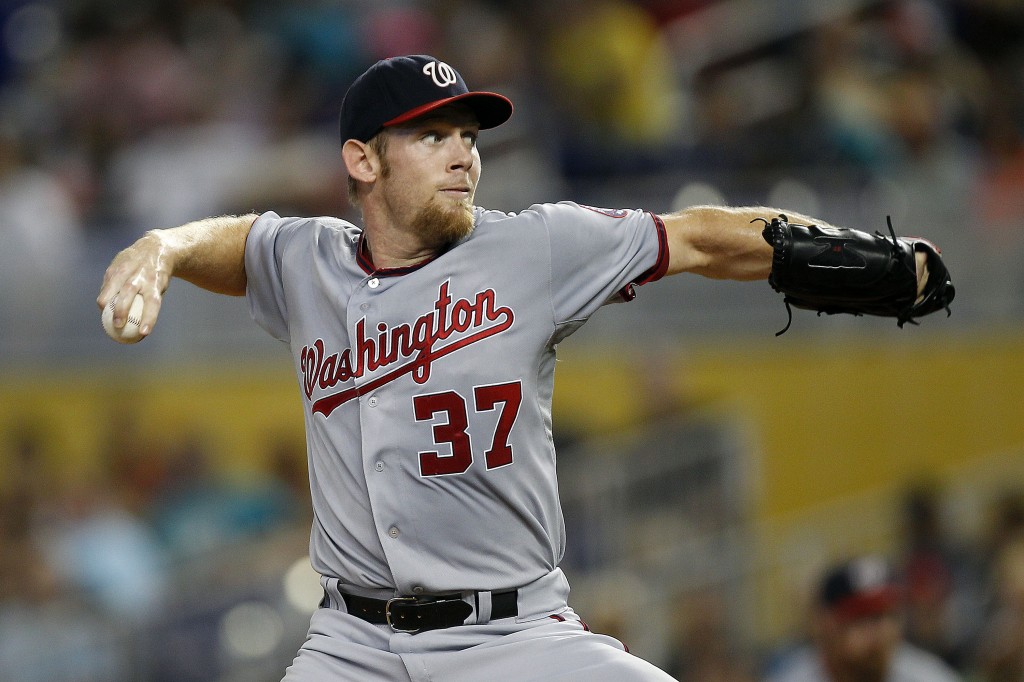 Drafted No. 1 overall back in 2009, Washington Nationals starter Stephen Strasburg is great when he's able to stay on the mound in his career. He was called up in 2010, but his rookie season was cut short due to Tommy John surgery. He pitched extremely well for the Nats in 2016 before injuries cut his season short yet again. But he's healthy again in 2017, so of course he's pitching well too. In 965 career innings, Strasburg has a 3.15 ERA with 10.4 K/9.
17. Giancarlo Stanton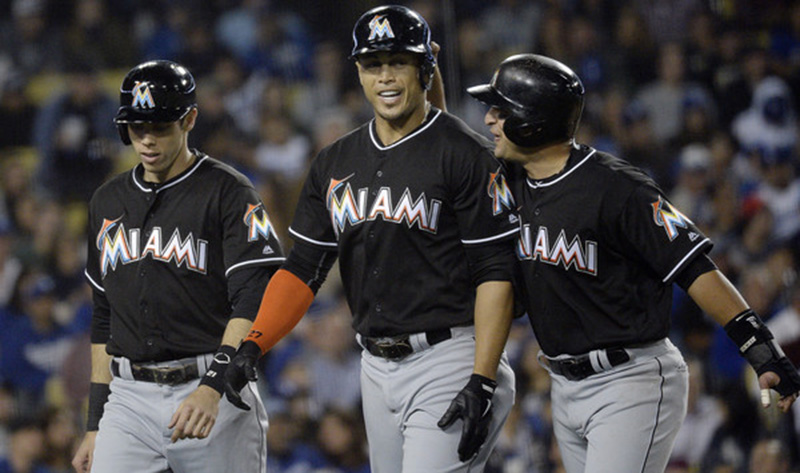 Miami Marlins outfielder Giancarlo Stanton might be higher on this list had injuries not taken significant time away from him the last few years. His best season came in 2014, when he led the National League with 37 home runs and a .555 slugging percentage — posting an outstanding 164 OPS+ in the process.
Stanton played just 193 games over the next two years combined, but still managed a 135 OPS+ during that time period. People forget about him because he toils in obscurity with the Marlins, but few are better than Stanton when he's healthy.
16. Miguel Cabrera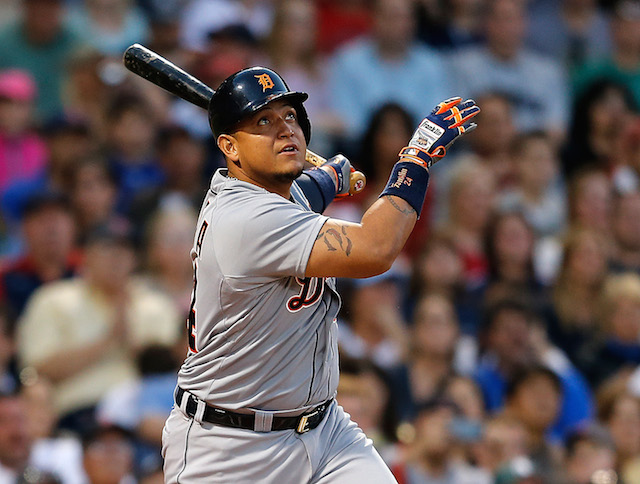 At 34 years old, Detroit Tigers first baseman Miguel Cabrera hasn't quite put up the numbers we expect from him. But all things considered, he doesn't appear to be slowing down just yet. He has a career batting average of .320 — the best among all active baseball players — and has 450 home runs in 15 seasons in Major League Baseball. Cabrera has two MVP awards, won a Triple Crown, four battle titles, two trips to the World Series, and one championship. There's no doubt that Miggy is on his way to the World Series whenever he decides to retire.
15. Max Scherzer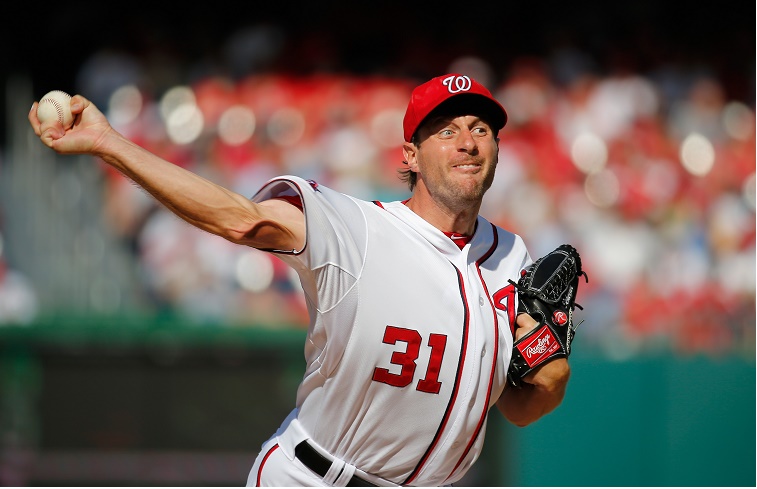 Going back to 2013, at the age of 28 with the Detroit Tigers, Max Scherzer has been one of the best MLB pitchers. In 138 starts and 932 1/3 innings, he has a 2.93 ERA with 10.6 K/9 to just 2.1 BB/9. He won the American League Cy Young award with Detroit in 2013, then won the National League Cy Young last season with the Washington Nationals. Now 32 years old, Scherzer is off to another outstanding start to the 2017 season.
14. Anthony Rizzo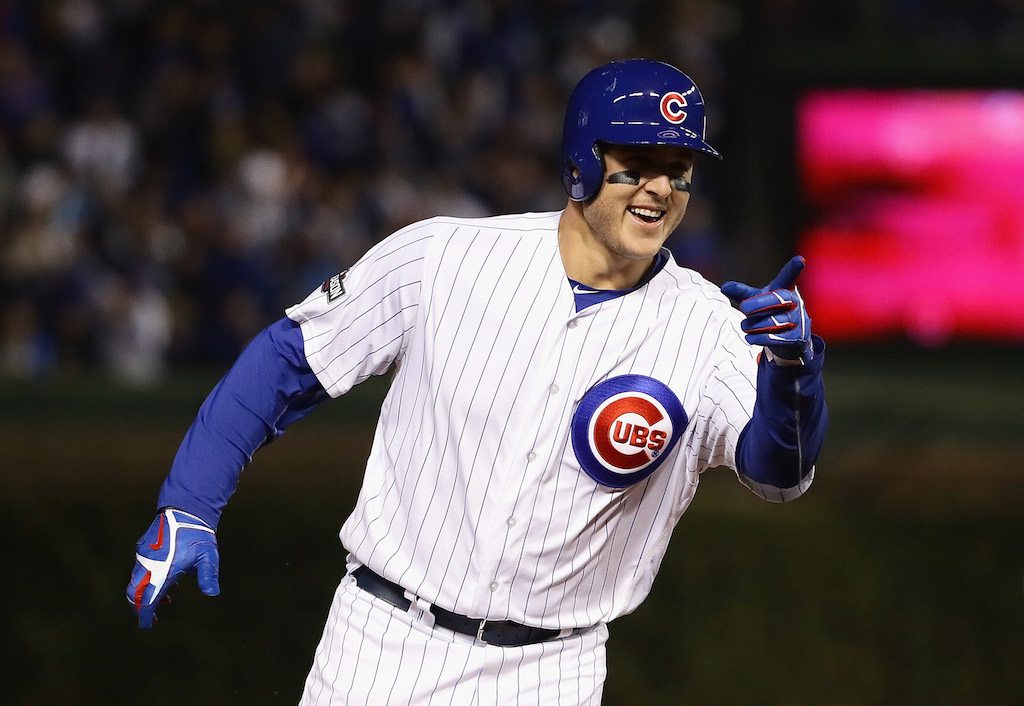 Despite arriving in Major League Baseball with the San Diego Padres in 2011, first baseman Anthony Rizzo didn't really put himself on the map until 2014 with the Chicago Cubs. Since the 2014 season, Rizzo has a slash line of .281/.384/.520 with 101 home runs and an OPS+ of 145. In short, he's a phenomenal hitter. This was never more true than in 2016, when he helped lead the Cubs to win the World Series. On top of all this, he collected his first Gold Glove award that season.
13. Jose Altuve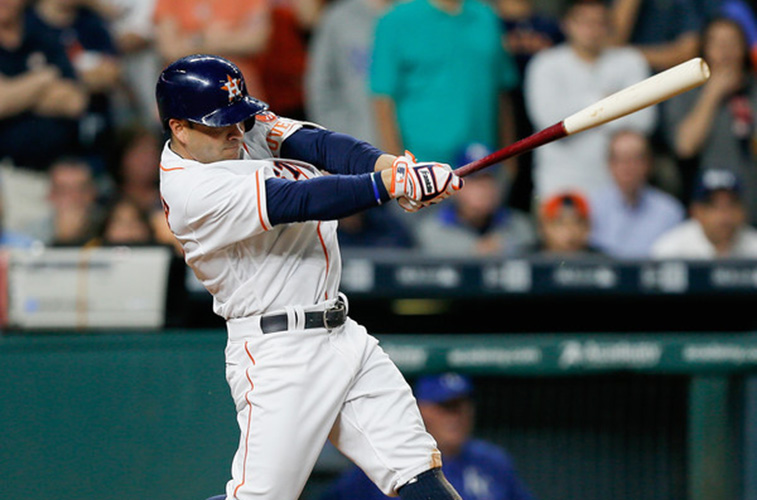 Jose Altuve, the diminutive second baseman for the Houston Astros, has become one of the best hitters in the game. Despite his 5-foot-6 frame, he has some home-run pop in his bat these days, too. After leading the American League in stolen bases in 2014 and 2015, Altuve added in the power stroke in 2016 with a career-best 24 home runs. He has three straight years of 200 or more hits and led MLB in batting average two of the last three years. Altuve is also an excellent fielder, which makes him one of the best MLB players.
12. Nolan Arenado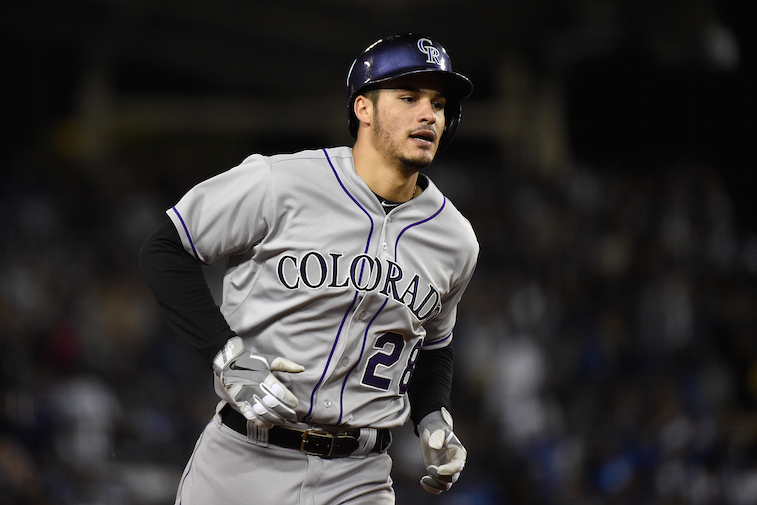 There's a bit of a bias against third baseman Nolan Arenado and his gaudy numbers. That's because he plays home games at Coors Field in Denver with the Colorado Rockies. The thin air allows for bigger offensive numbers, which is exactly the kind of stuff Arenado did the last two seasons. He led the league in both home runs and RBI each year, and averaged 5.0 WAR per season in four years since making his debut back in 2013. Arenado is still only 26, so we expect more big seasons.
11. Chris Sale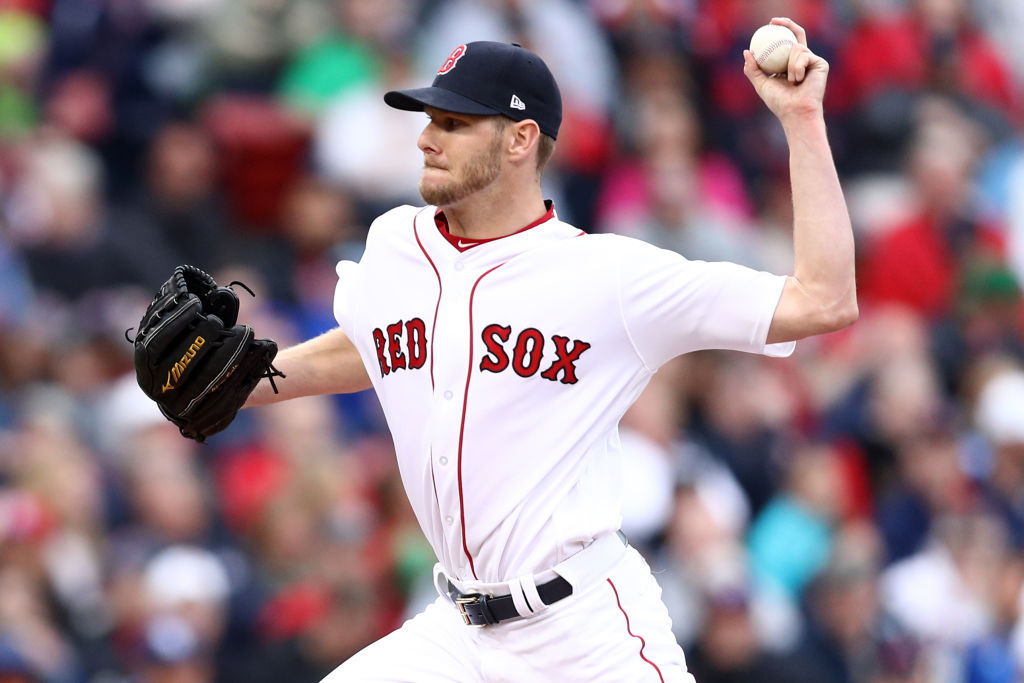 Left-handed starting pitcher Chris Sale has always been really good. But it feels like 2017 is the year when he'll finally showcase just how great he really can be. In each of the last five seasons, all with the Chicago White Sox, Sale never finished lower than sixth in the Cy Young voting while never ranking higher than third. Now with the Red Sox, he may finally break through and capture his first Cy Young award this season. Since the start of the 2012 season, the 28-year-old pitcher has a 2.99 ERA in 1,067 1/3 innings pitched.
10. Paul Goldschmidt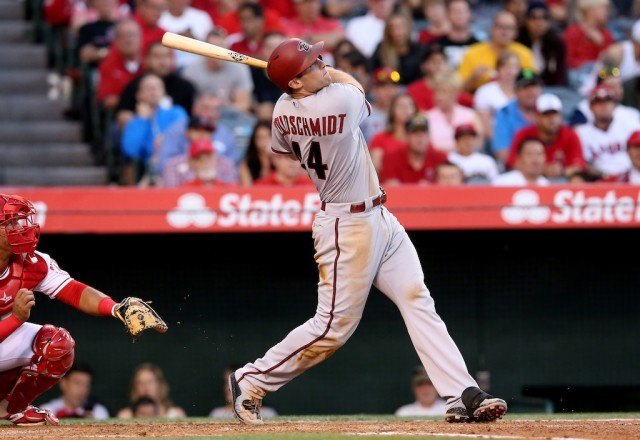 First baseman Paul Goldschmidt has been one of the most underrated players in the game through the prime of his career. Playing seven seasons with the Arizona Diamondbacks, Goldschmidt has a career slash line of .300/.401/.527 with 147 home runs and a 147 OPS+. He's won two Gold Gloves for his play at first, and also came in second in NL MVP voting twice. As for 2017, he's off to a tremendous start at the plate yet again.
9. Josh Donaldson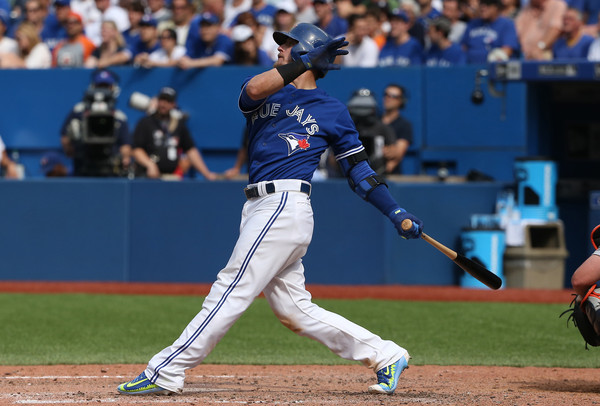 Originally drafted by the Chicago Cubs and then traded to the Oakland A's, third baseman Josh Donaldson would truly be a late bloomer. He finally transformed into a star player in 2013, at the age of 27, posting a 145 OPS+ and 24 home runs for the A's. They eventually dealt him to the Toronto Blue Jays, where he took the next step and won a 2015 MVP award. He repeated his excellent season again in 2016, finishing fourth in the MVP voting. At 31, he's still going strong.
8. Corey Seager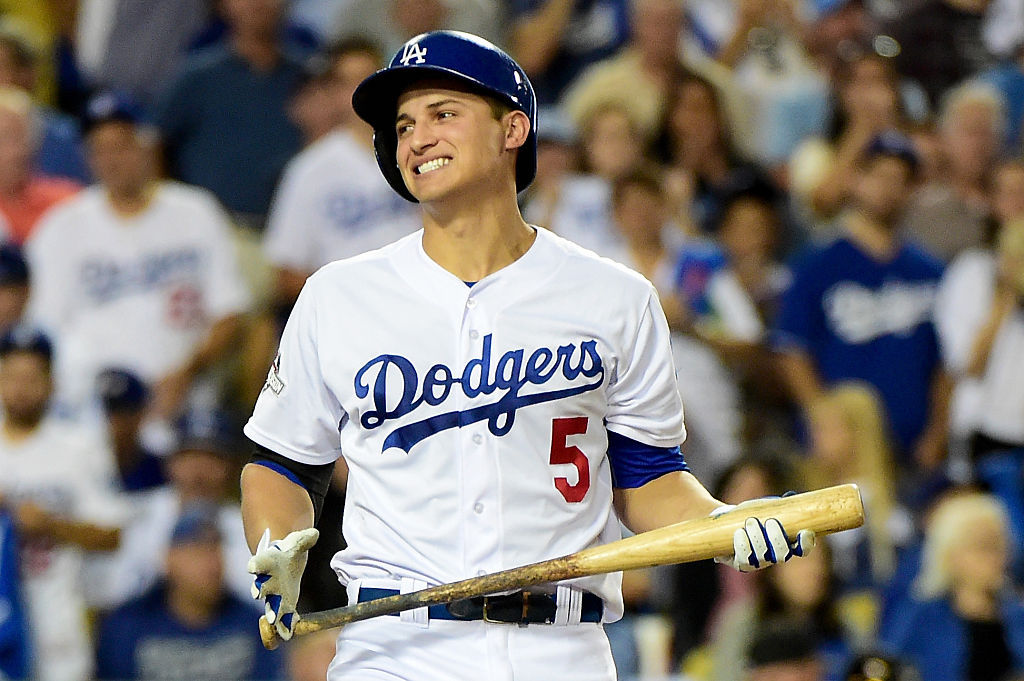 As a rookie last season with the Los Angeles Dodgers, shortstop Corey Seager was outstanding. He hit .308/.365/.512 with 26 home runs, compiling 6.0 WAR and leading the injury-bitten Dodgers to the NL West division title and the NLCS against the Chicago Cubs. He's just 23 years old and has a bright future ahead of him in LA, and is off to an excellent start in the 2017 season. He finished third in the NL MVP voting last season. We expect him to land near the top of the voting every year for a long time.
7. Freddie Freeman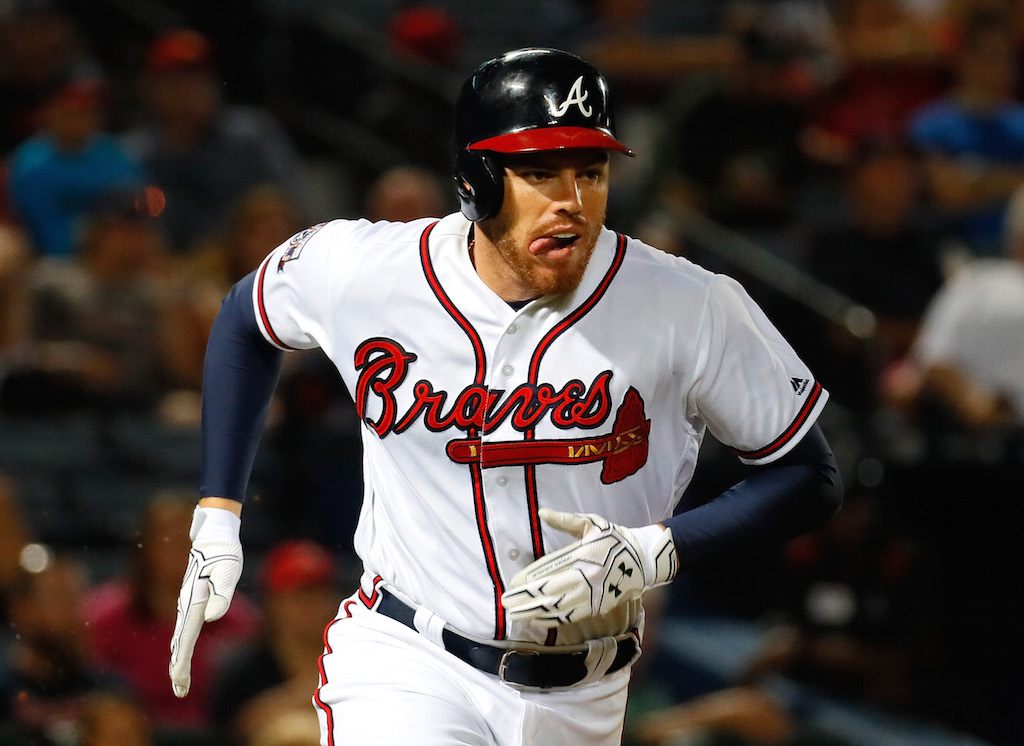 Most don't think of Atlanta Braves first baseman Freddie Freeman as one of the best MLB players because… well, he's with the Atlanta Braves. The team's been hurting the last few years, but Freeman is one of the bright spots. The 27-year-old has a .293/.376/.493 slash line for his career. In the 2016 season he finished with 6.4 WAR on the year. The Braves are starting to come out of their rebuild on the other side. Having Freeman as building block No. 1 is a great start.
6. Manny Machado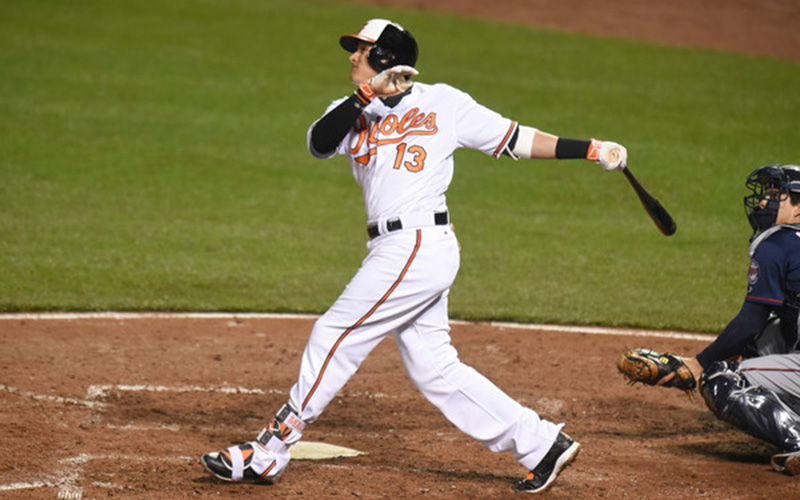 It may be hard to believe, but Baltimore Orioles third baseman Manny Machado is still only 24 years old. The Orioles called him up to the big leagues back in 2012 when he was 19 years old. Since then he's accumulated 25.8 WAR and hit .282/.333/.477, but .285/.349/.514 since the start of the 2015 season. Machado is a 30-plus home-run threat and one of the most talented overall MLB players. He finished in the top five in AL MVP voting the last two years and won two Gold Gloves for his defense.
5. Mookie Betts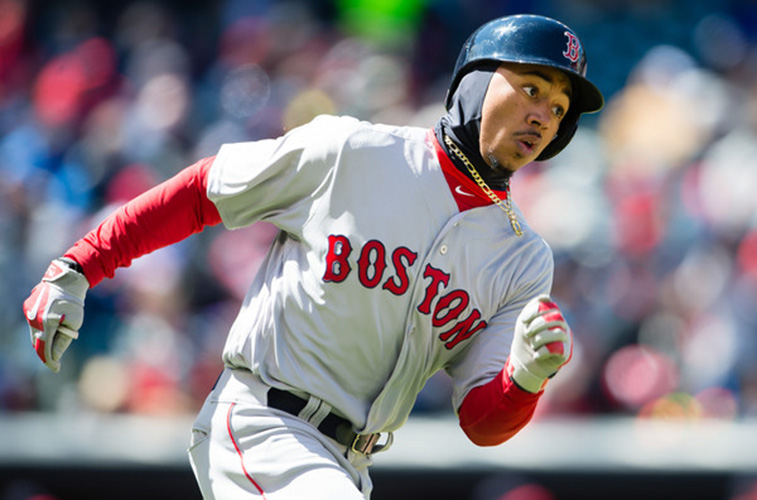 Boston Red Sox outfielder Mookie Betts might've been the American League MVP last year, had a certain Angels outfielder not blocked him from the award. He finished with an absurd 9.4 WAR, hitting .318/.363/.534 with 31 home runs and 26 stolen bases while playing outstanding defense in right field. It was truly Betts' breakout season. There's more in store for the 24–year–old; he's well on his way to becoming one of the best hitters of this generation.
4. Clayton Kershaw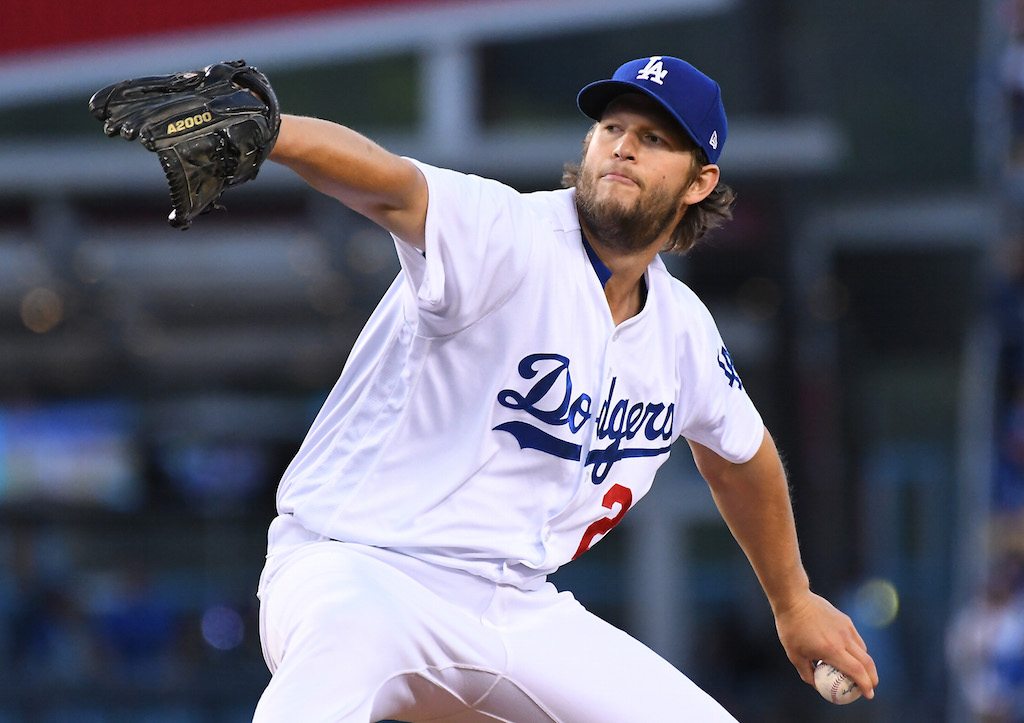 What can't be said about Los Angeles Dodgers left-handed starter Clayton Kershaw? The guy is a freak of nature. Since 2011, Kershaw has a 2.08 ERA in 1,325 2/3 innings pitched with 10 K/9 and just 1.8 BB/9. Nobody else around baseball even comes close to those numbers, much less for this kind of extended period. He's won three Cy Young awards and even an NL MVP. Kershaw has led the league in ERA four times and strikeouts three times. Despite being in his 10th MLB season he's only 29 years old.
3. Kris Bryant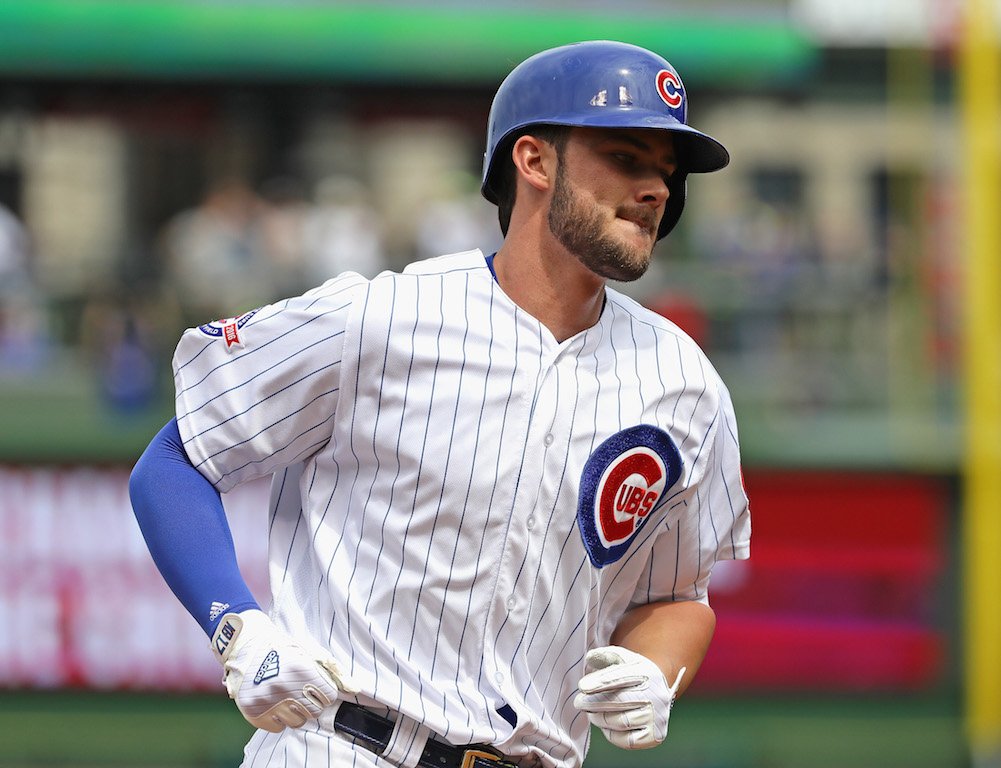 Chicago Cubs third baseman Kris Bryant did something that nobody else can claim. He won the 2013 College Player of the Year award, the 2014 Minor League Player of the Year, the 2015 National League Rookie of the Year, and the 2016 National League MVP. He also won the World Series in 2016, and his 13.8 WAR is the most for any player through their first two seasons in MLB history. Now just 25 years old, Bryant is well on his way to a Hall of Fame career.
2. Bryce Harper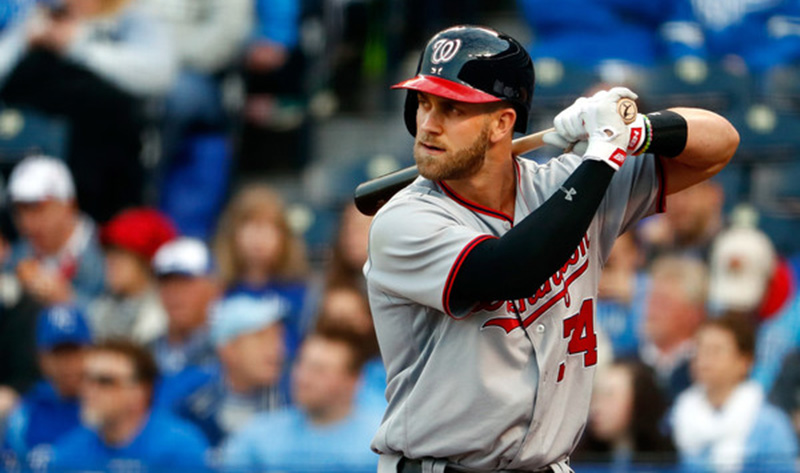 Another former Rookie of the Year and NL MVP is Washington Nationals outfielder Bryce Harper. Like Machado, Harper came up at the tender age of 19. Now, he's still only 24 years old despite being in his sixth MLB season. He had a down year in 2016 following his historic MVP season, but everything seems back to normal for Harper in 2017. For his career, he has a slash line of .283/.388/.511, and that line jumps to .296/.426/.565 if you only include his numbers since the start of the 2015 season.
1. Mike Trout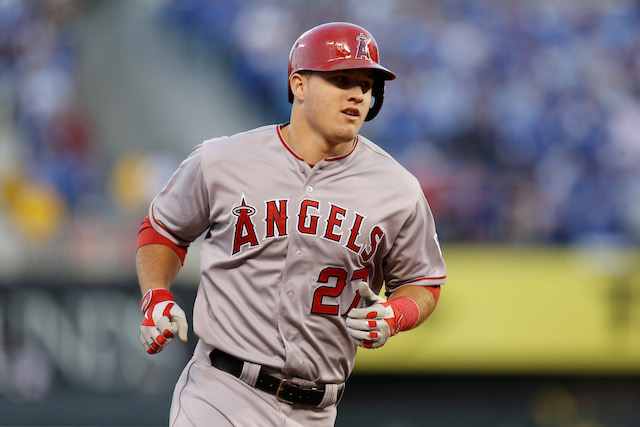 Is there any doubt that Los Angeles Angels outfielder Mike Trout is No. 1? He arrived early, popping up late in the season back in 2011 as a 19-year-old. While Trout struggled in his debut, posting a .672 OPS in 135 plate appearances, he stormed back in 2012 to win the AL Rookie of the Year and finish second in the MVP voting with 30 home runs, 49 stolen bases, and a 168 OPS+. Trout hasn't finished worse than second in the MVP voting since, taking the award twice in his six previous seasons. He has a .308/.407/.562 slash line and a 171 OPS+ for his career.
Statistics courtesy of ESPN and Baseball -Reference.