The 4 Most Badass Names in the NFL
As someone who has gone through life with a surname that begs for ridiculous and often crude comments, I appreciate folks whose last names match with people with disreputable pasts. For everyone in Illinois named Abe Lincoln, there's a kid in New York named David Berkowitz (Son of Sam) or Joel Rifkin. Perhaps that's why 17,000 people take the legal steps to change their names each year.
In pro sports, a nickname can pave the way to greatness — just ask the Honey Badger (Tyrann Mathieu), who hopes to ride his aggressive sobriquet to become the NFC Defensive Player of the Year. Instead of a fan- or reporter-tagged handle, what if you entered the league with a name that gives off a "don't mess with me" aura. Among the current crop of NFL players, there are at least four players who conjure up that "keep your distance" feeling, given their familial resemblance to some infamous outlaws. And we're not talking Bo Outlaw either; we're talking some downright nasty hombres.
1. Jesse James, tight end, Pittsburgh Steelers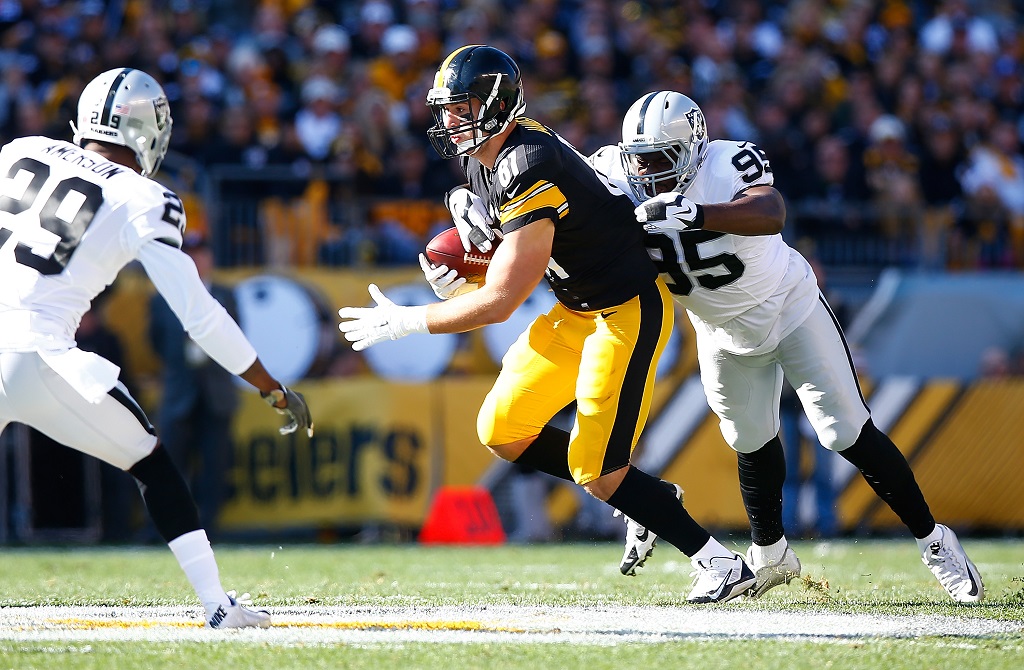 With starting tight end, Heath Miller, on the sidelines with a rib injury, Jesse James, a 2015 fifth-round draft pick out of Penn State, took advantage of his call to action by grabbing a TD catch in his team's 45-10 rout of the Indianapolis Colts. He ended the game with three catches for 30 yards, which greatly upped his confidence. "Coaches trust me and they put me out there and expect me to be able to go in there and make things happen and I was able to do that," James told Pennlive.com. "It was a fun time and I just enjoyed every second of it."
James, at 6-feet-7, 261 pounds, is a native of McKeesport, Pennsylvania. He grew up a Steelers fan and was a three-year starter for the Nittany Lions, breaking Ted Kwalick's record for career touchdowns for a tight end. James entered the 2015 draft, forgoing his senior season. The outlaw Jesse James was a notorious bank robber and gang leader who, along with his brother Frank, was part of the James-Younger gang, whose mayhem took place from 1866-76. Outlaw James was killed when he was shot in the back by Robert Ford, a member of his own gang seeking a lucrative reward. The incident is chronicled in an Elton John song, "I Feel Like A Bullet (In The Gun of Robert Ford."
2. Whitney Mercilus, linebacker, Houston Texans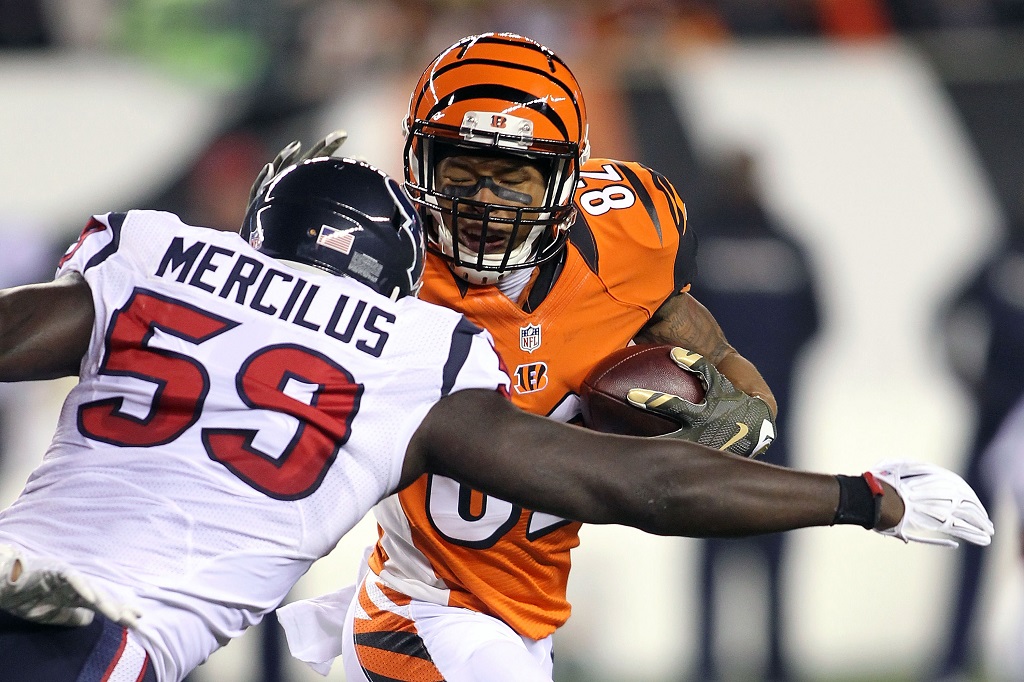 Weekly highlight reels from Texans games proves that Whitney Mercilus lives up to his name on a regular basis with a string of impressive tackles. A former All-American from the University of Illinois, Mercilus won the Ted Hendricks Award in 2011, which is given to the nation's top defensive end. At 6-foot-4 and 258 pounds, the Akron, Ohio native's speed (he ran a 4.68 in the 40-yard dash in the 2012 combine) makes him better suited to the outside linebacker position. Mercilus ended the 2014 season with 31 combined tackles and five sacks, but he raised his 2015 game with 39 tackles and 6.5 sacks after 12 weeks.
The ex-Illini star was drafted in the first round of the 2012 draft with the 26th selection. In the case of the young Houston Texan, his nefarious last-name doppelganger is the fictional villain of the Flash Gordon comic strip first featured in 1934. Ming the Merciless ruled planet Mongo and became Gordon's archenemy. In the 1980 film, noted actor Max Von Sydow played Ming, who died when struck by a rocket. In the earliest version of Flash Gordon, Ming was portrayed as being in cahoots with the Third Reich.
3. Bacarri Rambo, strong safety, Buffalo Bills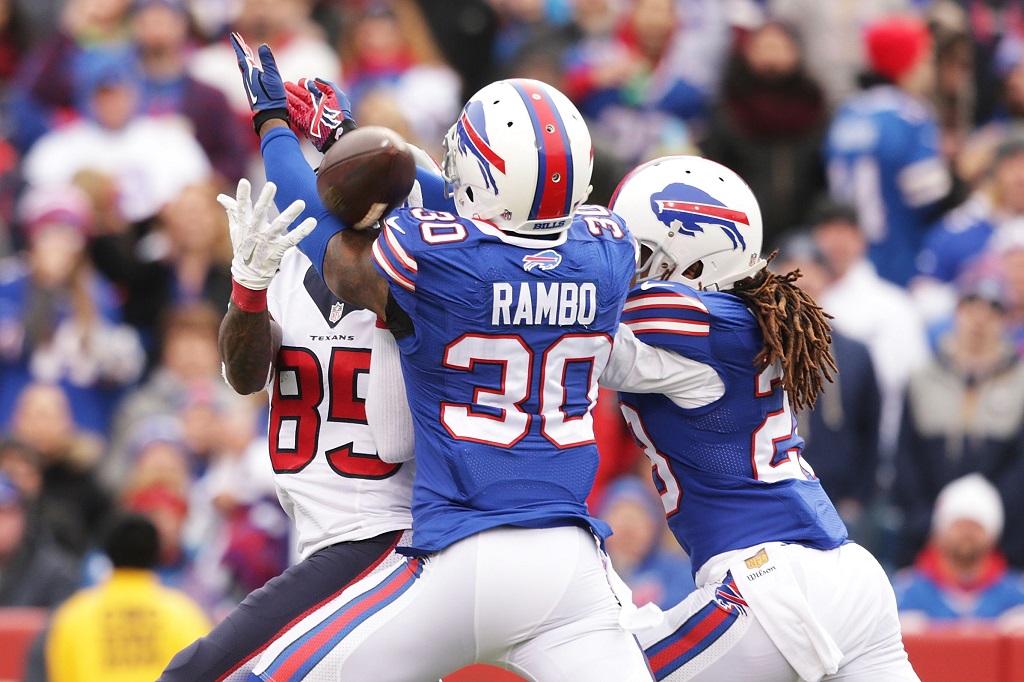 Born eight years after the debut of the film, First Blood, which featured Sylvester Stallone as a badass ex-Vietnam vet/Special Forces hero named Rambo, Bacarri Rambo has made a name for himself of late by being awarded the AFC Defensive Player of the Week after a superb November performance against the New York Jets. The strong safety ended the game with two forced fumbles and an interception off of Ryan Fitzpatrick to seal the victory.
Rambo was a star at the University of Georgia, but his draft stock slipped when he failed a drug test while still in school, which led to his suspension from the team. It was his second such transgression that had him on the draft board until round six in 2013, when he was selected by the Washington Redskins. After an up-and-down stint with the Skins, Rambo was waived in September 2014 and picked up by the Bills. He has three career interceptions, two from one game against Green Bay's Aaron Rodgers.
Fictional John Rambo was the centerpiece of four movies, First Blood, Rambo: First Blood Part II, Rambo III, and Rambo. Yes, that is not a mistake. Rambo follows Rambo III. The four films have grossed a total of more than $720,000,000 worldwide, and a fifth film is rumored to be in the works.
4. Will Sutton, defensive end, Chicago Bears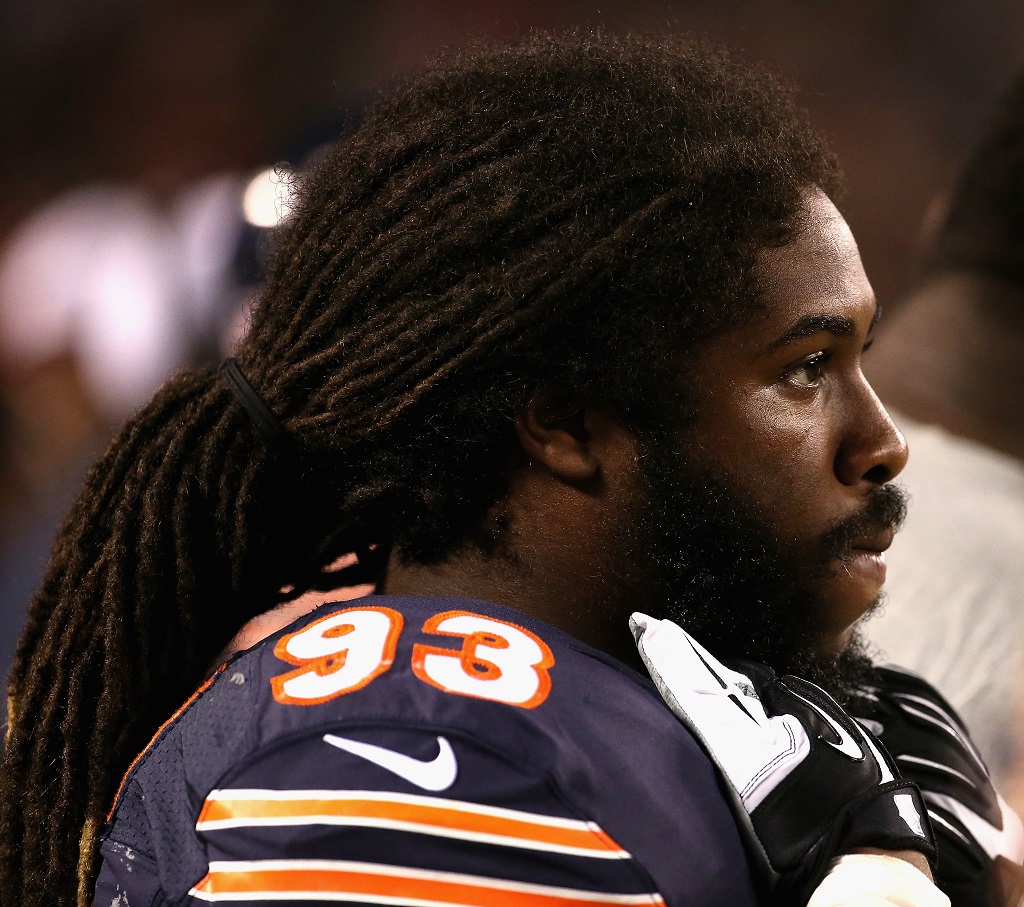 At 6-feet-tall and 303 pounds, William "Will" Sutton has proven to be more of a role player on the Bears defense than a fixture. In his first season, the former Arizona State Sun Devil ended the campaign with a mediocre 22 tackles and two pass deflections. In nine games in 2015, he has 14 tackles and two more pass deflections. One of the biggest issues with Sutton is his inability to put pressure on the quarterback. Having signed a three-year deal with the Bears as a rookie, the team is stuck with him (barring trade) through the 2016-17 season.
The mammoth defensive player is the polar opposite of gangland's daring William Sutton (aka Willie Sutton), a notorious bank robber who allegedly stole more than $2 million in his 40-year crime spree, which ended with his capture in 1934. He served 35 years of his 120-year sentence, released in 1969 due to health concerns. Sutton later died in Florida at the age of 79.