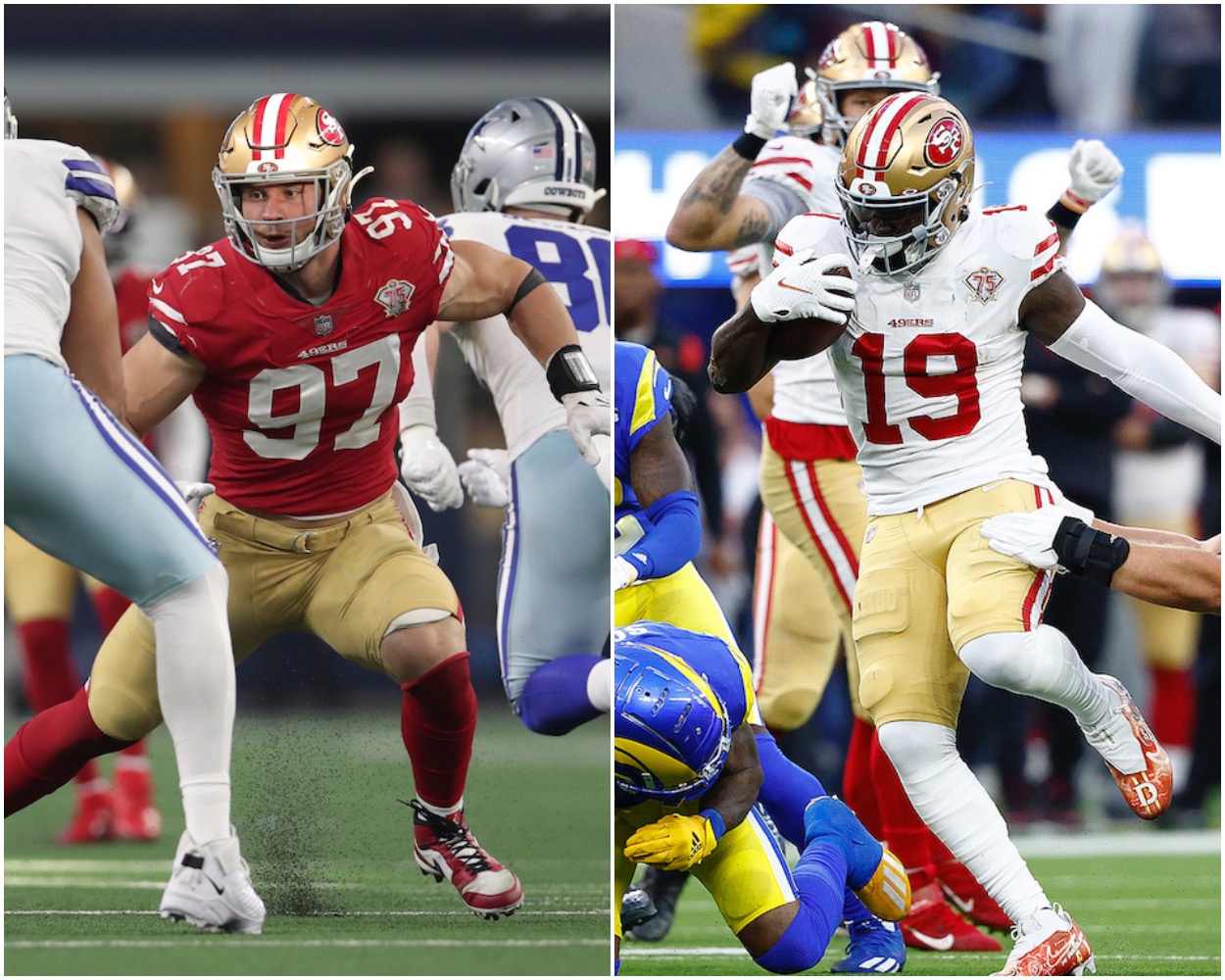 The 49ers Sent an Encouraging Message to Nick Bosa, Deebo Samuel About Their Looming Contract Extensions: 'It's Been Budgeted For'
Nick Bosa and Deebo Samuel should be feeling confident about getting big contract extensions following 49ers GM John Lynch's recent comments.
Despite their inability to outduel the Los Angeles Rams in the NFC Championship Game, the San Francisco 49ers are coming off a wildly productive 2021 NFL season. No one had them pinned as legitimate Super Bowl contenders during the offseason, and yet they were one of the final four teams standing.
Of course, the most common discourse in San Francisco right now is around the team's quarterback position. Jimmy Garoppolo being traded feels like a foregone conclusion at this point, paving the way for last year's No. 3 overall pick, Trey Lance.
With that said, the 49ers have more issues on hand than just their quarterback position. They have several extremely talented players on their roster who are starting to eye up second contracts.
Nick Bosa and Deebo Samuel are prime extension candidates in San Francisco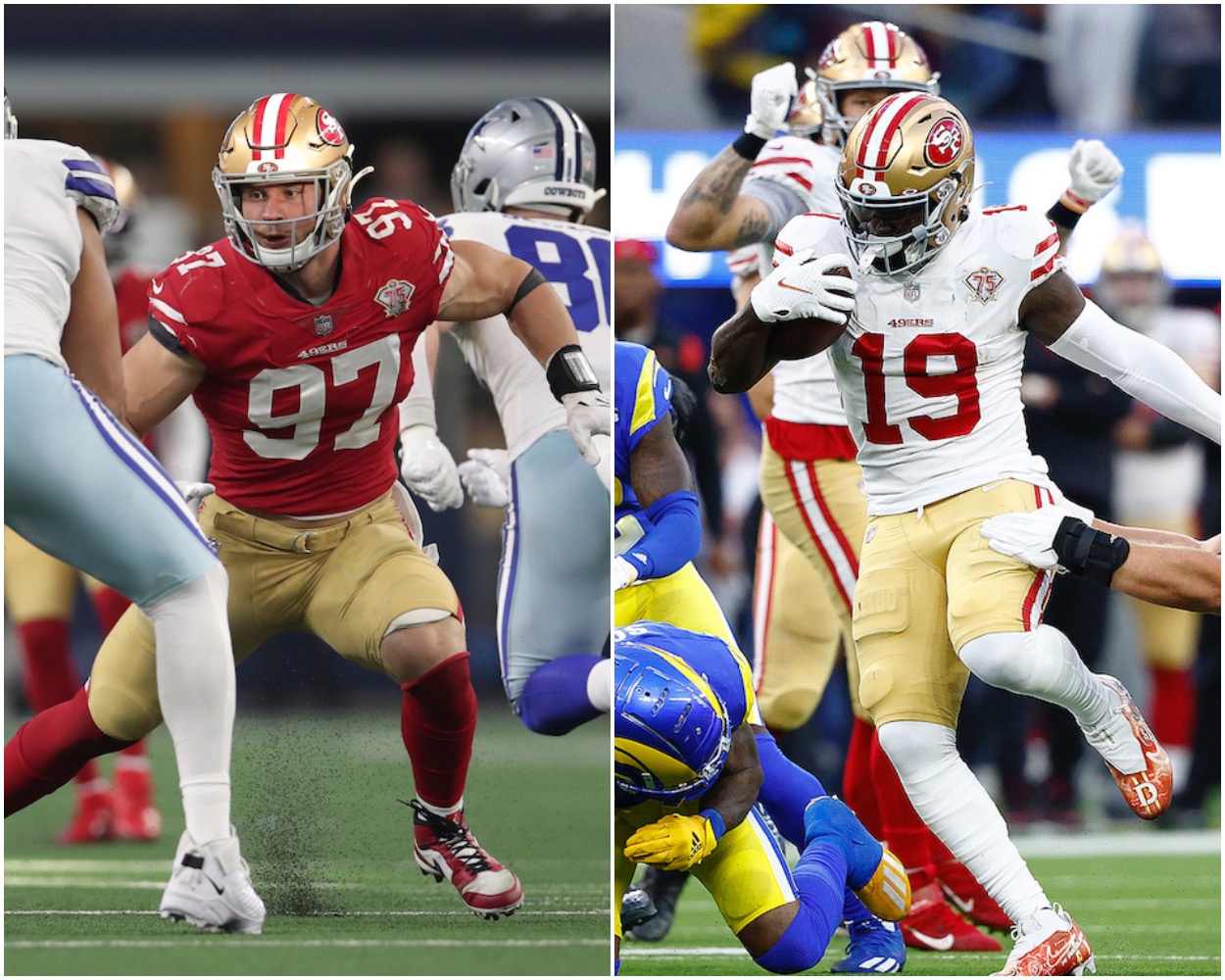 The 49ers received contributions from many players this past season. However, defensive end Nick Bosa and wide receiver Deebo Samuel are at the top of the list.
Bosa led the 49ers defense in sacks (15.5), tackles for loss (21), and quarterback hits (31). He was an absolute force for their defensive line — precisely what San Francisco was hoping it was getting when it drafted him No. 2 overall in 2019.
Samuel, on the other hand, completely changed the way the NFL looks at the WR position. He led the 49ers offense with 1,405 receiving yards while rushing for an additional 365. He scored 14 total touchdowns — eight rushing, six receiving. His ability to be a constant threat at all times while on the field is a major reason the 49ers got to the postseason in the first place.
Needless to say, Bosa and Samuel were both exceptional players in their own ways for San Francisco this past season. Now, they're starting to turn their attention toward landing significant paydays.
The 49ers 'budgeted' for Bosa, Samuel extensions
A big part of this equation is getting Garoppolo's large contract off the books. However, according to 49ers general manager John Lynch, the team has already "budgeted" for Bosa's and Samuel's contract extensions.
Both extensions will exceed $20 million. The 49ers definitely need a plan in place to retain both players.
"We fully understand these guys (Bosa and Samuel) are pillars of what we're trying to do here," Lynch said. "We've been blessed that we've been aggressive because we've had a lot of players that we believe are some of the best in the league at what they do. And these guys are no different.
"I'm not going to put any timelines on it, but obviously, planning has been done to account for those guys. And yes, there's some interesting dynamics with Deebo playing multiple positions, but the bottom line is he's an excellent football player. And so, I'm sure that we'll find a way to get that done, and like I said, it's been budgeted for."
The 49ers should get the extensions done this offseason
It's hard to imagine Lynch letting either Bosa or Samuel hit free agency down the road. However, if he's smart, he'd get these extensions locked up as soon as humanly possible.
Both players are crucial to the 49ers' success moving forward, and their price tags will only go up from here.
If the extensions have indeed been budgeted for, the Niners need to act and get pen to paper.
All stats courtesy of Pro Football Reference.