5 of the Best UNC Basketball Players of All Time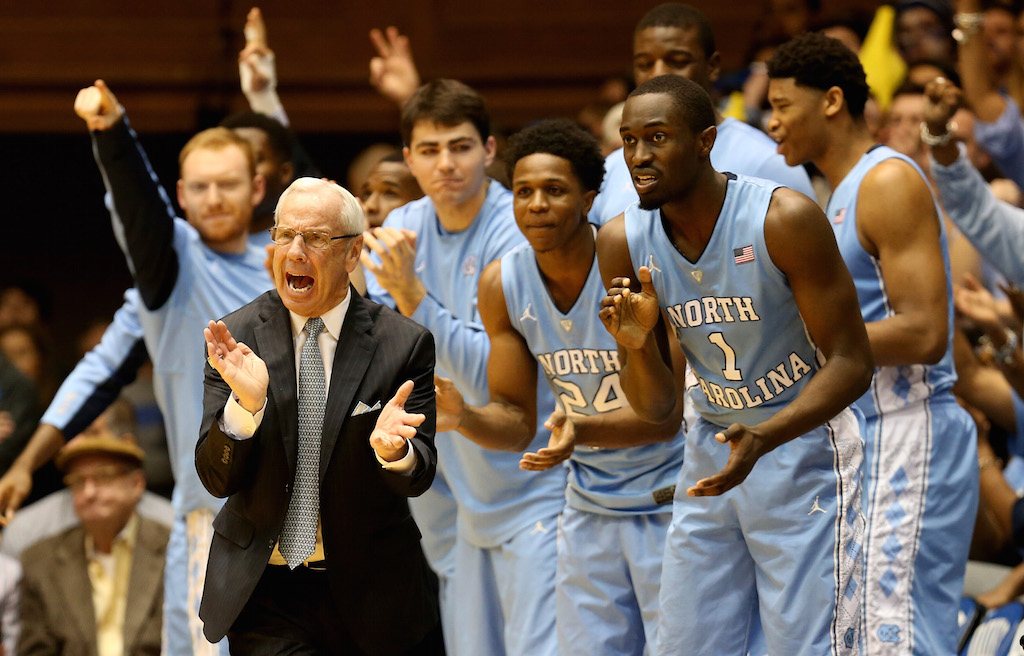 North Carolina, with its 2,172 wins, 20 trips to the Final Four, and six NCAA Tournament championships (1957, 1982, 1993, 2005, and 2009, and 2017), is arguably one of the most successful programs in college basketball. The Carolina Way is notable for its emphasis on team play, solid fundamentals, and sportsmanship. Top recruits — ready to showcase their talents on a national stage and compete for titles — prefer Chapel Hill as their destination.
Case in point: The 2017 NCAA Tournament, where the Tar Heels once again made it back to the top of the mountain after defeating the Gonzaga Bulldogs. All respect to Tyler Hansborough — who had something of a Christian Laetner-esque career in college — these five Tar Heels are a testament to the fact that UNC does not rebuild; they only reload.
1. Phil Ford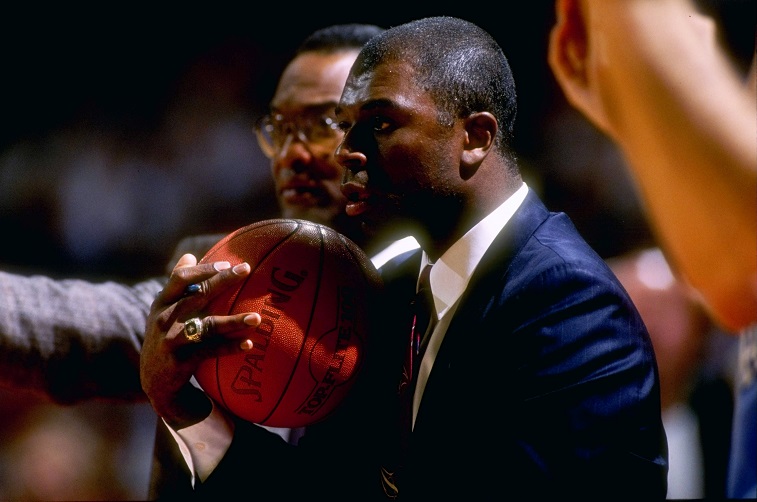 According to Carolina Lore, Dean Smith knew he had something special in Phil Ford when the freshman dove across the finish line to shave precious seconds off his mile time and close out the preseason conditioning program.
As the first freshman to start for Smith, Ford graduated in 1978 as the leading passer and scorer in Carolina history. He dished out 753 assists and dropped 2,290 points. Both of these career assists and scoring records held for more than 20 years before Ed Cota and Hansbrough respectively broke them.
Ford racked up his stats without the benefit of the modern three-point line and shot clock. As a UNC floor general, he was the face of the Four Corners offense, which Smith would use to play a game of keep-away to run the clock and milk second-half leads until the end of regulation. Out of the Four Corners, Ford would often lull the defense to sleep before driving the lane for easy layups. Many basketball historians credit this game of rope-a-dope for the installation of the shot clock.
In 1977, Ford led UNC through a deep Final Four run, when the injury-ravaged Tar Heels ultimately lost to an upstart Marquette bunch in the national championship game. The following season, Ford won the Wooden Award as the National Player of the Year after putting up 21 points and 6 assists per game for Carolina.
2. Michael Jordan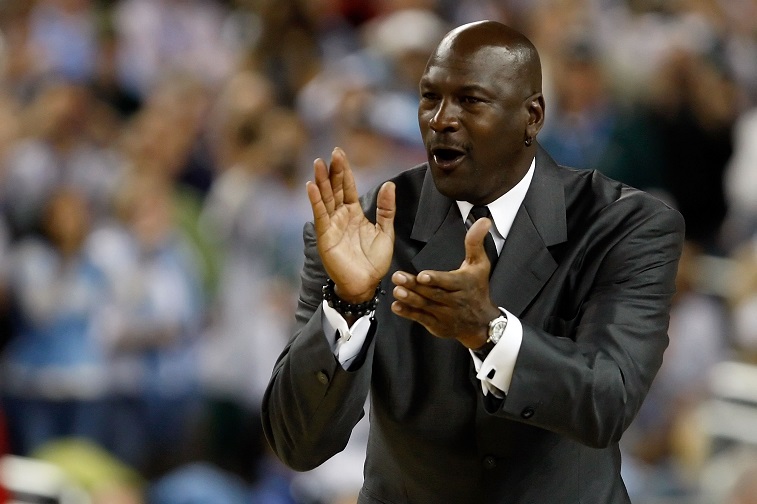 As a skinny freshman dressed in Carolina Blue, Michael Jordan first vaulted his name into the national spotlight after burying a deep corner jumper against Georgetown to take the 1982 national championship. It was Coach Smith's first championship after making six prior trips to the Final Four.
Before this victory, Smith was routinely dismissed as "old fashioned" for his staunch belief in the Four Corners offense and unwillingness to pander toward apparently big-time freshman. At the time, Jordan was actually the third option on a loaded roster that included junior James Worthy and sophomore Sam Perkins.
For his sophomore year, the more mature and new Jordan began to show even more flashes of what he was to become after Worthy had left Chapel Hill for the NBA. That year, Jordan put up 20 points and six rebounds per game. In half-court sets, Jordan was especially adept at running backdoor cuts off screens for easy dunks and layups at the front of the rim.
By his junior year, Jordan had improved his outside shot and gained even more confidence in his explosive first step to blow by defenders off isolation. As an all-around performer, Jordan claimed the Wooden Award after averaging 20 points, five rebounds, two assists, two steals, and one block per game through the 1983–84 campaign.
3. James Worthy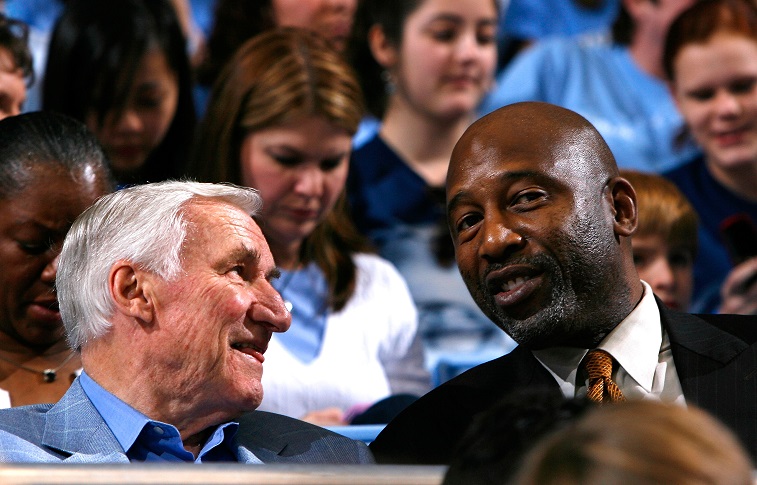 On Tobacco Road, Jordan and Worthy will always be linked with the greatest moments in UNC basketball history. After Jordan hit his historic jump shot, a frantic Georgetown refused to call timeout and inbounded the basketball to freshman guard Fred Brown. After gambling for a steal, Worthy found himself out of position at the top of the key.
In any event, Brown mistook Worthy for a teammate and threw him the ball, only to watch the Tar Heel take off toward the other end of the court. That evening, Worthy claimed Most Outstanding Player honors after pacing the Heels with 28 points in the championship game.
In three years at Carolina, Worthy made two back-to-back trips to the title game, in 1981 and 1982. As a Tar Heel, Worthy posted 15 points and seven rebounds per contest, and earned the nickname "Big Game James" for repeatedly coming through as the go-to player in the clutch.
For the college game, Worthy was the complete power forward who could dominate the low block and also step back to knock down mid-range jump shots. As a prelude to Showtime, Worthy would always run the floor out on the break before throwing down sweeping tomahawk jams in transition to ignite raucous crowds at Carmichael Arena.
4. Antawn Jamison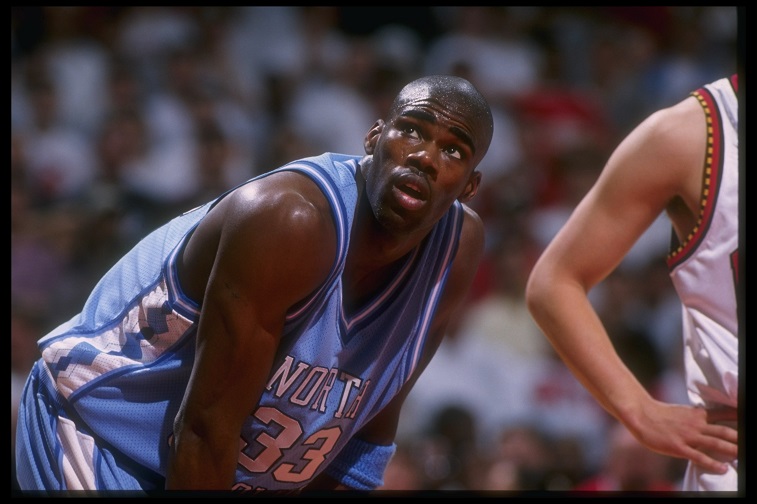 Alongside Ford, Jordan, and Hansbrough, Antawn Jamison is part of an exclusive club of Carolina players to take the Wooden Award and also have their jersey retired. As a junior, in 1998, Jamison torched defenses for 22 points while also hauling in 10 rebounds per game.
Later that year, Jamison declared for the NBA Draft after leading two stacked teams to the Final Four and helping to close out the 36-year tenure of Smith at Carolina. For his time, Jamison counted upon the likes of Vince Carter, Ed Cota, Shammond Williams, and Brendan Haywood as teammates. It may seem strange now, but people predicted that Jamison, not Carter, would have a great career in the NBA.
As a player, Jamison was most notable for his unconventional style of play and knack for putting up points in bunches from apparently impossible angles. On the low block, Jamison would wheel and deal with an array of drop steps, spin moves, hooks, and scoop shots to score the basketball.
In space, he would set up his man with jab steps and up-fakes before driving the lane and knocking down a sweet floater over the outstretched fingers of opposing big men.
5. Lennie Rosenbluth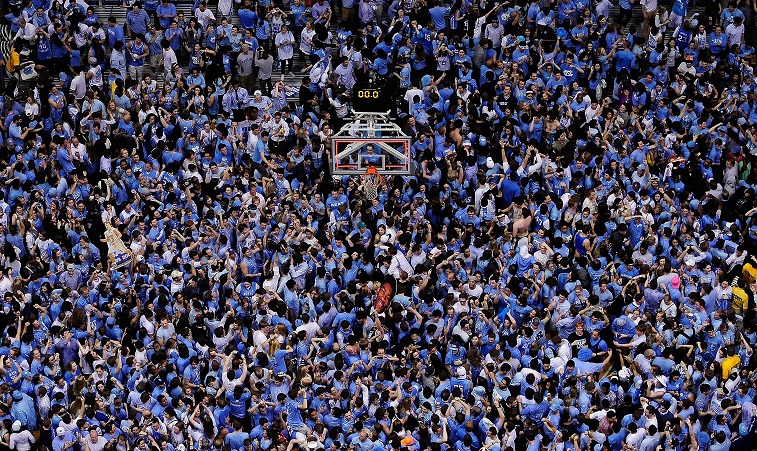 Lennie Rosenbluth was the first real star in Carolina basketball and is a throwback to a different era. In any event, Rosenbluth put up 26.9 points per game over the span of three years on the varsity team, which still stands as a UNC record.
In his day, freshman were not allowed to play on the varsity team, let alone bolt for the NBA after electrifying crowds for one short year. As a 6-foot-5 power forward, Rosenbluth largely played beneath the rim and would curl off screens to knock down open-set shots within the flow of a structured offense.
As a senior, Rosenbluth was named the 1957 National Collegiate Player of the Year by the Helms Foundation over Wilt Chamberlain. That year, Rosenbluth racked up 27 points per game while also crashing the boards for 9 rebounds each contest. Rosenbluth led the 1957 Tar Heels to a 32-0 record, which included a triple-overtime victory against Kansas and Chamberlain to bring home the first NCAA championship to Chapel Hill.
Statistics courtesy of Sports-Reference.