NBA
The 5 Best Backcourts in the NBA Right Now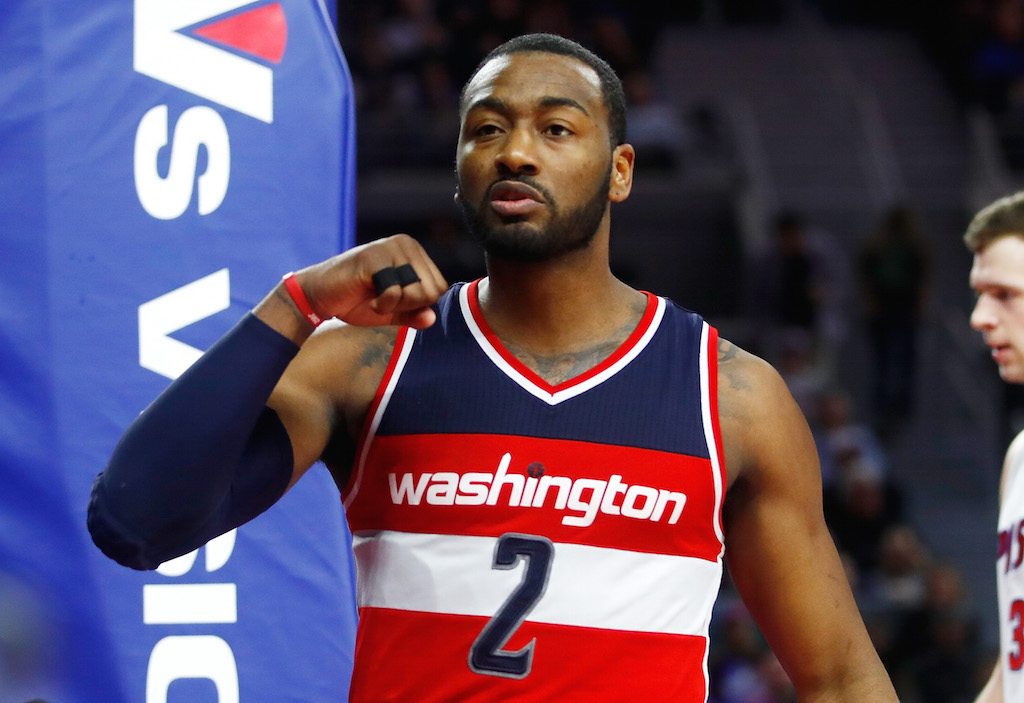 Part of the reason that NBA fans are now enjoying something of a renaissance at the guard position has to do with the NBA's rule changes — hand checking, defensive three seconds, and hard fouls at the rim are now more severely punished than they once were. This renewed League office favoritism toward offense and clean play collectively arrived in response to the Bad Boy Pistons, The Jordan Rules, and an ugly 2004 incident at the Palace, where Pistons and Pacers players charged the stands to brawl with fans. People can complain about how soft the game is, but no one can deny it's lead to some incredible back court play.
As an effective 1-2 offensive punch, these backcourts often take turns controlling the basketball, driving the lane, or curling off screens to knock down open jump shots. On the defensive end, seasoned guards appear to have ESP: Setting traps, switching off picks, and leaking out on broken plays to ignite the fast break. The five best backcourt duos in the NBA today can further cement their respective historical legacies with clutch play in the postseason en route to claiming championship hardware.
5. Kyrie Irving and Company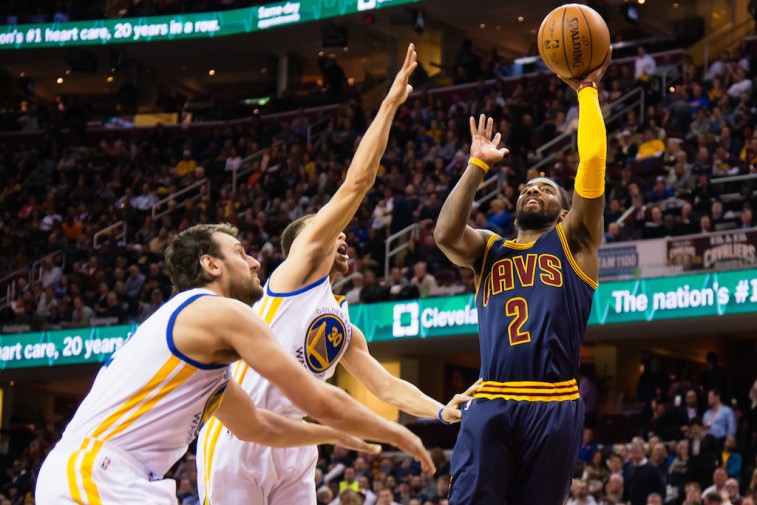 Kyrie Irving has long been cited as the man with the best handles in all of basketball. The Uncle Drew showmanship features a series of hesitation dribble, stutter step, and spin moves, before finishing strong at the rim with either hand. On the next possession up the floor, Irving may rise up and casually hit a mid-range jumper, after putting his man on skates.
Kyrie is an offensive machine. Last year, Irving burnished and solidified his reputation as a gamer for his clutch performance in the Finals. After The Block, Irving sized up Stephen Curry out on the wing, took one hard dribble to get his man on his heels, and stepped back behind the arc to drain The Shot. For the Finals series, Irving rang up 27 points per game, significantly outplaying the reigning MVP.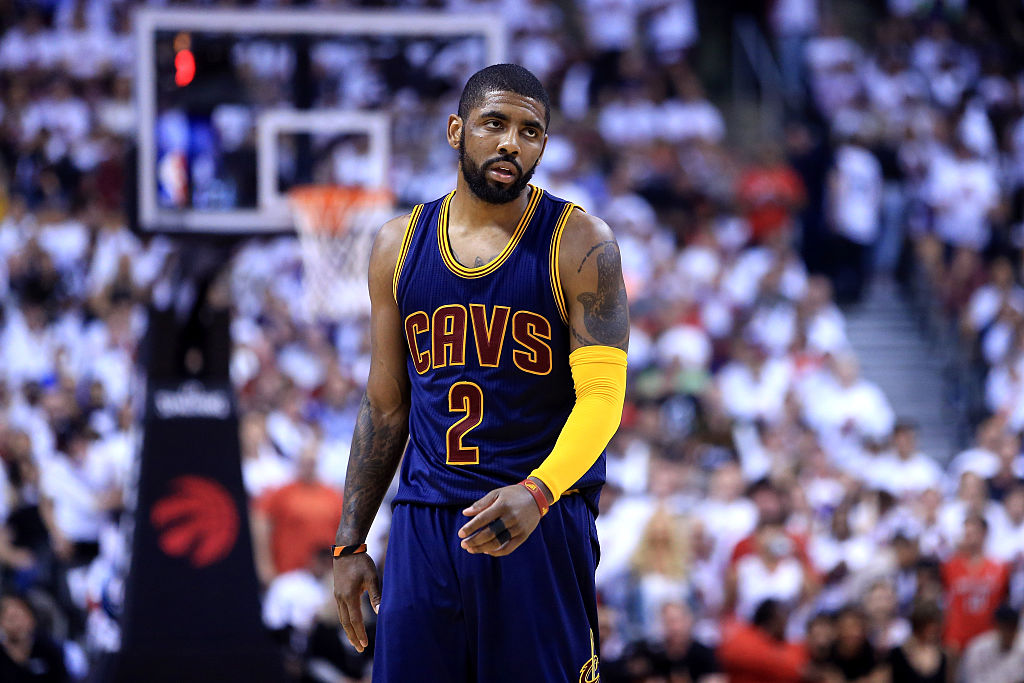 For 2016–17, Irving is back at it, and dropping in a career-high 26 points per game. From jump, these Cavaliers appeared dead set upon a collision course to close out an ongoing NBA Finals trilogy versus the Golden State Warriors. Still, a testy LeBron James took it upon himself to demand that management improve team depth, while also adding a playmaker to the bench.
In response, David Griffin and the front office went out and signed Deron Williams and Kyle Korver to flesh out a stacked backcourt that already carried Irving, J.R. Smith, and Iman Shumpert on the roster. In Korver, the Cavs can now roll out one of the best sharpshooters in the history of basketball, who has already racked up more than 2,000 career three-point makes. Picture this: James and Irving playing a game of give-and-go in transition, while Korver flares out to spot up behind the arc. This is simply unfair.
4. Damian Lillard and C.J. McCollum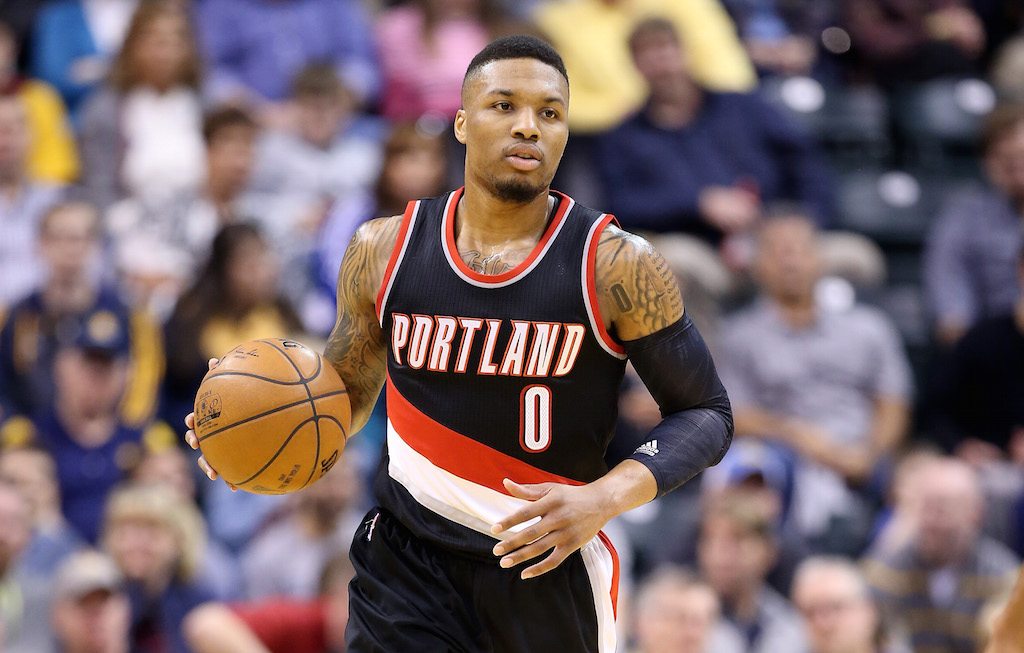 Fans in the Pacific Northwest have long since been accustomed to their particular sports icons remaining very much underrated, if not totally ignored, altogether. It took the Seahawks multiple trips deep into the postseason before earning enough respect to be taken seriously as a Super Bowl contender.
This year, Gonzaga still has its doubters through this ongoing Final Four run. Portland itself is a geographic outpost, located 630 miles due north of the closest other NBA city in Oakland. Beyond the Cascades, the major East Coast media markets are all more than 3,000 miles away, with fans there likely being asleep right before Damian Lillard and C.J. McCollum clock in to go to work. Last February, Lillard and McCollum were two of the most notable snubs left off the All-Star Team, despite tallying up a combined 50 points, nine rebounds, and nine assists per game between them.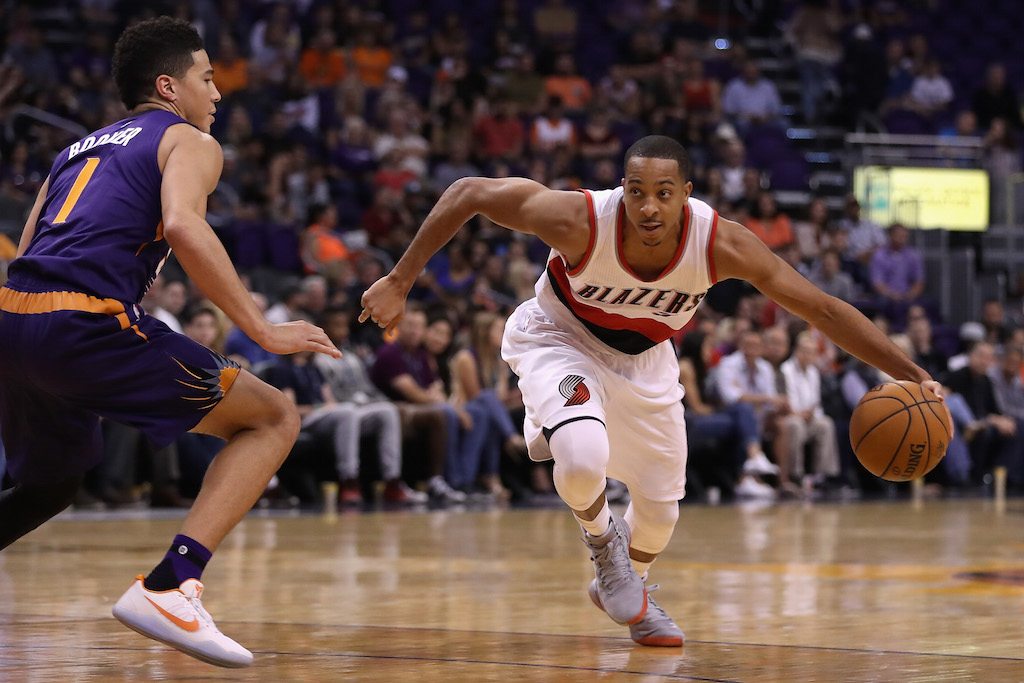 Lillard and McCollum are all but interchangeable within the Portland backcourt. Both were once overlooked four-year starters at mid-major programs (Weber State and Lehigh), before apparently coming out of nowhere to be taken early in the first round. As professionals, both guards have improved dramatically with every passing season. McCollum, in four short years, has upped his scoring average from five to 23 points per game. Dame Dollar, of course, is at his best when attacking the basket for easy lay-ups and dunks.
After setting the tone offensively, Lillard is all but unstoppable when his three-ball is falling. Meanwhile, McCollum has quickly emerged as one of the best pure scorers in the game, fully capable of curling off screens and catching fire at any moment. Going forward, Lillard and McCollum must both step up at the defensive end, for Portland to finally put together a deep run through the playoffs. Winning is all that matters — to join the ranks of the elite.
3. John Wall and Bradley Beal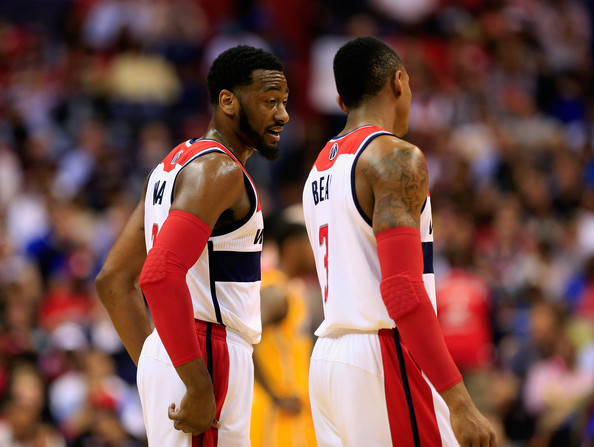 John Wall is the fastest man in the NBA from end-to-end. As a speedster, Wall can easily blow by his man out in space, right to the front of the rim. On the defensive side of the floor, he will shuffle his feet stay in front of his man, and use his quick hands to wreak havoc through timely deflections, steals, and chase-down blocks. Wall is arguable the most physically gifted guard in the NBA this side of Oklahoma City and Russell Westbrook.
With time, the Wall player profile and scouting report have matured from that of a raw athlete to that of a complete guard. He's added a serviceable jump shot to his game, so that opposing defenses cannot simply sag off, without getting buried. Wall, as a facilitator, has also racked up more than 10 assists per game through three consecutive regular seasons. For 2016–17, Wall is filling up the stat sheet to average 23 points, 11 assists, four rebounds, and two steals a contest.
Meanwhile, running mate Bradley Beal is also dropping in 23 points per game. This year, he's finally realizing his potential as a more efficient scorer, after several fits and starts of nagging injuries, maddening shot selection, and careless turnovers. Beal, after five seasons in the league, is now hitting on 48% of his shots from the field.
The 2016–17 Washington Wizards are the most NBA surprising team and are coming off a signature, blowout win on the road in Cleveland to pull within 2.5 games out of first place. Wall and Beal were clicking on all cylinders against the Cavs, in racking up a combined 64 points and 17 assists. For Washington, the future is now and this team will be no cakewalk come playoff time. John Wall and Bradley Beal will certainly see to it that the Eastern Conference is much more than a mere coronation party for King James.
2. Kyle Lowry and DeMar DeRozan
Kyle Lowry rivals Jimmy Butler and Isaiah Thomas for the title of greatest rags-to-riches NBA story. While at Villanova, Lowry was something of an afterthought within Jay Wright's guard-oriented offense behind Randy Foye and Allen Ray. Still, Lowry declared for the 2016 NBA Draft after his sophomore season, and went to Memphis as the 24th overall pick. As a rookie, Lowry played in only 10 games before shattering his wrist and being shut down for rest of the season.
For the following summer, in 2007, the Grizzlies took Mike Conley with the fourth pick in the draft and committed to this Ohio State product as their point guard of the future. The writing was on the wall and Lowry was ultimately shipped off to Houston for pennies on the dollar. For four years in Houston, he ground his way through nagging injuries, inconsistent playing time, and frequent shouting matches with head coach Kevin McHale. Then Lowry was dealt to Toronto in exchange for the likes of non-name Gary Forbes and a first-round pick.
After finally finding a home, Lowry made his first of three All-Star Games in 2014, at the age of 28. At point guard, he is a bowling ball that repeatedly bullies his way into the paint for lay-ups and floaters. This year, for 2016–17, Lowry is putting up career highs in points per game (23), field goal percentage (46%), and three-point shooting (41%). DeMar DeRozan, at the same time, has upped his game and is now pouring in a career-high 27 points per contest, in his own right.
DeRozan grew up in Compton, in the shadows of The Forum and Staples Center, and could namedrop Kobe Bryant as a real role model and mentor since high school. As a throwback, DeRozan shuns the three-ball, instead preferring to make his bones on the low block and upon aggressive drives right to the front of the rim. Still, he and Lowry will ultimately have to answer to James, again, like every other battle-tested club in the East.
1. Stephen Curry and Klay Thompson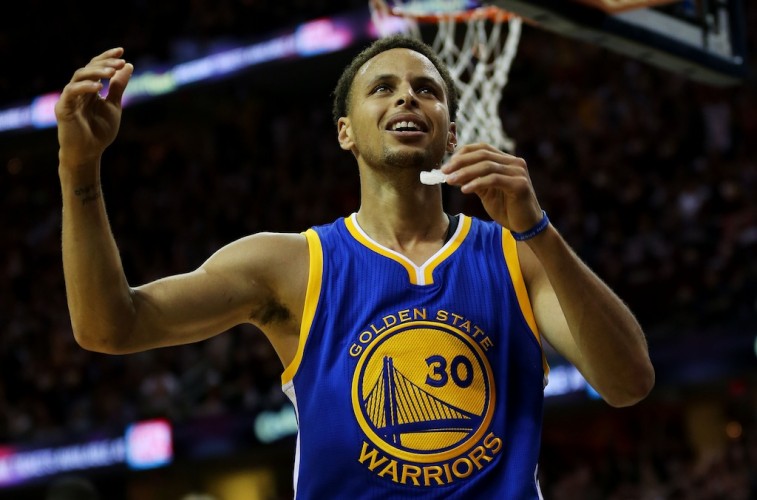 Stephen Curry and Klay Thompson are already in the running to claim the crown as the best backcourt of all time, let alone the best guard pairing in the game right now. Curry, in his own right, has revolutionized the game of basketball as the antithesis of James. Whereas James is a physical specimen, the lithe Curry appears as if he would be more comfortable running an IT Department. He's a master tactician and sharpshooter, who plays the angles to lay claim to back-to-back (2015 and 2016) NBA MVP trophies and one 2015 championship.
Thompson, like Kawhi Leonard in San Antonio, has evolved out of his prior role as a "3-and-D" sidekick and into that of a legitimate superstar and pure scorer. Last year, Klay saved the season, when he knocked down 11 triples, en route to going off for 41 points on the road in Game Six in Oklahoma City. Earlier this year, Thompson rang up a career-high 60 points through three quarters of a blowout home win at Oracle Arena. These shooting exhibitions came out of the same man who once dropped an NBA record 37 points in one quarter.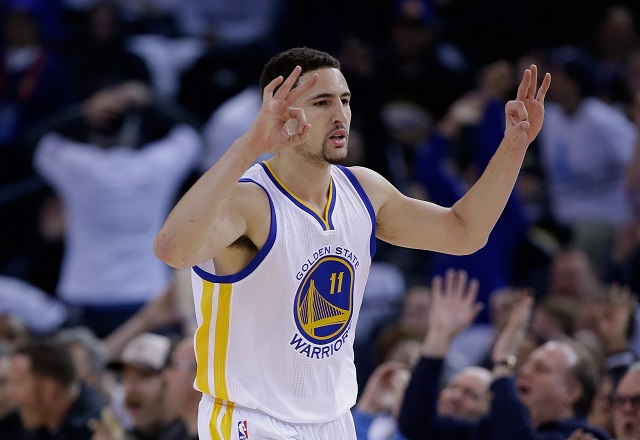 Thompson is actually the third option on this Golden State club. The Curry/Thompson Splash Brothers have both subjugated their individual games to make way for Kevin Durant, one of the more efficient scorers in the history of the game. For this year, Durant was dropping in his usual 25 points per game, off 54% shooting, before taking friendly fire last month and being knocked out of the action with an MCL sprain. KD will report back to the lineup right before what figures to be a first-round playoff tune-up.
After initial turbulence, the Golden State Warriors have rattled off seven straight wins, while Durant watches games from the bench in a suit. This recent run has the very same look of the 73-9 club that ran teams right off the floor by the start of the fourth quarter. From here, at these levels, Curry and Thompson must add even more championship hardware to their collective trophy case, so that they may go down as the greatest NBA backcourt duo of all time.
Statistics courtesy of ESPN and Pro-Basketball-Reference.