The 5 Best 'Big Threes' in the NBA Today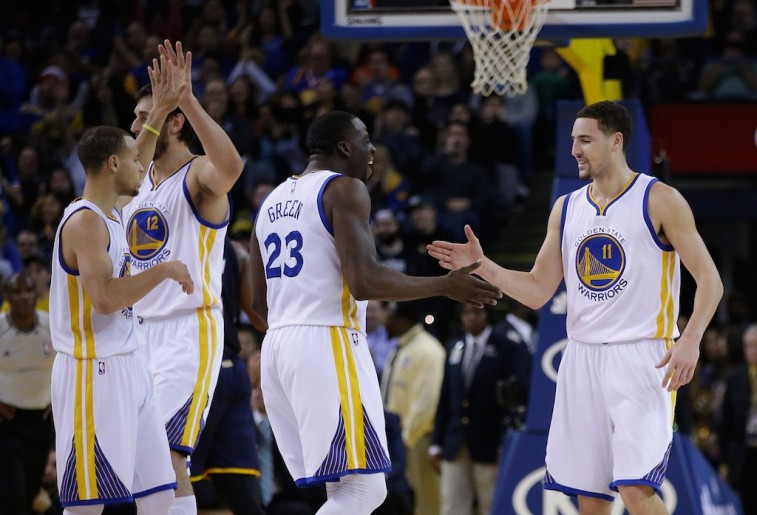 It only takes one player to take over any regular-season matchup or playoff game in the NBA. Paul George, James Harden, and Anthony Davis are some of the best in the league when it comes to taking control of contests and propelling an entire team to a victory, but the best rosters have multiple top-notch options.
In the ever-growing trend of super teams forming to make deep runs in the playoffs, the existence of a "big three" is now commonplace. Recent successful versions — like the Boston Celtics' Ray Allen, Paul Pierce, and Kevin Garnett, and the Miami Heat's LeBron James, Dwyane Wade, and Chris Bosh — have broken up, giving way to a new slew of elite trios in the game today. Here are the top big threes in basketball.
5. Los Angeles Clippers (Chris Paul, Blake Griffin, and DeAndre Jordan)
Thanks to a fractured hand (caused by a childish confrontation with a member of the team's equipment staff), Los Angeles Clippers power forward Blake Griffin has played in only 30 games this season. He's still mending the injury, and when he is healthy, he will miss an additional four games due to his suspension.
The missed contests have limited NBA fan exposure to one of the prolific big threes in the game, as elite point guard Chris Paul and defensive, dunking, rebounding machine center DeAndre Jordan have been forced to play together as simply a dynamic duo for much of the winter. Still, Griffin should return soon, and this trio narrowly beats out the likes of the Chicago Bulls for the No. 5 spot on this countdown.
In their 681 minutes on the floor together this season, they've averaged a plus/minus of +9.5, which is the fifth-best three-man combination on the roster with at least that amount of time played together. Paul, despite his slightly advanced age and lack of a championship, is still among the best passers and guards in the game, while Griffin is a top option at power forward. Jordan, of course, is a liability at the free-throw line, but his game is nearly spotless other than that. With this group on the court together, they'll be a dangerous team in the postseason.
4. San Antonio Spurs (Kawhi Leonard, LaMarcus Aldridge, and Tim Duncan)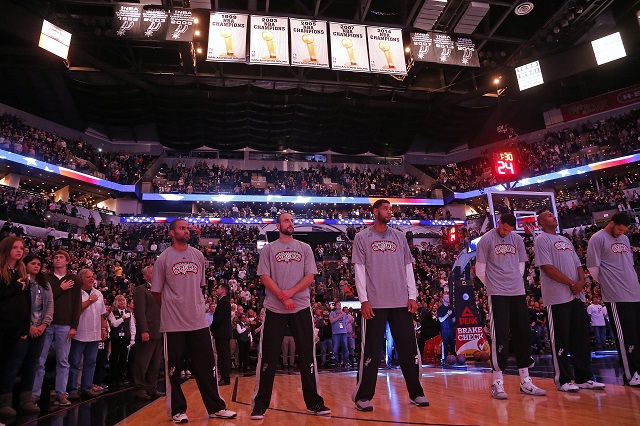 San Antonio Spurs center Tim Duncan has had the fortune of playing with some great teammates (and one legendary head coach) over the course of his career. David Robinson, Tony Parker, Manu Ginobili, and others were key cogs during the early and middle portions of his career, but now there is a new big three in Texas.
Though Parker and Ginobili are still important parts of the team, they have been supplanted by Kawhi Leonard and LaMarcus Aldridge to form a new trio with Duncan, and it is one of the best groups in the association. Due to Gregg Popovich's knack for resting his stars, Leonard, Duncan, and Aldridge have only played in 38 games together in the 2015-16 campaign, but they are masterful when together.
During their nearly 764 minutes of action shared on the court, they have a net total of 111 more field goals made than their opponents. The Big Fundamental's career may be winding down, but he can rest assured that with his two buddies still in their prime, the Spurs organization is in good hands.
3. Cleveland Cavaliers (Kyrie Irving, LeBron James, and Kevin Love)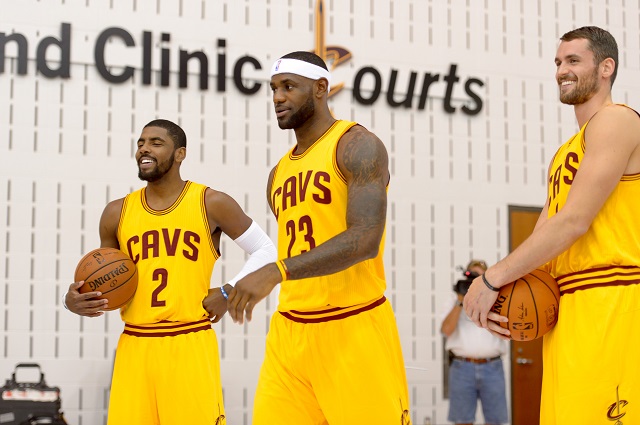 The Cleveland Cavaliers big three of Kyrie Irving, LeBron James, and Kevin Love is "supposed to be" the best in the NBA right now, but injuries, inconsistencies, and an obvious failure to mesh thus far drops them to No. 3. Irving missed a good chunk of the beginning of this season, which is why the three best players on the squad have only played in the sixth-most minutes together of any three-man combo on the roster.
With each of them active, they're now up to 614 shared minutes and are gaining steam. They may not have the statistics to back up their spot on this countdown yet — as they've averaged a net total of 1.5 turnovers per 100 possessions more than their opponents — but their potential and talent level is almost unmatched. Irving has sick handles and is a top-five, if not top-three point guard, LeBron is LeBron, and Love has improved in his second season in Cleveland with the chance to do more in the playoffs.
2. Oklahoma City Thunder (Russell Westbrook, Kevin Durant, and Serge Ibaka)
If we're being completely honest, there's a pretty significant difference between No. 1 and No. 2 on this list and an even bigger difference between the top two and the best of the rest. Coming in as the second-best big three in the league right now: Russell Westbrook, Kevin Durant, and Serge Ibaka of the Oklahoma City Thunder.
In 56 games played together, the group has been on the hardwood for nearly 1,479 minutes together this season, which ranks them second of all three-man lineups. Westbrook, Durant, and Ibaka have out-shot their opponents on net field goal percentage by a margin of 0.62% — a deceivingly high figure — and have done better at the free-throw line by a net total of .038%.
Other than the Golden State Warriors various groups of three — who occupy the top three spots for the best plus-minus for net points — the OKC trio of No. 0, No. 35, and No. 9 is the best at +349. All that's left to be proven for the three men pictured above is whether or not they can win an NBA championship together. If not, this may be Westbrook's team to lead and Durant may be shown the door.
1. Golden State Warriors (Stephen Curry, Klay Thompson, and Draymond Green)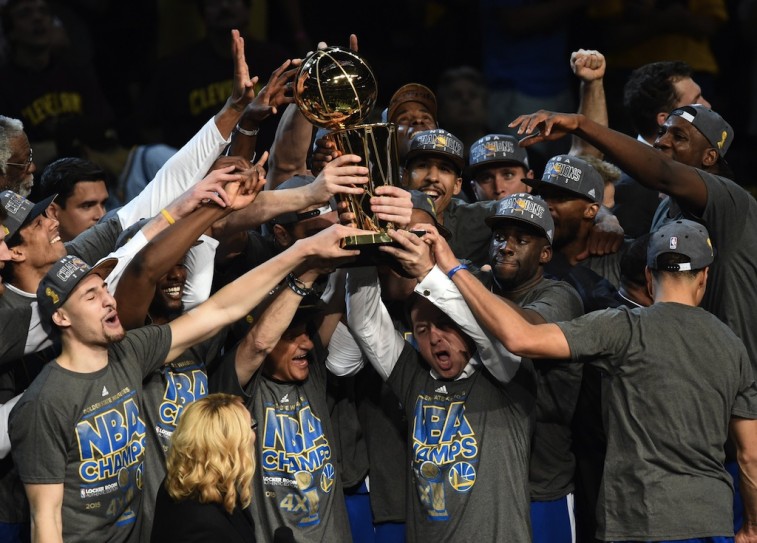 Here is yet another title to add to the Golden State Warriors' collection: best big three in basketball. The unstoppable Stephen Curry, the lights out sidekick Klay Thompson, and the fiery do-it-all man Draymond Green are No. 1. They pace the league in plus/minus net points for all three-man lineups at an astounding 640 and it's not even close.
To no surprise, the trio also leads in net three pointers made over their opponents, with a monster +259 advantage in that category. With Curry on a yearlong roll, Thompson nailing three-pointer after three-pointer, and Green racking up a triple-double nearly every week, this team is locked and loaded for another championship. Not only that, but the Bulls' record 72-10 regular season mark from nearly two decades ago is in real trouble of being broken. Good luck, everyone.
Follow Victor on Twitter @vbarbosa1127
Statistics courtesy of Basketball-Reference.com.