The 5 Best Defenders in the NFL Right Now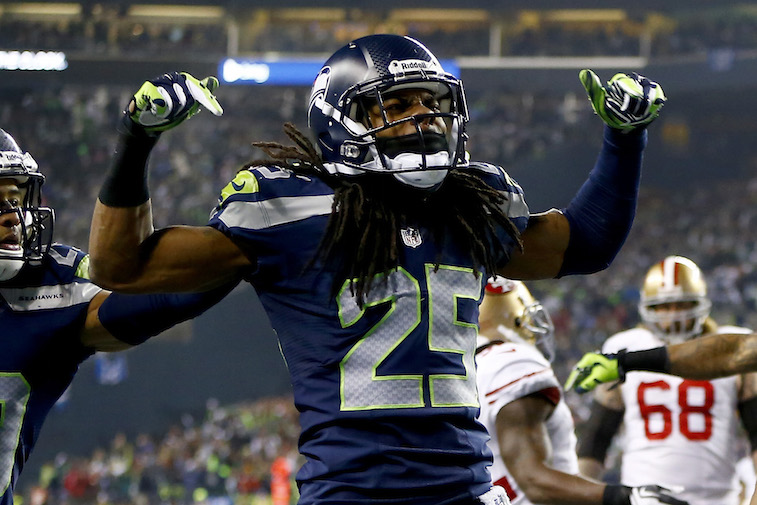 Today's NFL defense is often unappreciated and overlooked, especially when many contests quickly escalate into all-out shootouts between two high-octane offenses. Consider: Tom Brady has already racked up 1,112 yards and nine touchdowns, through three regular season games. Two seasons ago, in 2013, it was Peyton Manning who was torching the opposition for a record 5,477 yards and 55 touchdowns, over the top.
In recent years, rules changes prohibiting vicious hits on the quarterback and against wide receivers dragging across the middle have worked to open up offensive playbooks and video game-like statistics. In response, solid defenses appear committed to the "bend, but don't break" rule, where the unit may sometimes give up large chunks of yardage, but will dig in at key moments to come up with stops at the goal-line, and through the fourth quarter.
Fittingly, the best individual defenders in the NFL today are hybrid performers who can cover backs and receivers in space, crash down to the line of scrimmage to stop the run, and even rush the quarterback off the edge. For defense, versatility is now the name of the game, when no-huddle, option-read, and four-wide offensive sets have now evolved into standard attacks, instead of random and desperate gimmicks.
5. Luke Kuechly
Luke Kuechly is a tackling machine. In run support, Kuechly is especially adept at diagnosing formations, flowing toward the football, meeting the ball carrier at the point of attack, and blowing up the play, while in passing situations, Kuechly's athleticism allows him to keep pace with tight ends and backs out of the backfield.
For Carolina, Kuechly has filled in as a Day One starter and captain of the defense since being drafted with the ninth overall pick out of Boston College in 2012. As a rookie, he came up with 103 solo tackles, three fumble recoveries, two interceptions, and one sack. The following year, in 2013, he was credited with 96 tackles, four interceptions, and two sacks, en route to claiming Defensive Player of the Year honors.
Kuechly, however, has remained mostly sidelined through the early part of the 2015 season, after being felled by a concussion in Week One. After meeting and serving out the league's concussion protocol he will likely return back to in-game action by Week Four.
4. Richard Sherman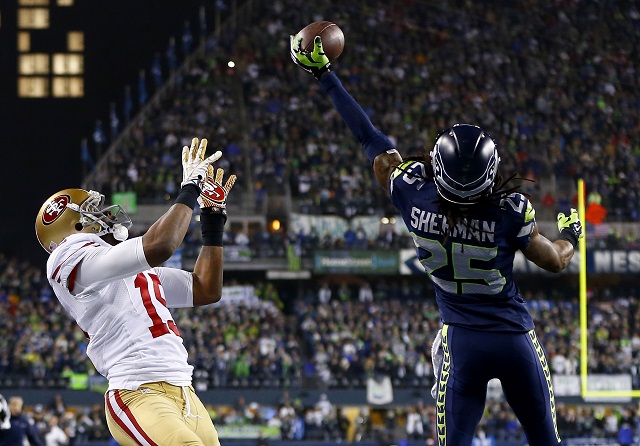 In 2013, Colin Kaepernick felt the pressure and threw up a prayer toward Michael Crabtree at the back of the end zone. Richard Sherman then demonstrated textbook technique, in keeping his eyes on the ball, pirouetting, and deflecting the ball into the air and away from the receiver with his left hand. From there, Malcolm Smith came up with the interception, to close out this bang-bang play and seal a 23-17 NFC Championship Game win for the Seattle Seahawks.
Sherman capped off this Super Bowl run by glaring into the camera and declaring himself as the best cornerback in the game of football. Sherman also took the time to shout out his Legion of Boom teammates, which now also includes the likes of Earl Thomas and Kam Chancellor as the backline of the Seattle secondary. Pete Carroll, with Sherman controlling his side of the field, has been free to dial up exotic blitz packages and tee off against opposing quarterbacks.
The Seahawks took Super Bowl XLVIII with a 43-8 blowout, after harassing Peyton Manning into two interceptions and one lost fumble on the evening. Last season, Seattle was second-and-goal at the one-yard line, before inexplicably signaling in a quick slant, and throwing a pick to lose the Big Game 28-24 – to the Patriot Dynasty.
The Seahawks, in their own right, have emerged as perennial Super Bowl contenders, with Sherman starring as the best ball-hawk in the game of football. Sherman, at 27, has already racked up 24 interceptions and taken two of those back to the house, for his career. Even Aaron Rodgers, gunslinger, has refused to test Sherman.
3. Justin Houston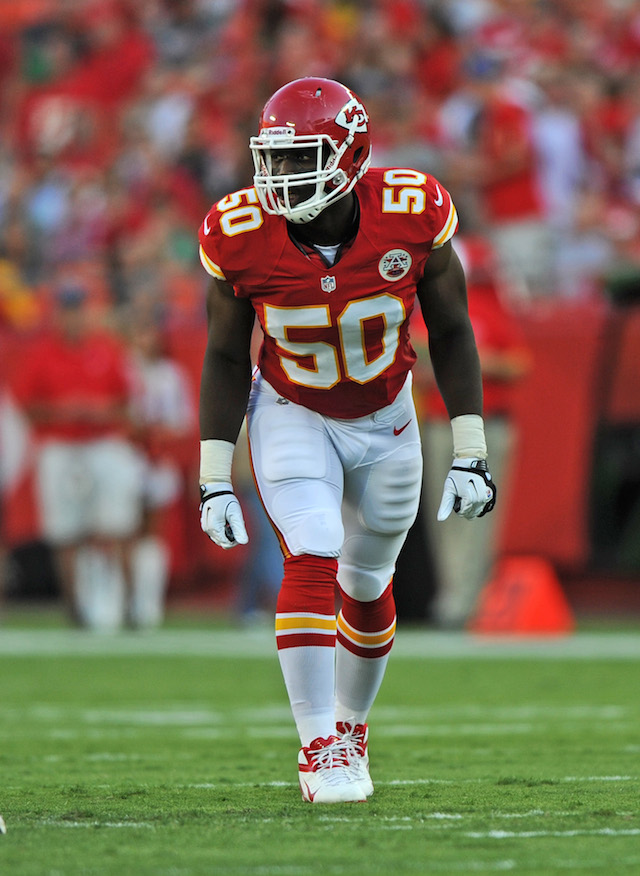 In recent years, Justin Houston has quickly and quietly emerged as the most prolific sack artist in professional football, above the likes of Von Miller, DeMarcus Ware, and Robert Quinn. The Kansas City Chiefs, earlier this offseason, rewarded Houston for his work by signing him to a six-year, $101 million deal, of which $52.5 million will be guaranteed money. The historic contract immediately made Houston the highest paid linebacker of all-time.
As a force, Houston is simply too quick for lumbering offensive tackles to contain, and too strong for backs and tight ends to grapple with in space. In passing situations, Houston will anticipate the snap count and explode off the edge towards the quarterback. When countered, Houston will often go into a bull rush, where he takes his man for a ride, right back into the quarterback. Last season, Houston led the league in sacks, with 22, and fell just one step shy of Michael Strahan's single-season 22.5 sack record.
With time, Houston will grow even more comfortable diagnosing plays and even dropping back off into pass coverage, as a complete 3-4 outside linebacker. Last season, Houston showed even more flashes of his athleticism, in patrolling the short zone and breaking up five passes to underneath routes.
2. Darrelle Revis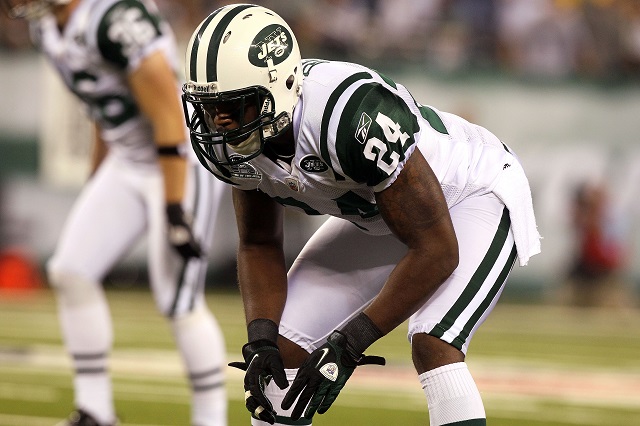 Darrelle Revis is the most complete defensive back in football. As a shutdown corner, Revis will often follow the other team's best receiver around the entirety of the formation, in one-on-one coverage. For nine seasons, Revis has matched up against the likes of Terrell Owens, Larry Fitzgerald, Randy Moss, and Reggie Wayne, and taken each of these future Hall of Fame players out of their respective games. Top receivers always find themselves waylaid on Revis Island.
Last season, as a Patriot, Revis only gave up one catch, through the AFC Championship Game and Super Bowl XLIX. In winning the Super Bowl, Revis helped limit the Seahawks to 247 passing yards in coverage, and even rushed the passer off the slot, to pick up one sack against Russell Wilson. Throughout his career, defensive minds Rex Ryan and Bill Belichick have never been shy about cheating Revis towards the line of scrimmage, for extra run support, or to even tee off on the quarterback, upon a delayed blitz.
This year, Revis is back in New York, as a Jet, after playing out his mercenary contract in New England. As a hired gun, Revis has been referred to as the "greatest negotiator" in the NFL. By 2017, Revis would have made more than $130 million for his career, after selling his lockdown services to the highest bidder, in the Big Apple, Tampa, and Foxboro. The Darrelle Revis skill-set will always be in high demand, in this pass-happy league.
1. J.J. Watt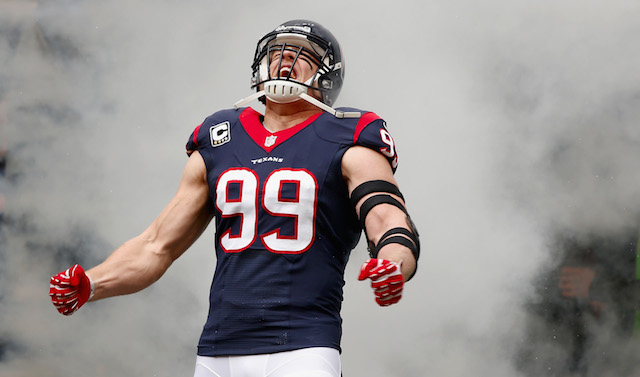 For several years running, various league insiders have highlighted J.J. Watt as an NFL MVP candidate. In 2013, Watt did receive 13 votes for the league MVP award that was ultimately won by Peyton Manning. If Watt were to claim the 2015 MVP award, he would be the first defensive player to do so, since Lawrence Taylor in 1986. In 1986, LT racked up 20.5 sacks, en route to leading his 14-2 Giants to the Super Bowl.
For his part, Watt has been everything for a Houston Texans franchise that has yet to put together a deep postseason run through its short history. At the line of scrimmage, Watt will cycle through each of the positions, to either stop the run, or rush the quarterback. Watt, of course, is most notable for his energy that fuels a relentless motor to put moves upon moves on offensive lineman and arrive at the point of attack. On any given Sunday, Watt will showcase an array of speed, bull rush, hump, and spin moves at the defensive front.
In 2011, Watt racked up 20.5 sacks. Two years later, in 2014, Watt again totaled 20.5 sacks. That year, Watt even accounted for five touchdowns, for a 9-7 Texans team. As a defender, Watt hauled in an interception and scooped up a fumble that season, to rumble a respective 80 and 59 yards to pay-dirt. For goal line sets, Watt would often report into the game as a tight end, and even caught three touchdown passes in 2014.
This season, Watt has already stuffed the stat sheet for three sacks, 15 solo tackles, and two pass deflections, through only three games of action. Certainly, Houston Texans fans remain hopeful that Watt will ultimately pair up with a healthy Jadeveon Clowney, to wreak havoc out on the edge, for years to come.