The 5 Best Enforcer Nicknames in NHL History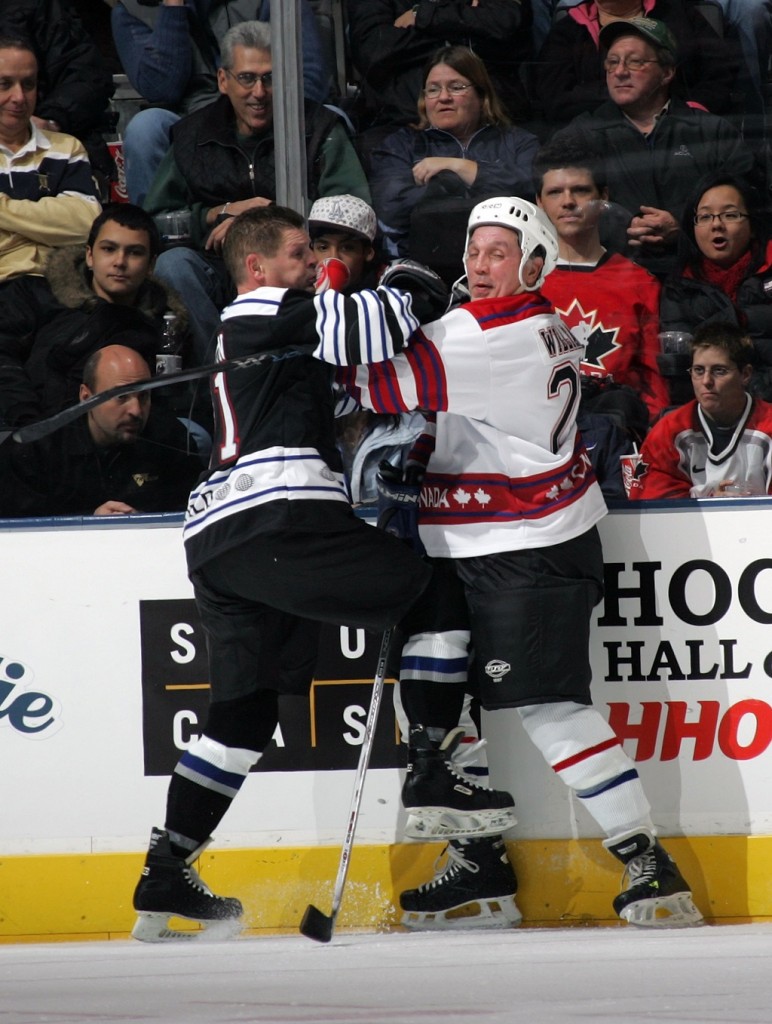 Nicknames in the National Hockey League have become boring and frankly, pretty lazy. These days it seems like players just add a "y" or an "r" or an "ie" to their teammates last name and call it a day. For every player with a witty nickname like "The Embalmer," or "The Rat," you have ten or more that go by something pedestrian like "Jonesy" or "Kaner."
For the most part, hockey nicknames today lack imagination or effort.
Historically, the players with some of the best and most colorful nicknames have been the players that earn their salary with their fists. You know, the fighters, the enforcers, the goons, whatever you want to call them, the guys that are continuously getting five-minute major penalties and stitches, plenty of stitches. Like the witty nicknames of days gone by, enforcers are slowly being phased out of the NHL. So, what better way to salute both nicknames and enforcers than to put together a list of the best enforcer nicknames in the history of the NHL.
You're not going to find any careless nicknames on this list, just nicknames that have some meaning behind them. Nicknames that let you know what kind of game the player with that nickname plays once he is on the ice and about to punch a player from the opposing team in the face. Here are the five best enforcer nicknames in the history of the NHL, and my apologies to fans of Derek "Boogeyman" Boogaard, who just missed making this list.
1. The Hammer
Mention "The Broad Street Bullies," to a hockey fan and you'll soon be discussing one of two players, Bobby Clarke or Dave Schultz. Clarke was the undersized player who earned his status as an all-time great through a mixture of work ethic, skill, tenacity and toughness. He was also a pest on the ice, getting under the skin of the opposition and that often caused the opposition to strike back physically. That's where Schultz came in.
Schultz was the Philadelphia Flyers enforcer, and if a member of the team got too squirrely, they would have to deal with the man who was known as "The Hammer." The hammer in question being Schultz's right hand. In addition to playing for the Flyers, Schultz played for the Los Angeles Kings, Pittsburgh Penguins and Buffalo Sabres. He would finish his career with 535 games played in the NHL, 200 points (79G, 121A) and 2,294 penalty minutes. Schultz's 472 penalty minutes during the 1974-75 season, are an NHL record for a single season. His 2,294 career penalty minutes rank him 35th all-time.
2. Knuckles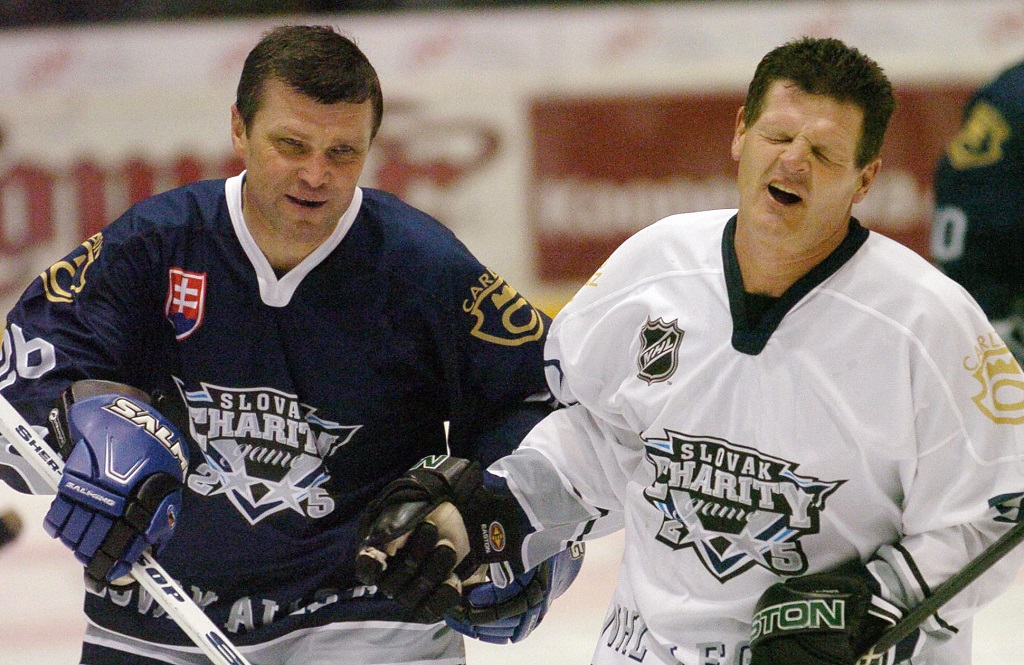 Chris Nilan was the enforcer for the Montreal Canadiens, starting with the 1979-80 season and ending with the 1987-88 season. During that time, Nilan's penalty minutes never dipped below 200. He led the NHL in penalty minutes twice in his career, racking up 358 in 1984-85 and 338 in 1983-84. Nilan's penchant for fighting earned him the nickname of "Knuckles." In addition to playing for the Canadiens, Nilan played for the New York Rangers, and his hometown Boston Bruins. He would finish his career in 1992, back with Montreal.
Nilan played in 688 NHL games, scoring 225 points (110G, 115A) and earning 3,043 penalty minutes. His penalty minute total ranks him 9th all-time. In a note unrelated to hockey, Nilan married mobster Whitey Bulger's stepdaughter, Karen. Allegedly Bulger gave Nilan some advice on dating Karen in the early days of their relationship — that advice was delivered at the end of a gun.
3. The Grim Reaper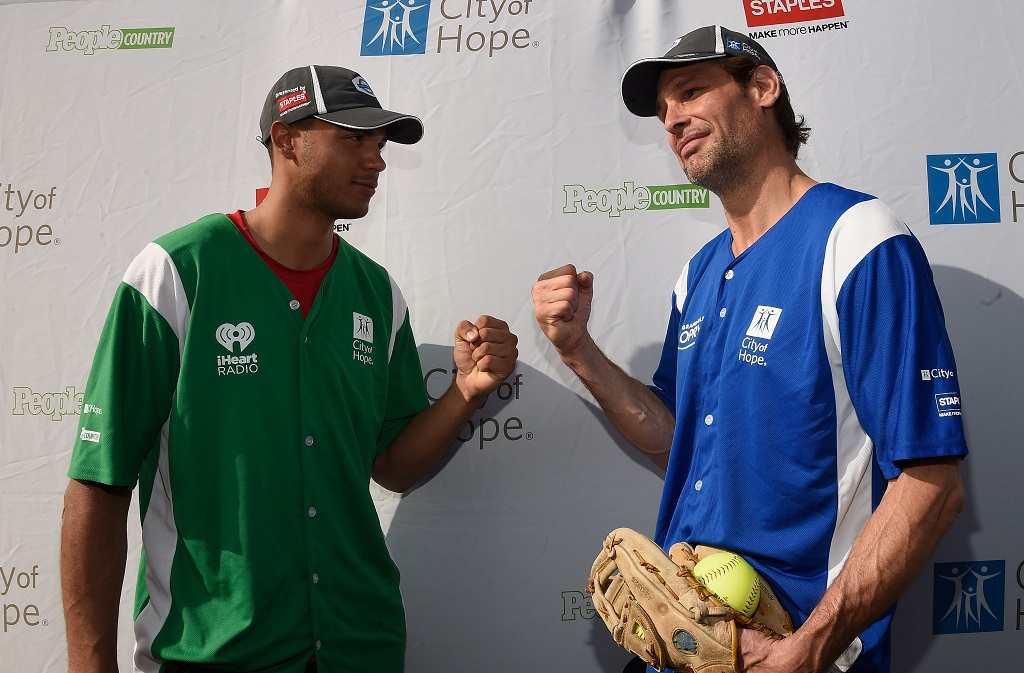 Never was a nickname so fitting on the ice and so wrong off the ice. On the ice, Stu "The Grim Reaper" Grimson (above, right) was a feared enforcer, off the ice he was a born-again Christian. After his playing days ended, Grimson obtained his law degree and became an attorney. He was In-House Counsel for the NHL Player's Association for several years before joining a Nashville law firm. Today he works for the Nashville Predators as a color analyst during the team's TV broadcasts.
Grimson played 729 games in the NHL, making stops in Calgary, Chicago, Anaheim, Detroit, Hartford, Carolina, Los Angeles and Nashville. The well-traveled Grimson scored 39 points (17G, 22A) during those 729 games and put up 2113 penalty minutes. Those numbers should give you an indication as to what his role was wherever he played. Grimson ranks 44th all-time in penalty minutes.
4. The Bruise Brothers
This is a two-for-one. "The Bruise Brothers" were Joe Kocur and Bob Probert, and they were tagged with that nickname when they played together for the Detroit Red Wings between 1985-86 and 1990-91. Their main job during that time, protect Red Wings star, Steve Yzerman. They did that job well. Kocur led the NHL in penalty minutes in 1985-86 with 377, while Probert led in 1987-88 with 398 penalty minutes, which is a Red Wings team record. Probert also has the Red Wings team record in career penalty minutes with 2,090, impressive since he played less than 10 seasons for Detroit.
Probert also played for the Chicago Blackhawks. Kocur played for the Rangers and Canucks in addition to Detroit. Probert's 3,300 penalty minutes rank him 5th all-time, while Kocur comes in at No. 20 with 2,519. Probert retired with 384 points (163G, 221A) in 935 games. Kocur played 821 games before retiring with 162 points (80G, 82A). He died of a heart attack on July 5, 2010, he was 45 years old.
5. Bloody
Terry O'Reilly was a member of the Boston Bruins when the team went by the nickname of "The Big, Bad Bruins." O'Reilly was the main enforcer on that club and most remembered for going into the stands at Madison Square Garden in December 1979 and fighting with fans. (you can see that above)
O'Reilly was never afraid to defend his teammates, and he had plenty of stars to protect through his years with the Bruins, including Hall of Famers Bobby Orr and Ray Bourque. Bloody would play his entire career in Boston, even going on to captain the team for two years. He played 891 games for the team, scoring 606 points (204G, 402A) and hitting 2,095 penalty minutes, which ranks him 45th all-time in the NHL, and first all-time with Boston.
O'Reilly would finish his playing career in 1985. He would coach the Bruins for three seasons, taking the team to the Stanley Cup Finals in 1988 and amassing a career record of 115-86-26.
All statistics courtesy of Hockey Reference.