The 5 Best Football Helmets With NBA Logos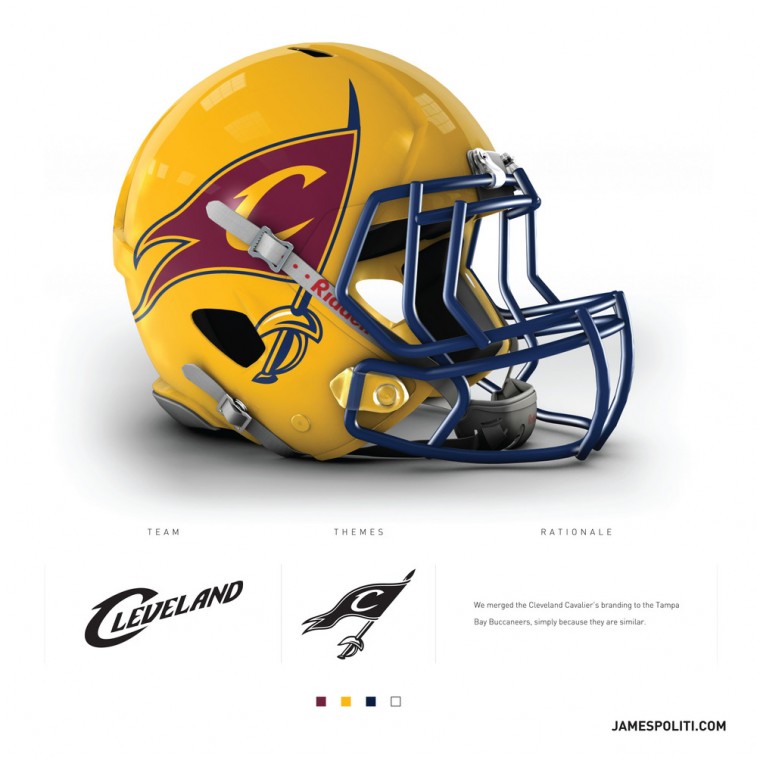 Despite being wrapped up in craziness that's been the 2015 NBA free agency period, that doesn't mean we aren't well aware that NFL training camps get underway in just a few short weeks. Believe us, were are. And we are super excited. But that doesn't mean we can't take the time to recognize when two of our favorite pro sports fuse together to form completely original equipment. What are we talking about? NBA-inspired football helmets.
Don't worry, you read that correctly — the NBA meets the NFL and time stops for a second on account of the beauty of the possibility. We've taken the time to acknowledge other amazing football helmet designs — whether it's an homage to Marvel or a salute to Star Wars — so we need to carve out a block to recognize a new level of cool, courtesy of graphic artists James Politi and Luke Daly.
If you've ever wondered what it would be like "If the NBA Had Helmets," you're in luck. These two gentlemen made it happen. We took the time to look over and analyze each of these designs and, we have to admit, we were impressed. However, some lids still managed to grab our attention more than others. And we thought it was only right to pass along these opinions
With that in mind, here's a look at the top five NBA-inspired football helmets.
1. Los Angeles Lakers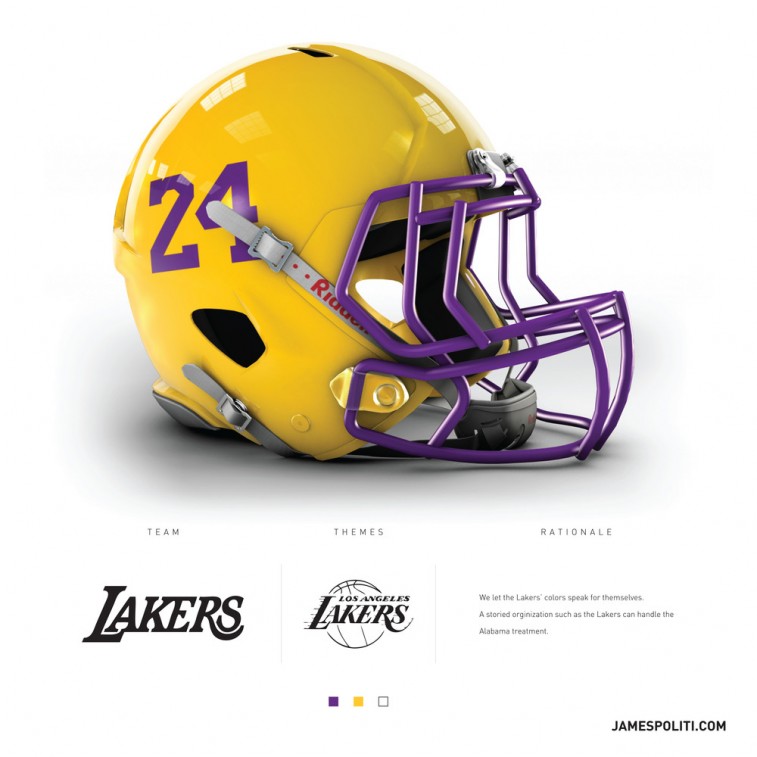 The Los Angeles Lakers are purple and gold. There's no reason for this organization to try and be anything else. With the tradition, banners, and history of excellence, why wouldn't the franchise want to embrace its roots?
Therefore, we love how James and Derek took that idea to heart. This completely gold lid is lively, vibrant, and smooth. Making both the face mask and numbering purple is a beautiful touch — and really goes to show how well these colors complement each other. As was written in the rationale: "We let the Lakers' colors speak for themselves."
We have no issues here. And we're sure that Kobe Bryant would be more than proud to strap on this helmet.
2. Boston Celtics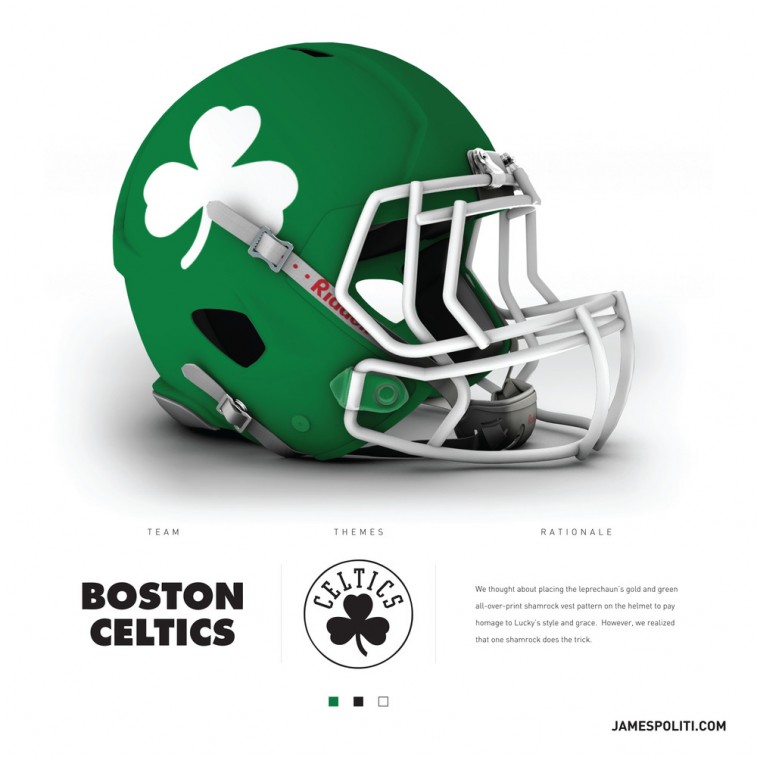 Sticking with the traditional side of the National Basketball Association, there's something so timeless about anything affiliated with the Boston Celtics. What makes this helmet so gorgeous, is that it's tribute to the franchise is so understated and effortless.
On account of this franchise being straightforward and no frills, there's no need for this helmet to be shiny. As a result, choosing to use a matte green tint is simply perfection. On top of that, just feature a bold white shamrock on the side and there's not a single basketball fan on the planet who won't recognize the Celtic pride.
Just looking at this helmet makes us feel lucky. There's nothing wrong with that.
3. Chicago Bulls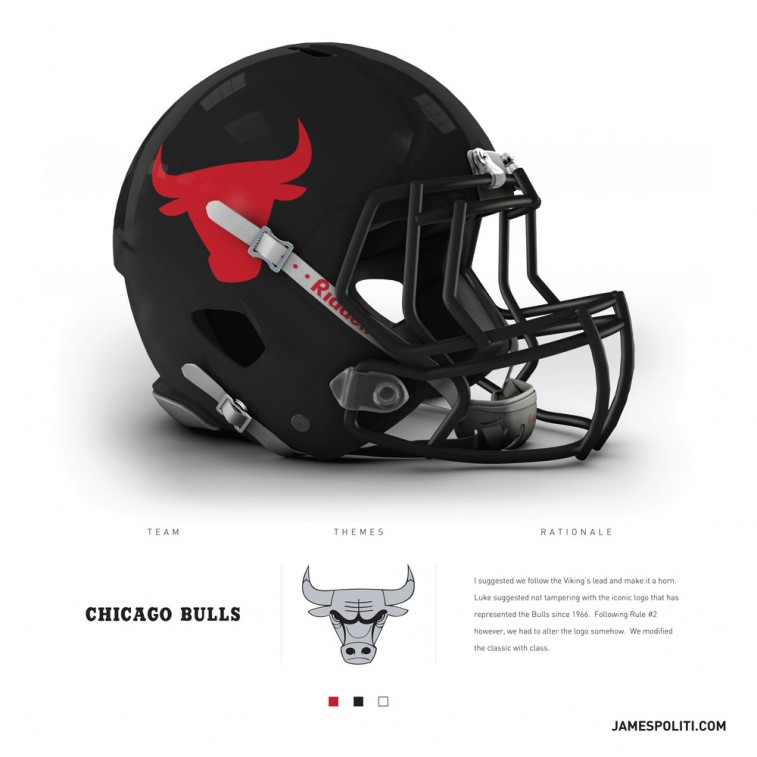 The red and black colors of the Chicago Bulls are so strong and bold. We like how James and Derek didn't try to do too much with this helmet but, rather, let the tones speak for themselves. They could've easily tried to get crafty and make the entire lid red and put a black bull on the side. Yet, they didn't. And we're glad about that.
This helmet is tough, modern, and super clean. We love the solid red bull logo and it just pops off the all black helmet. If we had to line up against someone wearing this top, we couldn't help but be a bit intimidated. We have to believe that was part of the point. Kudos to this design. It honestly makes us want to "Be Like Mike" even more.
4. Toronto Raptors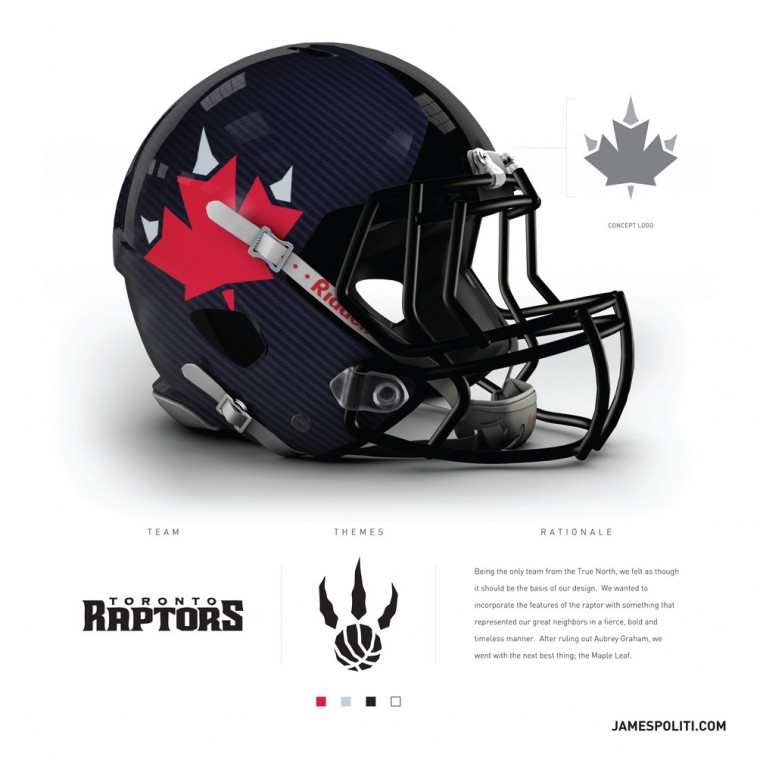 The Toronto Raptors get an incredibly well-crafted football helmet. The textured backdrop on the side is the first thing that stood out to us. It's a nifty design and forces the observer to pay closer attention to all the little detail in the helmet. And there is plenty.
We were also impressed with how James and Derek managed to stay true to the Raptors logo, while also paying homage to the country of Canada as a whole. It shows the incredible time and thought that must've gone into creating this excellent lid. Per the rationale behind the helmet:
"Being the only team from the True North, we felt as though it should be the basis of our design. We wanted to incorporate the features of the raptor with something that represented our great neighbors in a fierce, bold and timeless manner. After ruling out Aubrey Graham, we went with the next best thing: the Maple Leaf."
They shot and they scored. No doubt about it, eh.
5. Portland Trail Blazers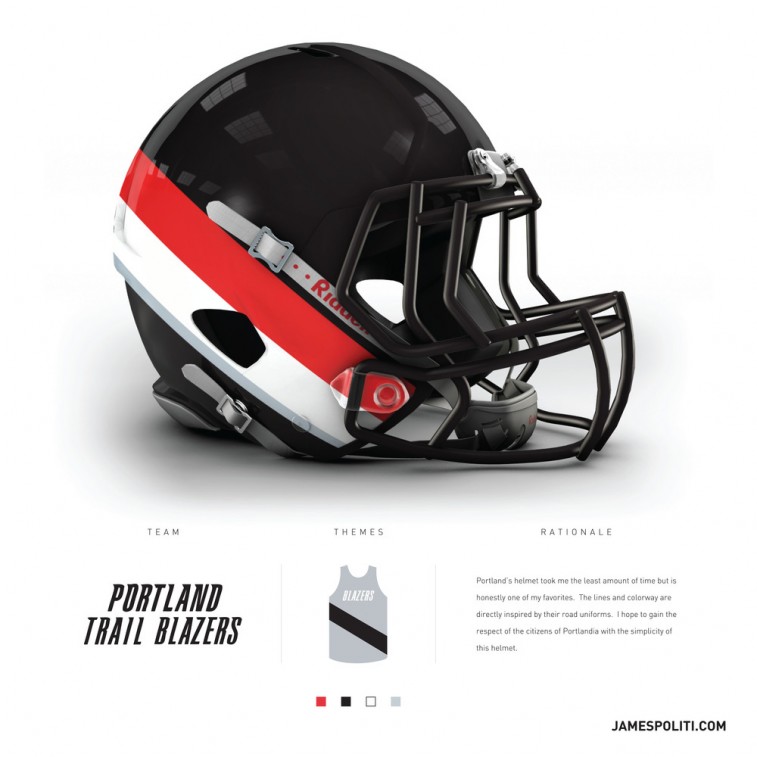 On account of the colors and symmetrical flow of the pattern, the Portland Trail Blazers manage to have some of the cool ties to their brand. Whether it's the upcoming Christmas Day uniforms or the absolutely bomb throwback jersey, there is no stopping the power of the Blazers' shield.
Simple,bold, and fluid, these stripes are effortless and powerful all at the same time. We wouldn't change a thing about this design. Not. One.
Superstar LaMarcus Aldridge may have opted to up and bolt to the San Antonio Spurs in free agency, but there's no way he did it because he didn't love the Trail Blazers gear. This helmet is simply another slam dunk in the organization's evolving repertoire of swag.
To see the rest of the NBA-inspired football helmets, click here.