The 5 Best Hispanic NFL Players of All Time
The NFL has a rich, albeit limited history of Hispanic players rising through the ranks to become some of the best to ever play football. This hasn't stopped these Hispanic athletes from working hard and becoming star NFL players, Hall of Famers, and names we remember fondly to this day.
5. Jim Plunkett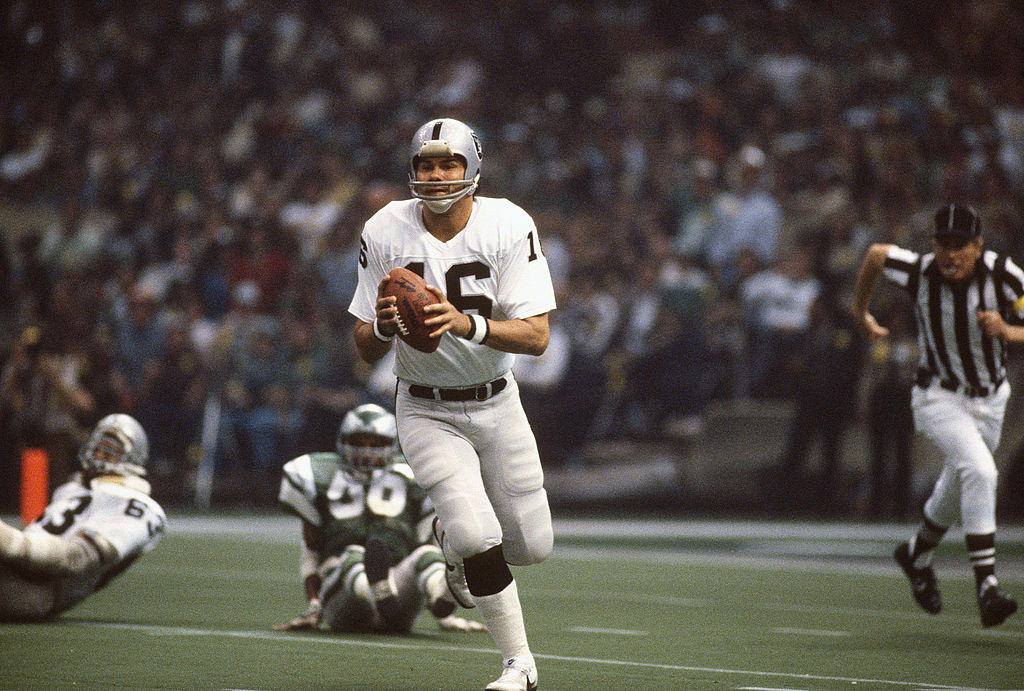 This NFL player had a tough path to the NFL. His parents, both Mexican-American, were blind, and Jim Plunkett had to work hard to make ends meet for his family.
At Stanford, he developed a tumor on his neck, and while it was benign, his game suffered. Plunkett had an amazing final season, however. He was the No. 1 pick in the NFL draft. He began his career traveling around the NFL, first with New England, then San Francisco.
Eventually, Plunkett made his way to Oakland, where he rode the bench until quarterback Dan Pastorini broke his leg. Plunkett led the team to the Super Bowl XVIII, where the Raiders won in part due to his MVP show.
4. Tony Romo
Perhaps the most recognizable Hispanic football player of the modern era, Tony Romo ran the Cowboys' offense with consistency and competitiveness. Although the wins and losses did not always work in his favor, he was consistently one of the best quarterbacks in the NFL.
Romo threw for 34,183 yards, 248 touchdowns, 2,829 completions, and 117 interceptions throughout his 13-year NFL career. He has never been overly vocal about his Mexican heritage.
3. Ted Hendricks
At 6-foot-7 and 220 pounds, Ted Hendricks was built like an NBA player in an era where men built like that were even rarer. Born in Guatemala, Hendricks boasted a successful football career at the University of Miami's legendary football program before the Baltimore Colts selected him in the second round of the NFL draft.
From there, he secured his legacy as one of the greatest linebackers ever. Hendricks played in 200 games, caught 26 interceptions, and proved to be an absolute terror on the defensive end. He was an eight-time Pro Bowler, a four-time All-Pro player, and a four-time NFL Champion.
2. Anthony Munoz
Anthony Munoz is one of the greatest offensive linemen to ever play the game. He first made his name at USC, where he played for four years. Despite some injuries in college, Munoz was able to impress scouts enough to make it into the NFL draft. He worked hard to make sure that his NFL career was no fluke, and it paid off.
Munoz was an 11-time Pro Bowler, and despite his college injuries, was a healthy presence for most of his career.
1. Tony Gonzalez
Tony Gonzalez may be the greatest to ever play at his position. The tight end was bitten by the athletic bug at an early age, and starting with his days at Cal, he quickly rose up the ranks. Gonzalez played 17 years in the NFL and rarely missed a game. The performances he put up on a game-to-game basis at Cal and the NFL still hold up to this day.
Gonzalez was a 14-time Pro Bowler and six-time All-Pro player. He had 1,325 receptions, 15,127 receiving yards, and 111 touchdowns in his career. This year, Gonzalez entered the Hall of Fame. Now retired, Gonzalez can be heard on NFL broadcasts, where he continues to find success.