The 5 Best Individual Performances in the NBA This Season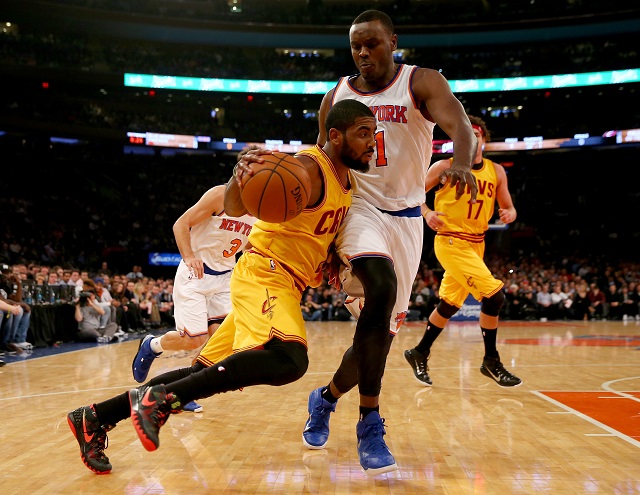 It will be almost impossible for anyone in the NBA this season to match the triple-double stretch that was unleashed by Oklahoma City Thunder guard Russell Westbrook. It's the type of multi-streak that gets people talking about individual hardware. However, when a player puts up a ridiculous amount of points in a single game, that type of performance deserves acknowledgment as well. Which is why we have to tip our hat to Cleveland Cavalier star Kyrie Irving; this kid showed us something special.
On Thursday night, the Cavaliers beat the San Antonio Spurs in overtime 128-125, and that never would've happened had Irving not been able to put up 57 points. The former Duke Blue Devil couldn't miss a shot and he pretty much willed the Cavs to victory. This is one of those scoring outbursts that people will remember for quite some time. And yet, Irving is not the only player in the NBA this season to light up the scoreboard. So where does this performance stand in comparison to the rest? Let's take a look with the five best individual performances in the NBA this season.
4. Stephen Curry
Points scored: 51
Golden State's Stephen Curry turned into a one-man wrecking crew on February 4, 2015, during a home game against the Dallas Mavericks, when he dropped 51 points. In the Warrior's 128-114 victory, Curry was a cool 16-for-26 from the field, knocking down 10 three's for good measure. He also shot 9-for-11 from the charity stripe, and rounded out his individual box score with 4 rebounds and 4 assists. The home crowd at Oracle Arena were treated to an evening of electric play featuring Curry's sensational dribbling skills and his unconscious stroke from the outside. It's performances like this that put Steph Curry in the MVP conversation.
3. Mo Williams, Klay Thompson (tie)
Points scored: 52
Guard Mo Williams (in video) used the January 13, 2015 contest against the Indiana Pacers to set a career high and Minnesota Timberwolves franchise record with 52 points in a single contest. Williams connected on 19-of-33 shots, including 6 three-pointers. Despite this crazy scoring outburst, Williams did manage to keep his teammates involved with 7 assists on the evening. The Timberwolves would also win the game 110-101, snapping a 15-game losing streak in the process.
Stephen Curry had his moment but, on January 23, 2015, against the Sacramento Kings, the stage belonged to his fellow Splash Brother, Klay Thompson. His insane 52 points would come on 16 field goals, with 11 of them connecting from beyond the arc. It was also during this 126-101 victory for the Warriors that Thompson exploded in the third quarter for 37 points on his own; a new NBA record. That's a hot hand right there.
2. Kyrie Irving
Points scored: 55
With LeBron James sidelined for the Cleveland Cavaliers game against the Portland Trail Blazers on January 28, 2015, it was up to point guard Kyrie Irving to step up and take charge; and that's exactly what the 22-year-old did. His 55 points came on 17 field goals, with 11 of them three's, and a perfect 10-for-10 from the free-throw line. Uncle Drew was an absolute showman on this evening, and his performance even had James jumping up and down for joy on the sidelines. However, he would find a way to top this outburst with a career-defining performance on …
1. Kyrie Irving
Points scored: 57
… March 12, 2015. It's one thing to catch fire on your home court, but it's a whole different story totake over the game, on the road, against the defending NBA Champion San Antonio Spurs. Irving was simply spectacular shooting 20-of-32 from the field, including 7-for-7 from three-point range and a perfect 10-for-10 from the line. LeBron James may have scored 31 points, but it was Irving's 57 that allowed the Cavaliers to beat the Spurs in overtime. Kyrie's game-tying three-pointer at the buzzer is the type of shot that launches a player into the next level of superstardom. Welcome to the big time, Kyrie Irving.
All statistics are courtesy of Basketball-Reference.com and ESPN.go.com.