The 5 Best Landing Spots for Tony Romo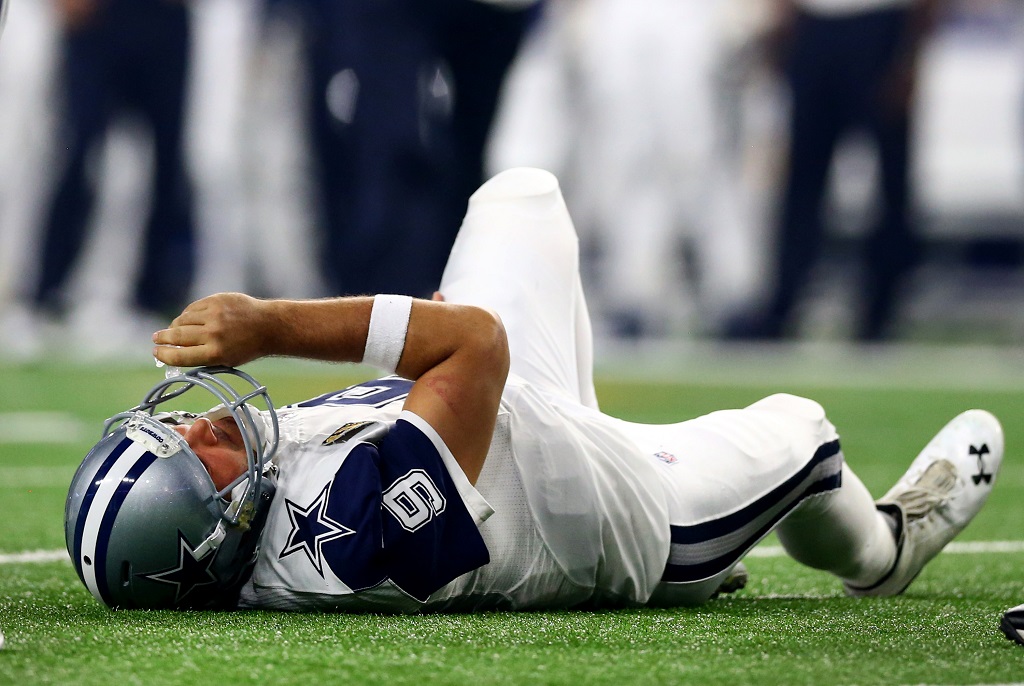 The best word to describe Tony Romo's style of play, in-game attitude, and impact on the Dallas Cowboys is an unofficial portmanteau called "gritiot," meaning that he possesses equal amounts of grit, or toughness, and idiocy — much the same quality that allows him to throw for 500 yards and a game-losing interception in the same two halves, or forces him to come back from an injury earlier than perhaps he should in an effort to help his team win.
Cruel as it sounds, it wasn't surprising that Romo went down with another collarbone injury during a Thanksgiving Day matchup against the Carolina Panthers. It's also not surprising that the game was as lopsided as the final score (the Cowboys lost 14-33). Dallas can't really win without Romo, at least not this year, but it's also clear that they need a contingency plan for a world without No. 9 under center.
We saw some of this back in Week 2, when Romo suffered a broken clavicle against the Eagles and the Cowboys were forced to look inward for answers. Spoiler alert: Things didn't get much better for the squad, as they have gone 1-7 since that game against Philly. This time, with Dallas's postseason hopes firmly up in smoke, we've decided it's not worth looking at who could replace Romo for the rest of their suddenly-meaningless season. No, now we're curious about where Tony could decamp to, if it was decided that greener pastures might be his best bet.
To be clear, there's a couple of things standing in the way of this list becoming a reality. One of those things is Jerry Jones, who will almost certainly keep Romo on the roster as long as he's healthy enough to play, and the other is the quarterback's contract, which presents difficulties in trading or cutting the veteran for at least another year, realistically speaking. But realism be damned, we're talking about the speculative here, which is almost always more fun and definitely more contentious. Here are five landing spots for the Romocoaster we'd love to see.
 5. Houston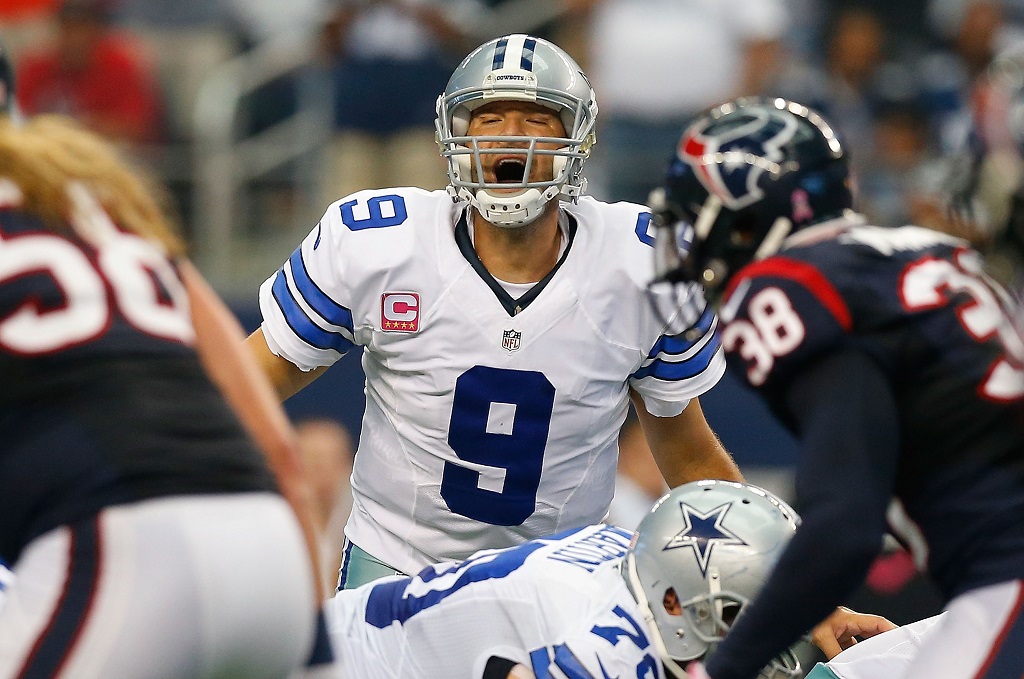 Not only would this catapult Houston and Dallas toward being the greatest interstate rivalry in NFL history, but the fact that Houston would be a great team if they only had a quality quarterback can't be underestimated (this was more true a couple seasons ago, of course, but we've got to roll with what we've got).
While the Texans have turned into a bit of a meme in the last sixth months — think back to every time you've heard some variation on "if only the team could roster 52 J.J. Watts" this season — the fact remains that Romo would be an on-paper upgrade at the QB spot, and it could be one of the ingredients to push what is a .500 team (in spirit and actuality) over the hump.
4. San Francisco
Same song, second verse, although it's worth noting that the Niners are way worse than the Texans at the moment, and are looking to rebuild away from the Harbaugh era (if you're being cynical you can say that they're avoiding winning, too) by starting fresh; not typically the right scenario for a 35-year-old looking to add a ring to his resume before retiring from the NFL. On the other hand, it would be some kind of perfect to watch Kaep and Romo exchanging "are you kidding me" glances on the sideline as the Levi Stadium field continues to degrade before their eyes.
3. Cleveland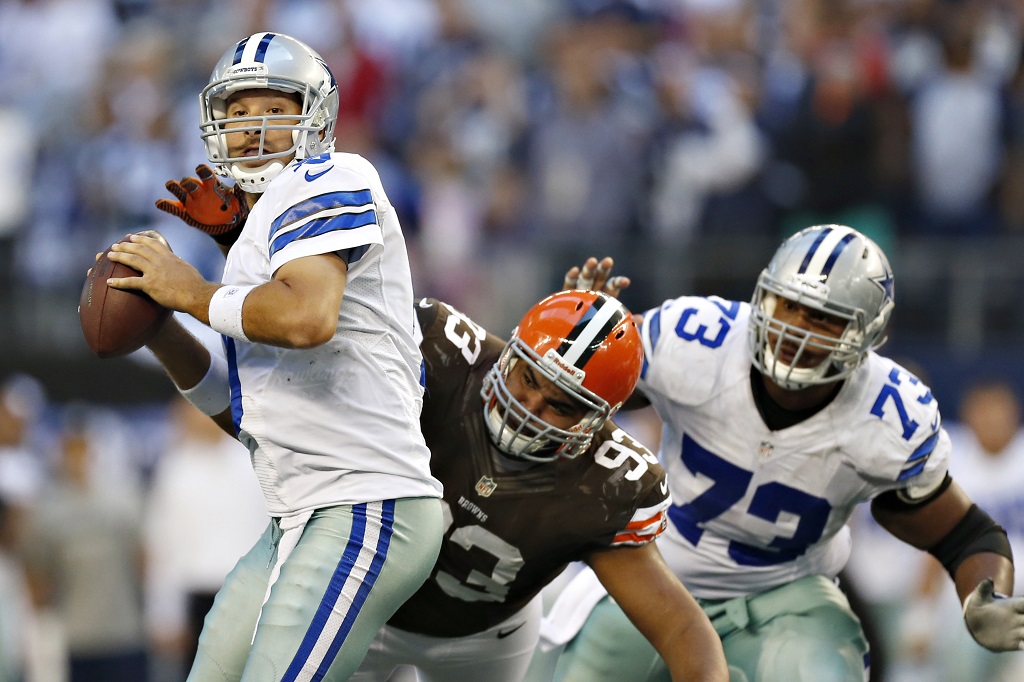 If we're being perfectly honest, this is the pairing that we'd most like to see — and the one that NFL fans deserve. Cleveland is in the midst of another quarterback crisis, and with Johnny Manziel in hot water with the organization for his off-field behavior, what better option do they have in the near future than Romo? Remember, this is a totally hypothetical situation, so either the Browns draft another promising QB (and, by implication and fact, ruin his career) or they wind up with Romo; a player who is the portrait of optimism even when playing disastrously. If nothing else, the Cleve deserves some hope, and Romo is the right mix of talent and unpredictability to bring out that hope. And then snuff it out. Because Cleveland.
1. Washington and Philadelphia [tie]
For Washington: Looking to divest themselves of the mobile quarterback experiment once and for all, Dan Snyder's squad decides to pick up the most stationary signal caller this side of Peyton Manning and gamble on the fact that, post-injury, No. 9 will fit the bill as well as anyone, while also being more talented than both. Like Kirk Cousins but better!
For Philly: This is perfect. Not only does the team get to send off Chip Kelly with a player who is anything but the replaceable, NCAA-style cog that Kelly has been wanting for his entire tenure with the pros, but Romo is easily the best QB that the team will have had in years — handily beating out Mark Sanchez and Nick Foles in the grand scheme of "really good at throwing a football." In fact, should this happen (which it won't) it could potentially go down as a second Herschel Walker trade, as Philly cleans house on the odds and sods Kelly had hoarded in the attic that is his roster for a big name in a position of need. C'mon, you're excited about the idea.
Romo is slated to miss the rest of the 2015 NFL season. We wish him a healthy recovery.