The 5 Best Moments From the NBA Playoffs: Round 1 Edition
Now that Round 1 of the NBA playoffs is safely in the books, complete with a catch-your-breath-and-get-ready turnaround from the Spurs blowing out the Dallas Mavericks on Sunday afternoon, the first game of Clippers versus Oklahoma City is queuing off tonight in a series that promises to test the emotional range of all NBA fans, regardless of team affiliation. The series, along with Spurs versus Trail Blazers, will also surely test the effects of sleep deprivation on hoops-heads who don't happen to live on the West Coast. Seriously — did anyone get any sleep over the last two weeks when the late games were on? We didn't, and it was awesome.
The second round looks rife with even more epic basketball: The Brooklyn Nets, and especially KG and Pierce with the Brooklyn Celtics facing down LeBron and co. for what might be the last time. What about Blake and CP3 head to head with Westbrook and KD? Tim Duncan's Last Charge? We would be remiss if we didn't give a nod to the awesomeness that was this year's Round 1.
After all, 2014 saw the most playoff games played (50), the most overtime games (8), the most lower-seed victories (24),  and only one super lame officiating decision that directly impacted a series in a way that could be advancing the league's star-driven agenda (suspending Zach Randolph for the Thunder/Grizzlies Game 7.) That said, here are the five best moments from the first round of the 2014 NBA playoffs.
5. The Indiana Pacers remembered that they were the Indiana Pacers
The abrupt degradation trip of the Indiana Pacers has made up a significant amount of the post All-Star Break NBA news, but in case you've just emerged from a two-month sojourn of the soul or something else that kept you away from the Internet and TV, we have the Cliffs Notes. The Pacers were the league's best team for much of the early season, storming out the gates, accumulating buzz, garnering accolades, and serving as a great narrative device about the power of teambuilding and playing the right way.
Then it all went downhill. Their starters played a metric ton of minutes, their offense got weaker than Tracy McGrady's knees, and they started audibly arguing about their problems in front of journalists. It culminated in this — the lowest of the low points during a playoff matchup with the Atlanta Hawks that the Pacers seemed destined to blow.
So it was good to see the Pacers play Game 7 like they were The Indiana Pacers rather than 'the indiana pacers.' Hopefully, their revival continues on when they face the Washington Wizards, or else John Wall, Bradley Beal, and the former laughingstock franchise will be all the way in the ECF before Gilbert Arenas can say "pow!"
4. Vince Carter: More Clutch at 37 than at 27
Vince Carter, once renowned as one of the greatest dunkers in NBA history, has never had a reputation of being a particularly clutch player. For all his physical gifts, the knock on Vinsanity was that he never seemed to put it all together with that often-vaunted, Jordanesque 'killer instinct' that pundits and fans crave out of their super-stars. Vince Carter's biggest sin was that he didn't seem to care about basketball more than anything else, and that he wasn't sociopathically drawn to victory at all costs. Also, that he totally quit on the Raptors.
3. The Four Point Plays, courtesy of Kevin Durant and Steph Curry

A toss-up between the two best shooters in the game (even if Carmelo remains a more versatile scorer than KD by virtue of actually having a post-game), both OKC's Kevin Durant and Golden State's Steph Curry reminded viewing audiences everywhere that any conversation that has to do with jumpshot buckets needs to start and stop with them. Durant's came with sixteen seconds left in regulation during Game 2, helping to force an overtime that would ultimately end up in a Thunder loss. But still, look at this shot. Falling sideways out of bounds, contorted around Marc Gasol — who is a mere 7 feet tall — with no backboard from 23 feet away.
While the stakes were arguably lower for Steph Curry, who's four-point play came in the closing minutes of the second-quarter of Game 7, the shot was no less ridiculous. Coming off of a broken play, Curry launched a fadeaway three against a double-team and got the And-One. He also followed it up with a half-court buzzer beater (which didn't count, but still.)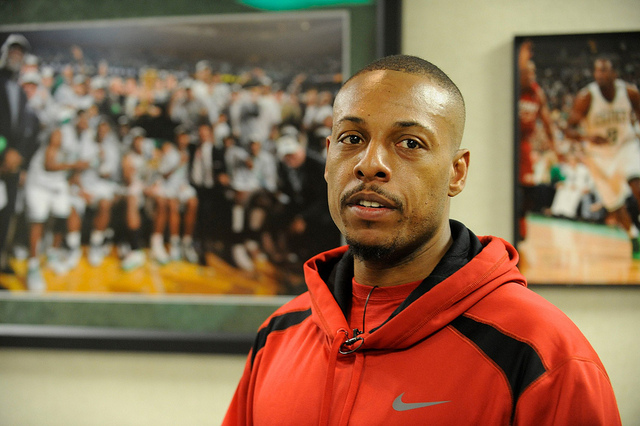 2. Paul Pierce and Manu Ginobili remain the national faces of Hateraide

That, right there, is one of the two faces of Hateraide, the official drink of dream-crushers everywhere. While Paul Piece has long been noted for his soul-crushing nature, he once again basked in the joy of a million excited voices suddenly snuffed out at once. With his defense. (LeBron, when asked about his biggest rival, said Pierce on the Celtics. Not Kobe. Not KD. Paul "how do I do this when I look so slow" Pierce.)
While Pierce has always been an underrated defender, this might be the single most memorable block in his oeuvre. Watch it again — and again, and again, if you're into schadenfreude — below.
As for Manu, he didn't have a game-winning play so much as he facilitated the entire first-quarter of Spurs/Dallas. The first-quarter that ended with a 12 point lead for San Antonio and 35 points on the board for the silver and black. Ginobili, who is the best passing SG in the game when he's healthy, nailed an in-the-air bounce pass to Tim Duncan that went around Dallas Center Brandan Wright that you can see at about the one minute marker in the highlights below. If you saw it live, you know what we're talking about. Ginobili is magic, and he put his foot on the throat of Dallas's playoff dreams from the word go. Watch the highlights below.
1. Damian Lillard channels Brandon Roy, hits game winner over the Rockets
Every NBA fan who didn't know what Damian Lillard — aka Dame, aka the latest and greatest point guard from the floor general stronghold of Oakland, California — was about before this playoff series sure knows it now. Lillard sent the Houston Rockets home unhappy after just six games. In case you haven't seen the clip (because sometimes the inexplicable happens like that), here's his overtime buzzer beater.
Seem familiar? For long-time Blazers fans, the phrase "a deep three point buzzer beater" to beat the Rockets with less than a second left brings to mind another play entirely, in a galaxy not-so-far away, when Brandon Roy (now retired) hit almost the exact same shot in 2008 (side-by-side comparison below.) The similarities are uncanny, Damian Lillard is awesome, and the Blazers are going to need every ounce of that skill and finesse if they want to have a chance at beating San Antonio.