The 5 Best NBA Players in the Game Right Now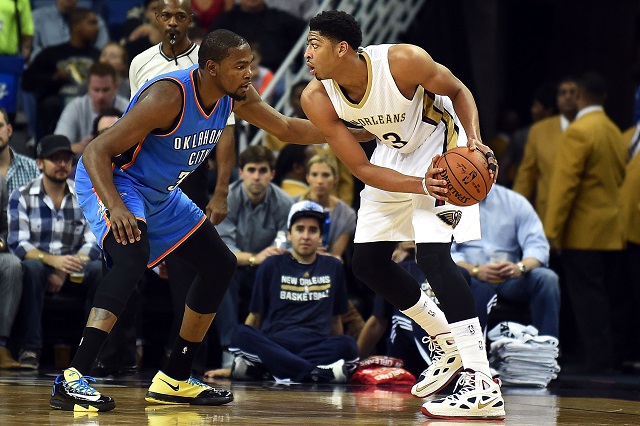 The NBA game today is unlike any previous version of professional basketball we've ever seen. Sure, the basic rules remain largely the same, but constant rule changes and adjustments have subtly moved the game in such a fashion that it's nearly unrecognizable from even 20 years ago, when isolation play and hard-nosed defense was the name of the game. In recent years, rule changes designed to improve scoring have helped swing the balance of power in the NBA outward to the perimeter. For example, tough officiating that effectively prohibits defensive hand checking and clogging the paint, also known as the defensive 3-second rule have opened up passing and driving lanes for skilled players to create on the offensive end. As such, many NBA players now transcend traditional definitions for their respective positions, as they are tasked with performing multiple roles out on the basketball court.
The best 5 players in the NBA right now have each mastered the art of the all-around game: Scoring in bunches while making sure to feed teammates for easy scores, as well as providing a solid defensive effort on the other side of the floor.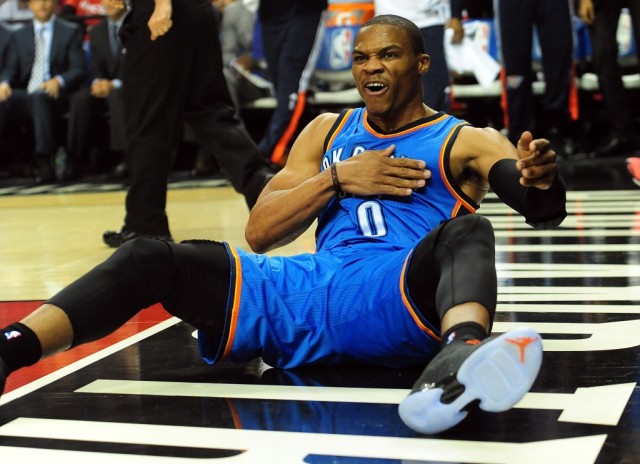 5. Russell Westbrook
Russell Westbrook has held a maddening Dr. Jekyll and Mr. Hyde persona throughout the course of his NBA career. ESPN columnist Bill Simmons, among others, has alluded to this split between "Bad Russell," an out-of-control guard who ignores the offense, pounds the ball, and jacks up ill-advised shots late in the game and "Good Russell," who is one of the most exciting athletes in the league today. Westbrook detractors have dismissed this mercurial player as a shooting guard masquerading as a point guard, which really means that they'd prefer him to play his position as a traditional point guard and set the table for scoring machine Kevin Durant.
Russell Westbrook, however, is at his best in chaos, as he is one of the most electrifying athletes in all of sports. After tossing the playbook into the trash bin, Westbrook is free to create offense, crash the boards, and roam the perimeter for timely steals. In the 2014 Western Conference Finals, Russell Westbrook racked up 40 points, 10 assists, 5 rebounds, and 5 steals to lead his Oklahoma City Thunder to a Game 4 victory against the San Antonio Spurs. To date, only Michael Jordan had topped such an all-around postseason performance. This season and beyond, Russell Westbrook would do wonders for his reputation if he were able to help bring a title back to Oklahoma City.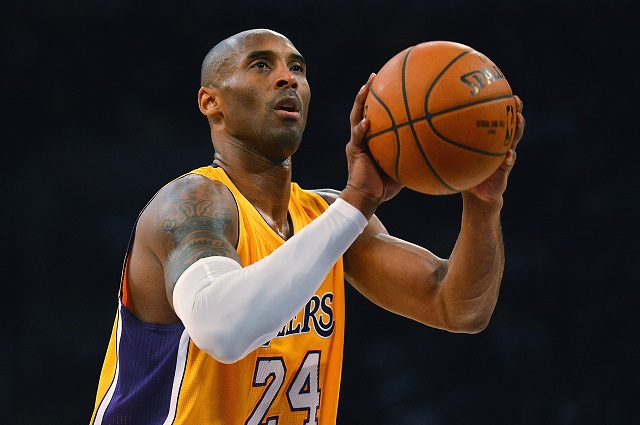 4. Kobe Bryant
Ok, so, Kobe Bryant probably isn't one of the five best players in the league right now if you're talking about immediate basketball ability — on the other hand the Black Mamba, at 36, is deep into the twilight of a Hall-of-Fame career, and the sheer strength of his resume puts him on some of the shorter lists for the best players of all time. As such, any immediate awards and accolades laid at the feet of the Black Mamba are more so out of deference and on par with a cumulative Lifetime Achievement award. As a winner, Kobe Bryant has already laid claim to 5 championships, 2 NBA Finals MVP trophies, 1 regular season MVP award, and 16 All-Star appearances. In all, Kobe Bryant has now scored 32,331 points (third all time), grabbed 6,726 rebounds, dished out 6,046 assists, and racked up 1,871 steals.
In 2013, Kobe Bryant signed a two-year $48.5 million contract extension, allowing him to reign supreme as the highest paid player in the NBA. Of course, the following season saw Kobe rupture his Achilles' tendon. This season, a healthy Bryant is second in the NBA in scoring, at 25.5 points per game, and the elder statesman is putting his body on the line every night, in an effort to eek out wins for a struggling Lakers squad. And, of course, Kobe has been constantly compared to greatness, being the most Jordan-like shooting guard since His Airness played.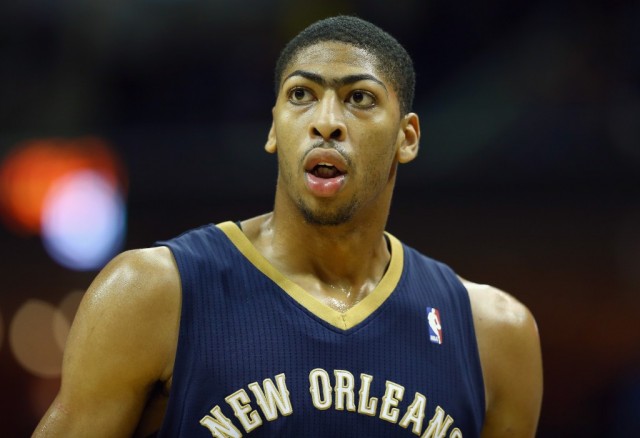 3. Anthony Davis
In 2012, Anthony Davis took home an NCAA Championship and MVP hardware, after turning in 6 points, 16 rebounds, 5 assists, 6 blocks, and 3 steals, for a Kentucky ball club that included 5 other NBA draft picks. At 23, The Brow has already taken command of the New Orleans defense, as he is fully capable of rotating out to the perimeter as a help defender, recovering into the paint, contesting shots, and cleaning the glass for tough rebounds. This season, Davis is averaging 11 rebounds, 2 steals, and 3 blocks per game.
Perhaps most impressively, has been The Brow's growth on the offensive end. Anthony Davis is now averaging 25.1 points per game, which is nearly double his 13.5 PPG 2012-2013 rookie year output. In space, Anthony Davis can turn and face to either knock down mid-range jump shots, or blow past plodding centers. On the low block, The Brow can reach into an ever-expanding toolbox to school smaller power forwards with an assortment of hook shots, spins, and up and under moves. University of Kentucky head coach John Calipari has already said Davis will be the best player in the NBA in less than five years, while Pelicans head coach Monty Williams lauded the young big man as the "lead dog among a number of alpha dogs" during his time with Team USA.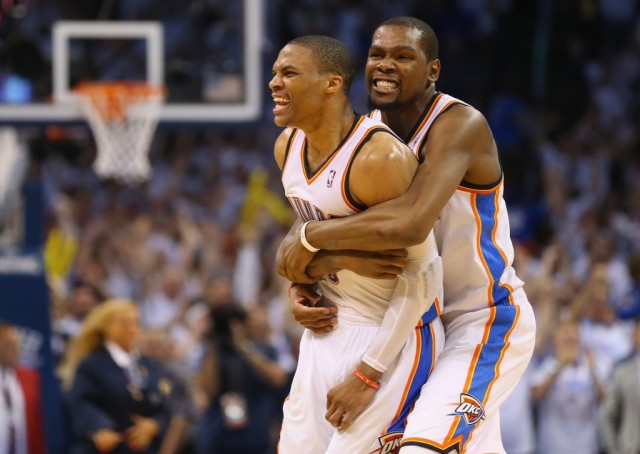 2. Kevin Durant
Kevin Durant has redefined the small forward position as a pure volume scorer. Standing nearly seven feet tall, Durant can always float outside and shoot over the top with unlimited range. When anxious defenders challenge his shot, KD has the opportunity to showcase his handles, or dribbling skills, to crossover, split defenses, and drive to the rim. By the age of 25, Kevin Durant has already been named the NBA single-season scoring champion four separate times, and as a model of offensive efficiency, the Slim Reaper is averaging 27 points per game upon his career, after shooting 51% from the field, 38% from three, and 89% from the free throw line.
This year, Durant missed a majority of the early action while battling a foot fracture. On December 2, KD racked up 27 points, 3 rebounds, and 2 assists, in a comeback performance against the New Orleans Pelicans. In all, Durant is averaging 21 points, 6 rebounds, and 4 assists for the season, as he works his way back into mid-season form. Going forward, of course, Durant's legacy will be judged against his ability to come through in the clutch. A championship ring will vault Durant up from the legions of volume scorers and into that elusive winner's bracket.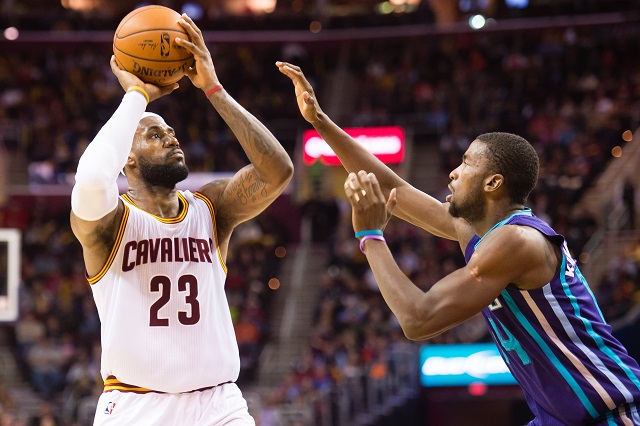 1. LeBron James
It doesn't really seem fair to compare LeBron James to his contemporaries on the court right now — when it is all said and done, LeBron James will almost certainly be debated against the likes of Larry Bird, Michael Jordan, Wilt Chamberlain, and Magic Johnson. At this level of obvious greatness, championships are everything, and James has managed five trips to the NBA Finals, coming away with two titles so far. After taking his game to South Beach, LeBron James teamed up with Dwyane Wade and Chris Bosh to make four consecutive trips to the NBA, from 2010 to 2014.
Prior to the 2014-2015 season James returned to Cleveland, although the product on the floor has been far from a coronation, as the up-and-down Cavaliers have settled in at a 13-9 record, in the mediocre Eastern Conference. These early season struggles have writers openly wondering whether LeBron James has "lost a step." In any event, the 29-year old LeBron James is still filling up the stat sheet with per game averages of 25 points, 6 rebounds, and 8 assists.