The 5 Best NBA Players You've Never Heard Of
Last season, Stephen Curry and his Golden State Warriors stole the show with their drive toward basketball immortality — not seen since the 1995-96 Chicago Bulls. The San Antonio Spurs put together an historic, .815 run of their own, while King James quietly marched Cleveland toward his sixth straight Finals appearance and the franchise's first championship. For even more drama, the NBA supporting cast has played its part, sending off Kobe and televising epic shouting matches between players and coaches in Sacramento.
Still, basketball junkies will recognize the fact that a new crop of exciting players has emerged to make an impact, far removed from the bright lights and glare of blue-blood college programs, one-and-done press conferences, multiple All-Star appearances, and multi-million dollar endorsement deals. With time, the following five players will likely find themselves on a first-name basis with even the most casual of fans.
1. Robert Covington
In 2013, Robert Covington closed out his career as a four-year starter out of Tennessee State University, only to go undrafted out of the mid-major program. From there, he put in work out of a South Texas outpost in the D-League, before finally being called up by the Houston Rockets. As a Rocket, Covington took his spot on the bench and scored a total of 16 points through seven games of garbage-time minutes.
After being waived, the Philadelphia 76ers picked up Covington off the scrap heap and signed him to a three-year, $3 million deal prior to the 2014-2015 campaign. By midseason, he earned his spot in the starting lineup and was dropping 14 points per game — off 37% three-point shooting. The small forward, at 6-foot-9, quickly proved that he was capable of either popping out to shoot over the top against smaller players or driving right to the front of the rim against lumbering stiffs out on the perimeter.
At the other end of the floor, a hungry Covington has quickly emerged as one of the better defenders in the league, showing that he can shut down multiple positions out on the floor. Still, Covington has remained literally banished to one of the more unforgiving purgatories in all of sports.
The 76ers have racked up a miserable 128 losses over the past two seasons with little to show for it beyond drafting three centers (and Ben Simmons, who is awesome), one of whom, Joel Embiid, has yet to see a minute of actual NBA action. And in 2015 beleaguered GM Sam Hinkie turned in a 13-page letter to announce his resignation.
2. Khris Middleton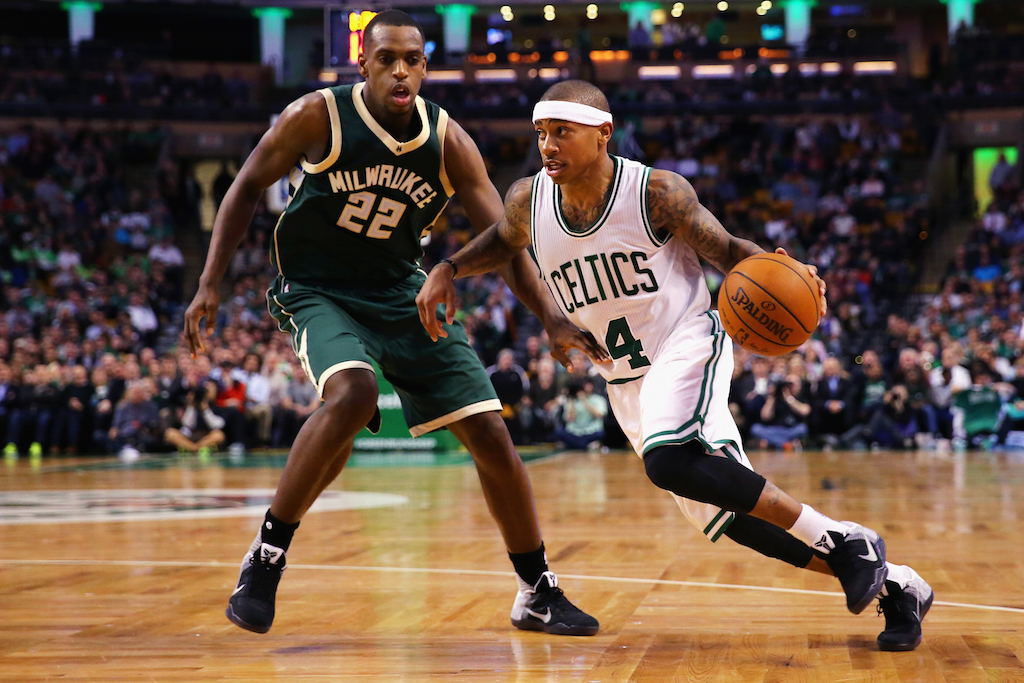 Khris Middleton cashed out in 2015 when Milwaukee signing him to a five-year, $70 million deal. The rising sharpshooter closed out the 2016 regular season at 18 points, four rebounds, and three assists per game, after upping his scoring out through four successive seasons in the NBA. Perhaps most important is the fact that Middleton has logged a fourth-best 2,844 minutes this season, as testimony to his importance out on the floor.
He first made his bones as a 3-and-D specialist who clamped down upon the opposition's best player before leaking out offensively and camping out behind the arc. For his career, Middleton is knocking down 40% of his three-point attempts. With time, he expanded his game to include a turnaround jumper, aggressive dribble drive penetration, and a nifty step back move after setting up the defense.
Middleton, a former second-round pick and D-League prospect, has come a long way to emerge as Michael Redd 2.0 out in Milwaukee. In Milwaukee, it is somewhat easy to be consumed by Chicago, which regularly sends out legions of Bulls fans to swarm Bucks games. Despite emerging as the leading scorer, Middleton is often overshadowed by the likes of Jabari Parker, Greg Monroe, and Giannis Antetokounmpo.
 3. Nikola Vucevic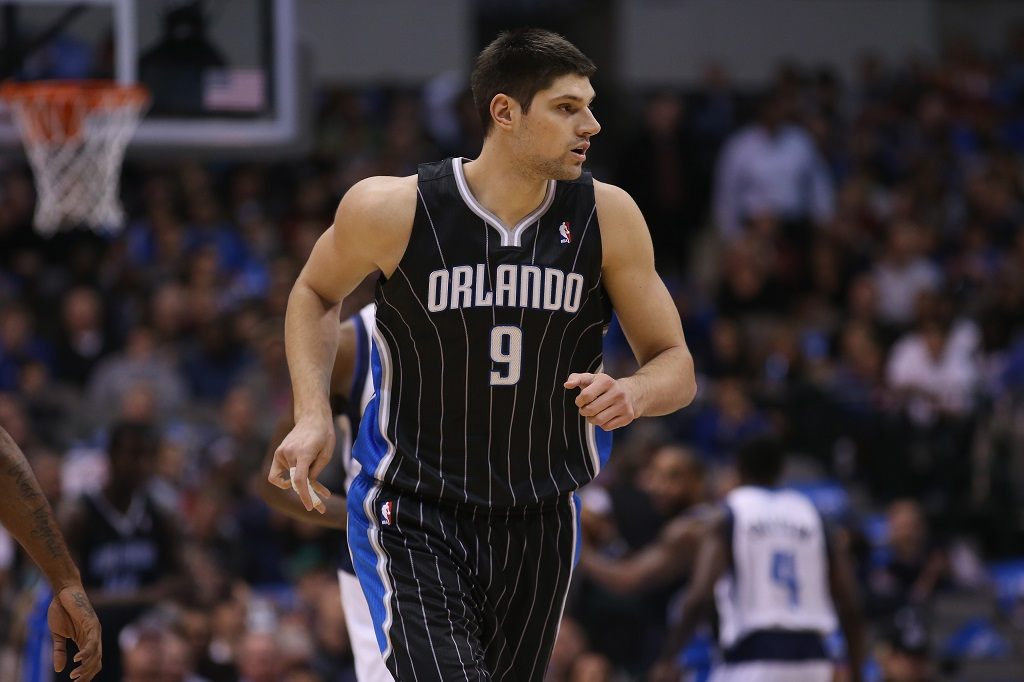 Nikola Vucevic is quickly following in the footsteps of the Gasol brothers as the latest skilled big man out of Europe. Vucevic, a seven-footer, is comfortable out in space where he can put the ball on the floor and drive right past gangly centers to the front of the rim. On the low block, he is also a real load, as he can wheel and deal with an assortment of drop step, spin, and up-and-under moves, before finishing with either hand.
After forcing the defense to commit, Vucevic may either whip a bullet bass to a wide-open teammate or pop out himself to fifteen feet and effortlessly knock down the jump shot. For 2016, Nikola Vucevic put up 18 points per game, while grabbing nine boards and dishing out three assists. He is coming off three consecutive seasons where he averaged a double double and put up numbers not seen since Shaquille O'Neal in Orlando.
For now, Vucevic is part of an exciting youth movement in Central Florida, where only three players (Jeff Green, C.J. Watson, and Damjan Rudez) are older than 30. At 26 years old, Vucevic is the oldest component of the eight-man Magic rotation. The lowly Philadelphia 76ers actually took him with the 16th overall pick in the 2011 Draft, when the big man was a rising senior out of USC.
After riding the pine for one year, Vucevic was a throw in as part of a massive four-team trade that brought him to Orlando and shipped Andrew Bynum to Philadelphia, Andre Iguodala to Denver, and Dwight Howard to Los Angeles. Spurned Magic fans, in short order, quickly forgot about Dwight and his Superman antics. In Vucevic, the Magic faithful now lay claim to another anchor at center, with far less drama.
4. Isaiah Thomas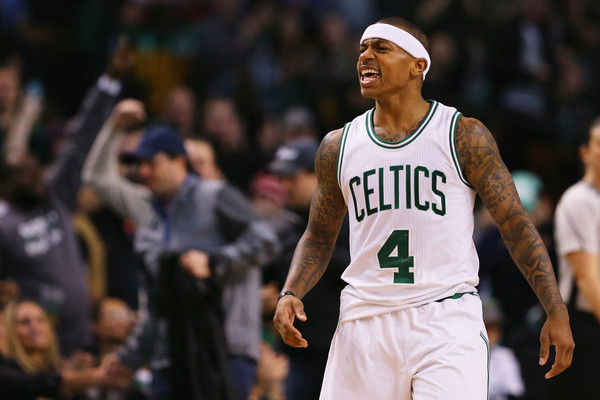 This Isaiah Thomas is not to be confused with his namesake, Isiah Thomas, the "Baby-Faced Assassin" who led the Bad Boy Pistons to back-to-back titles in 1989 and 1990. This Isaiah Thomas first went to the Sacramento as Mr. Irrelevant, or the last overall pick in the 2011 Draft out of Washington. As a young player, this Isaiah's apparent pedigree often took a backseat to that of fellow Husky and little man Nate Robinson.
By 2011, Robinson already owned three slam dunk titles to his credit as one of the foremost showmen in basketball. Against this backdrop, Isaiah did carve out a niche for himself as a combo guard out in Sacramento. By his third year in the league, he was putting up 20 points per game. For this, Isaiah found himself dealt to Phoenix in a sign-and-trade and salary dump that brought Alex Oriakhi to Sacramento.
In Phoenix, Thomas found himself in a logjam at guard, with Eric Bledsoe, Goran Dragic, and ultimately Brandon Knight each vying for playing time. Still, Isaiah managed to drop in 15 points per game as the sixth man off the bench. In retrospect, it was inevitable that these Phoenix Suns would self-destruct. Isaiah landed on his feet and finally find a home in Boston after being traded for pennies on the dollar.
As a Celtic, Isaiah is putting together his best season yet, racking up 22 points and six assists per game. For this, he was rewarded with his first All-Star appearance. Still, Isaiah is still overshadowed by LeBron James, who has reigned supreme over the Eastern Conference for five consecutive seasons.
5. C.J. McCollum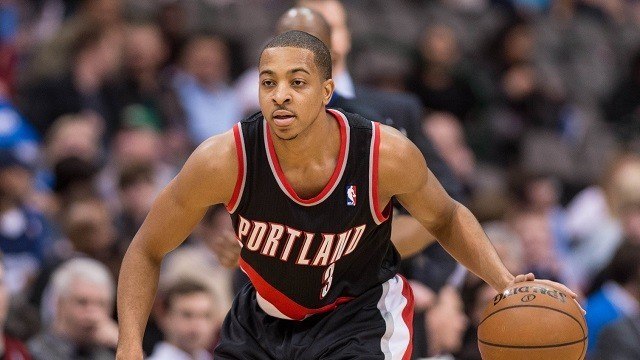 C.J. McCollum is a pure scorer. At his best, he calmly probes the defense to get to his spots on the floor. When running the pick and roll, McCollum will often lull his man to sleep before crossing over and exploding into the paint to drop in a sweet floater. When working off the ball, McCollum is one of the best in the game at running his man ragged off pin down screens to create space for wide open looks.
2015 saw McCollum dropping 21 points per game, after upping his scoring by 14 points over the last year. Taken together, he and Damian Lillard form the best backcourt in the league not named Stephen Curry and Klay Thompson. Interestingly, both McCollum and Lillard came out of mid-major programs, at Lehigh and Weber State, respectively, and both play the game of basketball with large chips on their shoulders.
At times, the two appear nearly interchangeable, taking turns controlling the tempo and running the offense. Last February, these two guards combined for 71 points, eight rebounds, 14 assists, and eight steals to dismantle the mighty Warriors 137-105 at home and turn around the season.
It's easy to forget now, but last season was supposed to be a down year for Portland, after losing LaMarcus Aldridge, Wesley Matthews, and Robin Lopez to free agency, and shipping Nicolas Batum to Charlotte. Instead, these moves opened up minutes and spacing on the floor for McCollum to go to work within Terry Stotts' flow offense. From here, C.J. McCollum can continue to make a name for himself.
Statistics courtesy of ESPN and Basketball-Reference.