The 5 Best NFL Wide Receivers in the Game Right Now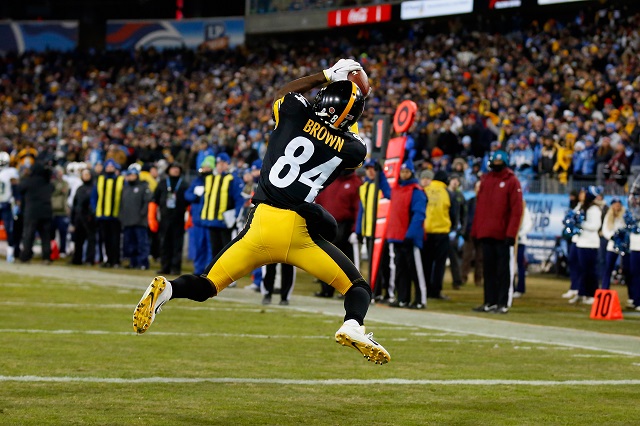 When it comes to the history of the NFL, we can safely say that the days of three yards and a cloud of dust are long gone. In recent years the 'West Coast,' five-wide, and no-huddle offenses have emerged as standard fare, rather than fourth quarter gimmicks. And offensive innovators like Mike Martz and Andy Reid can be credited with turning conventional football wisdom upon its head, and actually using the pass to set up the run. From the top, the League office has constantly tinkered with the rulebook in an apparent attempt to boost scoring. In today's game, harsh penalties and fines protect quarterbacks and wide receivers from being mauled behind the line of scrimmage and across the middle.
The result has been an explosion of offense, as evidenced by recent record-setting campaigns from the likes of Peyton Manning, Aaron Rodgers, Drew Brees, and Ben Roethlisberger, through the air. Each of the best wide receivers in the game today has developed real chemistry with his respective quarterback, after emerging as a go-to player who can consistently get open and move the chains. As playmakers, today's elite wide receivers can score from anywhere out on the field and break games wide open. Here are the five best playing in the game right now.
5. Julio Jones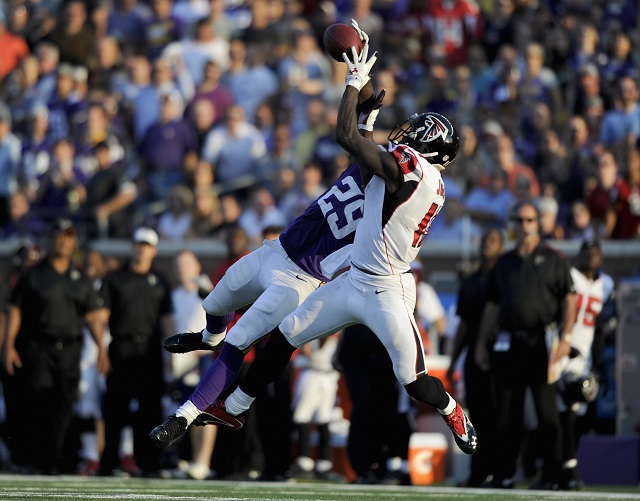 As a physical specimen, Julio Jones stands 6'4 and weighs in at 220 pounds, while also being clocked at a blistering 4.39 / 40 time. At these specifications, Jones is simply too physical to be covered by diminutive cornerbacks, and too fast for linebackers and safeties to match up against. To deal with Jones, opposing defensive coordinators often signal in cover-two packages, where a corner works against Jones at the line of scrimmage, with safety help over the top. Jones' mere presence on the field has opened up space for the likes of Matt Ryan, Tony Gonzalez, Roddy White, Michael Turner, and even Steven Jackson, in Atlanta.
In the passing game, Jones is notable for using his body to shield defenders at the line of scrimmage and make easy catches on quick slants. From there, Jones can also work the route tree for a slant-and-go, to beat an overanxious cornerback deep to the back of the end zone. In all, Julio Jones has snagged 246 receptions for 3,717 yards and 24 touchdowns through his first four seasons in the NFL. For this  season, Jones has already caught 22 passes for 276 yards in his first two games.
4. Demaryius Thomas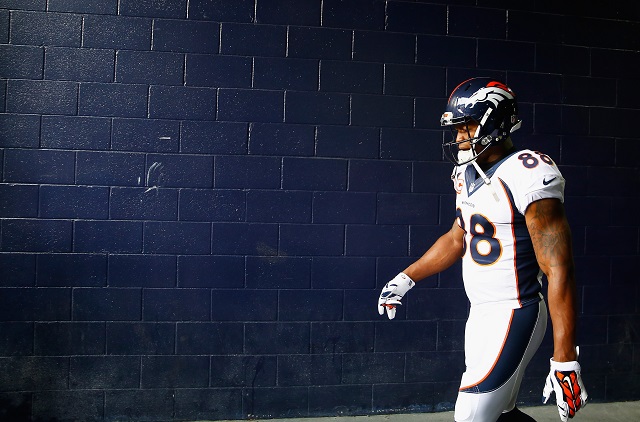 Of the elite receivers, it has been Demaryius Thomas who has benefitted most from the recent rule changes and favoritism toward the passing game. In 2012, Peyton Manning, then 36, signed on in Denver, as the "win now" replacement for Tim Tebow. The rule changes have helped Manning stay upright, while also allowing his coaches to install complex timing routes into the scheme. For 2013, Manning torched defenses for a record 5,477 yards and 55 touchdowns passing. That year, the Denver Broncos put up 606 points, solidifying their position as the most prolific offense of all-time.
After the Manning signing, Thomas' numbers immediately spiked from 32 catches for 551 yards and 4 touchdowns, to 94 catches for 1,434 yards and 10 touchdowns, between 2011 and 2012. For Manning, Thomas has emerged as somewhat of a utility man, who can beat deep coverage, run precise crossing routes across the middle, and also serve as a quick outlet on wide receiver screen passes. Going forward, Demaryius Thomas can further solidify his status as an elite receiver if he is able to help Peyton Manning ride off into the sunset with another Super Bowl trophy for the mantle piece.
3. Antonio Brown
Antonio Brown has emerged as the best possession receiver in the game through little more than sheer hard work. As a sixth-round pick in 2010 out of Central Michigan, Brown apparently lacked the pedigree of an elite wide receiver. Brown stands 5'10, weighs in at 180, and runs a somewhat pedestrian 4.5/40. In any event, Brown has emerged as a match-up nightmare at the professional level due to his quickness, precise route running, and willingness to work the middle. In his sophomore season, Brown broke out for 69 catches and 1,108 yards as a slot receiver. In 2013, he hauled in 110 catches, for 1,499 yards, and 8 touchdowns.  Last year, Brown has taken his game to the next level and actually lead the league in both receptions (129) and yards (1698).

The numbers prove that Antonio Brown has a knack for staying open and is the perfect safety valve for Ben Roethlisberger in Pittsburgh. After the catch, the tenacious Brown often shifts gears and even lowers the boom on unsuspecting defensive backs to rack up extra yards. Certainly, Brown's time back in the special teams return game has helped him to build upon his elusiveness in space.
2. Dez Bryant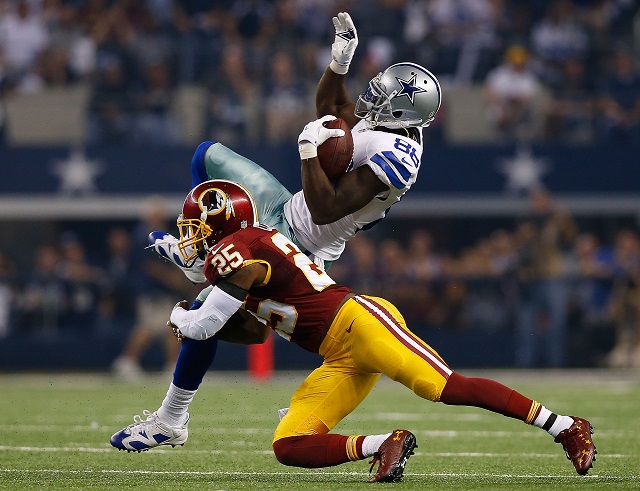 The physically imposing Dez Bryant immediately proved himself worthy of wearing the #88 jersey, after being drafted to Dallas as the 24th overall pick out of Oklahoma State in 2010. For his part, Jerry Jones made good upon missing out upon Randy Moss, who was another freak athlete at wide receiver that slid too low on draft day. In Dallas, the Jekyll and Hyde comparisons between Dez Bryant and Michael Irvin may be all but inevitable.
On the field, Bryant has been held in high regard for his tireless work ethic, willingness to battle in the trenches, and unadulterated love for the game of football. As a wide out, Dez Bryant can often be seen challenging opposing DBs to mano a mano duels in space, running over linebackers, or even throwing blocks at the edge of the line of scrimmage. Off the field, however, Bryant's reputation has been somewhat marred by cutaways of shouting matches with teammates, unpaid retail bills, and frequent run-ins with law enforcement officials, unwittingly playing up to the diva caricature often lobbed at wide receiver.
Of course, Bryant is currently out for the foreseeable future after a Week 1 injury, but his talent remains undeniable.
1. Calvin Johnson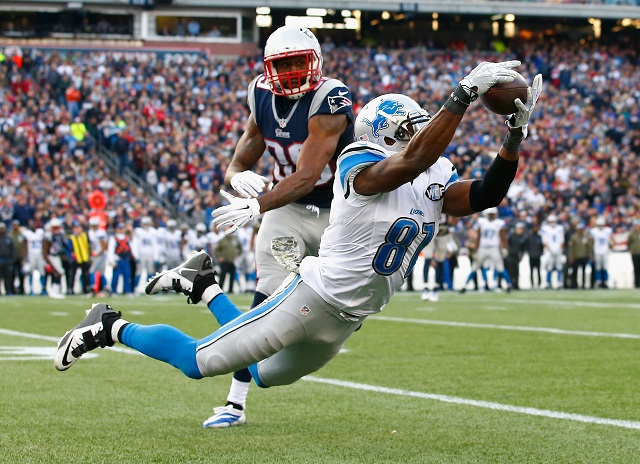 By the age of 29, Calvin Johnson, or Megatron, has already been compared to the likes of both Randy Moss and Jerry Rice in regards to the title of "greatest wide receiver of all-time". At 6-foot-5, Johnson is often compared to Moss in that he has mastered the art of the jump ball, for both corner fade patterns and deep bombs. In terms of humility, Calvin Johnson is often likened to Jerry Rice. In 2008, Johnson was the lone spark on a historically awful Detroit Lions team that went 0-16. As a second year receiver, Megatron actually caught 78 passes for 1,331 yards, and 12 touchdowns, while going winless. Over the years, Johnson has refined his game as a route runner and blocker who never shies away from mixing things up in the middle of the field.
In 2012, Calvin Johnson put it all together, to rack up 122 catches for 1,964 yards, and 5 touchdowns. Statistically, Johnson's 2012 season was one of the greatest individual efforts of all time, regardless of position. For the sake of comparison, Jerry Rice caught 122 balls for 1,848 yards and 15 touchdowns, in 1995.
Going forward, Megatron's placement among the all-time greats will remain largely contingent upon his own longevity and ability to stay healthy. Most impressively, he's averaging 16.1 yards per catch, as a playmaker through his nine NFL seasons. In all, Calvin Johnson has racked up 655 catches for 10,527 yards and 75 touchdowns, with many more circus catches and highlight reel gallops into the end zone to come.