Sports Beards: 5 Best Beards Seen During the Playoffs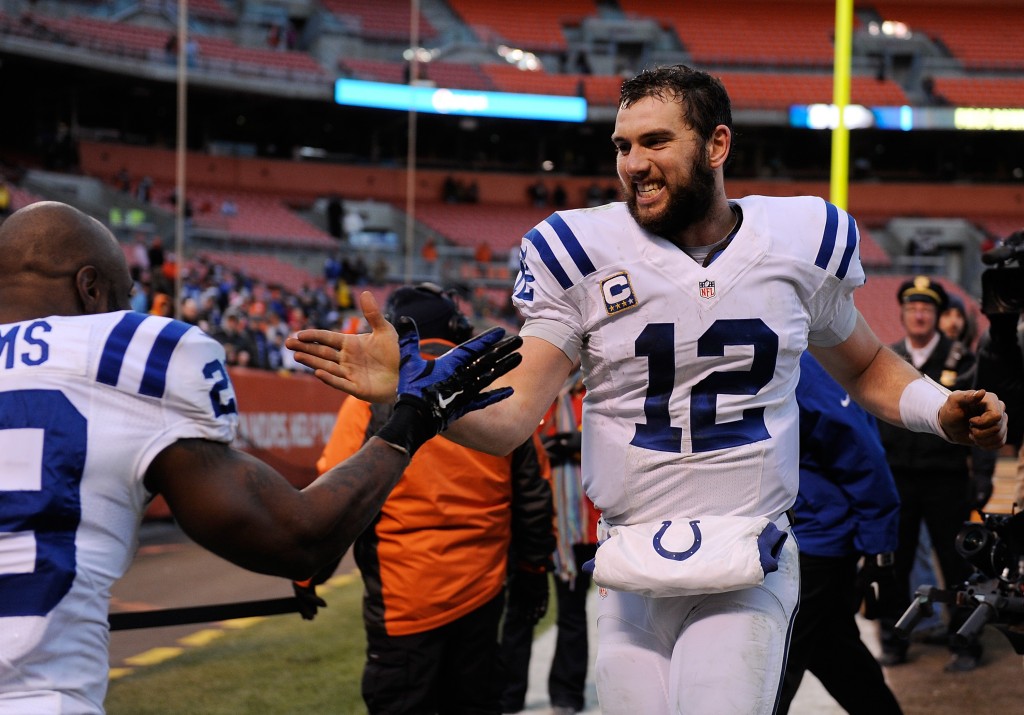 Indianapolis Colts quarterback Andrew Luck is already considered one of the best in the game. Polished passer, athletic, great touch on the ball, and the ability to make every throw on the field, the decorated passer was considered the best QB prospect to come out of college since John Elway. And, while he needs to work on keeping his turnovers down, it's safe to say that Luck has lived up to the hype (even if he's has a bit of a down year so far).
The former Stanford Cardinal All-American, has already helped the Colts win the AFC South in back-to-back years, and has taken Indy to the playoffs each year he's been under center. His regular season statistics last year were extremely impressive, with 4,761 passing yards, 40 touchdowns, and 16 interceptions. No way around it, Andrew Luck is extremely talented. And yet, for all his skills on the gridiron, there is one knock against the Pro Bowler: His beard.
Andrew Luck has a hideous beard. It is downright awful. And everyone knows it. But, what makes this even better, is that Luck is self-aware enough to acknowledge it. He admits that it is a "bad look." Quite frankly, he doesn't care. He's not trying to win a beauty contest, he's trying to win a Super Bowl.
Still,the playoff beard is a time-honored tradition. And, even though Luck is incapable of sporting stylish facial hair, that doesn't mean other athletes haven't made it work. With that in mind, we take a look at the 5 Best Playoff Beards in Sports History.
1. Jonny Gomes, left fielder, Oakland Athletics
In 2013, the Boston Red Sox got hot at the right time on their way to an improbable World Series title. There was something fun and special about this group of ball players. A team full of characters and mutual respect for well-groomed facial hair. Jonny Gomes takes the cake for the way his beard juxtaposes with his head.
2. Scott Hartnell, left wing, Columbus Blue Jackets
This former Philadelphia Flyer was always known for his tough play, physicality, and clutch performances. Also, he had a massive red beard. Scott Hartnell's beard was legendary. It's a shame he no longer has it. It's also a shame he's no longer with the Flyers. We miss this guy.
3. Nick Mangold, center, New York Jets
Until recently, you could say the New York Jets were a football franchise in complete disarray. They lacked a general manager, head coach, and a winning culture. Everything about the Jets is extremely disorganized. Well, except for one thing: Nick Mangold's beard. This thing is pure gold. It is a beard that is worthy of his individual talent.
4. Matt Light, offensive tackle, New England Patriots
Matt Light was an outstanding offensive tackle who spent his entire career with the New England Patriots. He was a three-time Super Bowl champion, and also made the Pro Bowl three times. He was always reliable upfront, and did a great job protecting Tom Brady. When he retired in 2012, the Patriots lost one of their best. And the football community mourned the loss of this beard.
5. Brian Wilson, pitcher, Los Angeles Dodgers
The San Francisco Giants have become a very unlikely Major League Baseball dynasty, having won three World Series in the past five years. The Giants found themselves playing great ball come playoff time, and they always found a way to win. During this magical run, one of the great cult figures in the Giants clubhouse was 2010 closer, Brian Wilson. One of the more animatic players on the rosters, he always brought the intensity. Especially on his face.