The 5 Best Point Guards in the NBA Right Now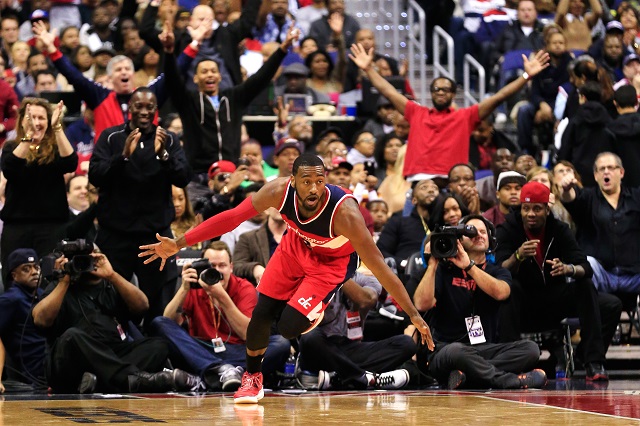 It's almost a cliché to describe a point guard as a quarterback or an in-game coach, out on the basketball floor. There's some truth to it, though, since the point guard is typically responsible for initiating the offense, getting his teammates involved, and controlling the tempo of the game. Not to mention that, as athletes, elite point guards are often notable for their speed, agility, and raw explosiveness, picking their spots and relentlessly attacking the defense. On that end of the floor, a tenacious point guard can be a disruptive force, agitating for timely steals and other disruptive play that leads to easy buckets in transition.
Today's game may be defined somewhat as a Golden Era in guard play. Recent rule changes have prohibited aggressive hand checking out on the perimeter, which has granted point guards a freedom to create in space that simply didn't exist for their historical contemporaries. Here are the five best point guards in the NBA right now.
5. Rajon Rondo
Rajon Rondo is still an enigma. In 2006, the Boston Celtics secured the rights to 21st overall pick Rajon Rondo, after a draft day trade with the Phoenix Suns. Rondo, out of Kentucky, was scouted as a raw athlete, who could run, jump, and defend, but lacked any semblance of a jump shot. After a frustrating rookie season, Rondo was quickly thrown into the fray, as the apparent weak link on the 2007-2008 championship roster that included Kevin Garnett, Ray Allen, and Paul Pierce.
As a leader, Rajon Rondo first came into his own during the 2008-2009 playoffs, as best captured by his virtuoso first-round performance versus the Chicago Bulls. That postseason, Rondo actually averaged a triple-double, in putting up 17 points, 10 rebounds, and 10 assists per game. In 2010, Rondo put it all together, with his 29-point, 18-rebound, and 13-assist performance to dominate LeBron James and his Cleveland Cavaliers in Game 4 of the Eastern Conference Semifinals.
This season, the pass-first Rajon Rondo is leading the NBA in assists, with nearly 11 per game. This isn't exactly surprising, as the greatest offensive facilitator in the league right now had previously accomplished that same feat in back-to-back seasons between 2011 and 2013.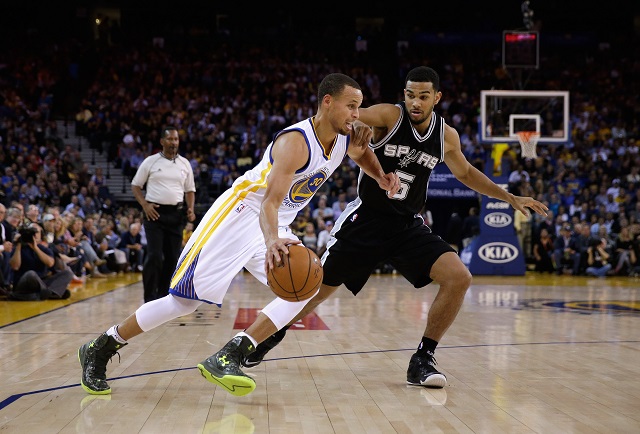 4. Stephen Curry
Next to Kevin Durant, Stephen Curry is the most offensively skilled player in the NBA. Deceptively quick, with moves upon moves, and a deadly jump shot from the outside, Curry's underrated as a distributor, and is especially adept at hitting his teammates off dribble drive penetration. This season, he's averaging 23 points and 8 assists per game, as well as hitting the three at a 39% clip, while also knocking down 96% of his free throw attempts.
Curry is also the focal point of the Warriors' resurgence into relevancy after a decade-plus of mediocrity. In the backcourt, Curry is the point man for the Splash Brothers, featuring Klay Thompson at shooting guard. For his part, Thompson is averaging 23 points per game and 45% three-point shooting this season. In all, the Golden State Warriors are averaging a blistering 106 points per game, which ranks as the third most prolific offense in the NBA so far this season.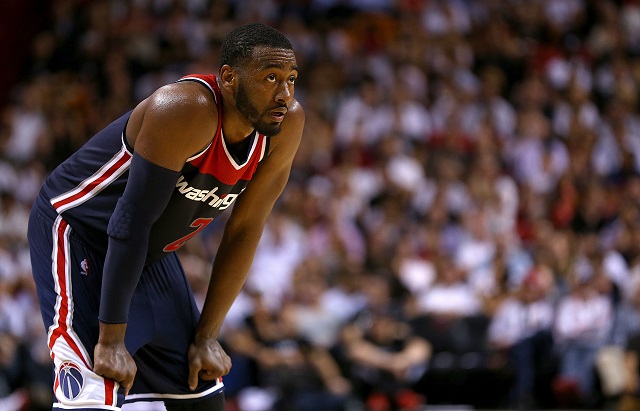 3. John Wall
John Wall is growing up right before our very eyes. As a speedster, John Wall is often cited alongside both Tony Parker and Ty Lawson as the fastest man from end-to-end on the NBA hardwood. Wall is often one of the better finishers from the point guard position, as he appears to live in the paint for teardrop floaters, scoop shots, finger rolls, and even hammer dunks. Going forward, John Wall will continue to improve his shot mechanics, so that he may further punish defenders who sag off his devastating crossover from deep.
This season, John Wall is averaging 19.4 points, 9.1 assists, and 4.3 rebounds. As a more-than-capable defender, the 6'4″ Wall now leads the league in steals, with nearly three recorded each game. On November 21, Wall put on one of his most complete games yet, posting 28 points, 7 assists, 6 rebounds, and 4 steals in a 91-78 blowout win against the Cleveland Cavaliers. For Wall, the victory must have been especially sweet, as he thoroughly outplayed rival point guard (and fellow number one draft pick) Kyrie Irving at both ends of the floor.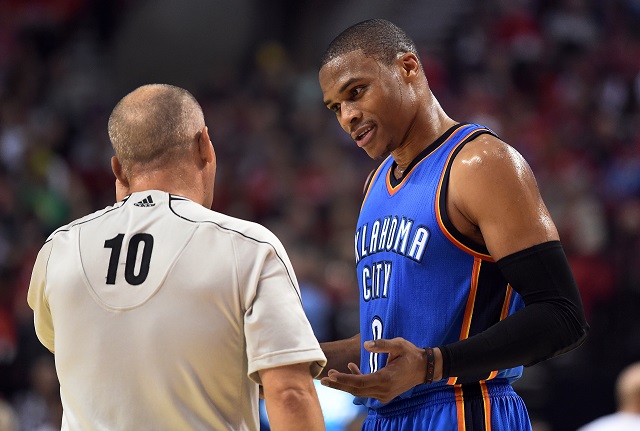 2. Russell Westbrook
Russell Westbrook has established himself as one of the most electrifying athletes in all of sports, as well as one of the most polarizing — he's decidedly a scoring point guard, and will always invite controversy, particularly because he shares the spotlight with scoring machine Kevin Durant in Oklahoma City. There are many apparent basketball purists who would prefer that Westbrook to simply run the offense as a willing sidekick to Kevin Durant. Westbrook, however, is at his best when he goes off script and unleashes his own brand of explosiveness on the opposing team.
At his best, Russell Westbrook is dropping 40 points, dishing out 10 assists, taking down 5 rebounds, and collecting 5 steals, to carry the day for Oklahoma City in the playoffs. At his worst, Westbrook is an out-of-control whirling dervish, who is alternately turning the ball over, ignoring the fact that he has Kevin Durant out on the wing, and clanging shots off the rim early in the shot clock. To date, Westbrook's otherworldly talents have only been betrayed by his curious decision-making, which is to say that he could definitely improve upon his reputation, which would be helped immensely if the Thunder could claim NBA Finals hardware after both the team's scorers ultimately return to form after recent injuries.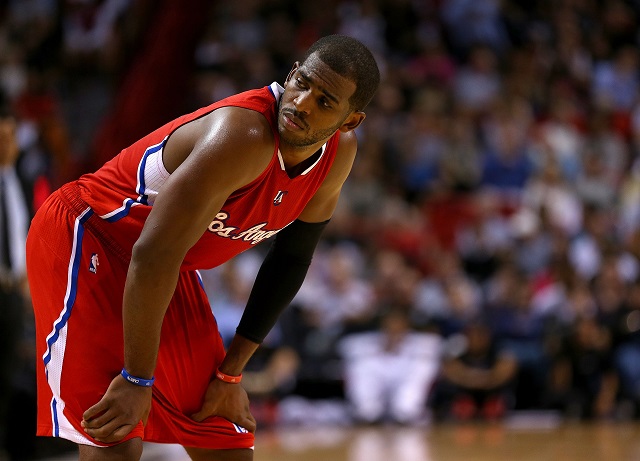 1. Chris Paul
Chris Paul is the maestro behind a team that features Blake Griffin and DeAndre Jordan. Despite his decidedly small frame and unassuming features, Paul has proven time and time again that he can control the game any way he wants, from scoring and passing to relying on his defense and even occasionally rebounding. In L.A., Paul often subjugates his own offense in order to get his teammates involved, before taking over in the fourth quarter, and is especially dangerous running the pick-and-roll, where he can drive to the bucket, slip a sweet pass to a big man at the rim, or even step and knock down open shots. It's possible that CP3 may be putting the finishing touches upon a Hall of Fame resume without ever making a Conference Finals appearance.
This season, Chris Paul is putting up per game averages of 18 points, 9.9 assists, 4.5 rebounds, and 2.1 steals. At 29, Chris Paul has emerged as somewhat of an elder statesman within the point guard ranks. Paul has led the NBA in assists and steals per game for a respective three and six separate regular seasons during his career. In 2013, Chris Paul was named President of the NBA Player's Association. As a charismatic leader, Chris Paul brings all the intangibles you'd ever want to any team as the best point guard in the league.
Check out Sports Cheat Sheet on Facebook!