The 5 Best Receiving Quarterbacks in NFL History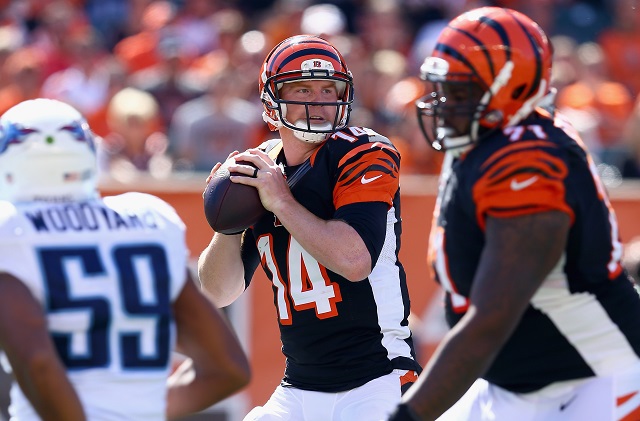 What a week for trick plays. Beyond Johnny Manziel fulfilling his destiny by being involved with an ultimately illegal fakeout pass play that was about as half-baked and brilliant as you might expect from the Browns and/or Johnny Football, we saw Russell Wilson wind up on the receiving end of a pass play against the Denver Broncos, and Andy Dalton actually logged the first reception of his NFL career — and what a way to start, as it was good for a touchdown.
Having a signal caller that can be on the receiving end of a pass as well as the throwing end is a nice wrinkle for any offensive coordinator to have, even if it remains something of a novelty. Defenses aren't trained to expect it, and neither are the analysts, so everyone is caught a little out of place. The fact that it's about as effective, in the aggregate, as other nontraditional methods like the Wildcat (that is to say, not very) is beside the point. It's fun, and it's more fun than watching the read option.
It doesn't look like there are any real dual threats on the horizon, at least not according to Pro Football Reference, but here are the five best receiving quarterbacks of the post-merger era, since the ground and pound game of the early NFL doesn't bear much resemblance to modern day football anyway, and especially not in the passing game.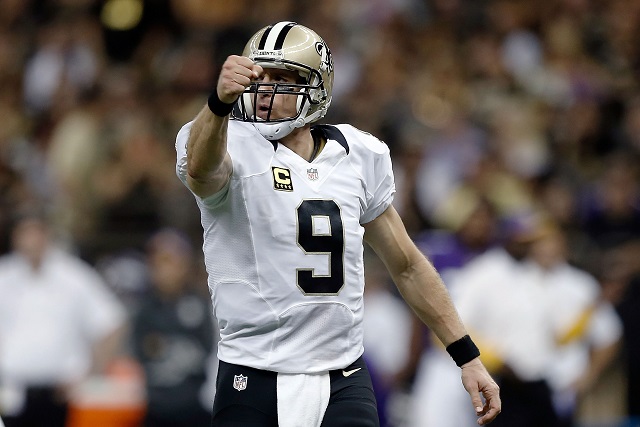 4. Drew Brees
Not who you were expecting, was it? Brees, who scored a solitary receiving touchdown all the way back in 2003 with the Chargers, hasn't caught a pass since 2010, but has actually been more receptive (get it? get it?) in his time with New Orleans — not something that would be all that obvious for a quarterback who's made a reputation with his rocket arm, rather than his legs. The best year for Brees as receiver? That'd be 2004, when he pulled 38 of his 72 total yards out of a fake pass. The Saints quarterback averages 12 yards per catch over his career.
Over the last few years, Brees has settled into the twilight of his career as a high volume aerial thrower, and while the stereotype about which kinds of quarterbacks are best suited as being multipurpose threats isn't entirely without merit, it's important to consider the trials and tribulations of Drew Brees, receiver, in that discussion. Maybe. We'd bet on his passing first and foremost.
3. Seneca Wallace
There's a difference between six catches for 72 yards, à la Breesus, and six catches for over a football field in length. For a guy like Seneca Wallace, who's currently a free agent after totalling eight years of play that promised more than delivered, averaging over 17 yards per catch, you're looking at someone who's a legitimate threat as a receiver, even if he never managed to find the end zone in Cleveland, Seattle, or Green Bay.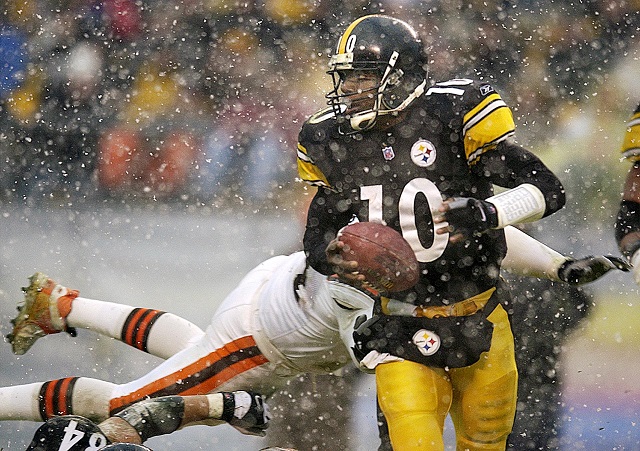 2. Kordell Stewart
In his decade-long career as a pro, Kordell Stewart defined himself as one of the most multifaceted quarterbacks of all time, and while more attention is typically given to his 38 rushing touchdowns, his 41 career receptions — good for nearly 700 yards and five touchdowns — shouldn't be overlooked. His best season? That'd be 1996, when Stewart caught seventeen passes for three touchdowns and almost 300 yards. That year he also averaged 10 yards a rushing attempt, too, and totaled up 464 all purpose yards to go with just 100 yards in passing.
This is the point where we have to note that Stewart, even though he was the backup quarterback that year and wound up starting two games — foreshadowing his eventual starting signal caller role in 1997 — he was deployed as a wide receiver. So, unfortunately, Kordell wasn't the recipient of 17 trick plays.
1. Brad Smith
No one touches Brad Smith's spot at the top of this list, though. As the guy who's been a wide receiver, quarterback, running back, as well as a kick returner in just eight years in the NFL, Smith's only caught fewer than four passes in a single season over his career — for a guy who was capable of starting an entire season under center, that's important, as there are only nine quarterbacks in NFL history who've caught that many in their careers. For more information about quarterbacks who have performed well as receivers, check out Pro Football Reference here.