The 5 Best Responses to Manchester City's #AskJesus Campaign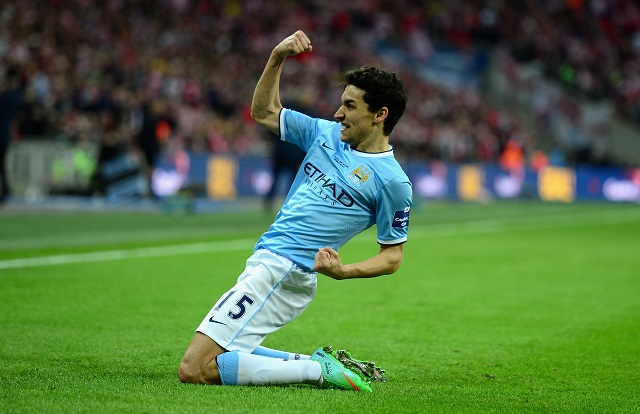 Earlier this year, soccer club Manchester City, the defending English Premier League champion, gave winger Jesus Navas control of the team's Twitter account to stage an impromptu Q-and-A session. This was a good thing, especially because of the chosen hashtag for the event — namely, #AskJesus. The response was fantastic, as people got in on the joke and quite correctly decided that #AskJesus would be a perfect excuse to intermingle religion and soccer, a vein of humor that has yet to run dry.
And judging by the responses, it probably never will. Most humor runs on riffs about things that people can relate to, which is why math jokes about quantum physics are rarely well received, but why jokes about the terrible person who cut you off on your way to do something are, generally, met with applause (this is assuming that the jokes are good, of course). Soccer and religion are pervasive elements of everyday life, even for the atheists who are allergic to sports.
So, in a burst of Twitter trawling, we've gathered five of the best questions lobbed at Manchester City from fans, commentators, and people waiting for the right moment to make their move and drop the perfect online one-liner. And they're fantastic.
How do you balance playing for a Premier League football team with your carpentry commitments? #AskJesus

— Sam Watts (@spud284) July 28, 2014
A fitting question, considering the fact that the EPL's schedule is grueling, and Man City is aiming to win its third title in four seasons, which would seem to indicate a dedicated and committed Jesus would have to confine his woodworking to the offseason — the brief stretch of time from May to August. And perhaps one or two projects that can be worked in among the travel schedule.
#askjesus once you retire from playing, will you make a comeback after 3 days? — Jag Khara (@rocketjag) July 29, 2014
Going by the Biblical canon, the Jesus of Christian lore was crucified at age 33. Jesus Navas is now 28, which would put his retirement five years into the future, right in time for him to retire and come back strong for the 2022 World Cup. Coincidence, or prophesied return?
#AskJesus Is it annoying that – despite the fact you made 48 appearances last season – Richard Dawkins still doesn't believe you exist?

— Aidan JR (@mcandidate) July 28, 2014
Richard Dawkins is one of the world's foremost advocates for the abandonment of religion on a global scale and has released several books on the subject. He is also famous for his lectures and his debates. Judging by this tweet, he is also not a big Manchester City supporter — perhaps he's more of a Manchester United fan. Either way, we're sure Dawkins' soccer fandom is rooted in reason and science.
Did you become a winger because of your previous experience with crosses? #AskJesus — b. (@_wangwe) July 28, 2014
Brutal. For anyone who's unaware, a cross in soccer is when a player kicks the ball from the side of the field into the area in front of the goal. When the U.S. tied Portugal during the group stage, the final goal (that cost the U.S. a victory) was set up by a cross. This cross, to be exact.
You fed 5,000 people with 5 loaves and 2 fish, so why couldn't you be arsed to get me a cake on my birthday? #AskJesus

— yaya toure (@YayaToure_) July 28, 2014
Twitter, where the hard-hitting questions really come out to play. For anyone who missed it, in May, Manchester City midfielder Yaya Toure threw a bit of a fit when his teammates allegedly forgot his birthday. It's really hard to get a birthday cake when no one knows it's your birthday.
And there are the five best responses to #AskJesus, which was appropriated into the best soccer hashtag of the year so far. The bar has been set, not only for the EPL but for the rest of the world. Tweet accordingly.