The 5 Best Stephen Curry Performances of the Season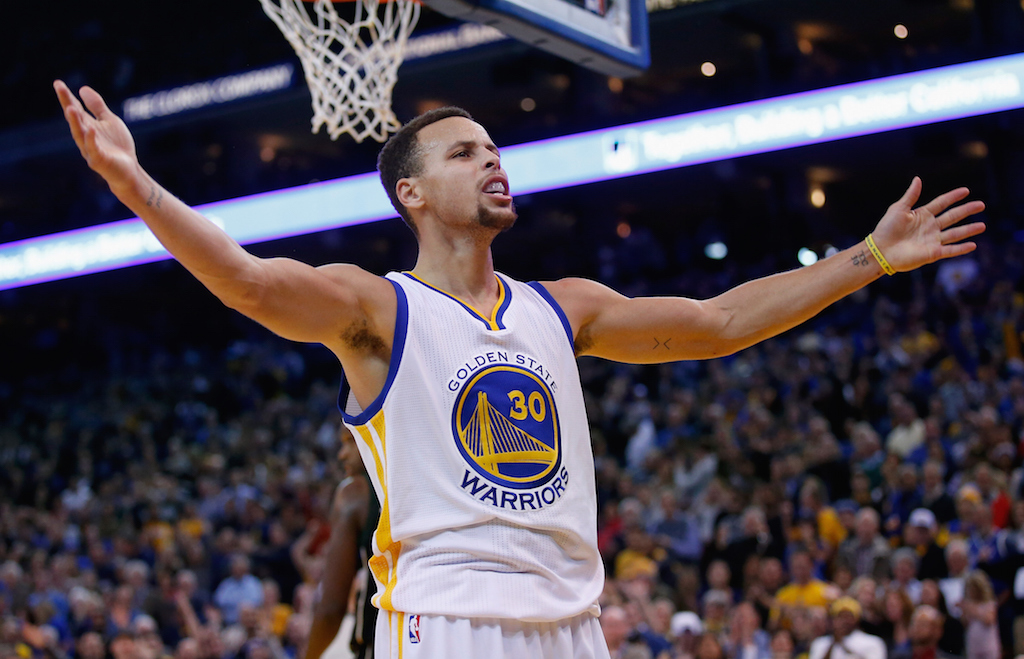 If you believed the Golden State Warriors wouldn't be able to stand the pressure that comes with defending an NBA title, the joke's on you. The champs have gotten even stronger — and they're showing no signs of slowing down. Through their first 27 games of the 2015-16 season, the Dubs led the league in offensive rating (115.0) and points per game (116.0), while also sitting with an NBA-best 26-1 record.
Golden State has beaten the opposition in a multitude of ways, showcasing their on-court chemistry, enviable depth, and ability to master the small-ball concept. But more importantly, no team in the league is better than the Warriors at knocking down the three. And no individual is better at doing it than Stephen Curry. If last year was all about No. 30's rise to superstardom, then this season has been all about the reinforcement of Curry's dominance.
At this moment, Steph's shooting 52% from the field, knocking down 45.3% of his threes, and averaging a league-best 31.8 points per game. Simply put, this is Curry's world and we're all just living in it. Although we haven't reached the halfway point of this season, Chef Curry has already cooked up some classic dishes. While we're fairly certain he'll cook up more as the season unfolds, here's a look at the five Curry performances (in chronological order) that have stood out so far.
1. Curry goes off on opening night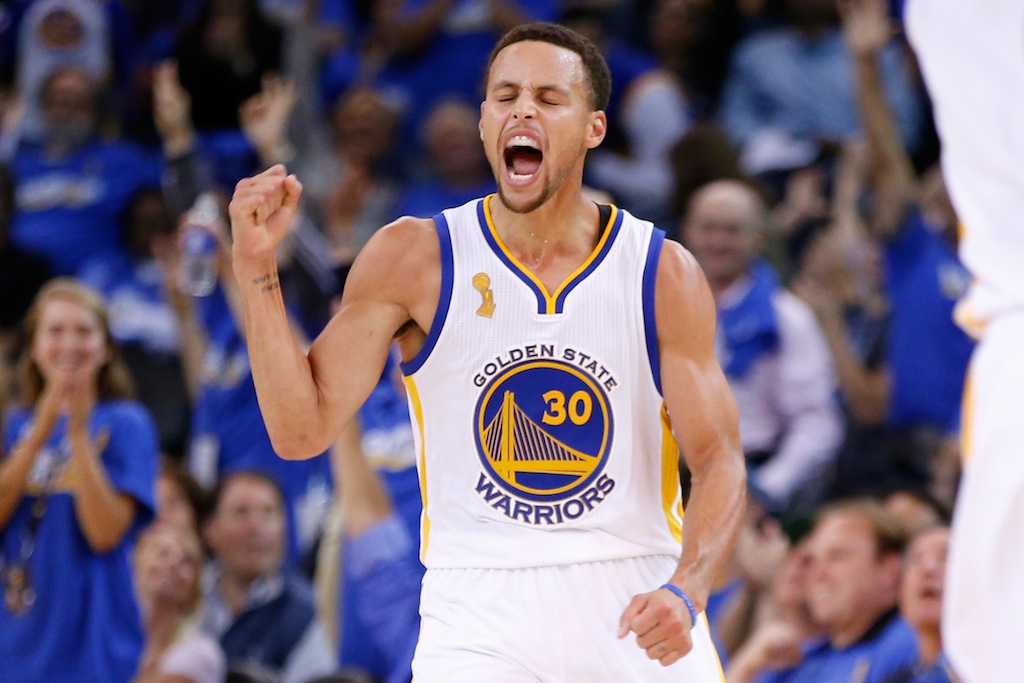 Date: October 27, 2015
Final Score: Golden State Warriors 111, New Orleans Pelicans 95
On October 27, 2015, when the Golden State Warriors received their championship rings and saw Oracle Arena raise a new banner higher in the rafters, Curry made sure to give the crowd an opening night they'd never forget. The reigning MVP started the 2015-16 season the same way he ended the previous one — by shooting lights out. Curry shot 14 of 26 from the field, hit 5 threes, and was a perfect 7 for 7 at the line, on his way to an impressive 40-point performance. Not a bad way to kick off a new year in basketball.
2. Curry crushes the Pelicans … again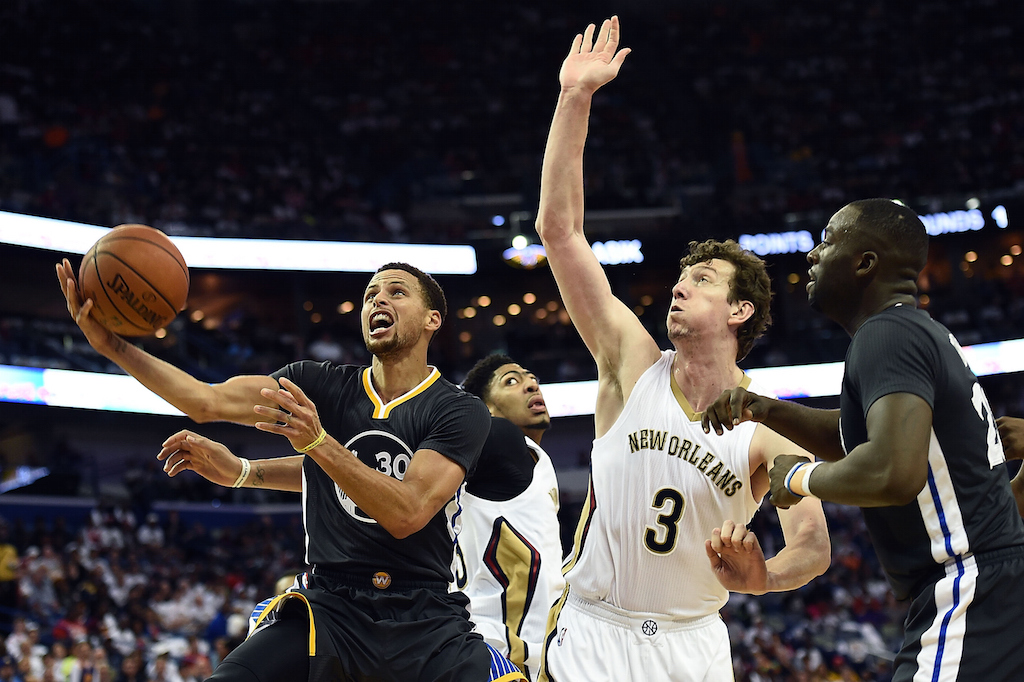 Date: October 31, 2015
Final Score: Golden State Warriors 134, New Orleans Pelicans 120
Less than a week later, the New Orleans Pelicans found themselves with a golden opportunity to avenge their opening-night loss at Golden State. Unfortunately for Anthony Davis and company, the chef had only just started cooking. Curry turned Smoothie King Center into his own personal playground. On top of his 9 assists and 4 rebounds, Curry hit 17 shots, went 8 for 14 from three, dropped a 28-point third quarter, and connected on all 11 of his free throws. By the time this contest was over, the Baby-Faced Assassin had 53 points and the Dubs won with relative ease, 134-120. Clearly the Pelicans' need for revenge was no match for Curry's need to crush his opponents' spirits.
3. Curry makes it look easy in Minnesota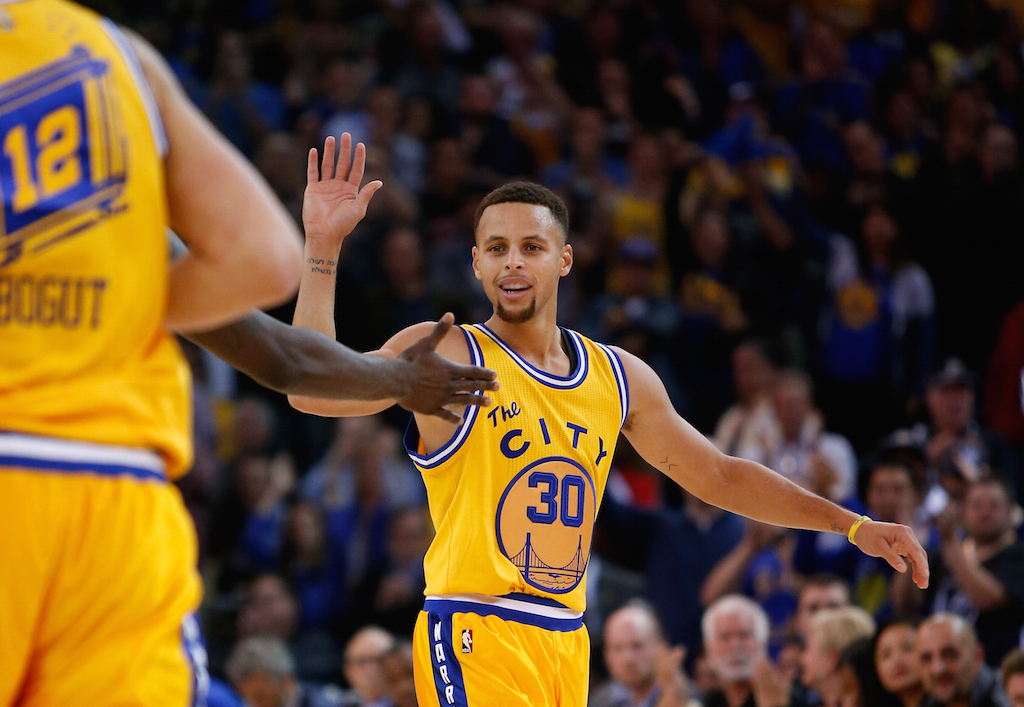 Date: November 12, 2015
Final Score: Golden State Warriors 129, Minnesota Timberwolves 116
Slowly but surely, things are starting to look up for the Minnesota Timberwolves — just not when the Golden State Warriors come to town. In November, Curry went 15 for 25 from the field, knocked down 8 of 13 threes, went 8 for 8 from the charity stripe, and finished the evening with 46 points. With this 129-116 victory, the Dubs improved to 10-o on the season and, once again, reminded everyone that they were the team to beat in the NBA.
4. Curry steals the spotlight from his father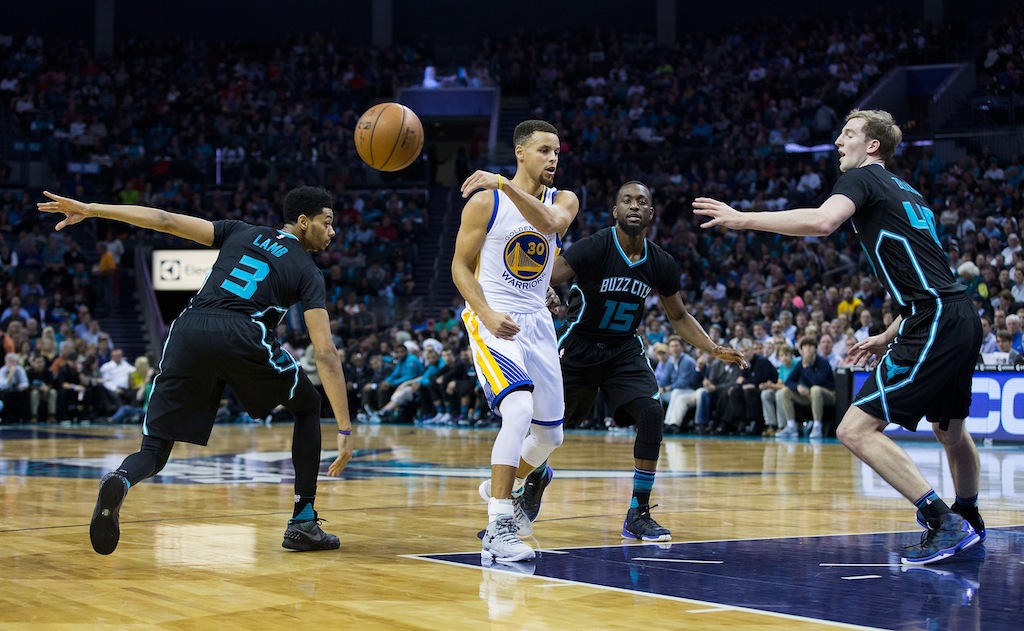 Date: December 2, 2015
Final Score: Golden State Warriors 116, Charlotte Hornets 99
With the Golden State Warriors coming to town, the Charlotte Hornets thought it would be the perfect time to honor franchise legend, Dell Curry. Leave it to the man's oldest son, Steph, to steal his father's thunder. Curry shot 78% from the field (14 for 18), hit 8 of 11 threes, and finished the contest with a cool 40 points. Papa Curry still got his special night. Yet, it was Stephen who managed to leave an indelible mark by helping the Dubs reach 20-0 to start the season. We guess some dishes are best served cold. Right, Dell?
5. Curry conquers Canada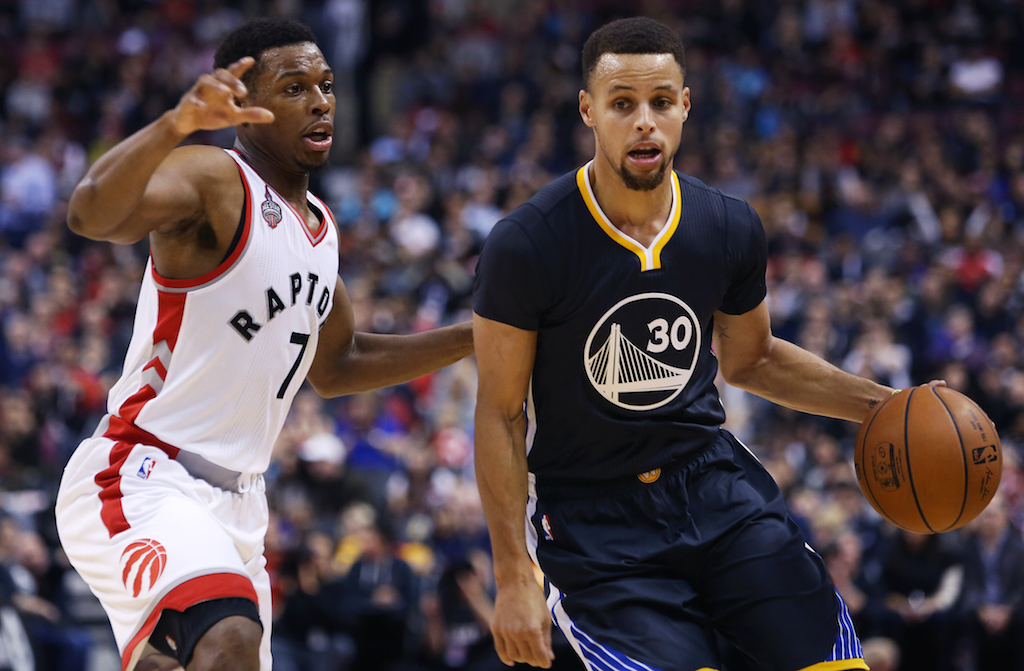 Date: December 5, 2015
Final Score: Golden State Warriors 112, Toronto Raptors 109
In December, the Golden State Warriors trekked to the Air Canada Centre and took down the Toronto Raptors by a score of 112-109. As you probably expected, Curry had himself quite the field day. The reigning MVP hit 14 shots, went 9 for 15 from beyond the arc, and finished the contest with a stat line of 44 points, 2 rebounds, and 7 assists. The moral of the story is simple. Even when he heads north of the border, Curry cannot be stopped.
Statistics courtesy of Basketball-Reference.com and ESPN.com.