5 Best 3-Point Shooting Teams in NBA History
For their 50th win of the regular season, the eventual first-seed 2014 Atlanta Hawks asserted their dominance with an impressive 130-105 win over the lowly Sacramento Kings. This game was a perfect representation of how lethal this team was collectively (as evidenced by their eventual 60 win season). The 130 points they put up was the highest single game total for the squad during this season, but what made it stand out the most was how accurate they were from three-point range.
The Hawks shot an astounding 20-of-36 from deep, setting a new franchise record for most three-point field goals in a single contest. This is just an example of how good this team is when they're firing on all cylinders. Everyone gets involved and everyone contributes to the success of the team. Not only was this number impressive from a single-game standpoint, but it also increased their total three-point makes per game to 10 on the year. And that number puts them in select company among the best three-point shooting teams ever. But would this acheivement have made them of one the most prolific teams of all time? Let's look at the numbers and find out.
Based on the average three-pointers made per game, here are the five best three-point shooting teams in NBA history.
5. Orlando Magic, 2009-10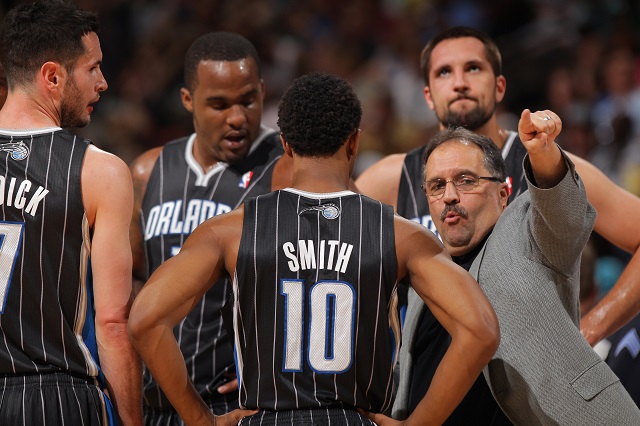 Three-point field goals per game: 10.3
Under coach Stan Van Gundy, the 2009-10 Orlando Magic were one of the best teams in the NBA. They finished the year with a 59-23 and won the Southeast Division. This was a very balanced team that averaged 102.8 points per game, while only giving up 95.3 points per contest. On top of that, the Magic were also a top-four team in both offensive and defensive ratings. With shooters on the team such as J.J. Redick, Rashard Lewis, and Jameer Nelson, it's no wonder this squad made 10.3 three-pointers per game. Unfortunately, their outside shooting wasn't enough to get them past the Boston Celtics in the Eastern Conference Finals.
4. Houston Rockets, 2012-13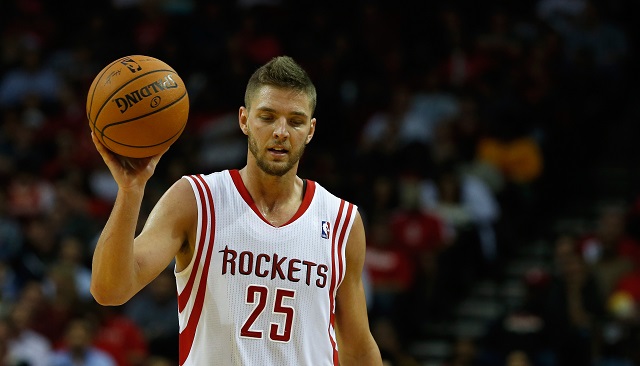 Three-point field goals per game: 10.6
The Houston Rockets did some damage on the scoreboard during the 2012-13 season. They put up 106 points per game, which was the second-highest in the league, and a lot of that had to do with their outside shooting. The Rockets averaged 28.9 three-point attempts per game and they connected on 10.6 of them. Their main snipers from the outside were Francisco Garcia, who shot 38.6% from deep, and Chandler Parsons, who connected on 38.5% of his attempts. Kevin McHale's Rockets certainly played an exciting brand of basketball during this particular season. However, they couldn't get past the Oklahoma City Thunder in the first round of the playoffs.
3. Golden State Warriors, 2014-15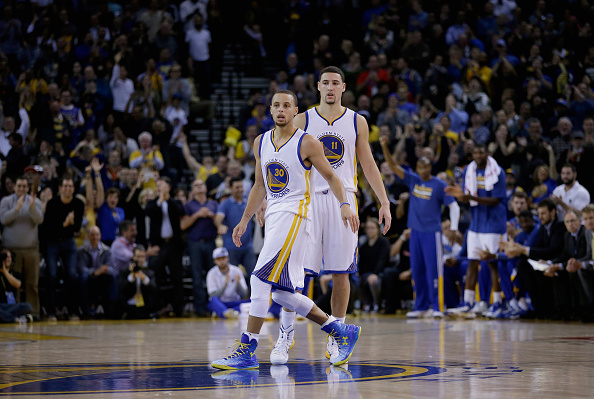 Three-point field goals per game: 10.8
This season the Golden State Warriors showed the rest of the NBA how it's done. This team, led by first-year coach Steve Kerr, scored 110 points per game and topped the league in points, pace, and defensive rating. There's something truly special happening in the Golden State, and this success can be traced back to the sensational play of the Splash Brothers. Stephen Curry and Klay Thompson averaged 23.8 and 21.7 points per game respectively, and both shot over 42% from behind the arc. Oh, and they would eventually kill the "jump shooting teams don't win championships" notion when they beat LeBron James and the Cleveland Cavaliers in the NBA Finals.
2. New York Knicks, 2012-13
Three-point field goals per game: 10.9
The 2012-13 New York Knicks won the Atlantic Division, with a 54-28 record, and managed to advance to the second round of the 2013 NBA Playoffs. That team excelled under coach Mike Woodson and a lot of it had to do with their ability to knock down three's. The Knicks made 10.9 three-point field goals per game, which was good enough for tops in the NBA, and they benefitted from having shooters like Steve Novak, Iman Shumpert, and Chris Copeland on the team. However, if you're going to discuss the Knicks, then there's no way you can leave out All-Star Carmelo Anthony. The former Syracuse standout averaged 2.3 field goals from behind the arc per game and he also shot 37.9% from deep. It's a shame for the New York faithful that this year's squad will not finish with the same results.
1. Houston Rockets, 2014-15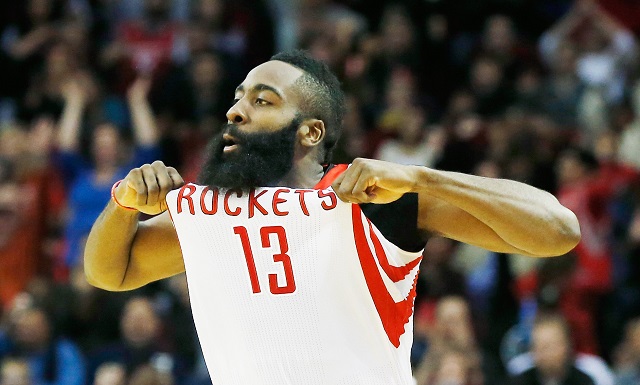 Three-point field goals per game: 11.4
The jury is still out as to whether or not the Houston Rockets can win an NBA Championship, but there is no denying that this team can shoot the rock from deep. The 2014 edition of the squad put up 32.7 three-point attempts per game and knocking down an average of 11.4. It may not be the greatest percentage ever, but it's still an incredible amount of buckets — the highest total in league histored, in fact. However, in the end, it's all about winning, and this team will go only as far as MVP candidate James Harden can take them.. He scored 27.4 points per game over the regular season and connected on nearly 38% of his shots from downtown.
[also, because we know you're wondering: the 2015 Golden State Warriors are currently making 10.8 treys per game. You're welcome]
All statistics are courtesy of Basketball-Reference.com and ESPN.go.com.