The 5 Best Touchdown Catches of 2015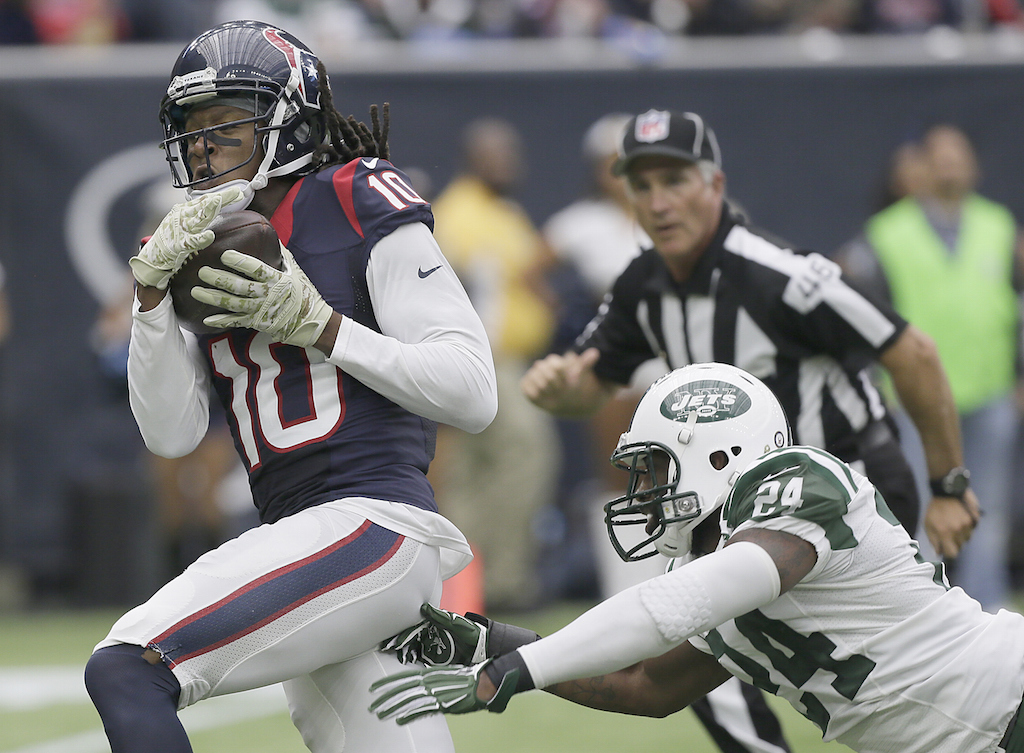 Football fans everywhere love to see spectacular catches. And as long as it's not happening against their favorite team, they also can't get enough of touchdowns. Is there really anything better than combining these two fan favorites? Our thoughts exactly.
As we inch closer to the end of another action-packed year and we remember all the incredible football that took place, we'd be remiss if we excluded sensational touchdown receptions from the discussion. Whether you enjoyed college football or the NFL, impressive touchdown catches were hardly limited to just one level of play. These are the five catches, in order, that grabbed our attention the most in 2015.
5. Keenan Allen's tough grab in the corner
Date: November 1, 2015
Final Score: Baltimore Ravens 29, San Diego Chargers 26
The San Diego Chargers may have lost their Week 8 clash with the Baltimore Ravens by a score of 29-26, but that doesn't mean wideout Keenan Allen shouldn't receive love for the incredibly difficult touchdown catch he made in the game's second quarter. Not only was the timing of the 13-yard grab important — it occurred just seconds before halftime — but the level of difficulty cannot be understated. To go up between two defenders, make an acrobatic catch, take the hit, and still manage to land (awkwardly on your shoulder) in the back of the end zone is the kind of play that separates the good ones from the great ones. With a catch like this, Allen reminded us that he's the latter.
4. Odell Beckham Jr.'s ridiculous diving catch
Date: November 29, 2015
Final Score: Washington Redskins 20, New York Giants 14
New York Giants superstar wide receiver Odell Beckham Jr. is currently making headlines for the atrocious behavior he exhibited during his team's 38-35 loss to the Carolina Panthers in Week 15. And while there is no excuse for what he did — in fact, he'll likely get a one-game suspension — that doesn't mean the one-handed, diving, 21-yard touchdown grab he made against the Redskins in Week 12 didn't happen. In that moment, Beckham Jr.'s insane athleticism was on full display as he went completely horizontal to haul in the pass from QB Eli Manning. On that day, No. 13 showed everyone that, when he's at his best, he's pretty much a superhero.
3. Gary Barnidge's absurd juggling act
Date: October 11, 2015
Final Score: Cleveland Browns 33, Baltimore Ravens 30
If you're among those who love circus catches (and we are), then this spectacular grab by Cleveland tight end Gary Barnidge against the Baltimore Ravens in Week 5 is the show for you. With this beautiful display of fútbol as football, Barnidge was able to "use his legs" to perfection and haul in this 18-yard pass from quarterback Josh McCown. To make things even better, the Browns also came away with the 33-30 win in overtime. Talk about accomplishing your goal in more ways than one.
2. Gehrig Dieter's insane one-handed touchdown grab
Date: November 17, 2015
Final Score: Toledo 44, Bowling Green 28
If we had it our way, college football would be like the NFL in that players would need to get both feet down in order for a catch to be considered a touchdown. That feeling aside, we can't help but give props to Bowling Green wide receiver Gehrig Dieter for the sensational one-handed touchdown grab he made in his team's November meeting with Toledo. The poise, the concentration, and the hand. That effort was almost enough to make you forget that the Falcons lost to the Rockets by a score of 44-28. Almost.
1. Francis Owusu's remarkable catch against the defender's back
Date: October 15, 2015
Final Score: Stanford 56, UCLA 35
Even with all the unbelievable touchdown catches made in the world of football this year, none were on the same level as the catch that Stanford's Francis Owusu pulled off against UCLA. Quite frankly, we're not exaggerating when we say it might be the greatest touchdown reception we've ever seen. After all, it's not every day that a player catches a pass by pinning the ball against the back of the defender. But that is exactly what Owusu did during the Cardinal's 56-35 thumping of the Bruins on October 15, 2015. And that is why it tops the list of the best touchdowns catches of 2015.
Statistics courtesy of Sports-Reference.com and ESPN.go.com.