The 5 Biggest NFL Injuries From Week 2's Games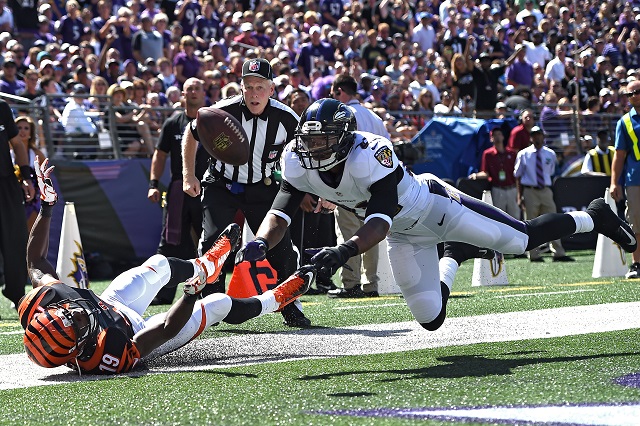 Another week, another unfortunate batch of injuries as the country's most demanding mainstream sport takes its toll on yet another charge of professionals. While some injuries were minor and some were not, they each contributed to the final outcome of the scores this week. All this while the league and the players union come together to adjust the drug policy, allowing more players to more quickly return from those sorts of suspensions, at the same time taking a harsher stance toward guys who are caught in social no-fly zones (see: Peterson, Adrian). That's a good thing, by the way.
Now that the gulf between the winners and the losers is starting to widen in a meaningful sense — it gets exponentially harder to make the playoffs, let alone make noise in the playoffs, after starting the season with a pair of losses –the injuries are going to be more important. Losing someone for the season is never optimal, but for a team that's scraping for pole position, a key ding or a decisive nick to an integral player can go a long way toward consigning the year to the scrap heap. Read on to see the five biggest injuries that happened over last week's set of games.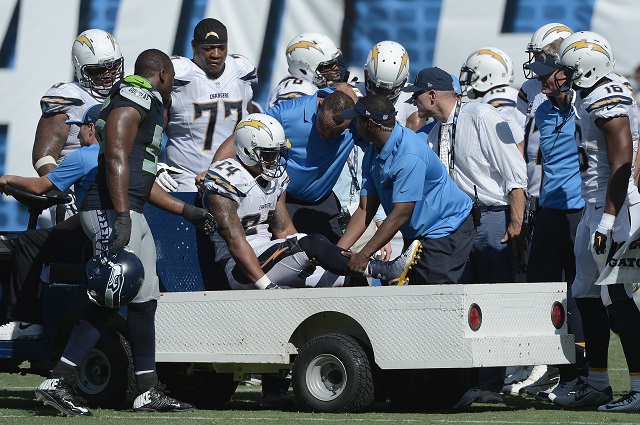 5. Ryan Matthews, San Diego

A reputation for injury is one of the oddest things an athlete can be stuck with: Take, for example, Ryan Matthews, a running back for the San Diego Chargers who has a knack for being "injury prone" despite the fact that he's never missed more than four games in a season. While it's true that he's typically underperforming if you're concerned with fantasy football, his glass nature is probably overrated. Of course, that doesn't change the fact that it seems as if the Chargers running back is always injured.
It happened again on Sunday, as Matthews went down with a sprained MCL against the Seattle Seahawks. The Chargers would win the game, but they won't be able to rely on their running back at all for a month and a half, putting their postseason hopes to the test after splitting the first two weeks.
4.Knowshon Moreno, Miami
It wasn't a good week for running backs, as new Miami Dolphin Knowshon Moreno, who had such a spectacular Week 1 performance against the Patriots, dislocated his elbow early in the first quarter against Buffalo. Miami was not able to eek out a win over the Bills, who are the only AFC East team to still be undefeated, and they'll have to play on without their best rusher until after their bye week (Week 5) at the earliest.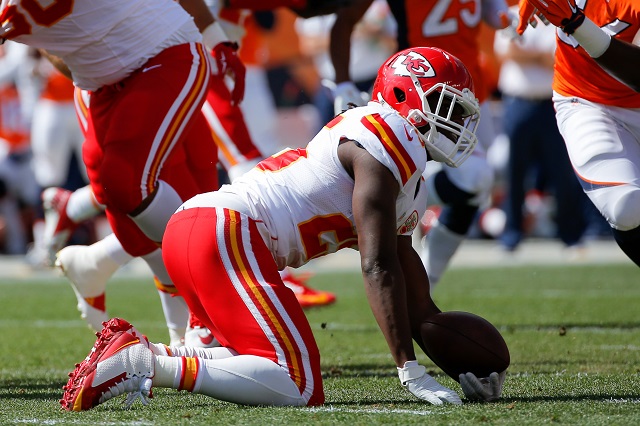 3. Jamaal Charles, Kansas City

After a 2011 ACL tear that sidelined him for all but two games, the Chiefs' best offensive weapon has been a model of consistency, and that's been a great thing for a Kansas City franchise looking to build upon a solid 2013 season under Andy Reid. Unfortunately, Charles obtained a high ankle sprain during KC's game against the Denver Broncos, and the winless Chiefs are going to have to rely on someone else, as those kind of injuries are often multi-week affairs.
2. A.J. Green, Cincinnati

The good news: A.J. Green doesn't actually have turf toe. The bad news: He's definitely got a tweaked ligament in his foot, and the end result is going to be the same for Bengals fans — the dude is going to have to take it easy for a little while. Whether or not Green will end up missing much time beyond his early exit from the team's victory over the Falcons is unclear at this point, but the prospect of pinning an entire season on the hope that Giovani Bernard and Andy Dalton can maintain their psychic connection has to be a bit unnerving for fans. On the other hand, the Bengals have won both of their games and they're alone at the top of the AFC North, so anything could happen.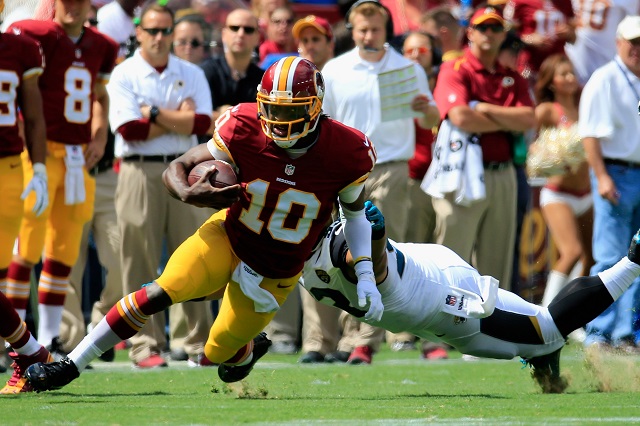 1. Robert Griffin III, Washington

This sucks. After an exhilarating rookie season, a brutal injury, and a not-so-good (to put it politely) sophomore season, this year was supposed to be the year when we found out whether RG3 was the real deal or not. Instead, we got one game that wasn't so good, and after a great pass from Griffin to DeSean Jackson, it was all over; Jackson would also leave the game with a knee injury.
While it looked like Griffin's dislocated ankle was going to be the forerunner for some "gone for the season" gloom and doom, it appears that is not the case, which means that at some point in the near future there will be some controversy as to who the starting QB is going to be for the Washington football team. After watching a Kirk Cousins-led squad trounce the Jaguars by 31 points, there may actually be a debate. It's safe to say — at least right now — that it looks like the Rams won the RGIII trade.