The 5 Biggest Soccer Transfers of 2014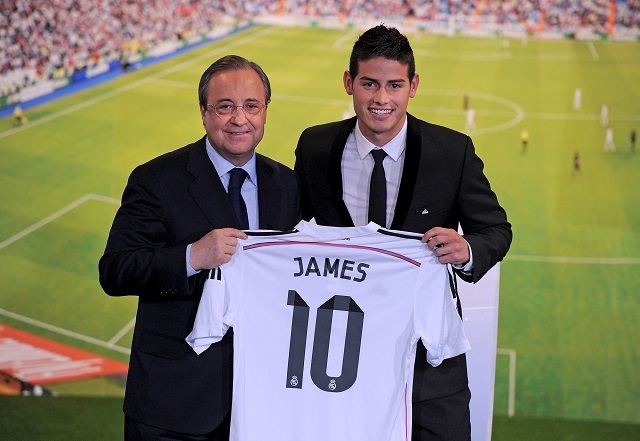 Transfer season is one of the most exciting and heartbreaking times for the international soccer fan. For anyone that's unaware of what a transfer is, it's when a player that's still under contract changes clubs or teams. Similar to a trade in other sports, in soccer it's for cash considerations — what's known as a transfer fee. This is, essentially, a wallet measuring contest between club managers and/or owners. It is also awesome, because the teams that result tend to be better than they were before. Yes, it's talent raiding on a global stage, and it is magnificent.
5. Alexis

Sánchez

, joining Arsenal from Barcelona
The first Chilean player to ever don an Arsenal jersey, the forward reportedly cost Arsenal 35 million euros in transfer fees, or over $59 million, and is set to earn 150 thousand euros (almost $255 thousand) a week.
4. Luis

Suárez

, joining Barcelona from Liverpool
Yes, this is a mask of the guy who's most memorable moment from this year's World Cup was when he bit Giorgio Chiellini and was promptly, and rightly, chucked out of the tournament and banned from international competition for four months. He cost Barca 75 million euros to obtain because, despite his chewy demeanor, he's really good at soccer.
3. Sami Khedira, joining Arsenal from Real Madrid
What do you do if you're looking to upgrade your team with a dynamic midfielder? If you're Arsène Wenger, manager of Arsenal, you go out and get one of the best players from the World Cup's best team. That's what you do, because poaching is not only legal in international soccer — it's encouraged.
2. Toni Kroos, joining Real Madrid from Bayern Munich
Lets take a moment to consider what a team does when they're on the giving end of a transfer, since not all of them are amicable. What do you do, as a manager, when your top notch midfielder winds up being poached by another club? If your answer was "go get another one, obviously," you might just be Real Madrid manager Carlo Ancelotti.
1. James

Rodríguez

, joining Real Madrid from AS Monaco

This is the knockout punch — at least so far. After Real Madrid was able to snag Kroos for a song (24 million euros, or $40 mil), they went out and grabbed Columbian superstar — and 2014 World Cup leading scorer — James Rodríguez. The move will cost the club over $100 million, and solidifies them as a terrifying team; their roster is rounded out by Cristiano Ronaldo, who you saw in the Cup as the lone bright spot for Portugal, and Gareth Bale, who  you didn't see at the World Cup because he plays for Wales.