The 5 Fastest Players at the 2015 NFL Scouting Combine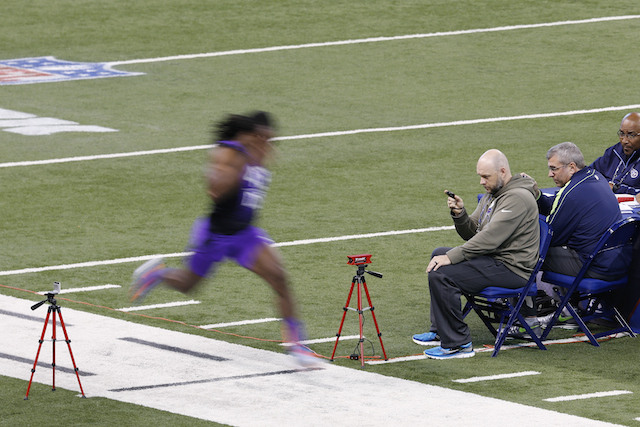 Every year, there are multiple players who make money – or lose money – based on their performance in the 40-yard dash at the NFL Combine. This year, there were seven Combine participants who ran sub-4.4 second 40s, and all seven saw their Draft stock rise after their time in Indianapolis. There was only one player who broke the 4.3-second mark, and coincidentally, that player comes from a school that recently discontinued its football program. Six of the seven players who ran their 40-yard dashes in under 4.4 seconds played collegiately at Power Five conference schools. With that, here is a look at the five fastest players at the 2015 NFL Scouting Combine.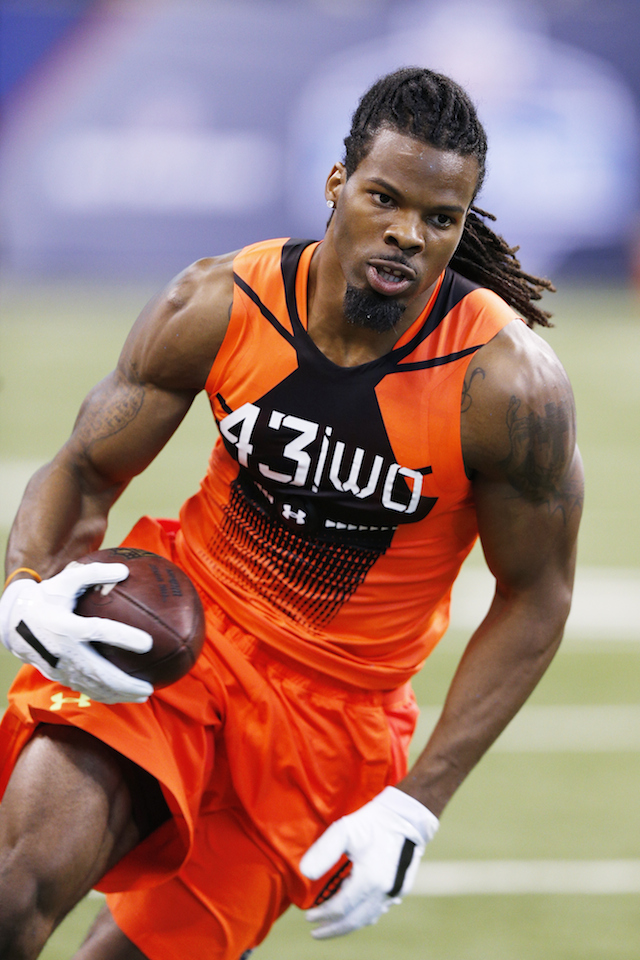 (tie) 4. Kevin White, wide receiver, West Virginia
40-Yard Dash Time:  4.35 seconds
White turned in a performance at the 2015 NFL Combine that almost surely solidified his status as a top 10 pick in the upcoming NFL Draft. He possesses a rare combination of size and speed that has scouts and general managers gushing over his NFL potential, and his performance in Indianapolis may have been enough for him to eclipse Amari Cooper as the top prospect at wide receiver in the 2015 Draft class.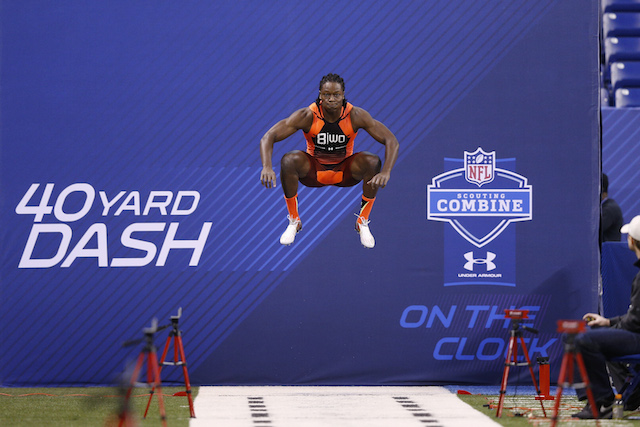 (tie) 4. Chris Conley, wide receiver, Georgia
40-Yard Dash Time:  4.35 seconds
Conley is this year's NFL Combine workout warrior. He went from being a mediocre wide receiver prospect coming out of the SEC, to being a household name after running a 4.35-second 40-yard dash, posting a 45-inch vertical jump and 139-inch broad jump, and putting up 18 reps on the bench press. With those numbers and a 6-foot-2, 213-pound frame, Conley likely went from being a late round or undrafted free agent prospect, to a player who will likely hear his name called in the middle-rounds of the upcoming NFL Draft.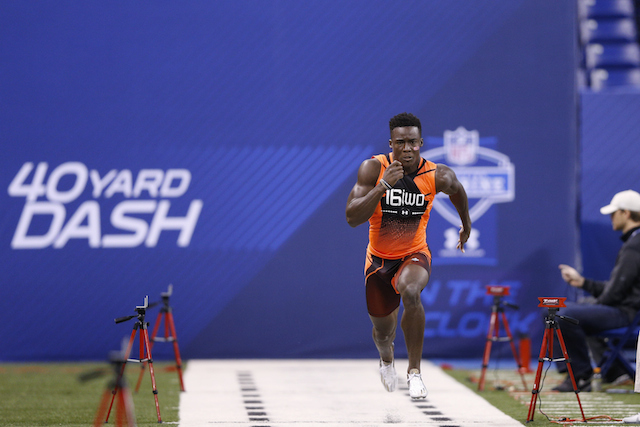 3. Phillip Dorsett, wide receiver, Miami (Fla.)
40-Yard Dash Time:  4.33 seconds
Dorsett's performance at the NFL Combine confirmed that he possesses the top-end speed that he showed on film at the University of Miami. While he was already projected to be taken within the first four rounds of the upcoming NFL Draft, Dorsett's Draft stock definitely went up after his performance in Indianapolis.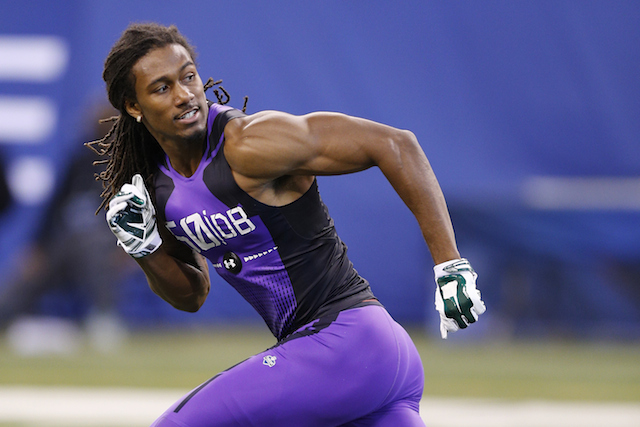 2. Trae Waynes, cornerback, Michigan State
40-Yard Dash Time:  4.31 seconds
Waynes is the only defensive player in the top five fastest players from the 2015 NFL Combine. The former Michigan State Spartan likely cemented his place atop the cornerback rankings for the 2015 NFL Draft class with his performance in Indianapolis. In addition to running an excellent 40-yard dash, Waynes had excellent performances in every other testing category. On top of that, he has excellent size – 6-foot, 186 pounds – for an NFL cornerback.
In an interesting side note, Waynes joined Dorsett and White as the three players who were rewarded with $100,000 from Adidas for running the fastest 40-yard dashes while wearing Adidas cleats.
1.  J.J. Nelson, wide receiver, Alabama-Birmingham
40-Yard Dash Time:  4.28 seconds
The fastest player at the 2015 NFL Combine came from a college that no longer has a football program. Nelson ran a blazing-fast 40-yard dash in Indianapolis, but only weighed in at 156 pounds. He entered the Combine as a fringe Draft prospect, but there is no doubting that his 40 time turned some heads and helped Nelson improve his stock in the eyes of the scouts who were in attendance. He still needs to prove that he is an NFL-caliber wide receiver, but will have an excellent chance to make a roster as a return specialist.
All NFL Combine statistics courtesy of NFL.com.