NBA: 5 Greatest Chicago Bulls Players of All Time
The Chicago Bulls of the '90s, with their six NBA championships, are a cultural institution in the NBA. Michael Jordan, of course, was at the focal point of this movement, willing the team through two threepeats, from 1991 to 1993 and again from 1996 to 1998.
While originally viewed as a selfish gunner who treated his teammates as little more than a supporting cast, Jordan learned to trust his teammates with age (and Phil Jackson's triangle offense) to emerge as a more complete player. For better or for worse, the iconic Jordan will always cast a long shadow over the careers of each of the four other Chicago Bulls greats; today, a bronzed statue of Air Jordan taking flight greets visitors to the United Center.
1. Michael Jordan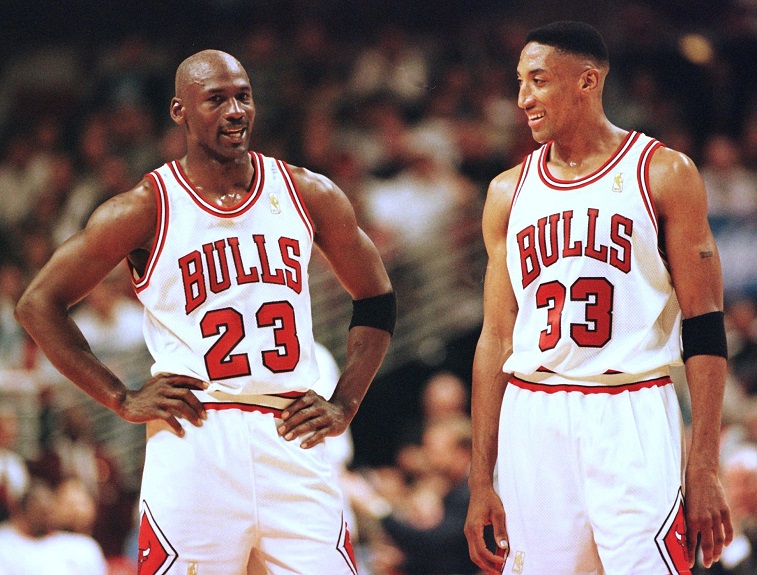 Drafted as the third overall pick in the 1984 draft, His Airness immediately went to work eviscerating the competition, averaging 28 points, 7 rebounds, and 6 assists per game as a rookie.
Little surprise, then, that Air Jordan emerged as an exciting athlete in all of sports in short order, as evidenced by his consecutive scoring titles, slam-dunk championship, all-defensive first team selections, and multimillion-dollar endorsement deals. The Bad Boy Pistons, however, made quick work of the Baby Bulls, knocking Chicago out of the postseason in '88, '89, and '90. At the time, the Pistons would funnel M.J. into the paint, where the likes of Dennis Rodman, Rick Mahorn, and Bill Laimbeer were waiting to dish out hard fouls, in effect daring the flashy Air Jordan to rely upon his teammates.
Jordan would not ditch his reputation as a high-volume scorer that failed to make his teammates better until his 1991 sweep of the Detroit Pistons, setting the stage for when Jordan went on to take Chicago to six nearly consecutive and always successful trips to the Finals.
2. Scottie Pippen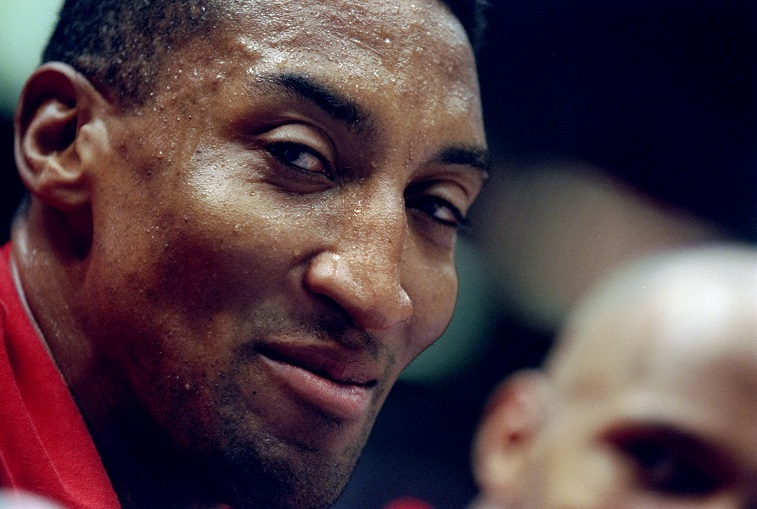 Scottie Pippen, in his own right, was one of the greatest all-around performers to play the game of basketball, posting averages of 18 points, 7 rebounds, 5 assists, and 2 steals per game through 12 years of service with the Chicago Bulls. As an individual performer, Scottie went off for his best season in 1994, racking up 22 points, 9 rebounds, 6 assists, and 3 steals per contest, leading the Bulls to the Eastern Conference semifinals while Jordan enjoyed his first retirement and pursued a short-lived baseball career.
In true rags-to-riches form, the Seattle SuperSonics drafted Scottie Pippen with the fifth overall pick in the 1987 draft out of Central Arkansas. On Draft Day, the projected defensive specialist was immediately dealt to the Chicago Bulls. Over time, Pippen added a post game, solid midrange jump shot, and big-game moxie to his arsenal, undoubtedly informed by practices with and against his legendary teammate.
As a duo, Jordan and Pippen were at their best out of the 1-2-1-1 full court press, with Pippen patrolling the midcourt area. After baiting the opposition into a careless mistake, Pippen would control the ball as a point forward, with Jordan racing down the wing.
3. Jerry Sloan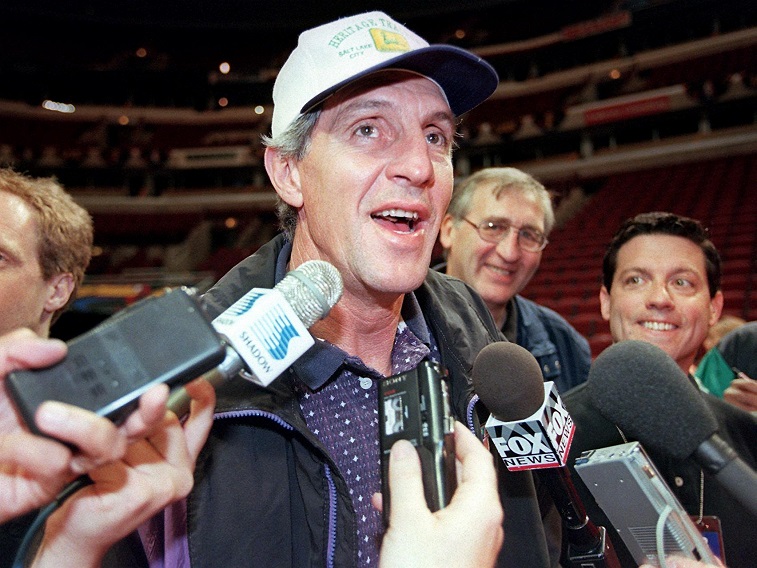 In 1978, Jerry Sloan earned the distinction of being the first Chicago Bull to have his jersey retired. Sloan was actually a member of the first 1966 Bulls roster, after being taken from the Baltimore Bullets in the expansion draft. As a Bull, Sloan built his reputation through grit and hustle, which made him a fan favorite in blue-collar Chicago. In 1971, Sloan crashed the boards for 9 rebounds per game, as a 6-foot-5 shooting guard.
In all, Sloan put up 15 points, 8 rebounds, and 5 assists per game, through 10 seasons with the Chicago Bulls. As a prelude to Jordan-Pippen-Rodman, Sloan teamed up with big man Bob Love and point guard Norm Van Lier to form one of the greatest defensive units of all time from between 1972 and 1976. The 1975 Bulls advanced to the Western Conference finals before going down in seven games to the eventual champion Golden State Warriors, with Sloan, 32, then in the twilight of his career and battling through nagging injuries.
At 37, Sloan was named head coach of the Chicago Bulls prior to the 1979-1980 season. In three regular seasons at the helm, Sloan went 94-121 and coached the team to one playoff appearance, where the Celtics dynasty promptly dismissed the Bulls in a four-game sweep. Sloan will be most remembered for his 23-year coaching tenure in Utah, where the Jazz went 1,127-682 through the regular season and made 19 trips to the playoffs. Sloan, John Stockton, and Karl Malone, however, lost two back-to-back finals to the Chicago Bulls.
4. Bob Love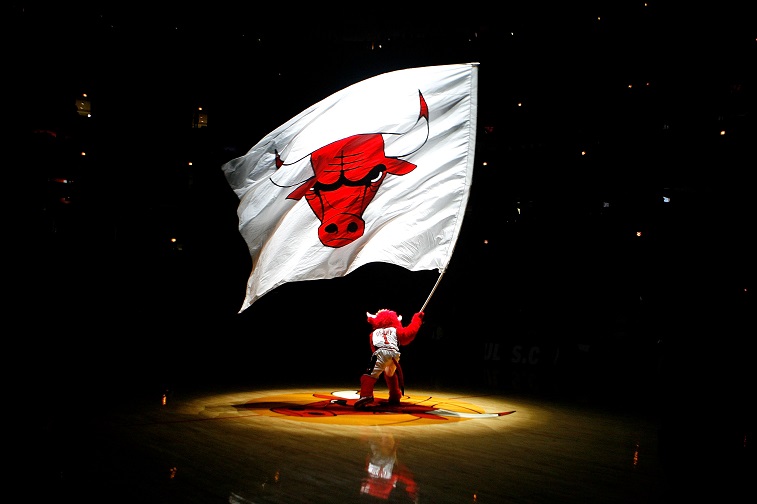 Bobe Love's jersey now hangs in the rafters at the United Center alongside Jordan, Pippen, and Sloan as the only numbers to ever be retired for the Chicago Bulls. At 6-foot-8, Love would play both forward positions in Chicago from 1969 to 1976.
As a pure scorer, Love was all but automatic from midrange. In half-court sets, he would often pin his man in the post before rising up for a turnaround jumper in the flow of the offense. To keep defenses honest, Love would sometimes set up shop on the low block, feinting toward a fake entry pass, and running back door for an easy layup.
In Chicago, Love was a three-time All Star and combined with Sloan to form a devastating inside-outside combination that made six consecutive trips to the playoffs through the early '70s. Love and the Bulls did advance to the Western Conference finals, in 1974 and 1975, losing to Kareem Abdul-Jabbar's Milwaukee Bucks and Rick Barry's Golden State Warriors, respectively.
5. Derrick Rose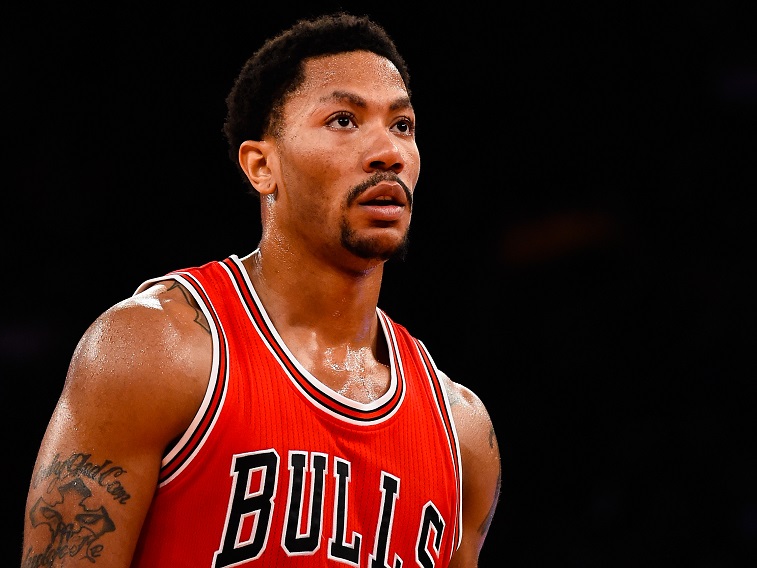 In 2008, the Bulls drafted South Side schoolboy legend Derrick Rose with the first overall pick in what appeared to be the beginning of a storybook career. Shortly thereafter, the hometown hero in the making received Rookie of the Year honors, posting 17 points, 4 rebounds, and 6 assists per game. By his third year in the league, Rose had added a serviceable midrange jump shot to his game and was all but unstoppable. In 2011, Rose took home MVP honors, becoming the youngest player to win the award, at just 22.
Rose, however, was to suffer through a series of devastating knee injuries and miss significant playing time between 2012 and 2015. Missing the entire 2012-2013 campaign while needing time to recover from a torn left ACL, a tentative D-Rose was averaging 16 points through 10 games before blowing out his other knee in 2013.
Early in 2015, Chicago held its collective breath when Rose complained of soreness in his same right knee and team doctors confirmed a torn meniscus. This time, however, Rose made a speedy recovery, and was back averaging nearly 20 points per game through the playoffs.
At this junction in time, the jury is still out as to whether Rose can either recover his MVP form or join the NBA's unceremonious injury could-have-been club, featuring Grant Hill, Brandon Roy, Penny Hardaway and Greg Oden. Chicago Bulls fans, of course, remained hopeful that they would one day also raise Rose's number up to the United Center rafters in retirement, but he was ultimately traded to the New York Knicks.